Custom Buttons Blog
Welcome to The Button Post by Pure Buttons! A blog where we discuss all things related to custom pin-back buttons and other custom promotional products that Pure Buttons offers. Stick around for coupons to score cheap pinback buttons, new button product announcements and more!
Years of Happy Buttons by Leonard "Porkchop" Zimmerman
One of our most prolific customers is Leonard "Porkchop" Zimmerman who has designed buttons with a smiling robot and the word "Happy" in hundreds of styles over the years.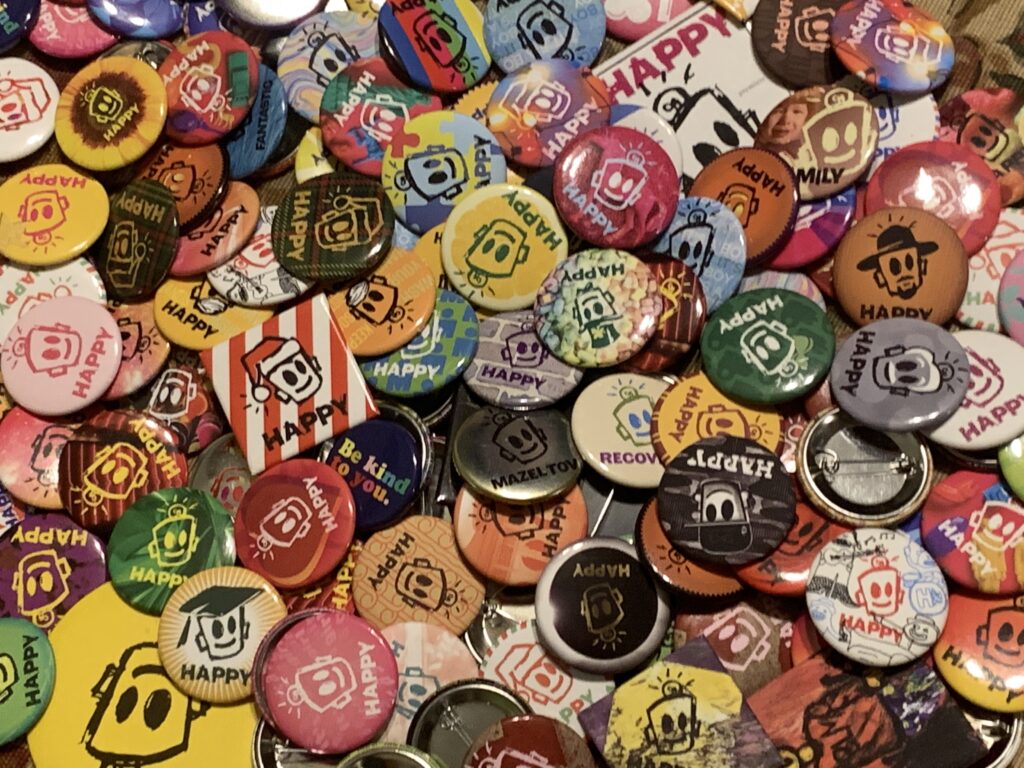 Recently Leonard shared photos of a large collection of these various button designs and we thought it was fascinating to see all the variations he has created all at once.
"My mom and dad both have been saving these – there are probably 200-250 different HAPPY buttons."
To learn more about Leonard, you can watch the Happy Documentary. The documentary is about Leonard's artwork and life, as well as coping with loss and grief, and the importance of family and expressing yourself.
You can also view his website and artwork to see more of his robot paintings.
Follow him on instagram to see him create art every day.
We appreciate Leonard's campaign to spread joy and think our buttons are the perfect canvas!
Check out this huge collection of Happy custom buttons: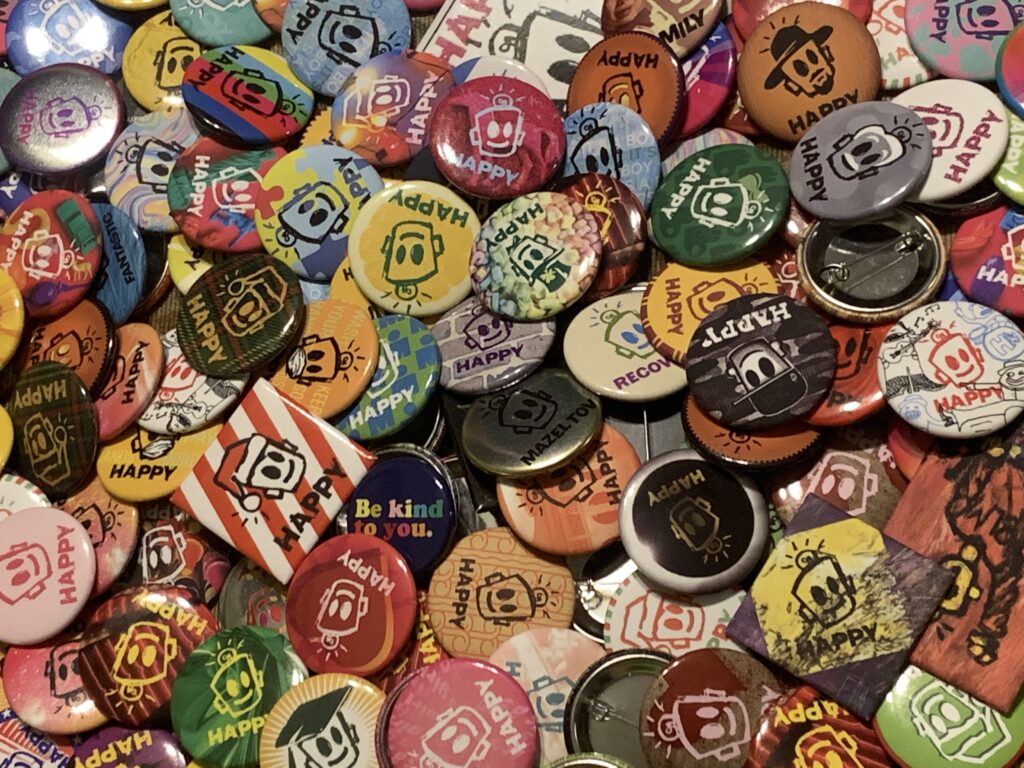 New Memorial Button Templates Added
Funeral buttons aren't something you'd think of right away when you think about various uses for our custom buttons, but it is a very common type of order we receive. To help our customers create a professional looking and respectable memorial to their lost loved one, we have released eight new memorial button templates that are free to use.
These eight unique remembrance gift designs are easy to customize in our online tool. All of the designs feature a large photo area, where you can add your favorite portrait of the dearly departed.
Most of these personalized memorial templates also feature lines of customizable text where you can add a name and the dates of life.
Memorial buttons and magnets are excellent gifts for funeral attendees. These memorial keepsakes will help your guests keep the memory of your loved one alive when they look at their magnet or button in the coming years.
All of our memorial designs are available in our large 6″ magnetic easel, which is perfect for display near the guest book or at the wake / funeral reception. We also offer every design on our entire lineup of 3.5″ wide products including custom pin-back buttons, fridge magnets, coasters, ornaments and more.
Our funeral buttons are very affordable and make an excellent sympathy gift if you're looking for a way to help with a funeral you'll be attending.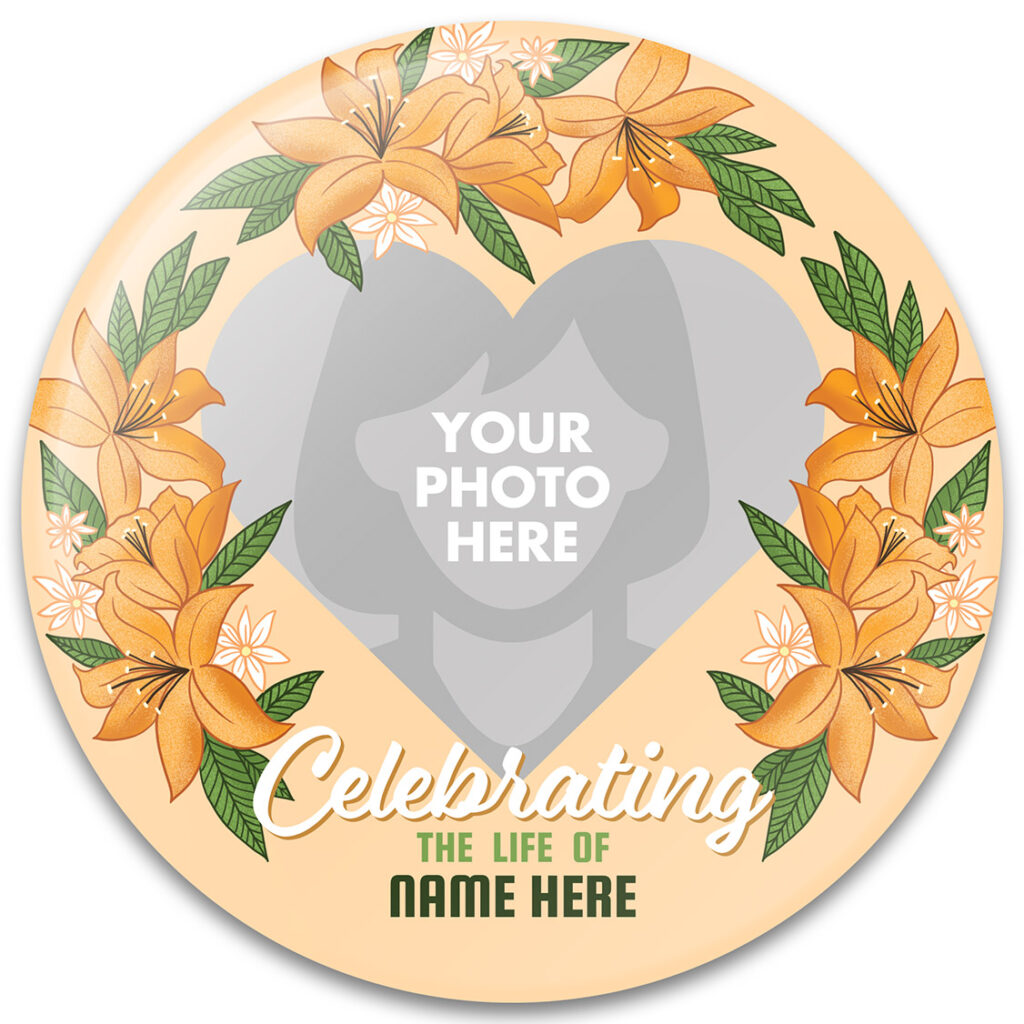 This attractive memorial button pin design features a heart shaped portrait area and two lines of customizable text. Surround your favorite portrait with orange lilies on a creamy orange colored background when you choose our "Celebrating The Life Of" design.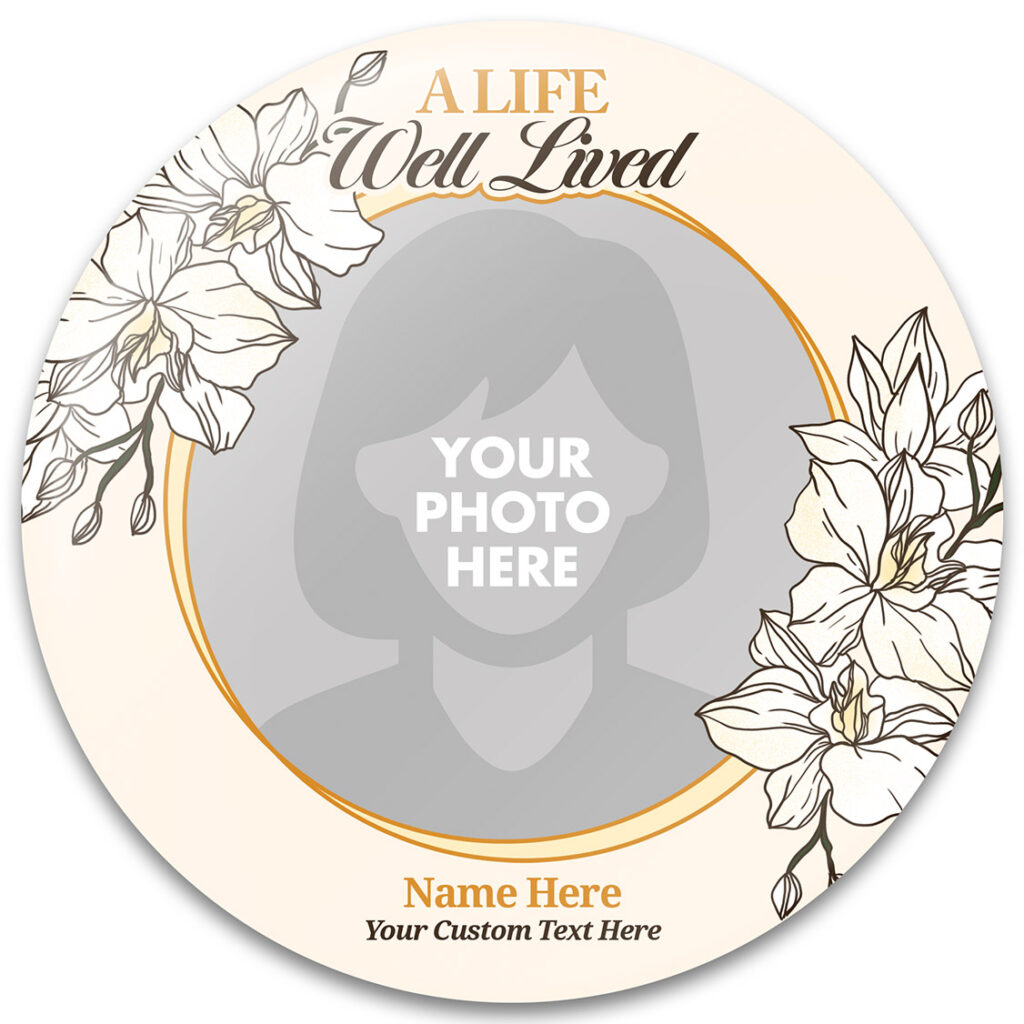 This elegant memorial button design features white orchids on an off white background. Two lines of custom text and a circular portrait area lets you easily create a memorable funeral button when you choose our "A Life Well Lived" design.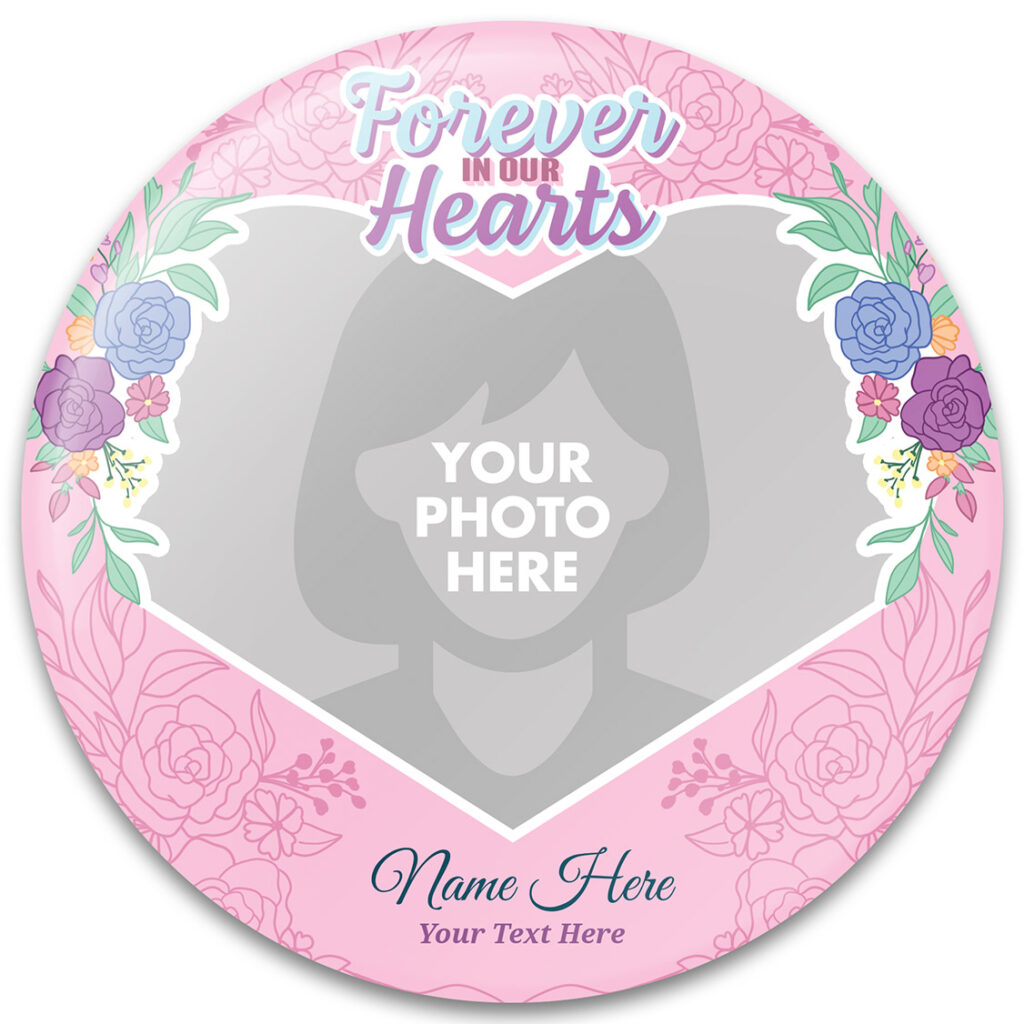 A large heart-shaped portrait area and two lines of personalized text let you create a loving funeral gift design in minutes. Our "Forever In Our Hearts" design is available in 3.5″ and 6″ sizes.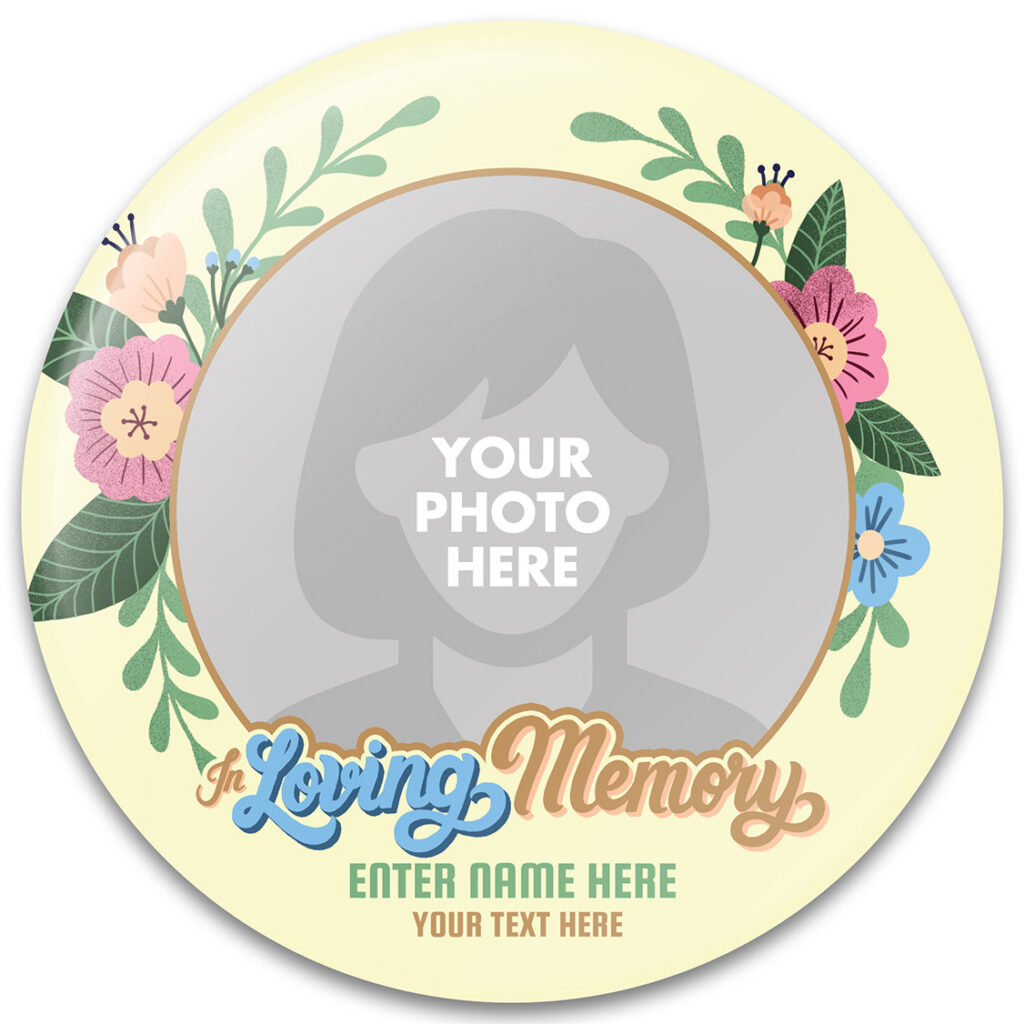 This hand crafted funeral magnet design can be personalized with two lines of custom text and a large portrait area. Simply drop in your best photo and add your own text to customize our "In Loving Memory" template.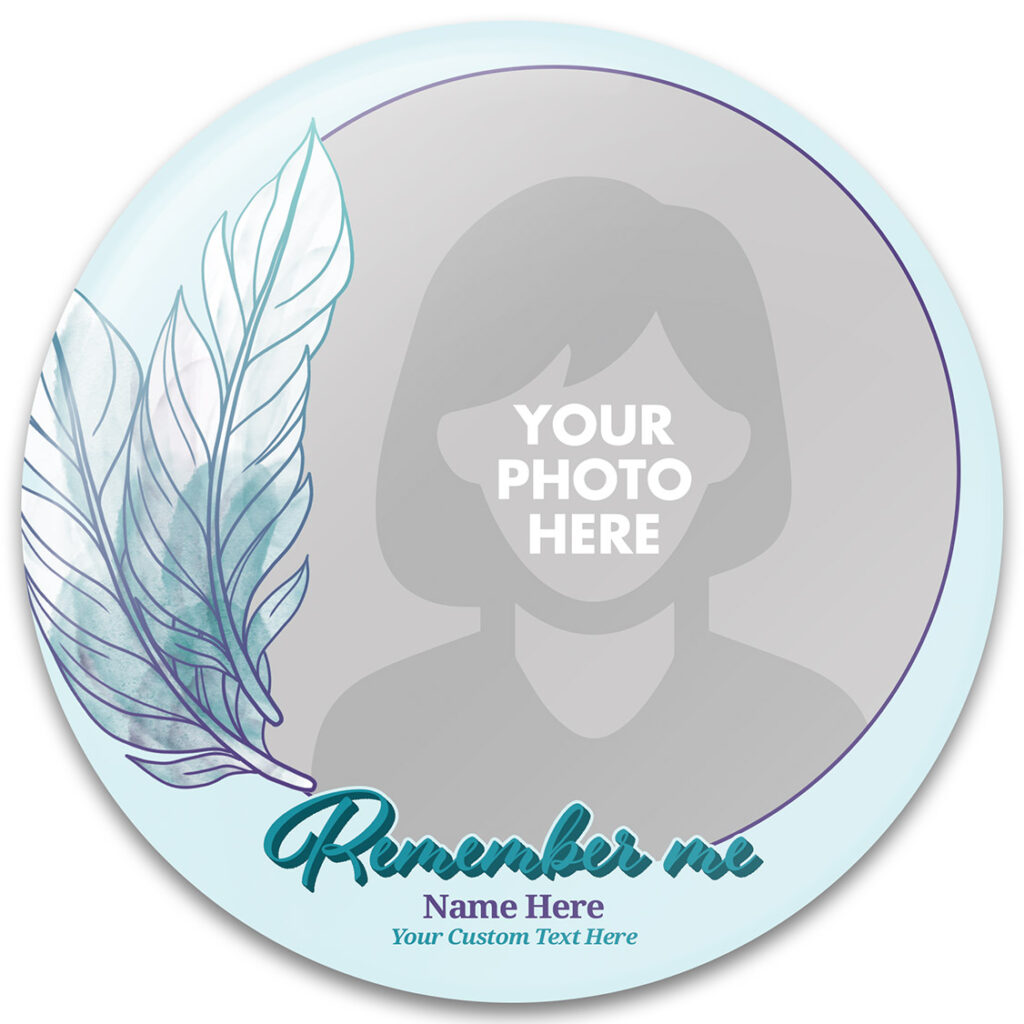 This minimalist design features two hand drawn feathers and an offset portrait area. Two lines of custom text allow you to add your loved ones name and dates of life to our "Remember Me" button design.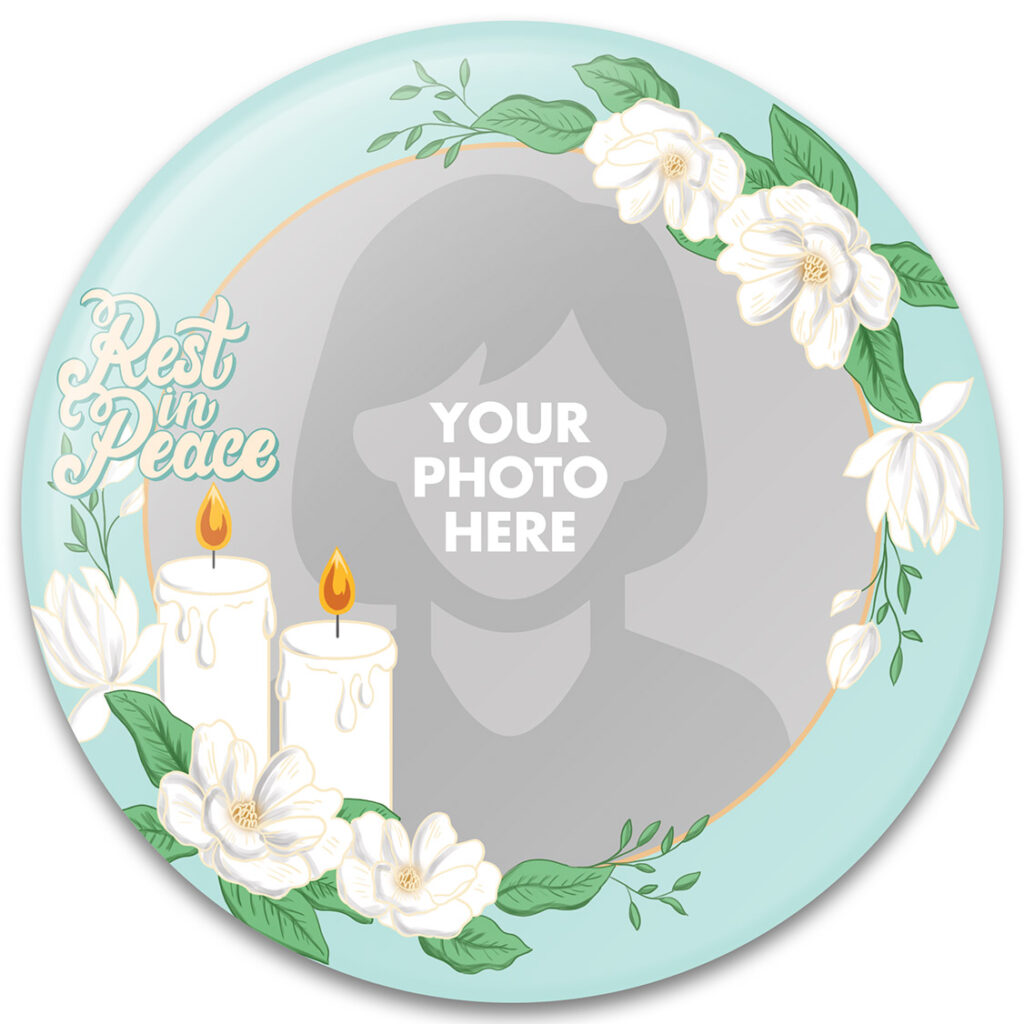 This beautiful remembrance gift features a large portrait area. The hand-drawn design features lit candles, magnolia flowers and "Rest In Peace" hand drawn lettering on a pale aqua blue background.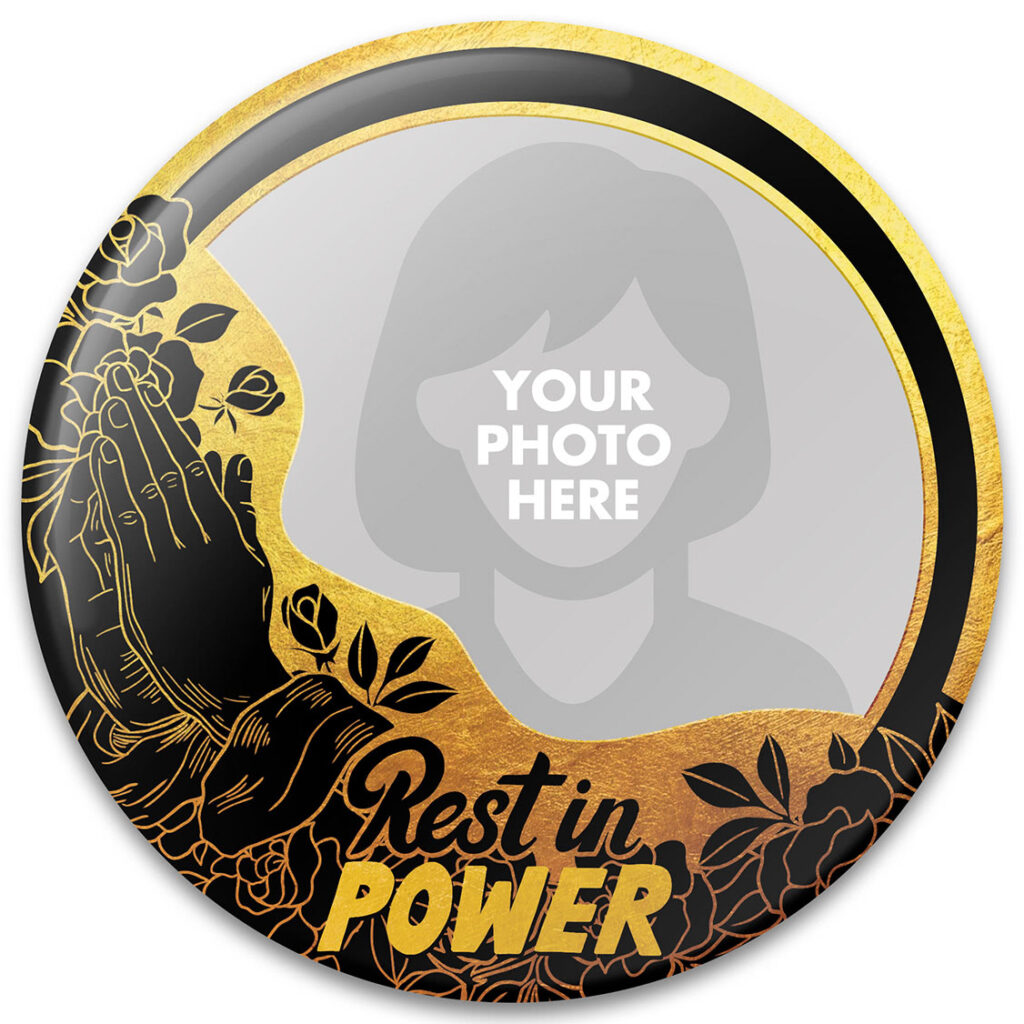 Create a lasting tribute to your lost loved one with this handsome memorial template. This bold and modern "Rest In Power" design features praying hands and flowers in black with hand drawn lettering on gold leaf. Simply add your favorite portrait and approve your free instant digital proof.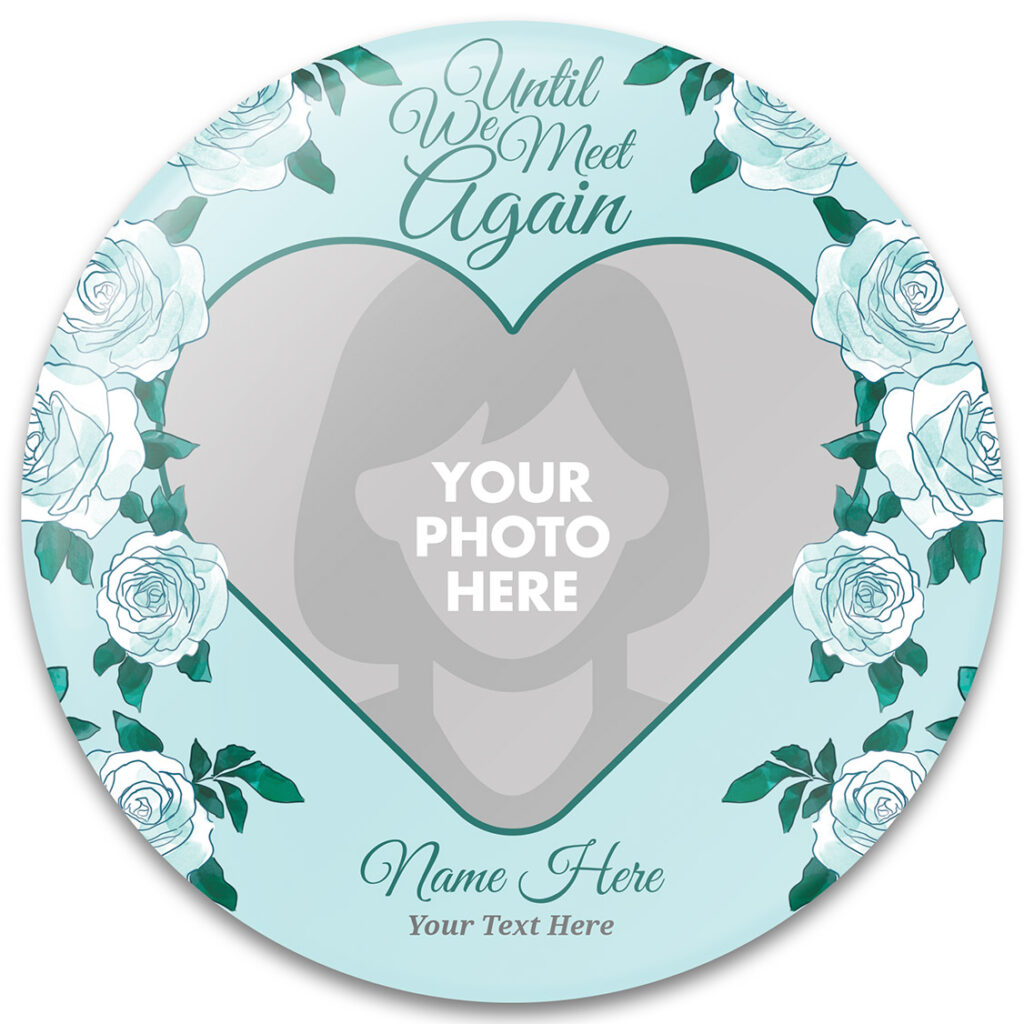 This graceful memorial button design features falling roses on a pale blue/green background with script lettering that reads "Until We Meet Again". Two lines of custom text and a heart-shaped portrait area for you to customize as you wish.
When you use our easy online tool, you can create a memorable funeral gift in minutes. Approve your free instant digital proof before checking out.
Our memorial buttons and magnets can even be created to memorialize a pet loss. Create a keepsake with your favorite photo to commemorate your beloved pet. They may even help cheer up a friend when you create a pet memorial gift for someone you care about.
Custom Name Tags & Magnetic Name Tags
Our custom buttons and clothing magnets are the perfect platform for reusable custom name tags or custom name badges. These pin-back name tags can be personalized and printed with the wearer's name very affordably. Our minimum order is just one name tag which allows you to create a custom name tag for everyone in your team!
We also offer high quality magnetic name tags with a magnet bar on the back that easily attaches the name tag to your clothing without the need to pierce cloth.
Reusable name tags can be designed like the examples below. These full color designs leave a blank space in the design that can be written on with a permanent marker.
For a truly custom name tag, you can use our easy online tool to add your name to any size or shape name tag and get a free instant digital proof to approve before you checkout.
Try our online tool to create custom name tags for your whole team!
The photos below are of reusable name tags with blank spaces to manually fill out in the future. Others have ordered custom name tags with names included in the printed design, but we have not included photos of these personalized name tags for privacy.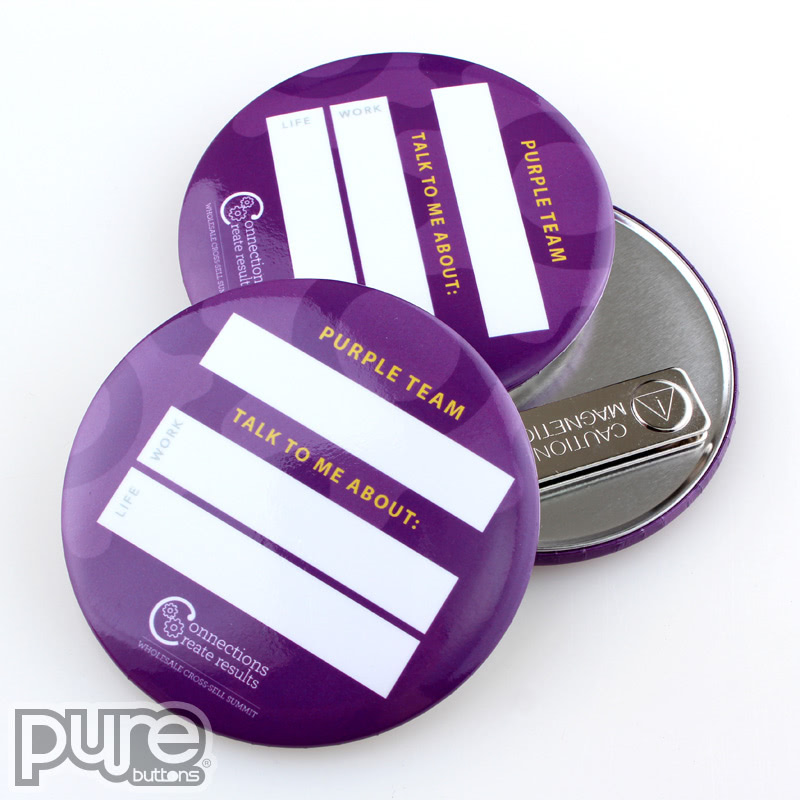 The magnetic name badges above features multiple fields to fill out. Notice the magnetic fastener bar on the back side of the name badge. High quality metal construction ensures long term performance!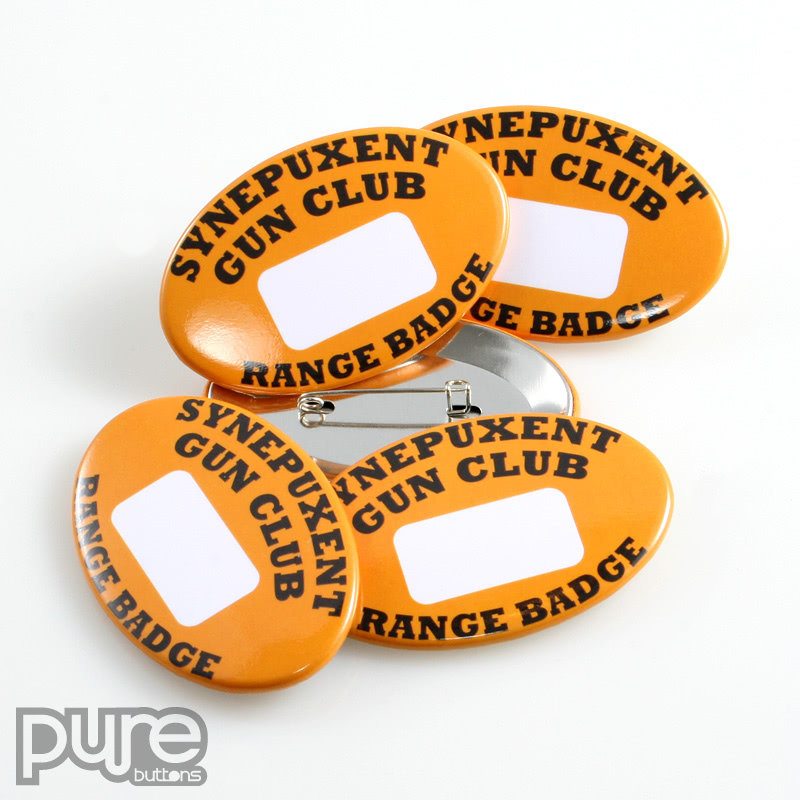 The Synepuxent Gun Club uses the pin-back custom name tags above to identify members at their gun range.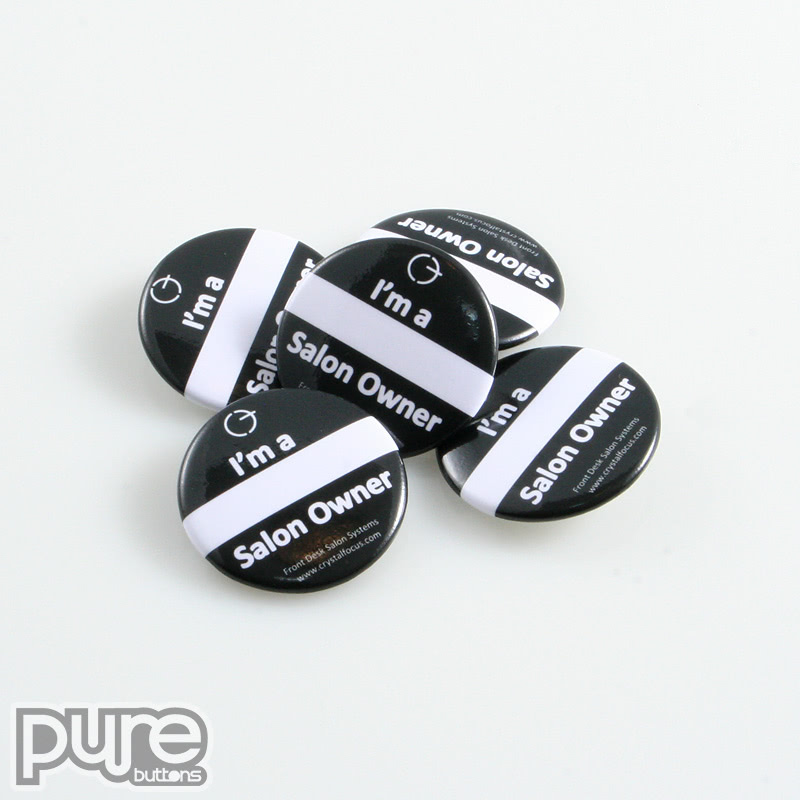 The name tags above were used at a cosmetology convention and salon owners could fill in the blank to identify themselves.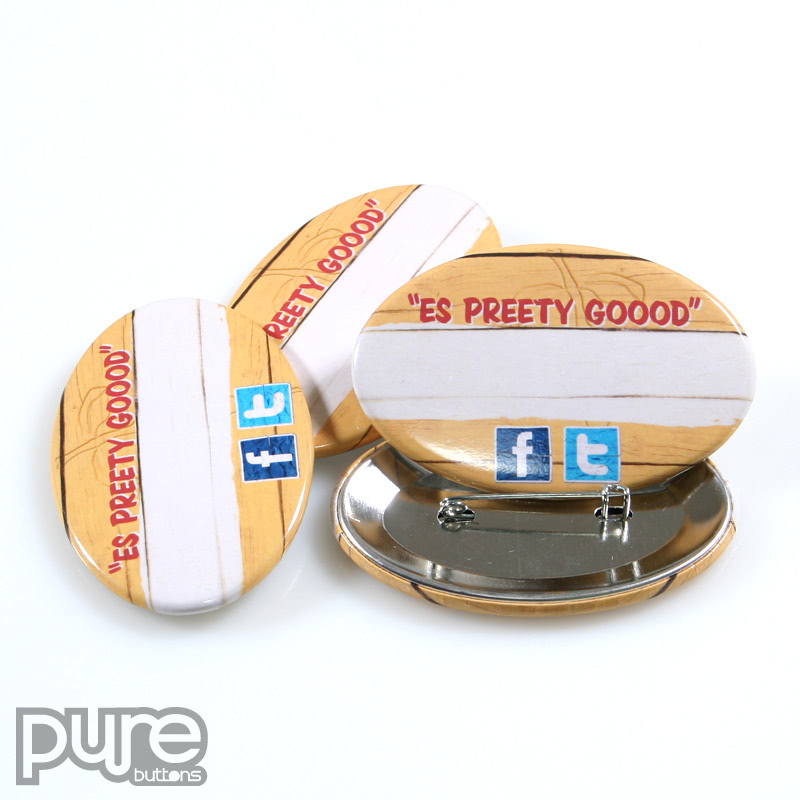 The restaurant Lupe Tortilla uses the pin-back custom name tags above to identify their employees. A large blank area can be decorated with a permanent marker and buying blank name tags in bulk saves money!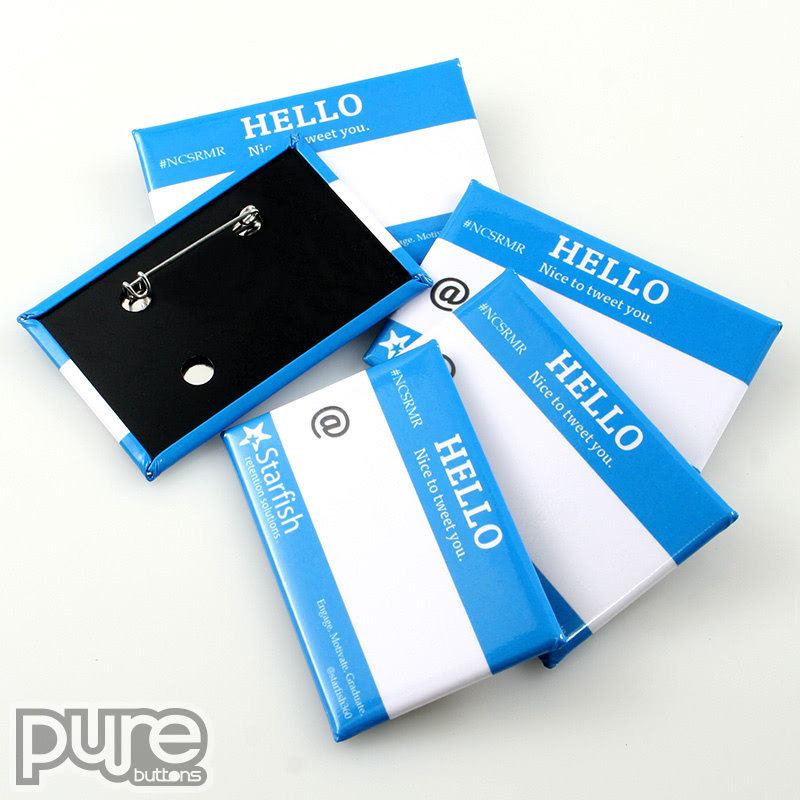 The pin-back custom name tags seen above mimic the classic "Hello My Name Is" name tag stickers in a more durable and eye catching way.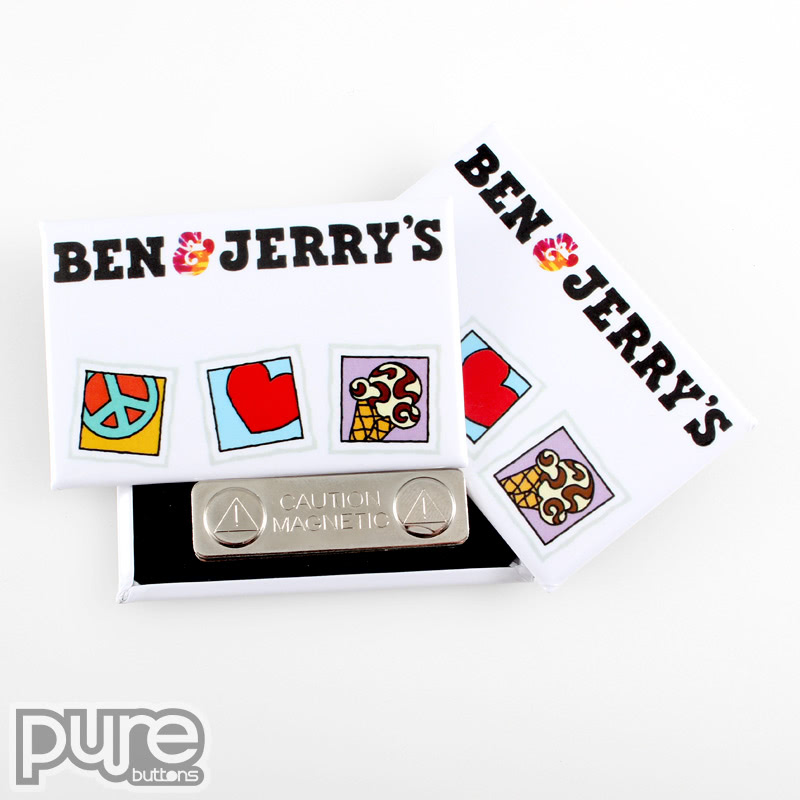 Ben and Jerry's ice cream shops use the magnetic name tags shown above to identify employees in a fun and custom way!
New and Improved Custom Button Pack and Button Box Print Quality!
PureButtons remains committed to offering the highest quality custom buttons and promotional products available. This means regular upgrades to our production facility and printing and manufacturing capabilities. We are proud to announce a new and improved printing quality for custom button packs and button boxes.

Our newest digital printing press features enhanced resolution, color quality and double sided printing capabilities. This means that our custom button packs and custom button boxes have never looked better!
It's a great time to try our custom button packaging for yourself and see how you can take your custom products to the next level with retail-ready packaging solutions that are not only affordable, but look fantastic!
Entice customers and make more sales with custom button packs and retail display boxes with your custom graphics.

PureButtons offers standard button packs in a wide variety of configurations but also offers completely die cut button packs with unlimited possibilities. Contact us for a quote on a completely unique button pack design or get pricing and order standard button packs on our website.

We will always be striving to improve and you'll be first to hear about it right here on TheButtonPost! Our goal is to make you look great!
StandOut Stickers now offering Custom Glitter Stickers!
Our sister company, StandOut Stickers just announced their first new sticker finish in six years. The new glitter stickers feature a high gloss finish with tons of super fine transparent metallic glitter flake.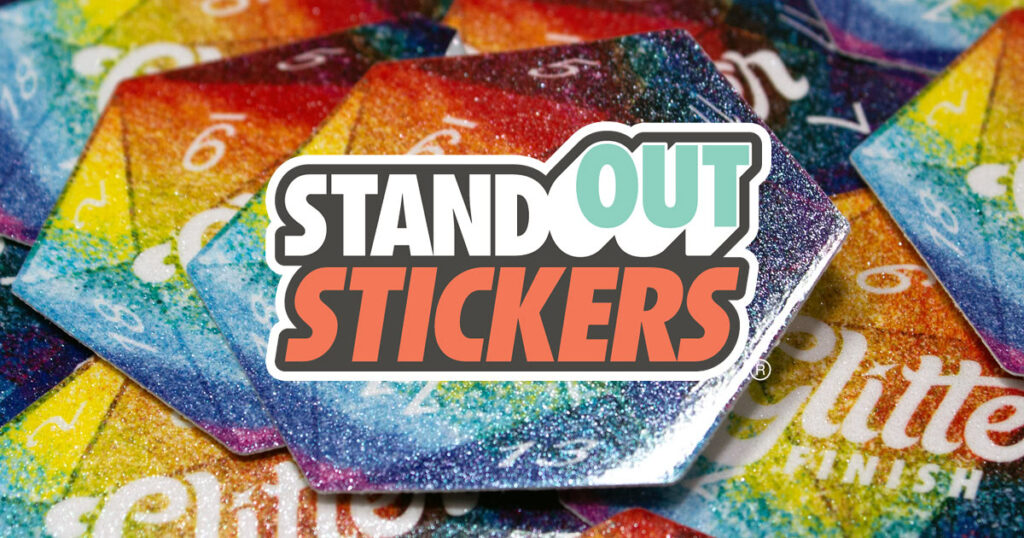 This glitter is more of a semi transparent silver glitter, not rainbow glitter or a hologram glitter effect, but actual glitter flake similar to the kind found in automotive or boat finishes. The sticker material is laminated with this as a top coat which provides extra durability and the glittery shimmer effect!
This now makes three unique sticker finishes that you can choose from when you order custom stickers. The original glossy finish and matte finish are offered at no additional cost. The new glitter sticker finish is offered as a premium upgrade.
You can order glitter stickers of any size or shape. Simply choose the glitter finish option when you're ordering. StandOut Stickers offers bulk discounts on higher quantities and prices are even lower on standard sticker shapes like circle, square, rectangle or oval stickers.
For the rest of this week, Circle Stickers are on sale 20% off with code CIRCLE20 – a great opportunity to check out this new glitter sticker finish at a great price!
Check out some sample photos below and learn more about glitter stickers on the StandOut Stickers website.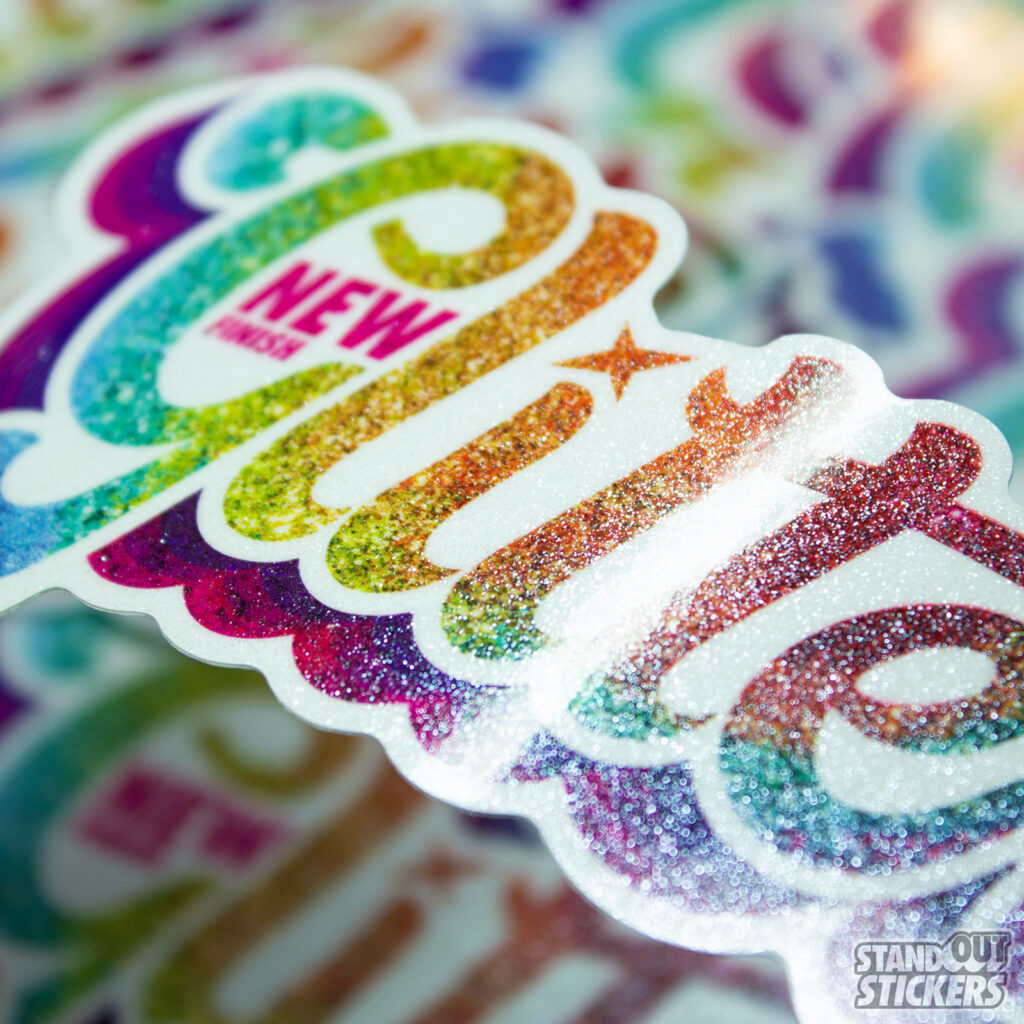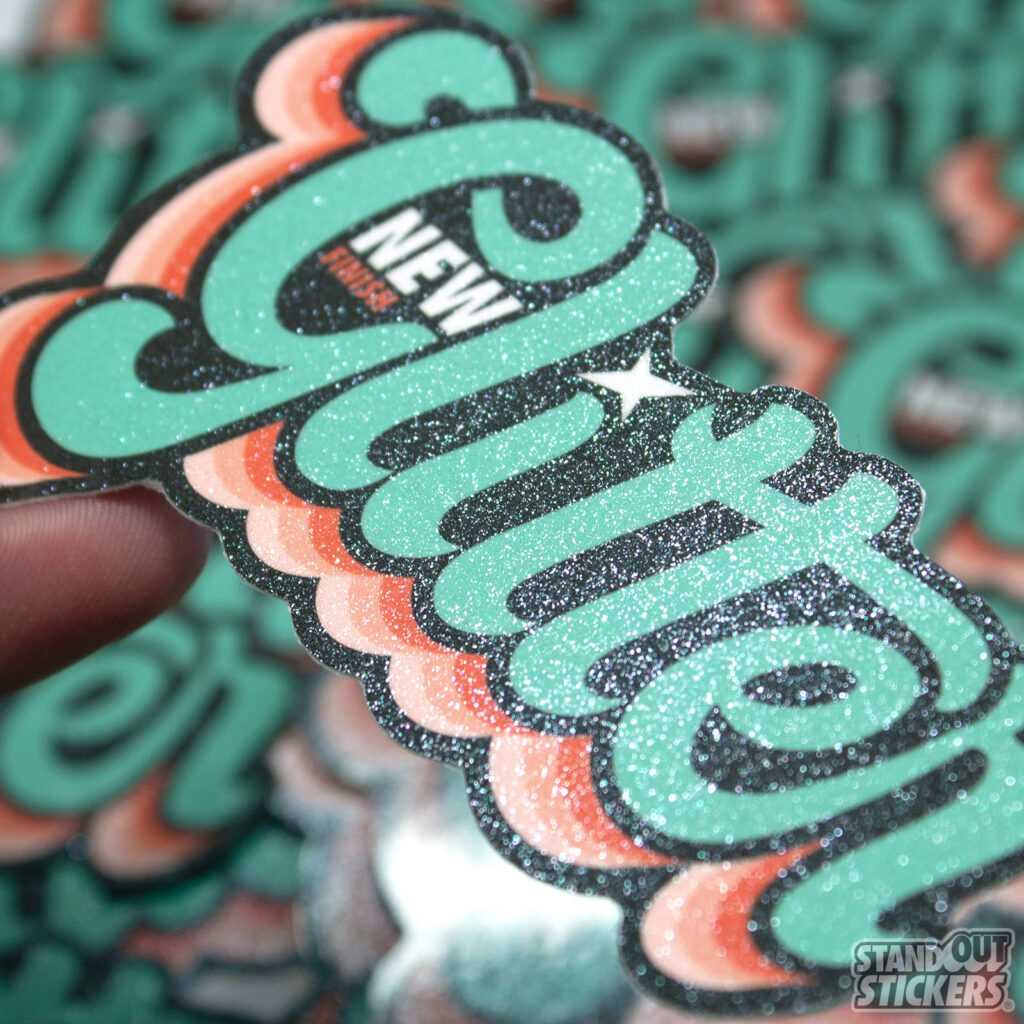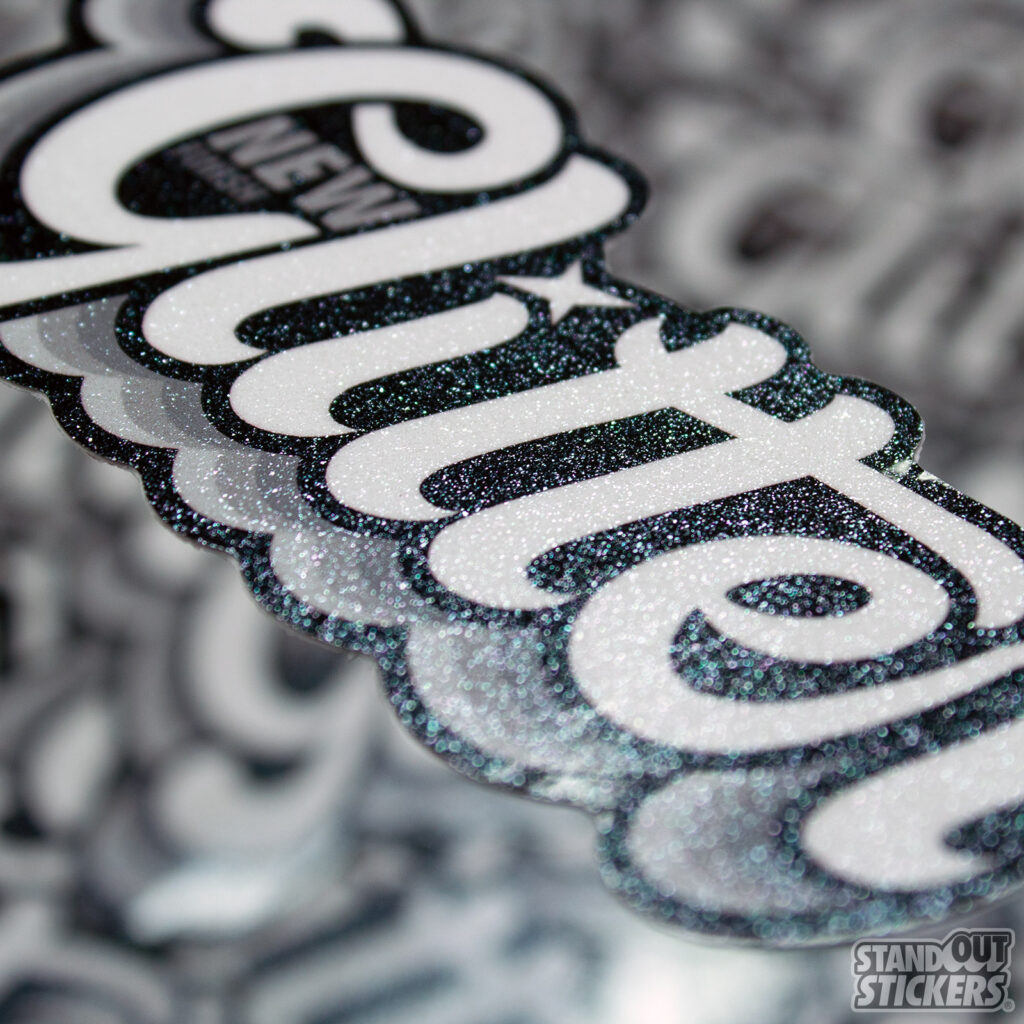 Call 800-710-2030