Custom Buttons Blog
Welcome to The Button Post by Pure Buttons! A blog where we discuss all things related to custom pin-back buttons and other custom promotional products that Pure Buttons offers. Stick around for coupons to score cheap pinback buttons, new button product announcements and more!
Who Do You Love? Create A Personalized Valentine's Day Gift!
We're quickly approaching February and the time is now to create a one of a kind, personalized Valentine's Day gift. We make it easy and affordable at Pure Buttons and if you act fast, you can get it in hand with plenty of time to spare before February 14th.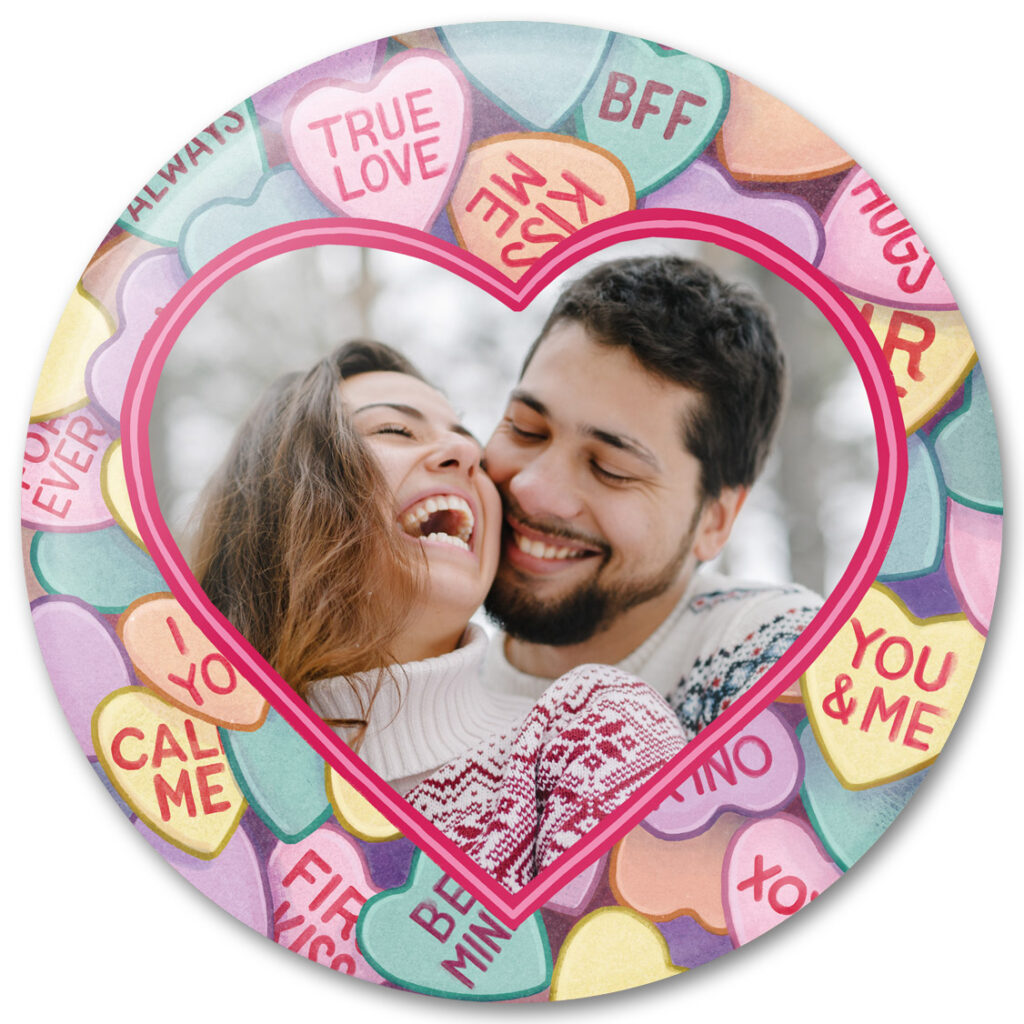 Starting at just $4.99, choose from any of our 3.5″ round products to personalize with your photo. It's simple in our easy online tool.
Begin by choosing your favorite design and pick the product you'd like to personalize from the dropdown beneath it. You'll be redirected into our customizer where you can easily add your photo and approve your instant digital proof.
Checkout is a breeze and your loved one will appreciate the effort to get them something truly unique. All of this for about the same price of a premium greeting card, but it means so much more.
We currently offer 13 unique personalized Valentine's Day gifts to choose from, so there's something for everyone.
And it doesn't even have to for be romantic love! Your family and friends will appreciate a personalized gift just as much.
Share custom Valentine's Day gifts with everyone you love and get free shipping on orders over $25 shipped to cont. USA with coupon code FREESHIP
If none of our photo gift designs are to your liking, you can always create a personalized product from scratch by adding your photo and custom text in our easy online tool.
Pro Tip: Our most popular products for custom Valentine's Day gifts would be our custom fridge magnets, custom drink coasters or compact pocket mirrors. Our personalized ornaments are also a good choice.
If you really want to make a big statement of love, go big with our 6″ Magnetic Easel! This large custom product can be hung on the fridge or stood up on any surface with its pop-out easel back. Just $7.50 ea.
Score major points with those you love when you take a moment to create something unique for them at Pure Buttons!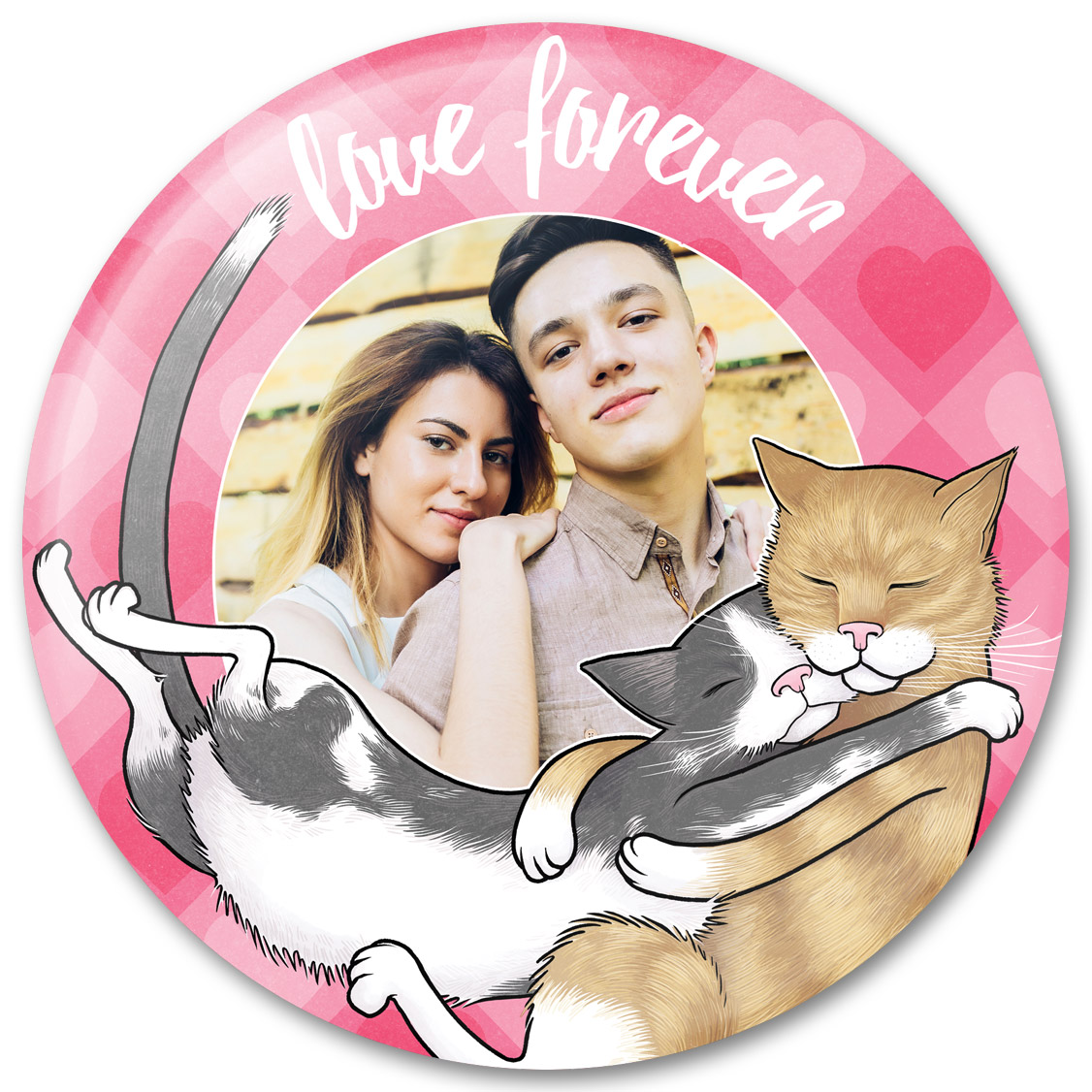 New Sample Photos of our Magnetic Custom Bottle Openers
We're pleased to announce brand new high resolution sample photos of our magnetic bottle openers have been added to our website! These samples are a just a handful of great designs that real customers have ordered in recent months.
Our custom bottle openers feature a solid metal construction and a powerful neodymium magnet to catch loose bottle caps. The strong magnetic feature also lets the bottle opener hang around like a fridge magnet in between uses! They're not just beer bottle openers, they can be used for any glass bottle with a cap top – especially soda bottles!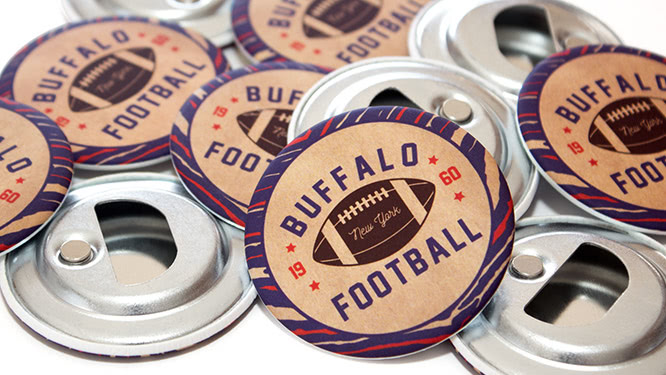 These Buffalo Football bottle openers are printed in our soft-touch matte finish and look great!
Check out a few more custom bottle openers pictured below, or take a look at our custom bottle opener samples to get some ideas for your next bottle opener order!
Our custom bottle cap openers are a really popular merch item for breweries of all sizes, from global brands, craft beer micro breweries or home brewers, but that's not all! We've had bottle openers ordered by hot sauce companies, high schools and so much more.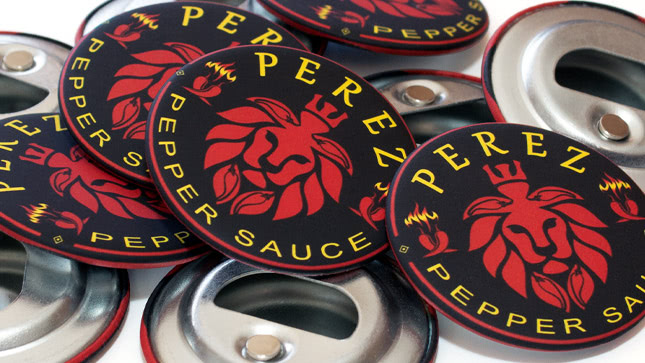 These handsome bottle openers for Perez Pepper Sauce are printed with our soft-touch matte finish. You've gotta feel it to appreciate how amazing this finish is!
Magnetic bottle openers are really popular as personalized gifts too. Bachelor party favors, retirement party favors, you name it! No minimums and free digital proofs when you design online. Ordering a personalized bottle opener couldn't be easier than at Pure Buttons!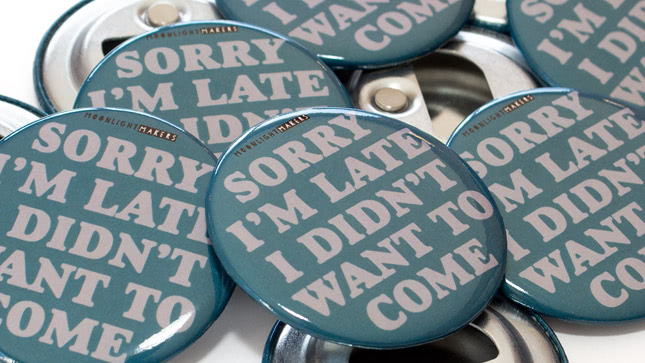 "Sorry I'm Late I Didn't Want To Come". These hilarious round bottle openers by moonlight makers are printed in our original glossy finish. They are available for purchase on the Moonlight Makers website: Sorry I'm Late I Didn't Want To Come – Bottle Opener
Flash Sale! 20% OFF All Custom Promotional Products
We'll make this quick: You can head over to PureButtons.com and take 20% OFF when you order custom promotional products and use code 20OFF
Offer valid on all new orders or reorders!
Use coupon code 20OFF
Offer ends tomorrow! Thursday 1.20.22 at midnight est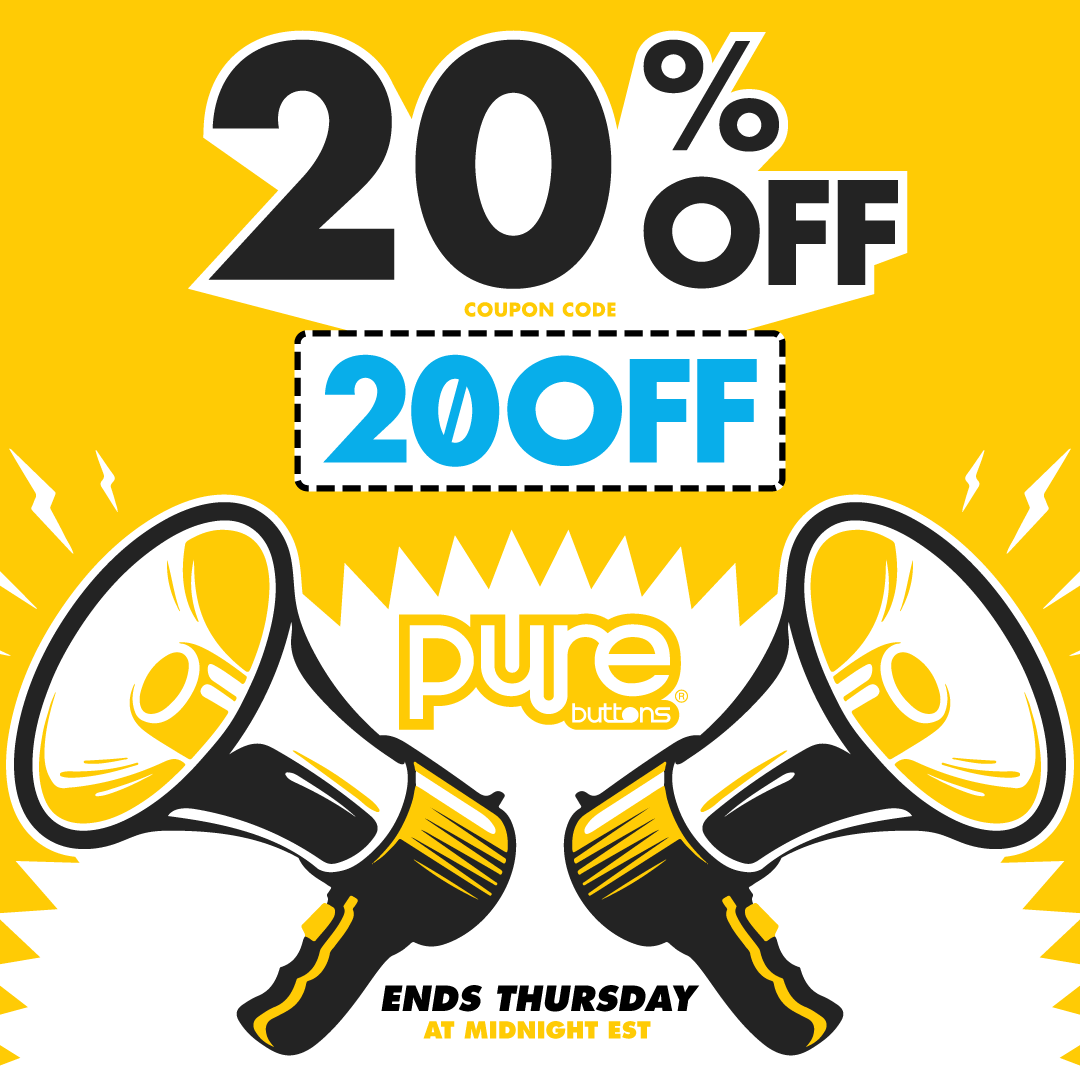 Update on one of our most popular custom magnet sizes!
We're pleased to announce that we've been able to restock one of our most popular custom magnet sizes. Our 3″ Square Fridge Magnets are back in stock! Thank you for your patience while our suppliers work hard to get our most popular custom magnet sizes in stock and delivered to us.
These 3″ Square Fridge Magnets are available to order and customize online right now! Simply enter your quantity and use our easy art tool to create a unique magnet design on any device. You'll get an instant digital proof to approve before you checkout.
If you'd prefer another size or shape, we offer 19 shapes and sizes of custom magnets to choose from at purebuttons.com Choose from several sizes of square magnets, but also round, rectangle or even oval shaped magnets – all customizable online!
Our high quality custom magnets are sold in stores around the world. They're great as souvenir gifts, photo magnets, custom swag and more. Minimum order is just one magnet and you get huge price discounts on bulk orders. The more magnets you buy, the more you save!
Unfortunately, we are still waiting on stock for our 2.5″x3.5″ Rectangle Fridge Magnets and will update when they become available. Thanks for choosing purebuttons.com for custom fridge magnets and other custom promotional products!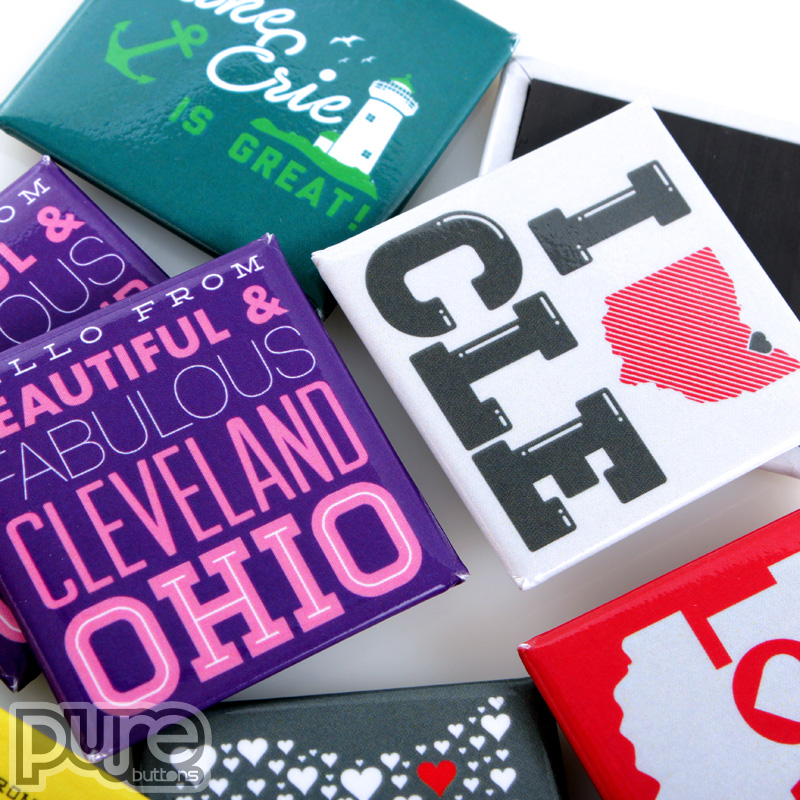 Gift idea for creatives on your nice list
Looking for a last minute gift idea for creatives or entrepreneurs on your 'nice' list?
PureButtons specializes in pin-back custom buttons but we have a diverse catalog of customizable promotional products which makes our gift cards uniquely suited for the creative people in your life.
Digital gift cards can be sent instantly to any email address. Add a unique gift card for each name on your list and checkout once, it's that easy.
Digital gift cards can be sent 24/7/365 at PureButtons.com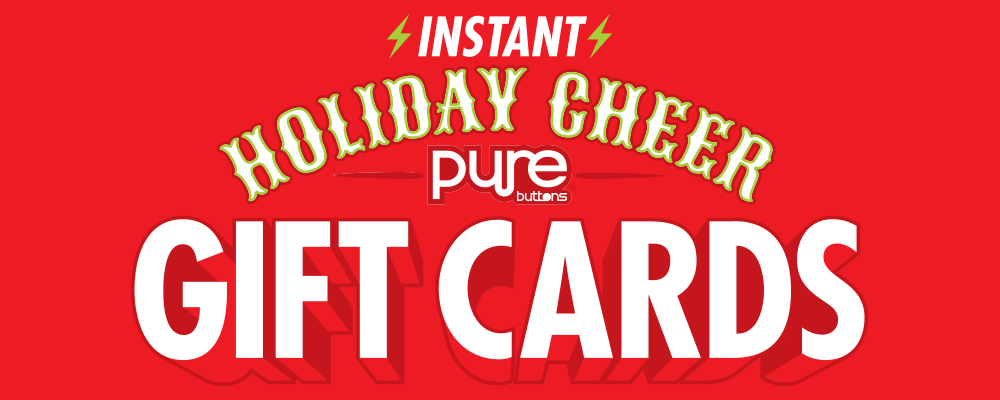 Happy Holidays from the Pure Buttons Crew
We want to wish all of our customers a merry Christmas and a healthy & happy new year. Thank you for your business in 2021. It means the world to us! Here's to 2022!
Happy holidays!
The Pure Buttons Crew
Call 800-710-2030