Custom Buttons Blog
Welcome to The Button Post by Pure Buttons! A blog where we discuss all things related to custom pin-back buttons and other custom promotional products that Pure Buttons offers. Stick around for coupons to score cheap pinback buttons, new button product announcements and more!
The Button Project brings a smiling face to mask-wearing medical professionals.
While mask-wearing is not new to hospital environments, the simple fact is that now more hospital employees than ever are wearing masks all day. Patients (especially young patients) feel more at ease when they know who is taking care of them, and to help bring a smiling face to the hospital environment and let young patients see "behind the mask", The Button Project at the Monroe Carell Jr. Children's Hospital at Vanderbilt University in Nashville, Tennessee has been printing face photo buttons for doctors, nurses and medical staff to keep a personable friendly atmosphere in a sometimes upsetting circumstance.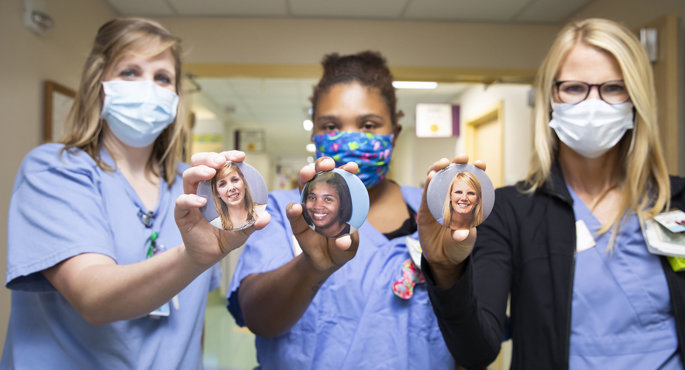 We have seen face photo buttons take off in recent months, receiving reviews from surgeons, general practitioners, and nurses… but not just medical related jobs! Face photo buttons have been ordered by schools and teachers unions, restaurants and cafes, cosmetologists and barbers, etc. Face photo buttons help customers, patients and clients see behind the mask and know who they're talking to.
It has never been easier to customize buttons with your beautiful smiling face. Simply browse our custom buttons – with 19 different shapes and sizes, pick a button size and add your photo in our easy online customizer tool. You'll get a free instant digital proof and checkout is a breeze.
We recommend a larger round button size, as it is easier to see from a distance (social distancing!) and more comfortable to wear for long periods with its round shape.
The masked world is presenting a real social challenge that face photo buttons are perfect solution for!
Social Distancing Signs Now Available
The world has changed significantly, and with it comes the need to practice social distancing and remind others to keep their distance when possible to reduce the spread of viral infection. The perfect canvas for Social Distancing Signs is our popular 6″ Magnetic Easel. Measuring 6 inches wide, this unique custom product has a pop-out easel back for table or desktop display, and two strong neodymium magnets that let you hang it on any magnet-ready surface like a fridge, filing cabinet, white board and more.
We now offer three color variants of two new social distancing sign designs, available for purchase at a discount on our website.
Mask Required Social Distancing Sign (Blue)
This bold social distancing sign is sure to get noticed when you advertise that face masks are required to be worn on the premises. This sign design includes the words "FACE MASK REQUIRED – Thank You!" and features a large illustration of a white face mask. This attractive social distancing sign is also available in red and green color variants, or personalize your own with your unique colors and logo (see below).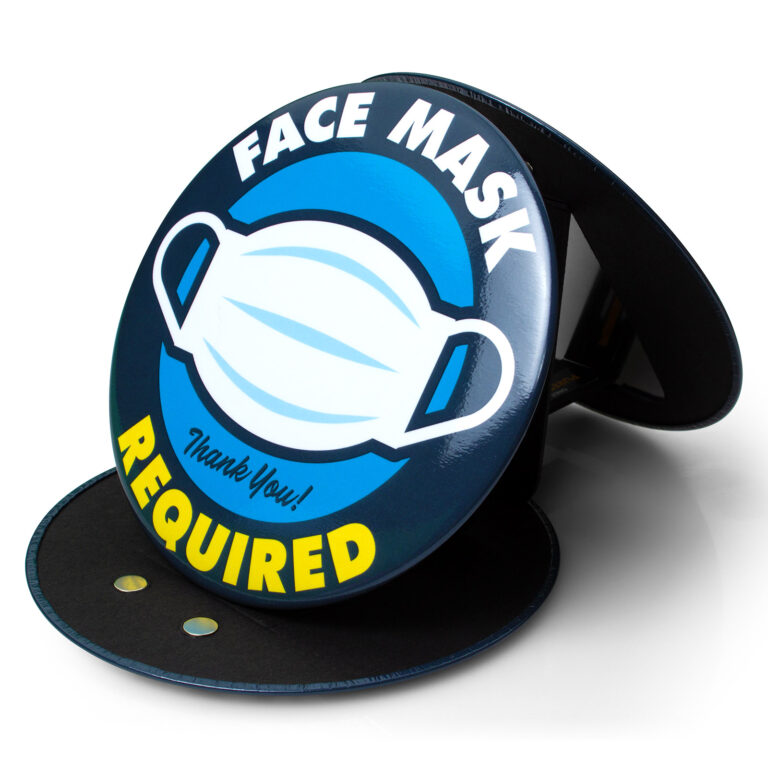 6ft Apart Social Distancing Sign (Blue)
This social distancing sign reminds people to maintain safer distances from others while indoors. The bold graphics read "Please Stay 6ft Apart" with a large multi directional arrow design. This friendly reminder to yourself and others is a great way to encourage social distancing and increase the health and safety of your work environment. This social distancing sign is also available in red and green colorways, and you can also choose to customize your own.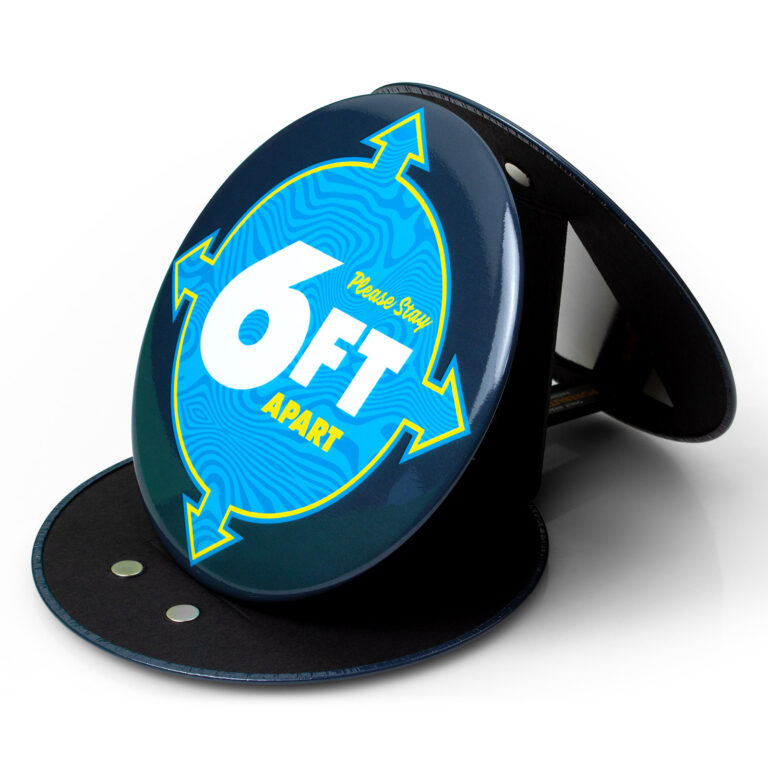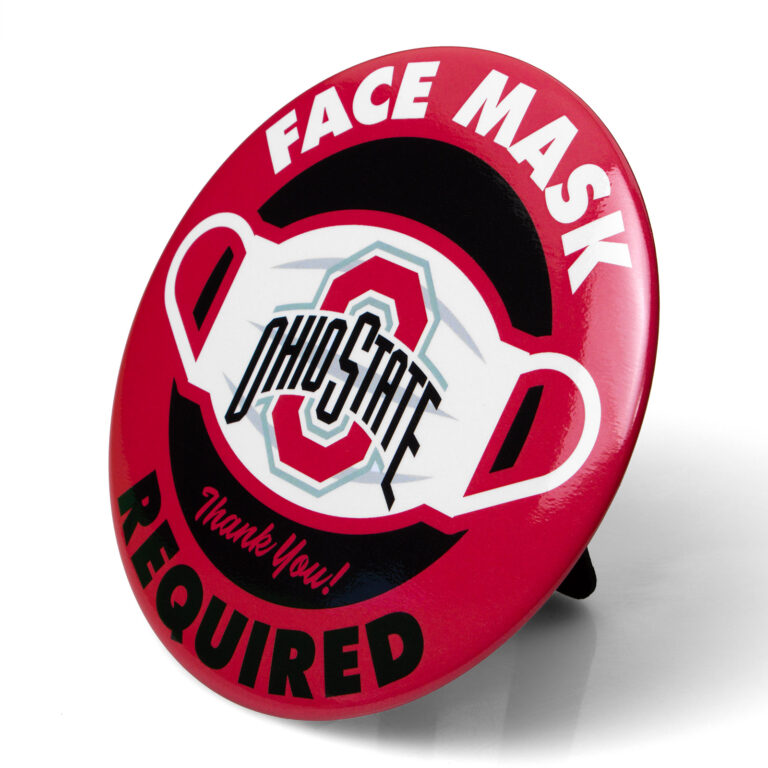 Customize Your Own Social Distancing Sign
If you'd like to customize your own social distancing sign, Visit our Social Distancing Signs page and use the dropdown menu under your design of choice to load it into our easy online customizer tool. From there, you can pick colors, add your own logo or text and checkout in minutes with your custom social distancing sign.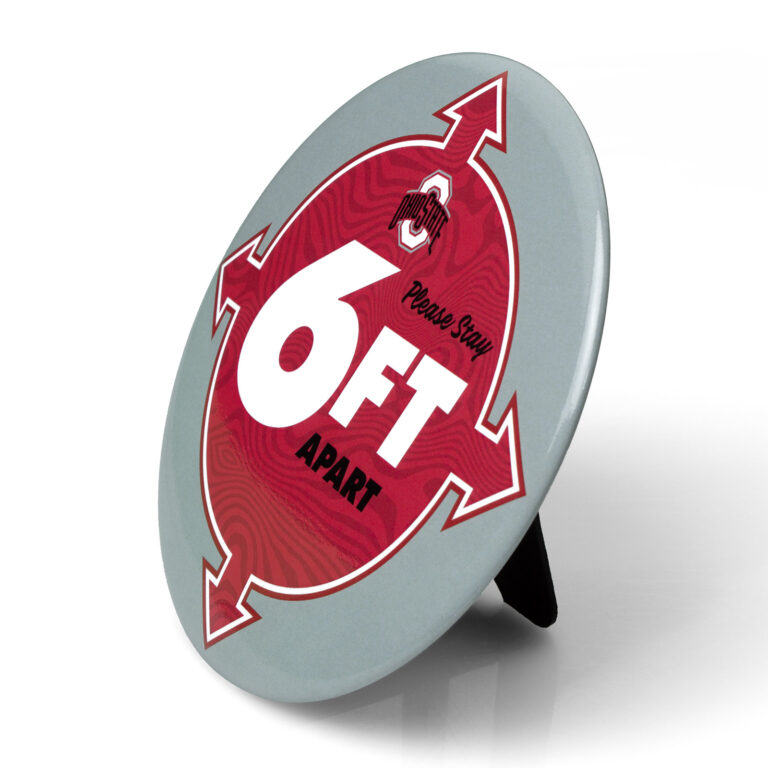 Our minimum order is just one social distancing sign for our standard pre-designed signs and also custom / personalized signs. You can get big discounts per sign if you order customized signs in bulk quantities. As always: shipping is FREE on all orders over $25 shipped to the contiguous USA with code FREESHIP
Face Photo Buttons Make Social Distancing More Personal
Social distancing is now a normal part of every day life. Many customers have found that wearing a photo of their smiling face helps make meeting new people while wearing a face mask less awkward. Our face photo buttons are fun to wear and easy to customize online in our free tool.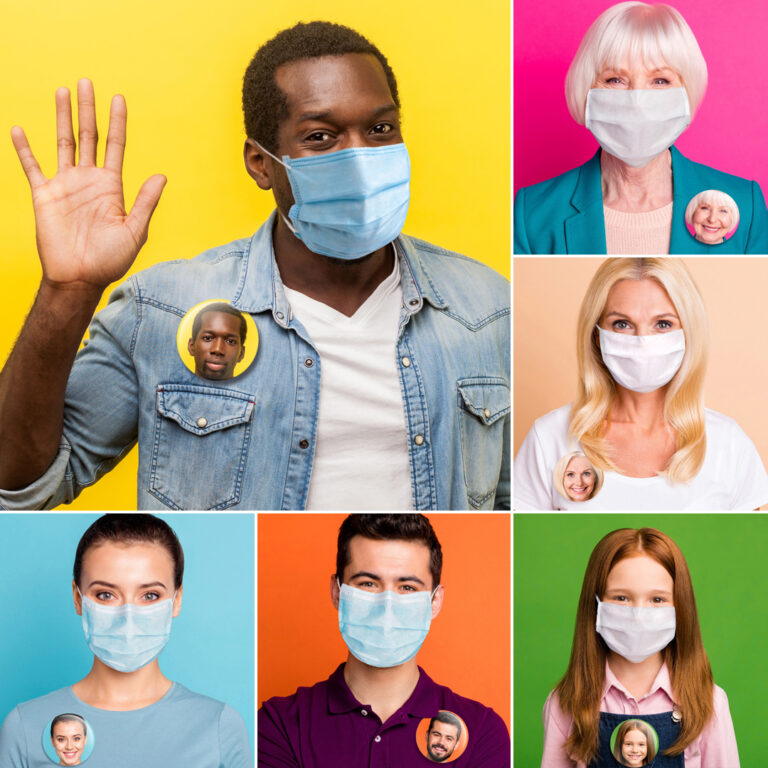 Doctors and nurses who wear PPE all day have been ordering face photo buttons to help patients feel at ease when they meet with them behind a bunch of protective gear. Face photo buttons from Pure Buttons are a great way to break the ice in a situation where patients are nervous to be treated by anonymous people.
With school resuming soon, teachers of school children have been ordering face photo buttons to help welcome new students and put a smiling face on a strange new learning environment. Printing photo buttons can help young students feel safer and more familiar with masked teachers.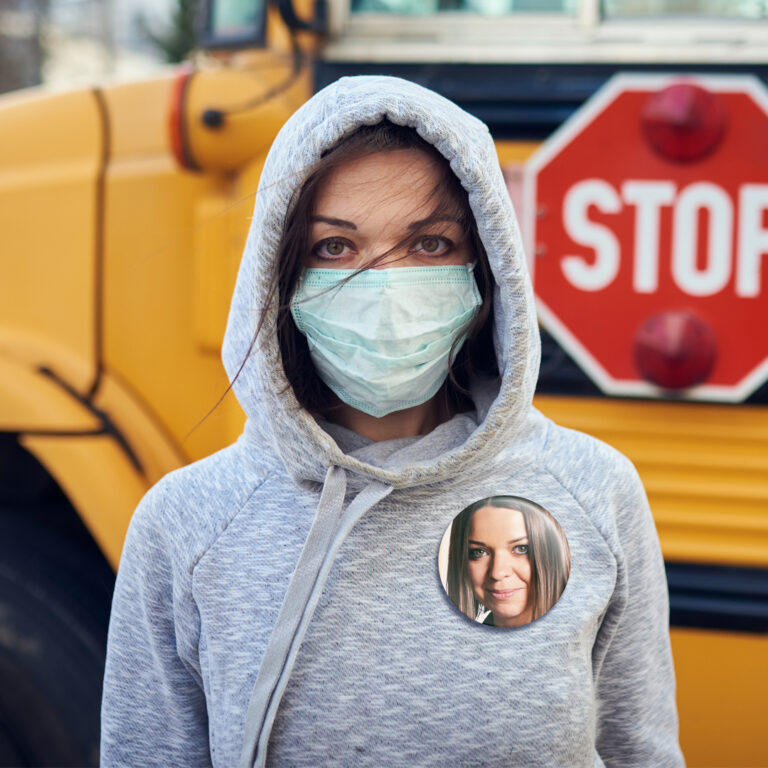 We have also had orders from restaurants, bars and coffee shops where waitstaff are wearing protective masks. Putting their smiling face on a large custom button is a great way to engage with patrons on a personal level while social distancing.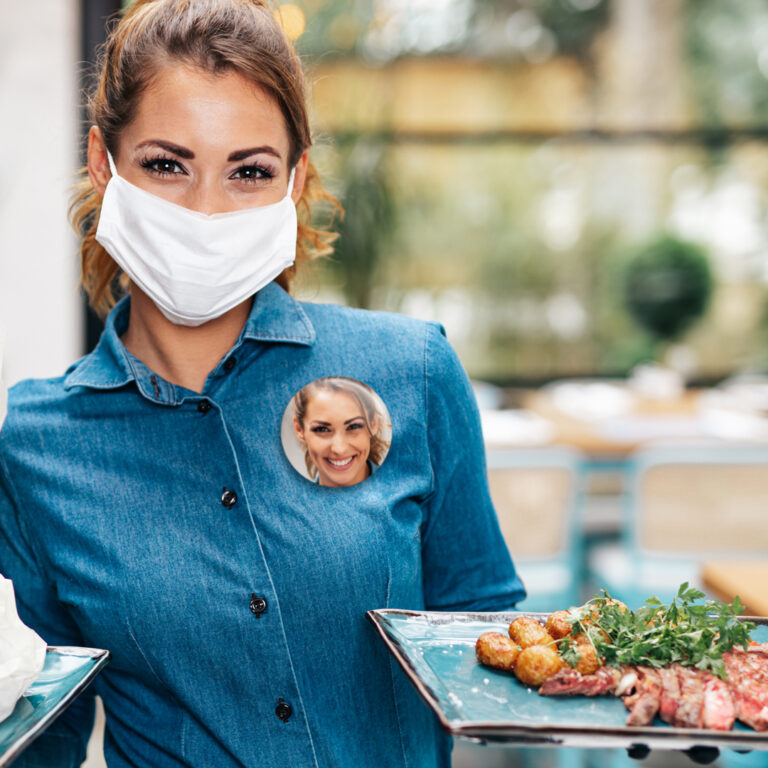 We offer 19 shapes and sizes of custom buttons on our website and you can customize face photo buttons right in your browser in our easy online tool. Simply choose your best portrait and add it to the customizer tool. Adjust the photo size and position and then approve your proof. It's that simple!
In addition to custom buttons, we offer clothing magnets which are available in all the same custom button sizes and shapes, but feature a strong neodymium magnet on the back instead of a pin like our pin-back buttons use to attach to clothing. These magnetic buttons do not require a pin to pierce clothing which is something to consider when ordering a face photo button.
Our minimum order of face photo buttons is just one button! So make one for yourself, your friends, family, co-workers and staff. You'll be glad you did!
Trade Show Giveaways Under $1
Pure Buttons specializes in custom promotional products that make perfect trade show giveaways. When planning for a trade show or promotional event on a budget, we are here to help!
One important factor when deciding on what trade show giveaways you'll purchase is your BUDGET. All of our custom products are affordable and get even more affordable when you buy them in bulk quantities. Depending on the quantity of trade show giveaways you need, bulk orders of our custom products can be purchased for $1 or less. For instance, our smallest 1″ custom buttons can be purchased as cheaply as 16.3 cents each. All of our promotional product informational pages have pricing tables to show the price tier breakdowns so you can plan your budget accordingly.
Our cheapest products (and what we're famous for) are our custom buttons which are offered in 19 sizes and shapes. You can design your custom buttons easily on our website and get an instant digital proof to approve before you checkout. As with most of our other promotional products, our custom buttons are easy to sanitize and feature weather resistant finishes. Our custom buttons are available in 3 unique finishes (metallic finish, soft touch matte finish, and original gloss finish).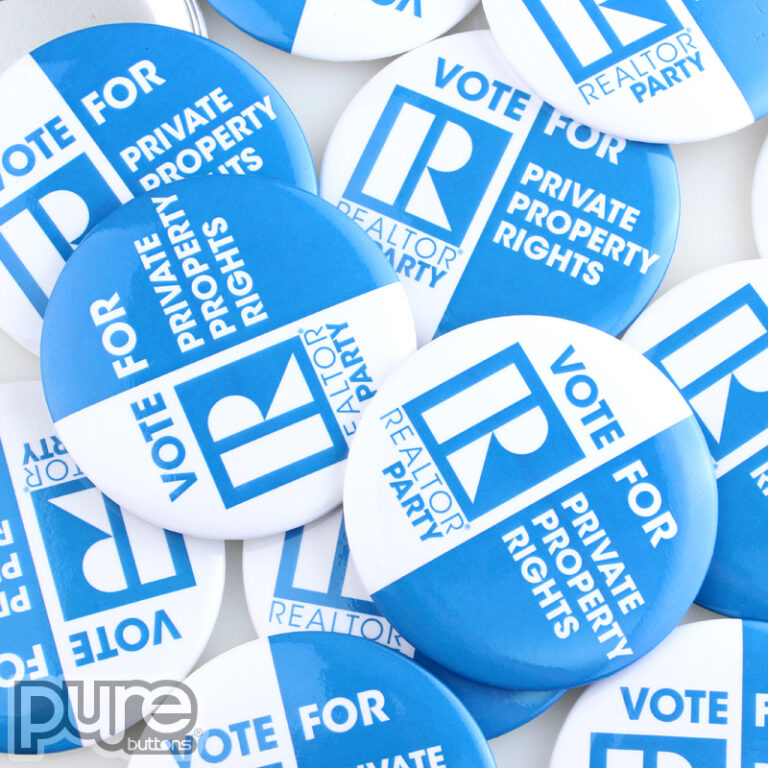 The buttons shown above are large custom buttons for Realtors. These trade show buttons were designed by Pure Buttons for our Realtor customer.
Another thing to consider when choosing a trade show giveaway product is COLLECTABILITY. Printing a variety of designs makes your trade show giveaway more fun as visitors to your trade show booth can pick their favorite design and feel more attached to the custom promotional products you're offering them. You can also place a number of giveaway products around the trade show floor and create a collectable custom swag game of sorts.
We like to collect a variety of fridge magnets and we've found that a lot of our customers who order custom fridge magnets for trade shows find them very popular! If you're looking to create a buzz about your trade show booth with a hot giveaway item, look no further than our custom refrigerator magnets.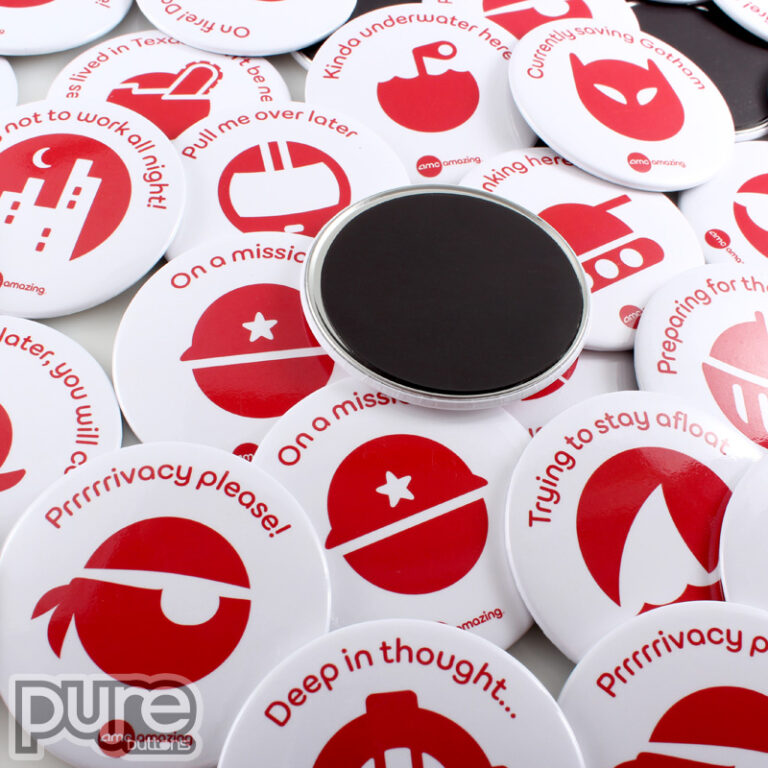 The custom fridge magnets above are for AMC Theaters and feature a variety of unique designs referencing movie characters or genres. Creating multiple variant designs of custom fridge magnets makes this promotional swag more collectable for AMC Theaters' customers.
A third factor to consider when choosing promotional products for trade shows is USABILITY. Will your potential customers use your promotional products in their daily life or will they quickly find the bottom of a trash can? If you choose the right promotional products, your customers and potential customers will keep your name in their life for years to come as they use and look at your trade show giveaway. For this reason, it sometimes makes more sense to spend a little more on a useful product like our Custom Keychains, Custom Bottle Openers, and Custom Coasters.
Our Custom Keychains are available in two sizes: Round Keychains and Rectangle Keychains. Both feature your own custom graphics printed on both sides (each side matching or unique, your choice), and a crystal clear acrylic keychain body with a standard chromed metal key ring. These keychains are excellent trade show giveaway items that are more likely to be used long term by your customers.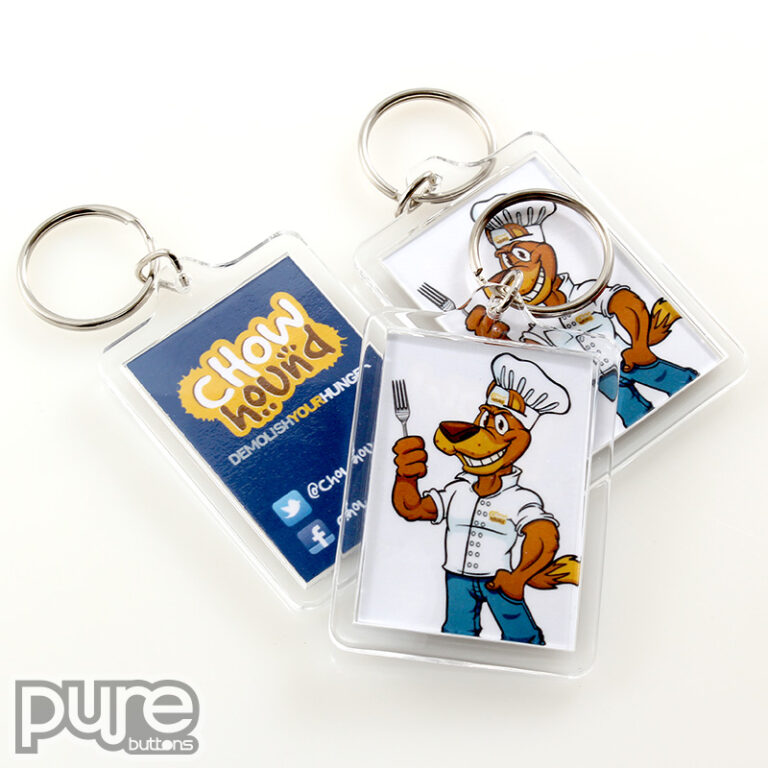 The custom acrylic keychains for Chow Hound shown above feature unique full color graphics on each side. This feature is available at no extra charge when you purchase custom keychains from Pure Buttons.
Our magnetic bottle openers and custom drink coasters go hand in hand as the fun-loving trade show giveaways of choice for brands looking for practical and novel tradeshow swag. Our custom bottle openers feature a strong neodymium magnet for catching loose caps and hanging on your refrigerator in between drinks, and our custom coasters have a natural cork backing and a full color top featuring your company's logo or artwork. As with all of our other promotional products, both our bottle openers and coasters are free to edit in our easy online tool.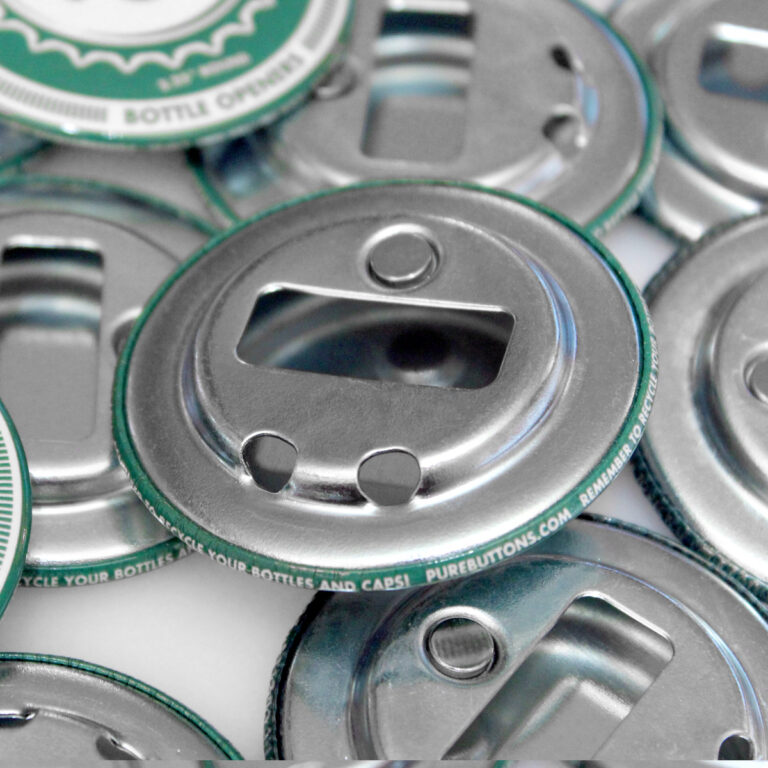 Our custom bottle openers feature a full metal construction as shown above. They can be customized with your company's logo easily in our free online tool.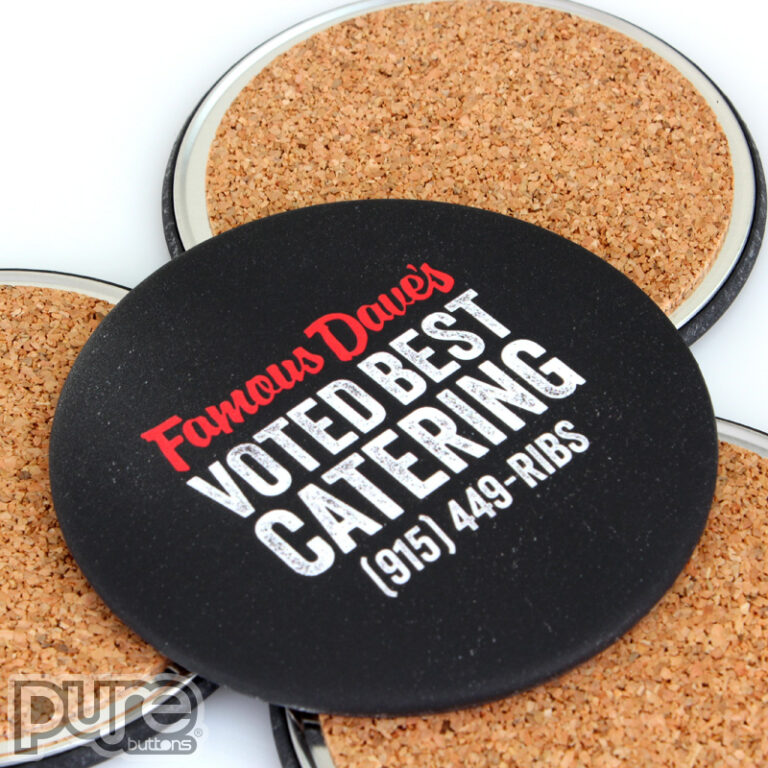 The custom drink coasters for Famous Dave's seen above feature our unique soft touch matte finish which helps to reduce the slickness of the coaster surface. We recommend choosing soft touch finish when your order our custom coasters.
Pure Buttons wishes to be your GO-TO source for all trade show giveaways. Our low pricing, quick turnaround and high quality will help make your trade show booth a success!
Custom Pocket Mirrors 20% OFF
This week only: Personalize your own custom pocket mirrors and take 20% OFF with code MIRROR20
Our custom mirrors are available in three round sizes:
2.25″ Round Pocket Mirrors
3″ Round Pocket Mirrors
3.5″ Round Pocket Mirrors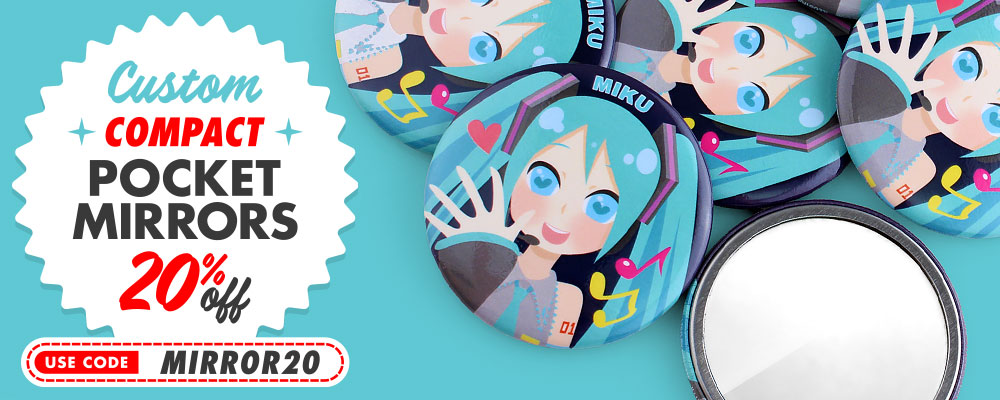 These pocket mirrors are an excellent collectable merchandise product that everyone loves to get their hands on! They're perfect as trade show giveaways or as custom merch for any company, artist or band.
Our minimum order is just one custom pocket mirror. Why do we call our custom mirrors "Pocket Mirrors"? Well its because they're small enough to carry in your pocket! Or, easily carry them in your purse or keep one in your car for a convenient compact mirror for checking your style or doing your makeup on the go.
Personalize custom mirrors in our easy online tool and get a free instant digital proof when you do! Pure Buttons makes it easy to get your own custom merch.
Call 800-710-2030