Button Boxes
Welcome to our Button Boxes category! Below you will find articles, posts, coupons or samples featuring Button Boxes. To see our latest content, visit Home.
Cedar Point Button Stop Loaded with Button Boxes
This weekend, we attended opening weekend of our favorite amusement park, Cedar Point! We were so excited to see their new Button Stop shop featuring tons of unique button designs all sold out of our custom button boxes. This pagoda style building was once a hat shop, but now houses thousands of unique custom buttons ready to be collected by park visitors!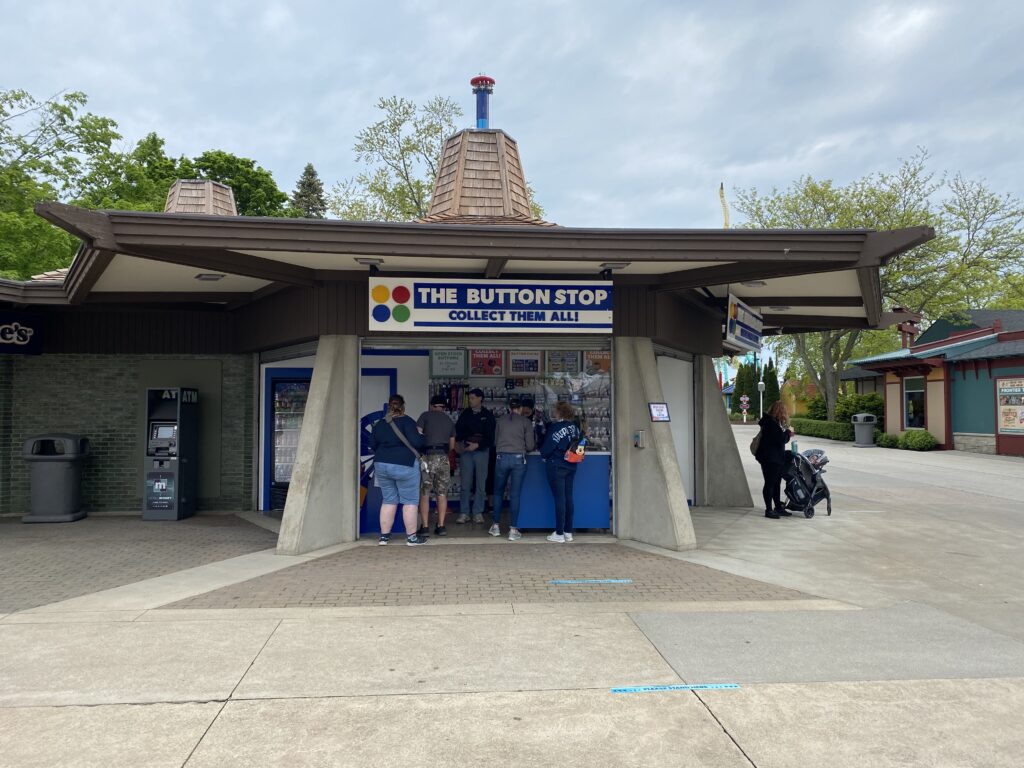 The Button Stop at Cedar Point Amusement Park. Sandusky, Ohio
Inside, park guests are invited to choose from a wide selection of limited edition button designs featuring current attractions of the park and attractions and events from years past. Special limited edition buttons are also circulated around the park. Our button boxes are self-serve and make for an attractive presentation in any retail setting.
In the photo below you can see how the park is selling their custom buttons in a self-serve style. Open button boxes are presented with the button design they contain attached to the pop up top of the box. You can also spot some closed button boxes waiting on the shelf behind the open boxes.
Bright and colorful signage advertises the custom button designs as well as passholder exclusive buttons and button packs. Lanyards are also sold which the buttons can be attached to!
We've never seen so many button boxes displayed at once. This was a great surprise!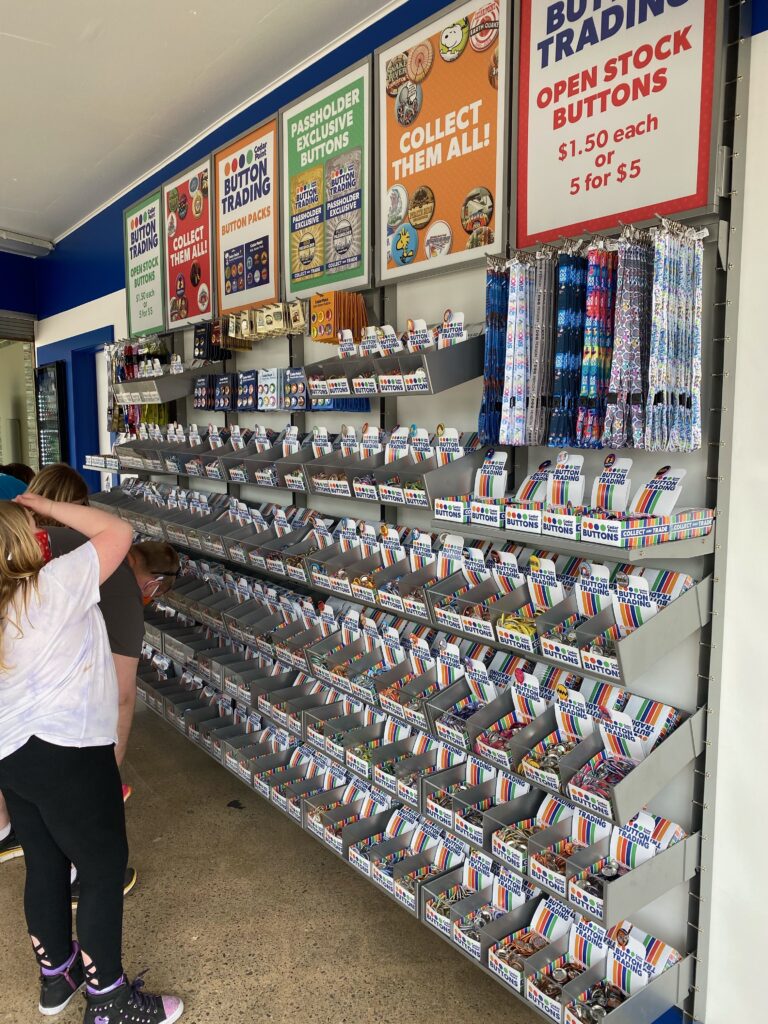 In addition to bulk buttons sold out of button boxes, Cedar Point is selling button packs which are perfect button retail packaging and are available in any size or shape. With our custom button packs, you can die cut your backer card whatever shape you'd like! We offer a wide variety of standard button pack options for order on our website, or contact us for something completely unique.
Cedar Point is an incredible theme park built on a Lake Eerie peninsula right outside Sandusky, Ohio. A quick 1.5 hour trip from PureButtons headquarters! We love visiting the park regularly. If you've never been, consider visiting this unique theme park and while you're there, pick up some custom buttons in The Button Stop shop!
You can virtually ride one of their most famous steel roller coasters Millenium Force in this youtube video!
Cedar Point is a globally awarded theme park with some of the best roller coasters in the world. We're so happy they've decided to include custom button boxes and custom button packs in their amusement park merchandise offerings.
New and Improved Custom Button Pack and Button Box Print Quality!
PureButtons remains committed to offering the highest quality custom buttons and promotional products available. This means regular upgrades to our production facility and printing and manufacturing capabilities. We are proud to announce a new and improved printing quality for custom button packs and button boxes.

Our newest digital printing press features enhanced resolution, color quality and double sided printing capabilities. This means that our custom button packs and custom button boxes have never looked better!
It's a great time to try our custom button packaging for yourself and see how you can take your custom products to the next level with retail-ready packaging solutions that are not only affordable, but look fantastic!
Entice customers and make more sales with custom button packs and retail display boxes with your custom graphics.

PureButtons offers standard button packs in a wide variety of configurations but also offers completely die cut button packs with unlimited possibilities. Contact us for a quote on a completely unique button pack design or get pricing and order standard button packs on our website.

We will always be striving to improve and you'll be first to hear about it right here on TheButtonPost! Our goal is to make you look great!
Custom Button Boxes 15% OFF with code BUTTONBOX15
Button Display Boxes 15% OFF with code BUTTONBOX15
Our amazing Button Boxes are available in several sizes / qtys and come filled with custom buttons featuring your custom design all for a very affordable price.
Use code BUTTONBOX15 to take 15% off Button Display Boxes until 2.28.18
1″ Round Button Box
Includes 200 custom buttons with up to 4 unique designs!
1.25″ Round Button Box
Includes 100 custom buttons with up to 2 unique designs!
1.5″ Round Button Box
Includes 100 custom buttons with up to 2 unique designs!
1.75″ Round Button Box
Includes 50 custom buttons with 1 unique design!
1″ Square Button Box
Includes 200 custom buttons with up to 4 unique designs!
1.5″ Square Button Box
Includes 50 custom buttons with 1 unique design!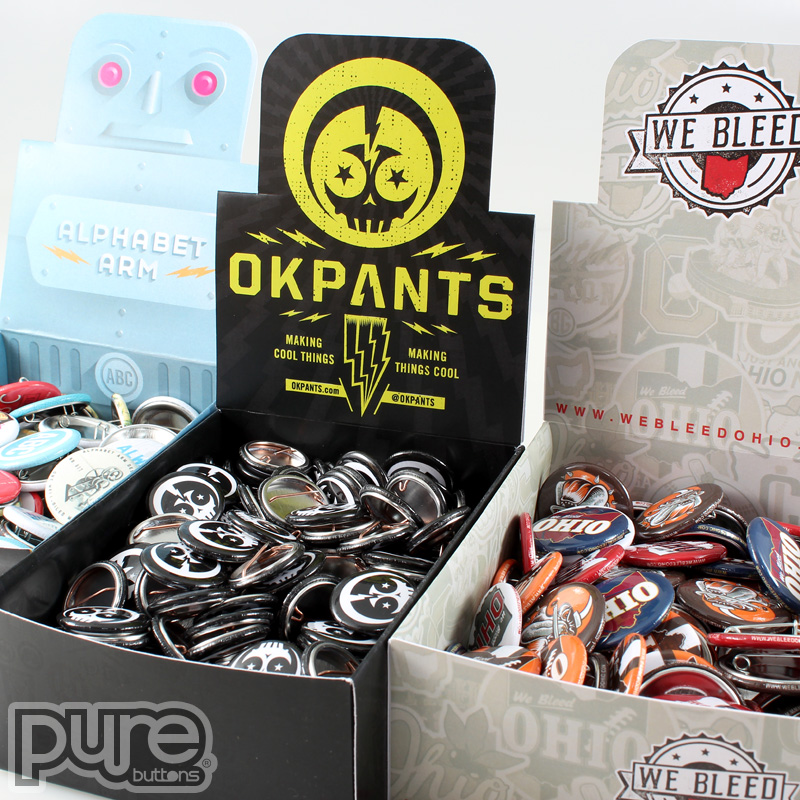 Custom Button Boxes 15% OFF
For the next two weeks take 15% off our amazing Custom Button Boxes with promo code BUTTONBOX15
Our Custom Button Boxes feature up to 4 designs per box and come in sizes 1″-1.75″ round or square buttons!
Shop Custom Button Boxes
or
Download Templates
Thanks for choosing PureButtons!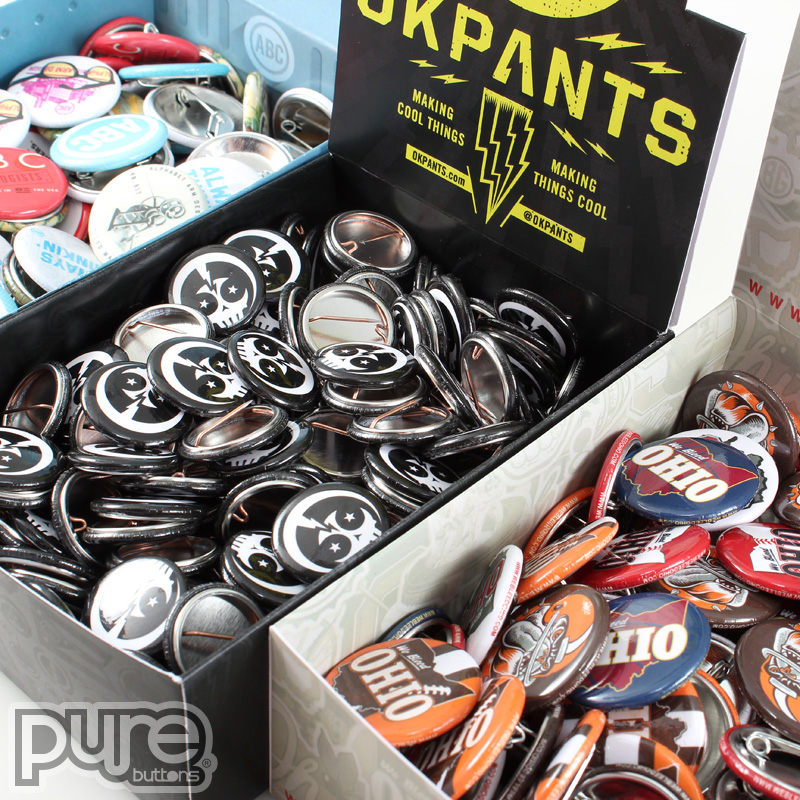 More information on our Metallic Acetate Finish
Get your shine on! Metallic finish option now available for all of our custom products! Just select "Yes" for the "Acetate Finish" option at checkout.
For a small upgrade fee, we will print your design on clear acetate rather than white paper. This allows the metallic button body to shine through your design. In turn your design will have a metallic brushed steel look in any places that are 'white' in your design.
Light to mid-tone colors will also appear metallic but could look more washed out than when printed on white, as they may become lost against the metallic background.
Black will block the metallic shine completely.
This option will darken your overall design significantly.
Clean vector graphics with lots of high contrast and rich colors and white space will produce the best results.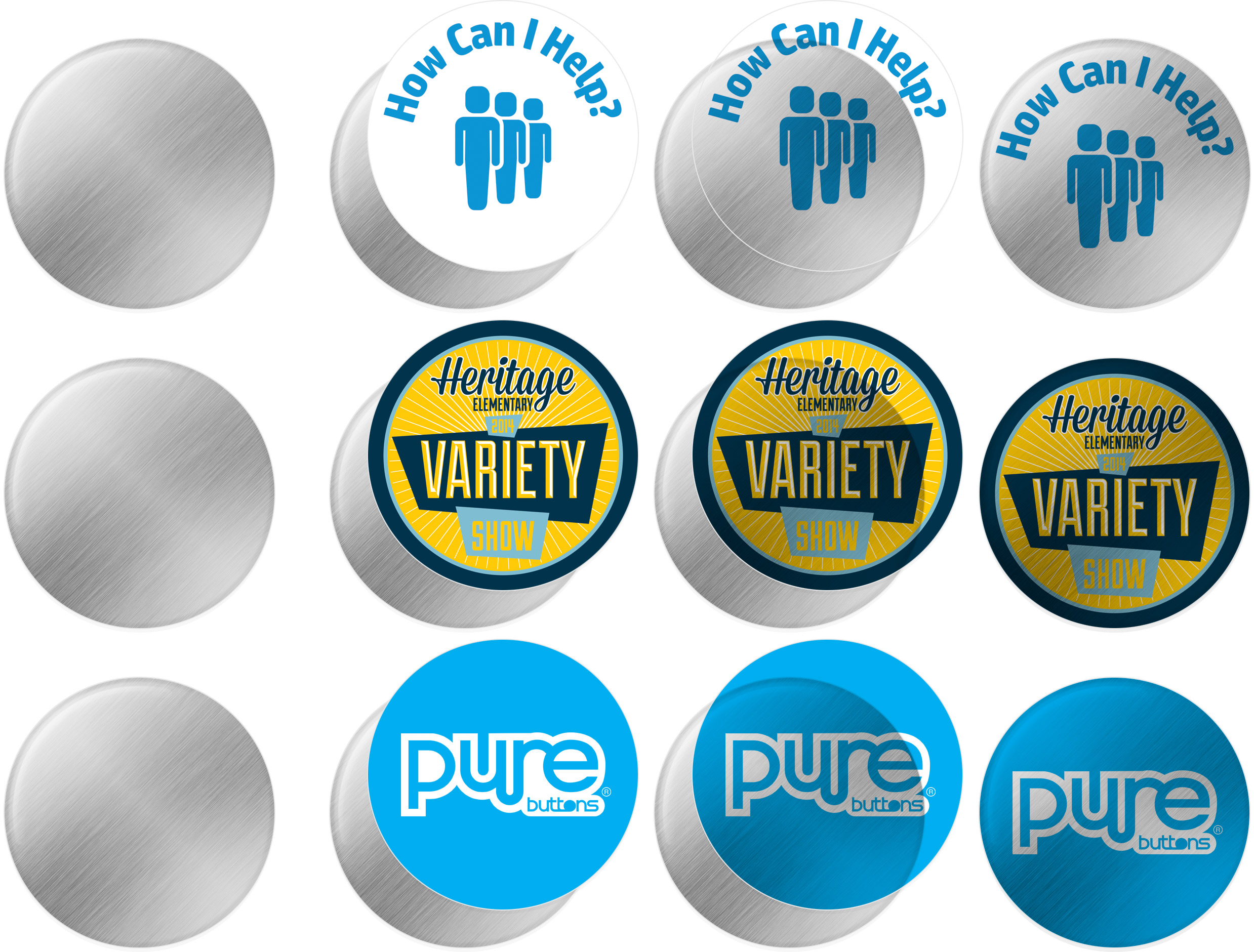 Digital proofs aren't guaranteed to accurately show the representation of a metallic finish. Since the finish changes based on the light that hits the design, you will experience greater clarity in bright light and lower clarity in dim light.
Accurate color reproduction is not guaranteed when choosing metallic finish as each design varies based on pigment density in your design. Choose standard finish if this is a concern.
Call 800-710-2030