Custom Buttons Blog
Welcome to The Button Post by Pure Buttons! A blog where we discuss all things related to custom pin-back buttons and other custom promotional products that Pure Buttons offers. Stick around for coupons to score cheap pinback buttons, new button product announcements and more!
Customize campaign button templates with your unique colors!
Our popular campaign button templates are free to customize with your own text, logos and even colors! All of our campaign button designs have been created in a way to let you set any colors you'd like on the various design elements. Match your existing campaign branding with our unique template designs to create a fantastic campaign button.
We currently offer 14 templates for campaign buttons. Choose your favorite template and you'll be redirected into our easy online tool. Select the background design to choose your own colors. You can also edit all the text to your liking. Some of our campaign button designs give you a spot for your logo or photo, and some are purely text based.
Check out the gif below featuring one of our most popular campaign button templates getting color changes in our customizer tool!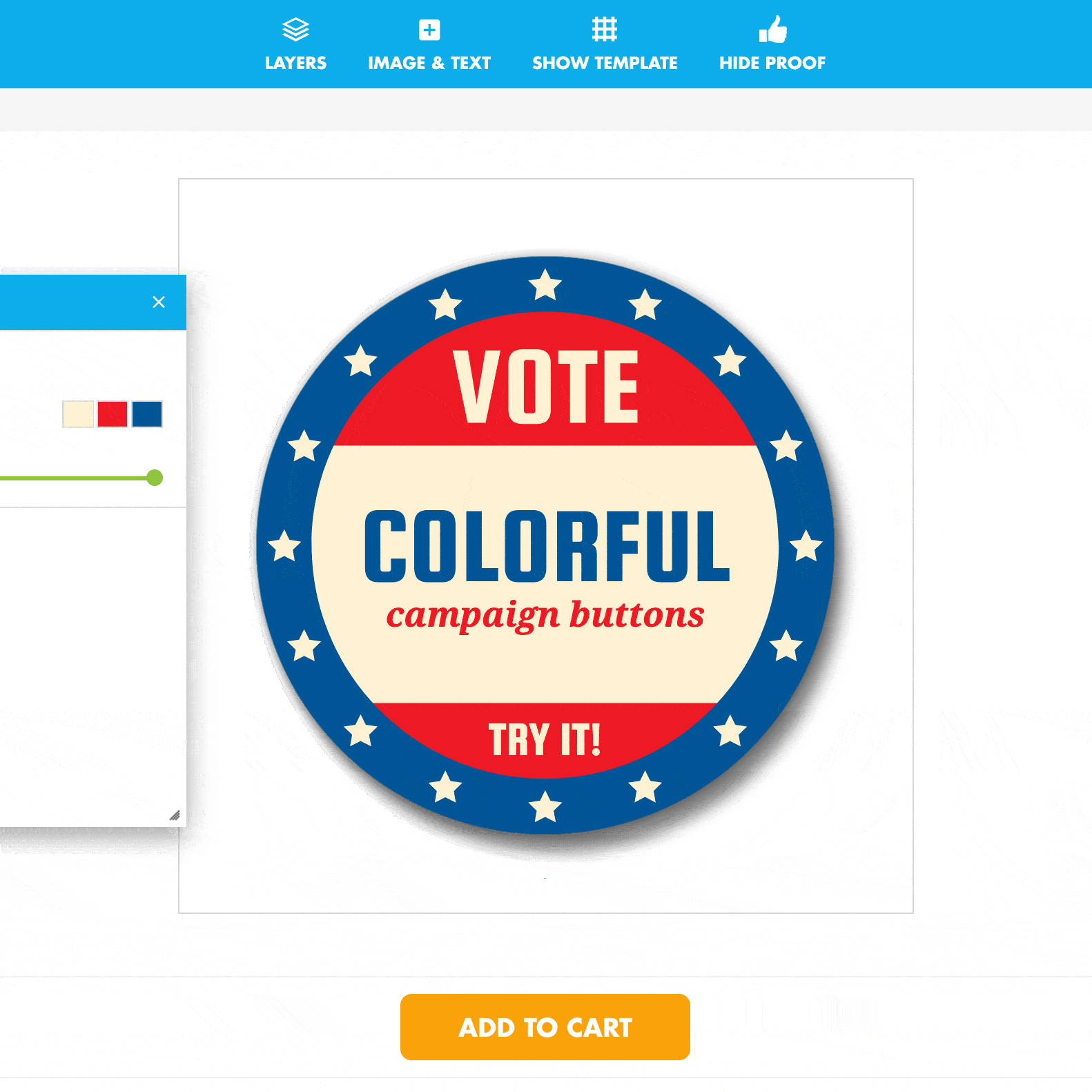 School is back! Mask Up with a Face Photo Button!
School is back in session, and many schools are requiring full day mask wearing. What better way to make masking more personable and friendly than a custom face button!
Simply add your selfie to our easy online customizer tool and you'll get an instant digital proof to approve before you check out. Our minimum order is just one face photo button and we offer 19 shapes and sizes to choose from.
Encourage friendly social distancing with our face photo buttons. These social distancing buttons are easy to wear, and loved by many students, teachers, administration, and even hospital employees, or waitstaff at restaurants!
Create your own Face Photo Buttons today!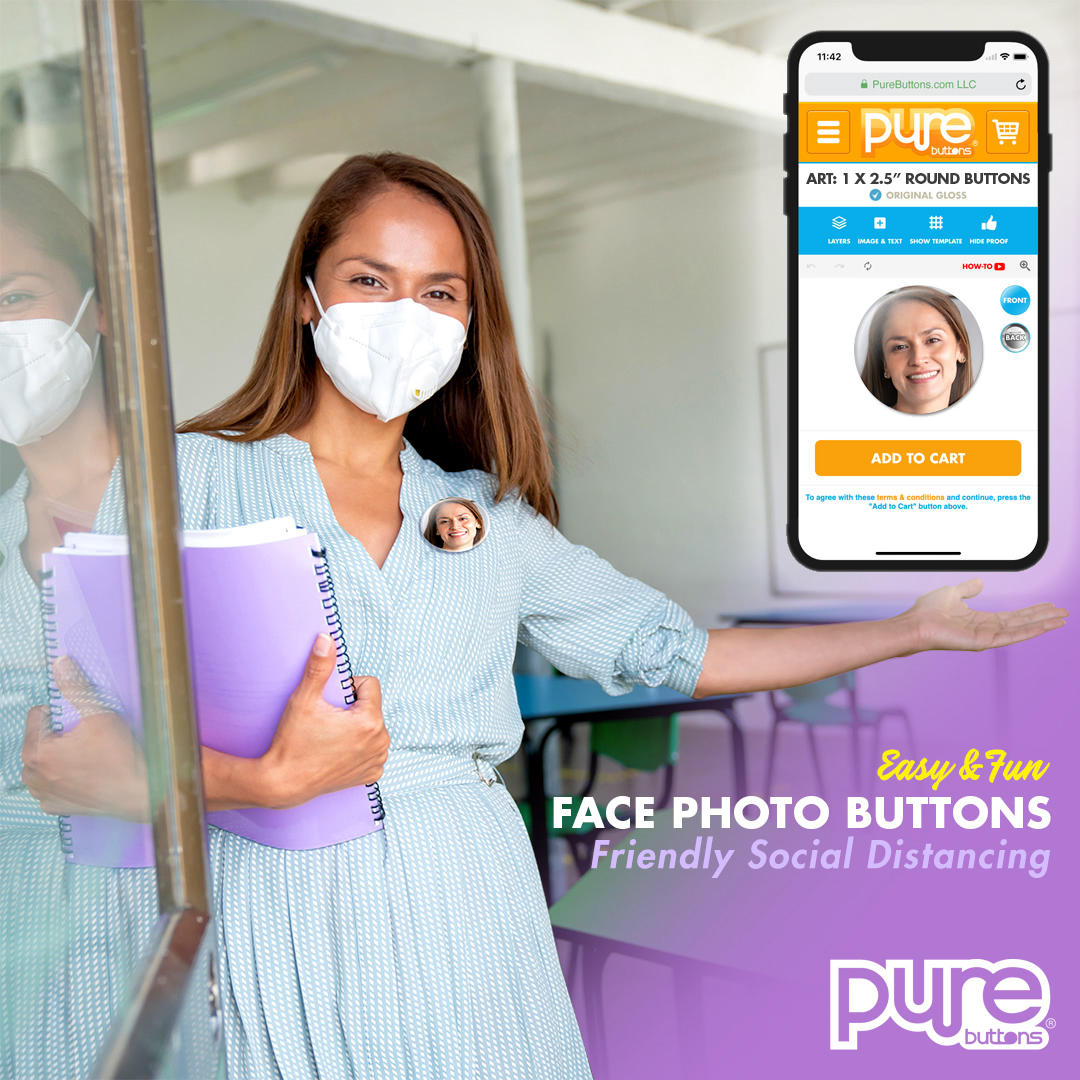 Slight change to our custom bottle openers
Attention to any customers who have purchased our bottle openers or are interested in trying them out!
We have recently updated the style of our magnetic bottle openers. They now feature a smooth, rounded metal back and a larger cap opening.
The new custom bottle opener back features the same neodymium magnet which serves as a cap catcher. Once you've popped your bottle cap, it will be caught by the magnet so you don't drop it! Also, this strong rare earth magnet helps keep your magnetic bottle opener hung in a handy location like the fridge for the next time you need it!
Previously there were two holes that ostensibly could have been used for a key ring but this was never an option offered at Pure Buttons. The holes have now been replaced by smooth rounded metal.
You can personalize bottle openers on any device in our free and easy online tool. When you do, you'll get an instant digital proof to approve before checking out.
This new cleaner look for our custom bottle openers is live in our customizer right now!
Reorders: Please note:
Reorders of custom bottle openers will feature this new look versus any previous versions you have received in the past.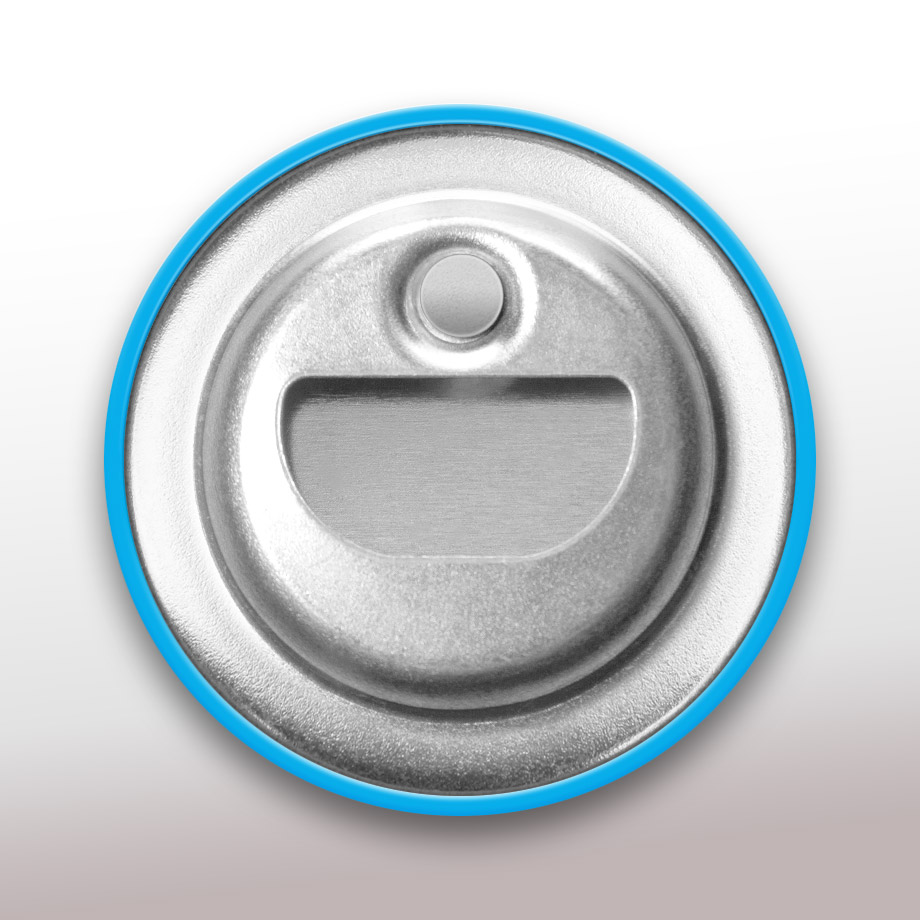 Covid-19 Vaccine Buttons En Español
We are pleased to announce that many of our new covid-19 vaccine buttons are available with Spanish translations. You can order one button or get huge bulk discounts with larger quantities.
We also now offer these buttons as clothing magnets. These clothing magnets use high powered neodymium magnets to attach to clothing instead of our traditional pin-back buttons.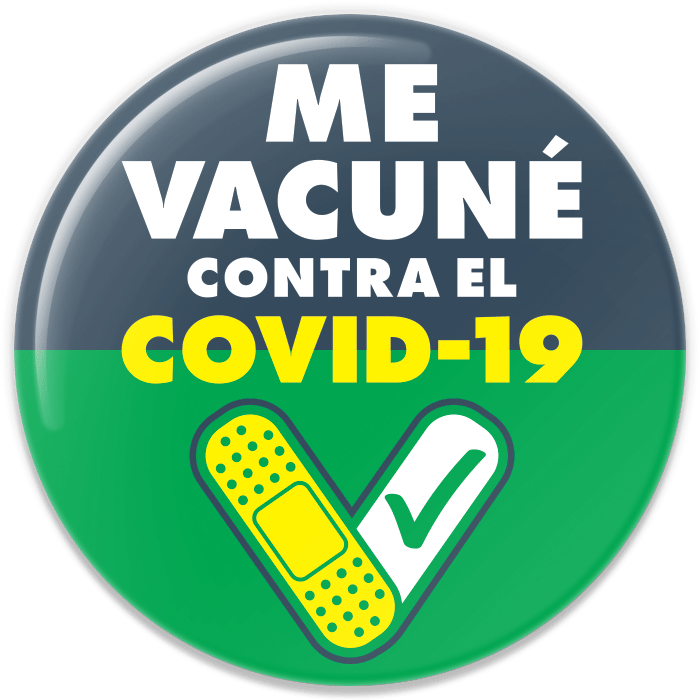 Me Vacuné Contra El COVID-19 Button is available now in two sizes. 1.5″ wide and 2.25″ wide.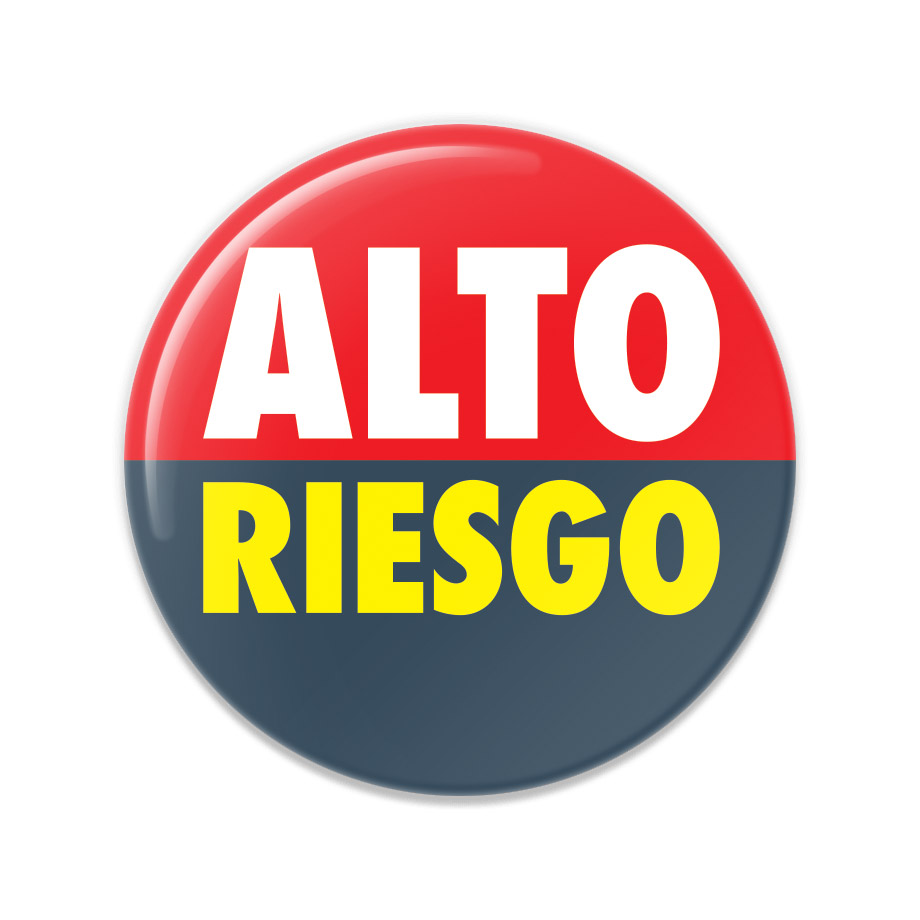 Our High Risk button is available translated as our Alto Riesgo Button.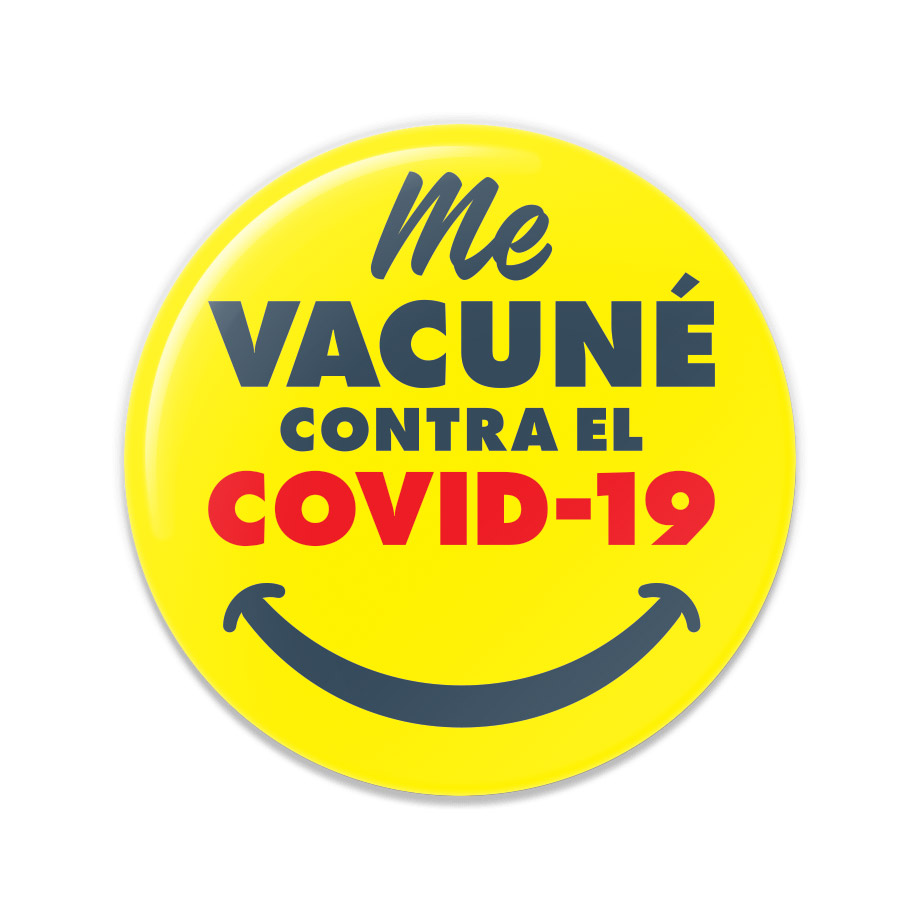 Our most popular smiley face design is available translated Me Vacuné Contra El COVID-19 Smiley Button.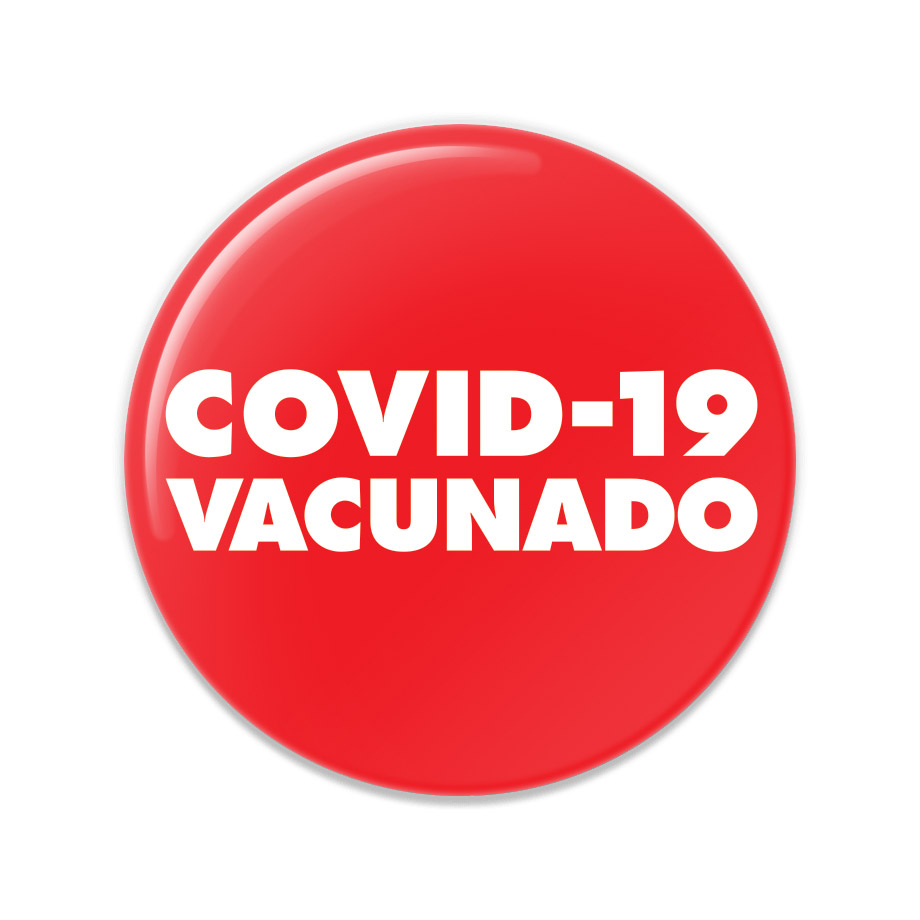 Our straight forward COVID-19 Vacunado Button grabs attention!
Two new Covid Vax Button Designs
We are pleased to announce two brand new COVID-19 Vaccine Button designs available for purchase as either a pin-back button or clothing magnet in two sizes: 1.5″ round and 2.25″ round.
I Got My Vax Button is a bold button design with large text and an illustration of a vaccine syringe. Get noticed when you're in public with this vaccine button design.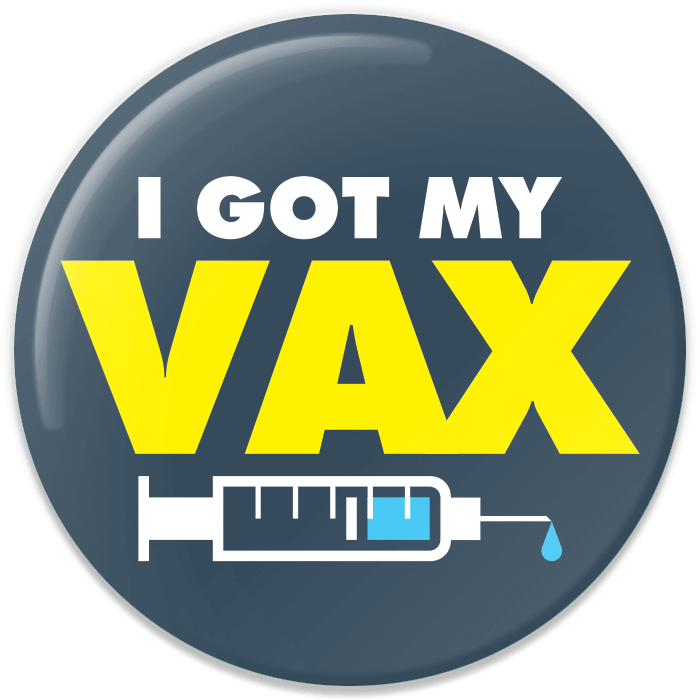 Vaxxed To The Max Button design is ready to grab attention and get some laughs when you wear it out. This bright yellow button design featured bold easy to read text and is available now!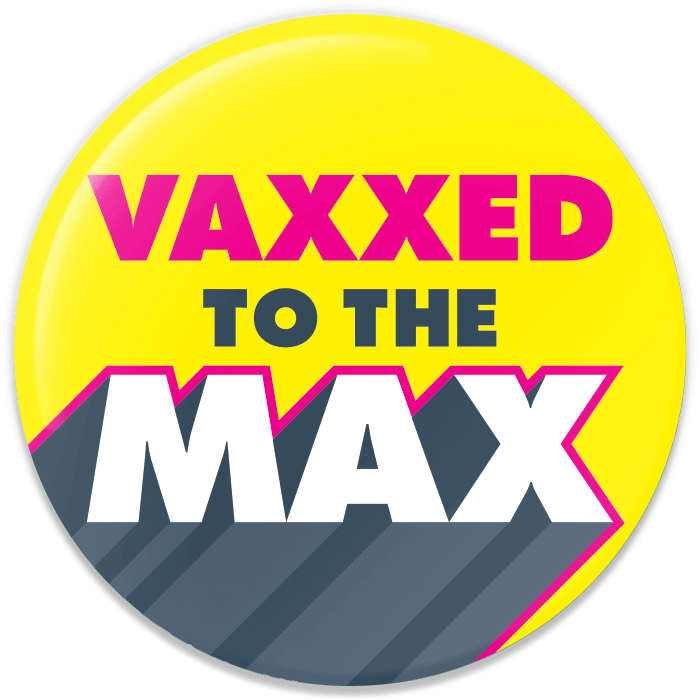 Enjoy bulk discounts when you order higher quantities for friends, family and co-workers. Or just get one for yourself!
Raise vaccine awareness and let others know that you're vaccinated with these easy to read button designs. We are currently offering six unique coronavirus vaccine button designs for you to choose from. These popular buttons are helping people be identified all around the world!
Stay safe out there!
Call 800-710-2030