Custom Buttons Blog
Welcome to The Button Post by Pure Buttons! A blog where we discuss all things related to custom pin-back buttons and other custom promotional products that Pure Buttons offers. Stick around for coupons to score cheap pinback buttons, new button product announcements and more!
Merry and Bright Holiday Photo Gift Template
One of our newest holiday photo gift borders is bright and fresh, with colorful flowers surrounding a large photo area for you to fill with your favorite picture.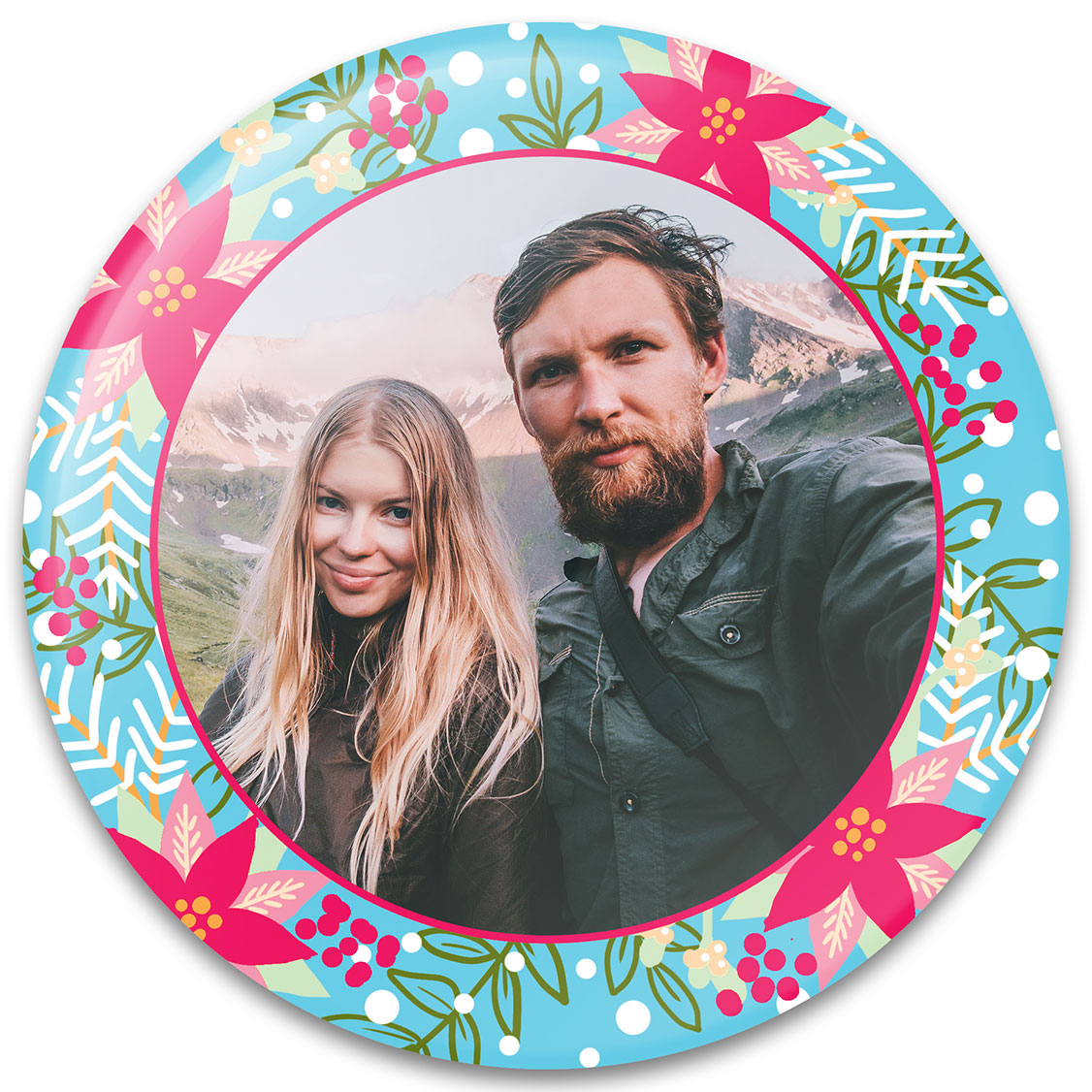 For those looking for an alternative to classic Christmas styles, we offer this modern take on a festive winter aesthetic.
To begin customizing this design on one of our many excellent products, simply choose the Merry and Bright photo gift design.
You can choose to print your design on our exclusive personalized ornaments or any of our other 3.5″ round products. Our custom drink coasters and custom fridge magnets make excellent holiday gifts as well.
All of our personalized photo gifts are printed on high quality products, all made in USA by Pure Buttons.
New Photo Gift Design: Foxy Holidays
This adorable Christmas fox is ready to decorate your favorite photo when you choose our new Foxy Holidays photo gift border.
Featuring a large photo area and two lines of personalized text, you can finish your custom design with your own holiday greeting and name.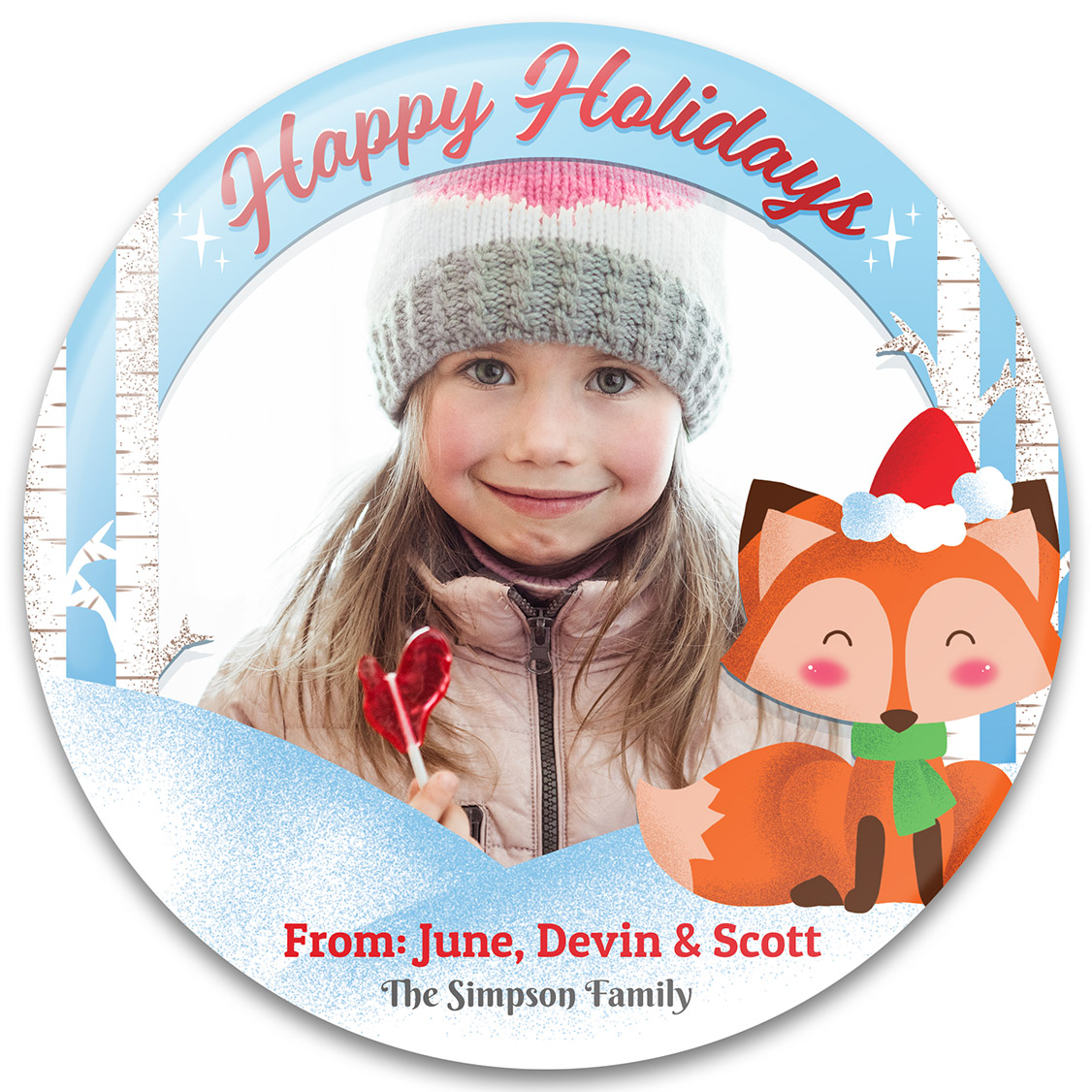 The best part is, this and all of our holiday photo gift designs are free to personalize in our easy online tool!
Create a memorable keepsake when you print your favorite photos surrounded by one of our unique Christmas photo gift borders. We now feature twenty eight unique holiday gift designs!
Whether you choose to print your design on our personalized ornaments or go big with our 6″ Magnetic Easel, you're sure to create an affordable and cherished Christmas gift.
Joy to the World Christmas Photo Gift Template
Share your joy with this modern Christmas photo gift design featuring golden text and a dark blue gradient overlay. Your photo is the star in this unique photo gift design.
Our Joy to the World! photo gift template features two lines of personalized text to include your own holiday greeting and name.
We offer 28 different holiday themed photo gift templates for you to choose from. Take a look for yourself and see which is your favorite. They're all free to customize in our easy online tool.
Our Christmas photo gift ideas are perfect for personalized Christmas ornaments but we also offer them on our entire range of 3.5″ and 6″ products. Take a look and see what tickles your fancy!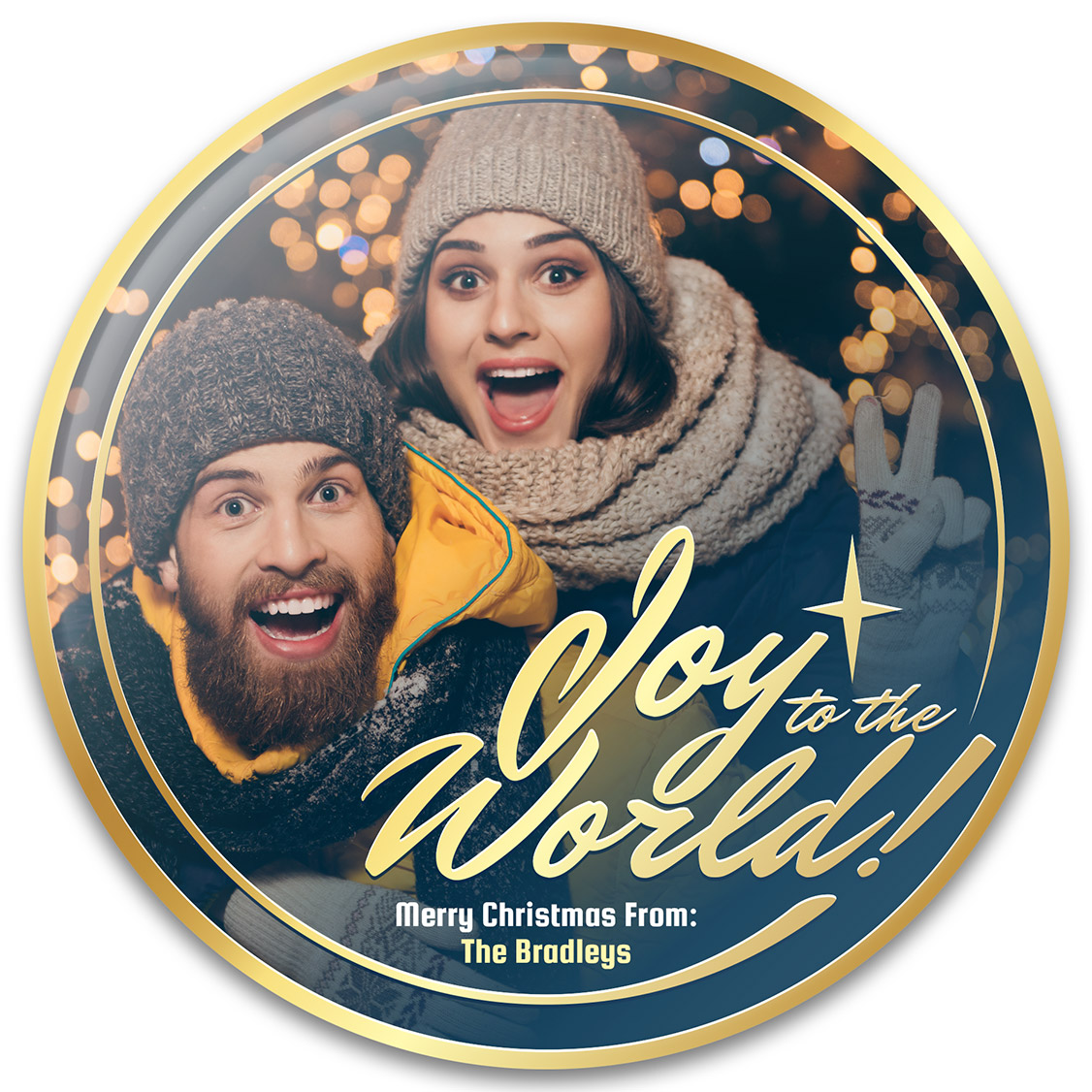 Check out our gallery of Christmas photo gift ideas on our website and customize your own in minutes!
Meowy Christmas Photo Gift Template – Available Now!
For cat lovers, or people who appreciate mischief, we present our new Meowy Christmas photo gift template. This sneaky black cat is trying to snag the star off the Christmas tree, and you can join!
Add your favorite photo to this holiday photo border and finish it with your own customized greeting or add your name.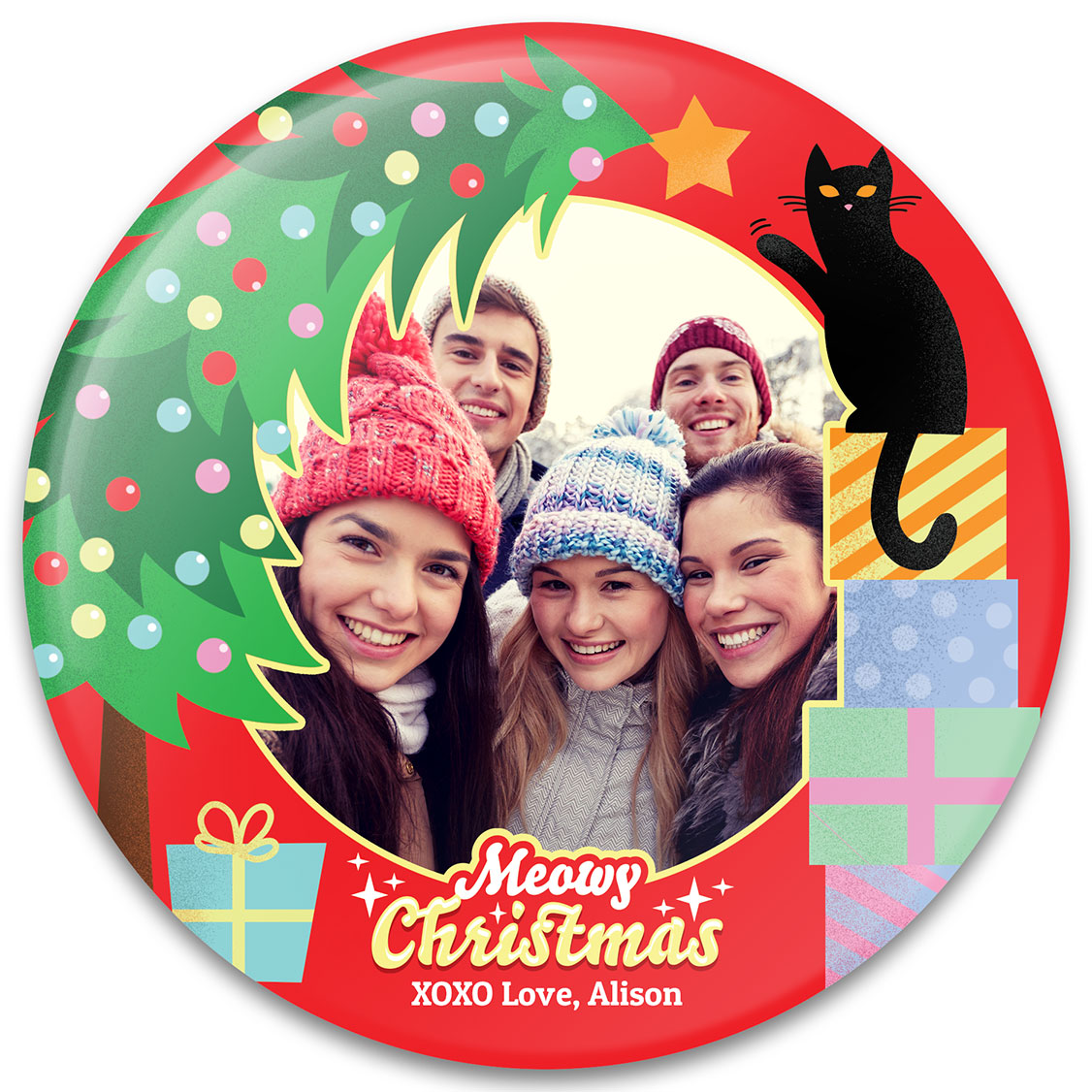 This festive design is great as a custom Christmas ornament featuring your pet or a family photo with pets included. It's also a fun holiday gift idea for friends when you print your selfies.
All of our christmas photo gifts are free to personalize in our easy online tool and made in USA!
New Poinsettia Wreath Christmas Photo Gift Template
Our personalized family Christmas ornaments are easy to customize with your favorite family photo.
This gorgeous Poinsettia Wreath Christmas photo gift design is perfect when printed on our personalized ornaments, but we also offer these designs our entire line of 3.5″ and 6″ products.
Give your best family photo some extra holiday cheer and print personalized family Christmas ornaments at Pure Buttons!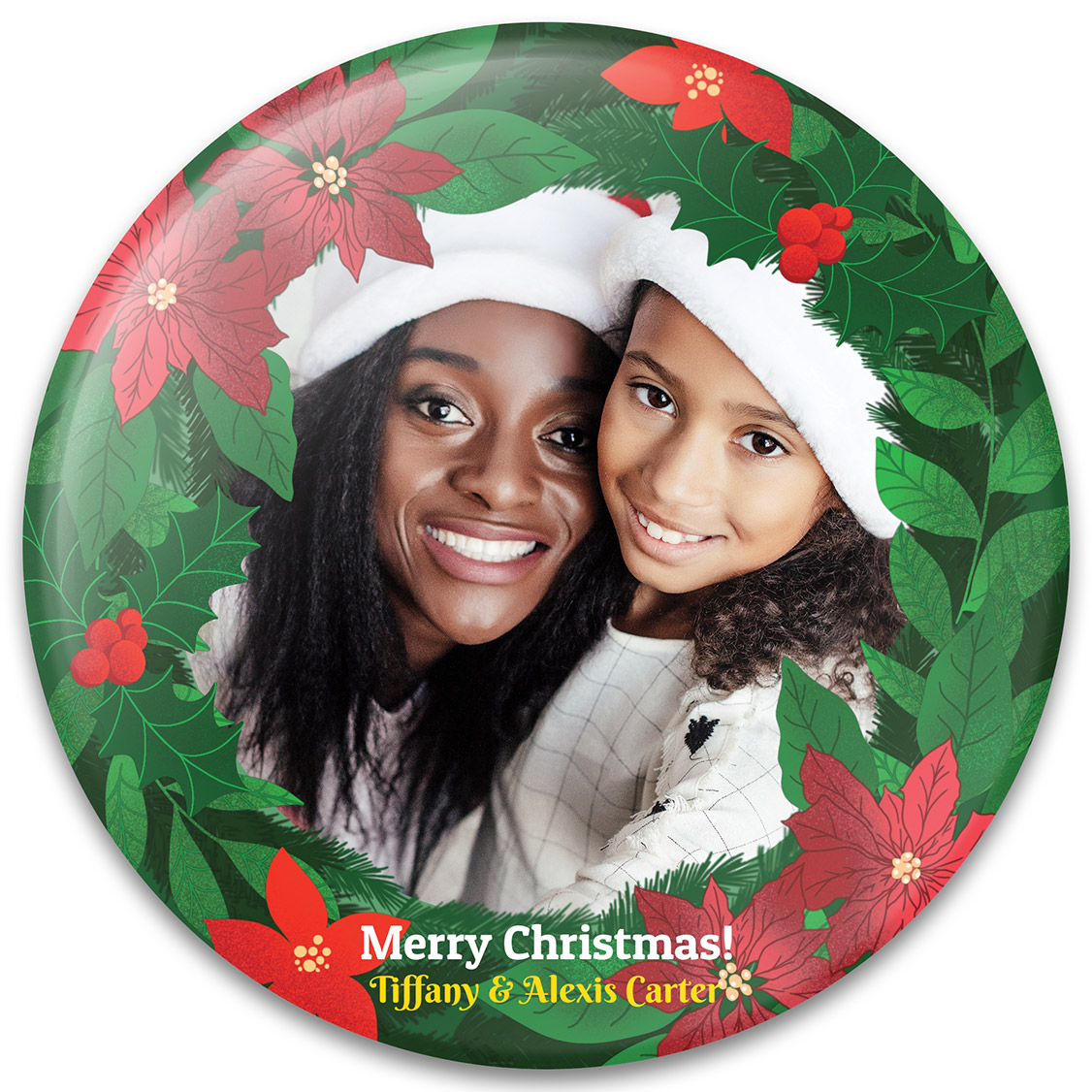 This holiday ornament design features two lines of personalized text. Edit them in our easy online tool and get a free instant digital proof to approve before you checkout.
Our custom ornaments are exclusively designed and manufactured by Pure Buttons in Ohio, USA.
Our website now features twenty eight unique Christmas photo gift designs for you to choose from. If the Poinsettia Wreath design isn't your style, we're sure to have something you'll like when you visit our website.
Call 800-710-2030