Custom Buttons Blog
Welcome to The Button Post by Pure Buttons! A blog where we discuss all things related to custom pin-back buttons and other custom promotional products that Pure Buttons offers. Stick around for coupons to score cheap pinback buttons, new button product announcements and more!
Custom Printed Souvenir Magnets: Great Gift Shop Ideas
Custom souvenir magnets are a great way to bring in more business for your gift shop or fundraising efforts. They're a high quality product and available in 19 shapes and sizes from 1″ round magnets up to our massive 6″ magnetic easel.
They come custom printed with your photos, logos or graphics in stunning full color. Water resistant, they sanitize easily, and can be made with either glossy finish, soft-touch matte finish or a metallic acetate finish that gives them a unique metallic look!
But the best part about our custom magnets is the price!
We offer these souvenir magnets at affordable prices so they're great for you, looking to keep a low overhead cost, but also perfect for travelers who are looking for something affordable and small to carry around with them on their trips.
Popular Souvenir Magnet Sizes
Our most popular souvenir magnet size is our 2.5″x3.5″ Rectangle Magnets. This is our second largest rectangle refrigerator magnet and is about half the size of a postcard. It is perfect for beautiful photo magnets featuring the sites and memories that tourists want to take home with them.
Our larger magnets are good for souvenirs because they grab attention in a retail display while still remaining small enough to fit in a pocket or purse for easy carrying when on traveling on foot. Custom Fridge Magnets are a popular gift shop item because of their affordability too. We offer major bulk discounts on our custom magnets so it pays to order more.
Design Magnets Online
Create unique magnet designs that feature sights and memories that tourists will want to take home. Your magnets will be a great conversation starter that everyone loves!
Our online tool lets you design magnets from scratch in a very simple and easy to use interface. Try adding a photo and inserting some custom text that describes the photo. When you're done, we'll give you an instant digital proof of your retail-ready souvenir magnet.
Fundraiser Magnets
Our souvenir magnets are perfect for fundraising efforts of schools, non-profit museums or art gallery gift shops. Their low cost makes them an easy custom product to add to your collection of customized merchandise. They're made in USA, affordable, and compact yet highly visible, which makes them very attractive for shopkeepers or fundraisers looking for a great return on investment.
No matter what custom magnet size you choose, you can't go wrong when adding souvenir magnets to your catalog of customized products.
Below are a couple examples of souvenir magnet designs we've recently posted on instagram. Your magnets don't have to be illustrated in a similar way, they can be as simple as a photograph and a text title. Think postcard but in magnet form!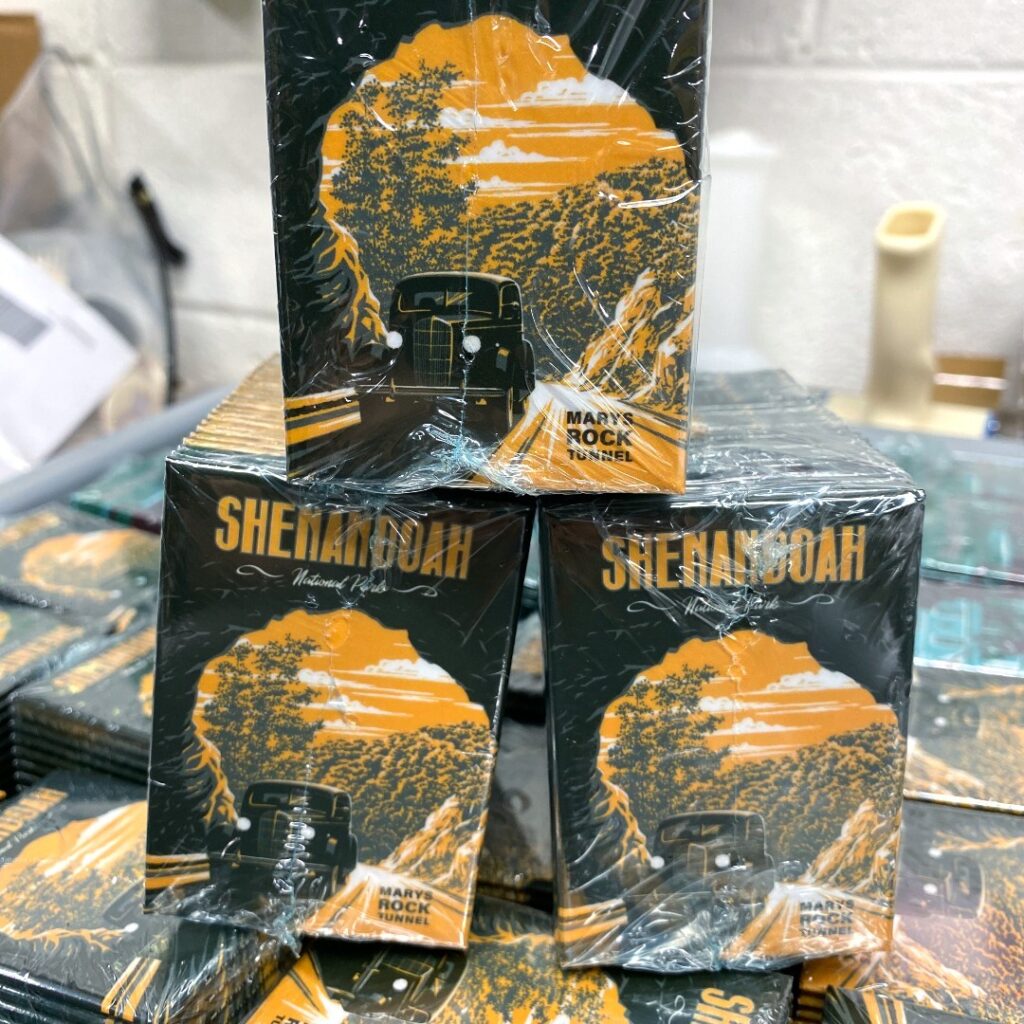 Pardon the glare from our protective shrinkwrap! These souvenir magnets were photographed during production. These rectangle fridge magnets feature a really nice illustration of an antique car passing through some sort of cave tunnel called Mary's Rock Tunnel. An attractive souvenir magnet for Shenandoah National Park.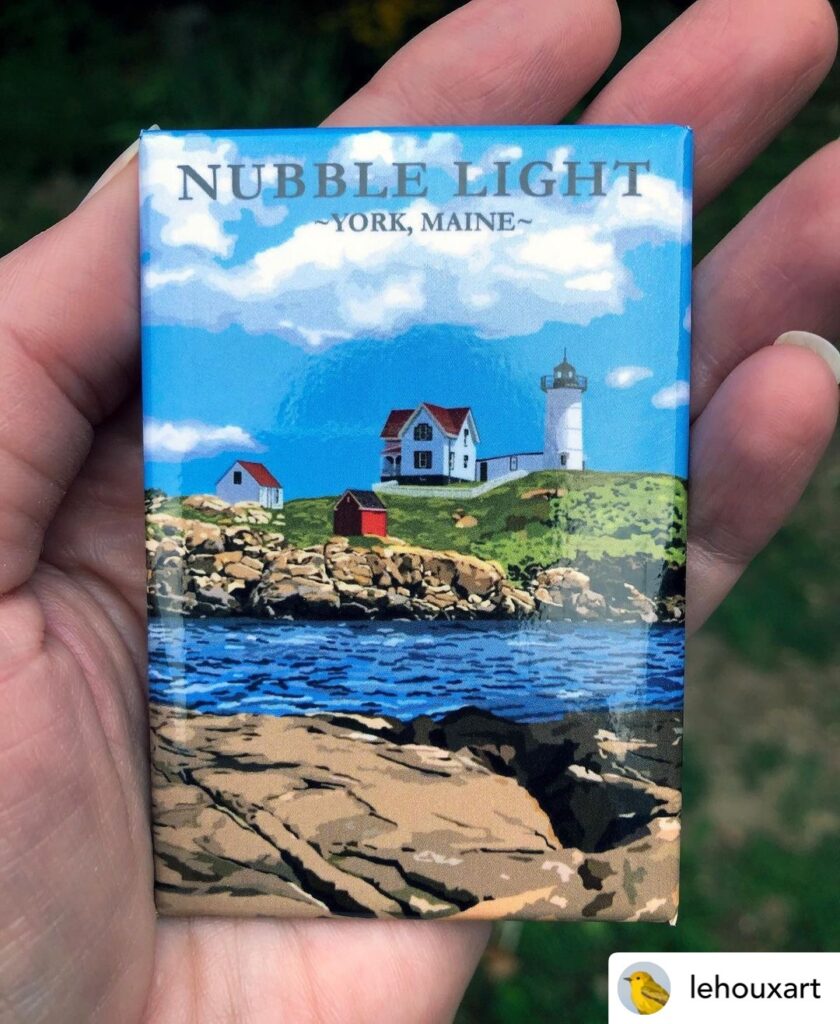 The customer photo above is a beautiful full color printed fridge magnet featuring a painting of Nubble Light in York, Maine.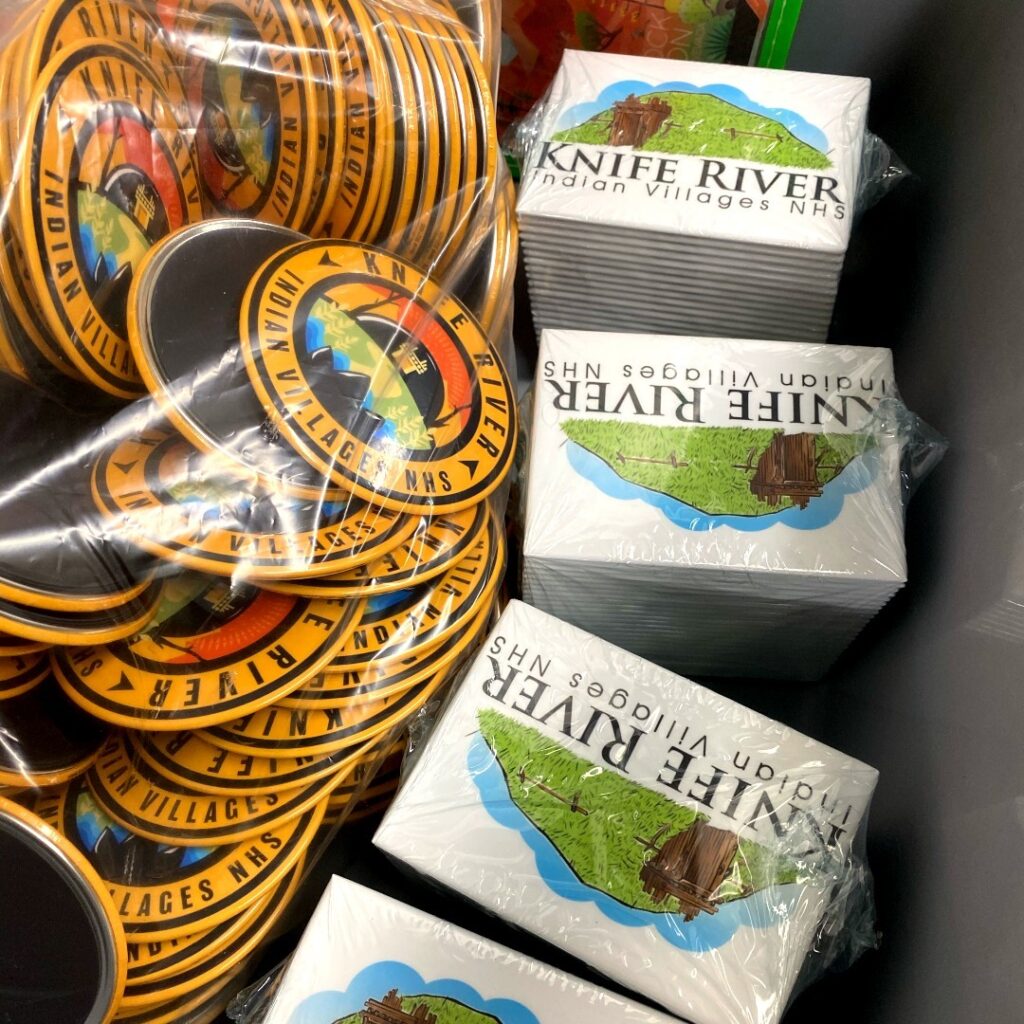 Another shot of souvenir magnets in production, this time a mix of rectangle magnets and our classic round magnets for Knife River Indian Villages (National Historic Site).
Offering a variety of souvenir magnet designs and shapes means there will be something for everyone's unique taste! You can easily feature different sights and attractions on unique magnet designs.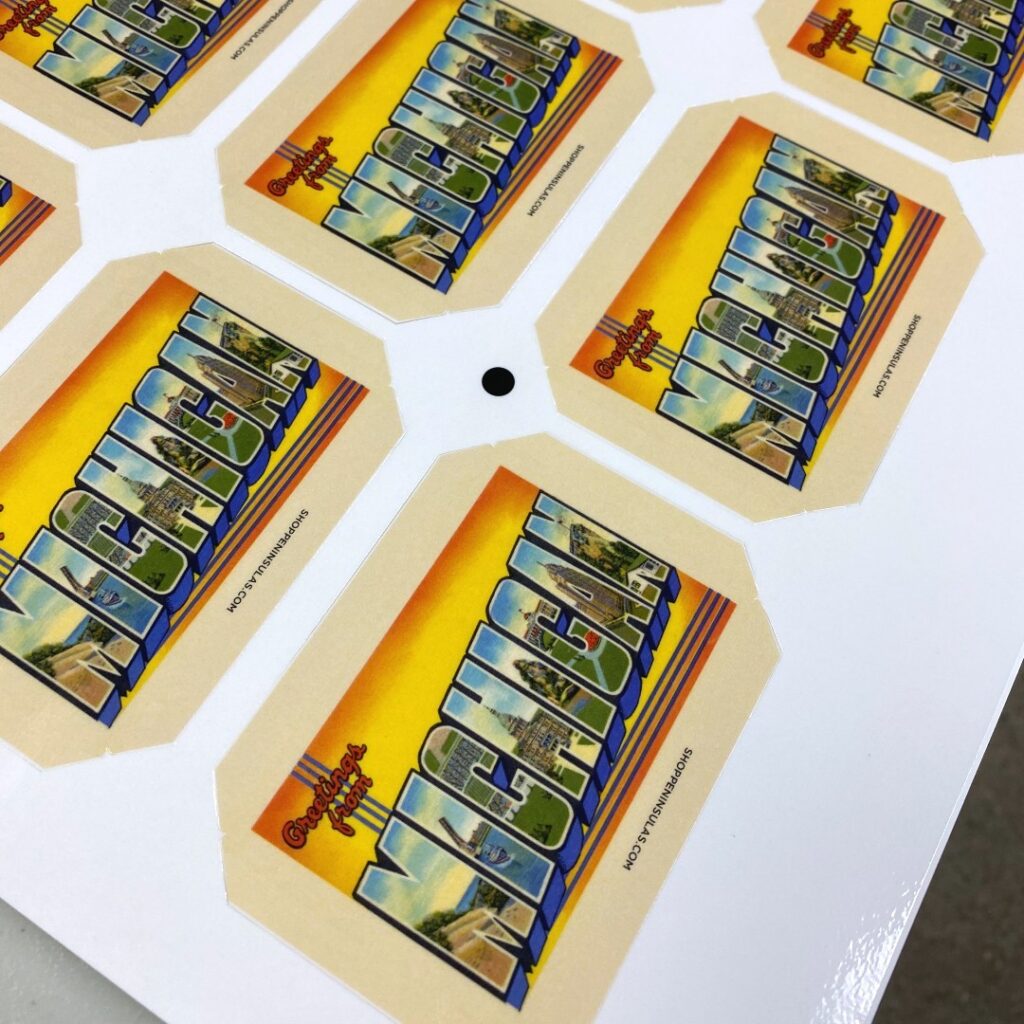 Mid-production shot of what would turn out to be Greetings From Michigan fridge magnets! This popular postcard style makes for a popular souvenir magnet style as well!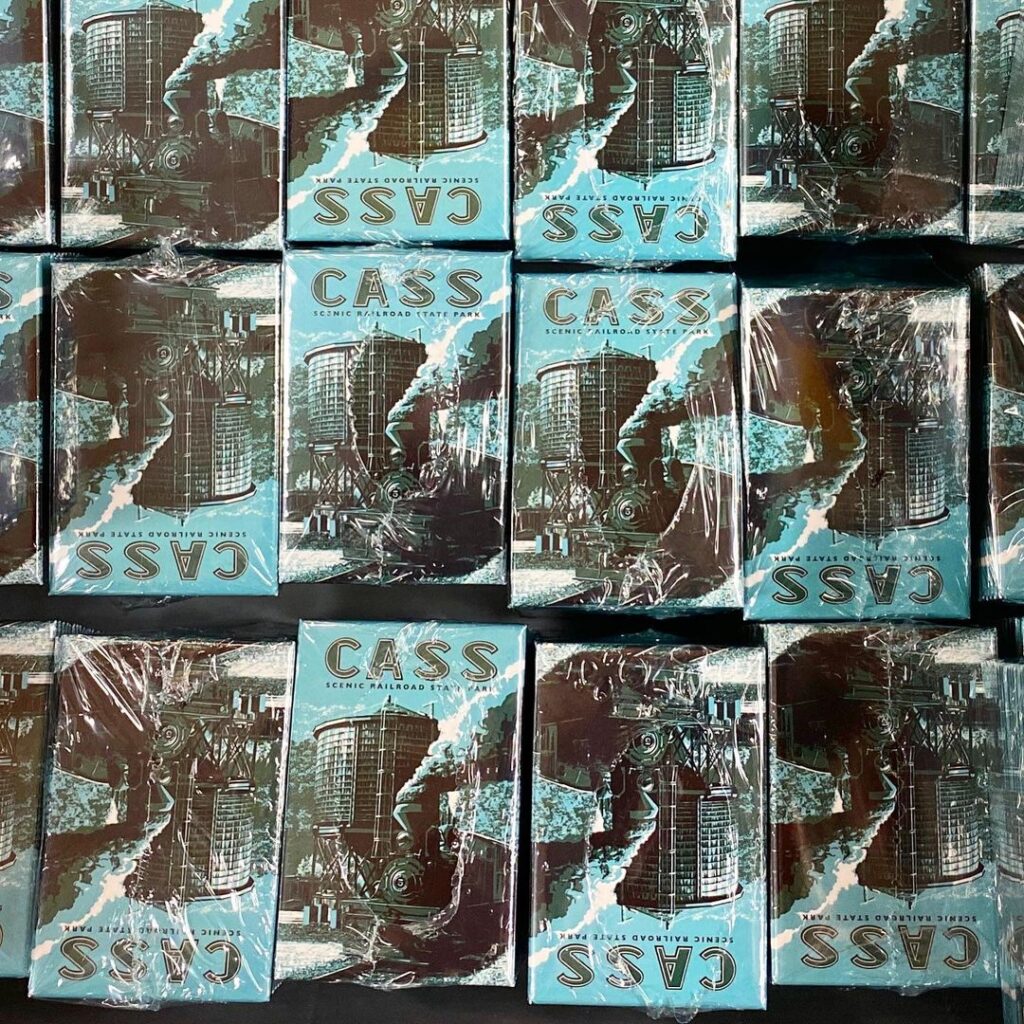 And finally another shot of handsomely illustrated magnets for Cass Scenic Railroad State Park featuring a steam locomotive passing a grain bin or water tower. Your magnets don't have to be illustrated like this, simply uploading a nice photograph will make for excellent photo magnets that people will want!
Our custom magnets are one of the best souvenir ideas because they make it easy and affordable for visitors to remember their trip and bring home a little piece of wherever they went.
Order Custom Magnets
Custom Button Size Guide: Find the right button for your needs
The pinback button has been a staple of the promotional products industry for decades. This is because they are versatile, cost-effective and easy to use. But as with any product in this arena, there are many options that can make it difficult to choose which size is right for you. Our goal is to simplify your decision by providing an overview of all the available size options, their corresponding benefits, and popularity.
Custom pinback buttons have become one of the most popular ways people promote themselves or their businesses. Pin-back buttons come in a variety of shapes and sizes so whether you want something big and bold or small and subtle, we've got what you need! They're also extremely cost-effective since there's no minimum order required and we offer major bulk discounts.
All of the images below come from our product backs gallery which includes the back view of all of our custom products so you can see how the various sizes differ in pin-orientation and more. We offer many more custom products than just pinback buttons! Take a look for yourself.
All of the button sizes mentioned here are describing the approximate button diameter. Some of our sizes are exactly what size they are named, and others are very close. The word Round or Square, Rectangle or Oval refers to the shape of the button.
The button images below are not shown at their actual size on your screen.
How to choose a custom button size
It can be tough to pick the right button size from 19 unique shapes and sizes. However, a few of them stand out as being particularly popular for good reason
We recommend starting with a round button. They look great on clothing and in swag bags, plus they're our most economical and popular button shapes.
Our most popular button sizes:
2.25″ Round
Our most popular button size is 2.25″ round. This is a generous size good for getting attention while not being too big to comfortably wear.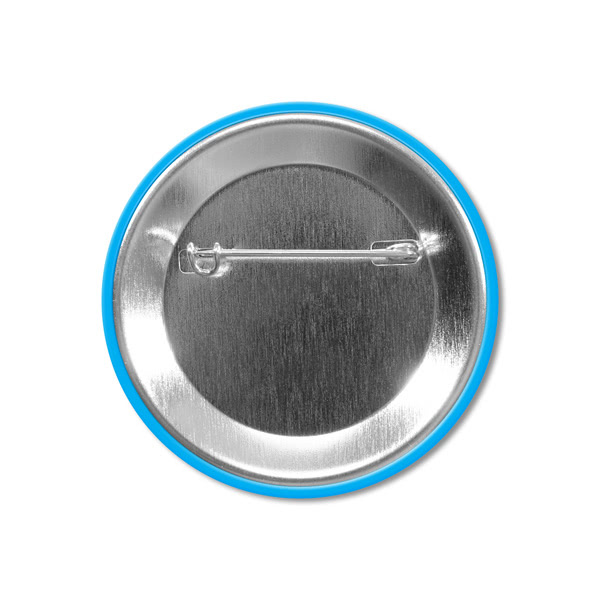 1″ Round
Our second most popular size is 1″ round, our smallest buttons. This affordable size is perfect for advertising at conferences where you don't want to spend too much money while still getting major exposure! The one inch round button is also a classic staple of band merch offerings.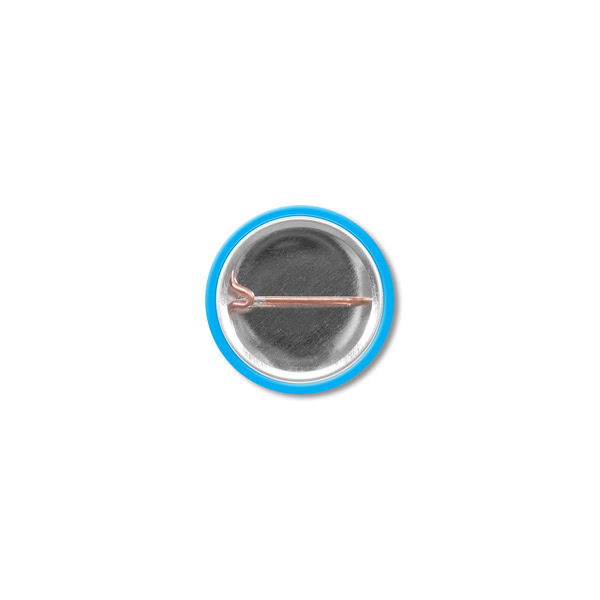 Floating pin vs fixed pin back
Our 1″ round button features a floating pin which allows the face of the button to spin freely. So it doesn't matter how you affix the button, you can twist the design into the correct position.
The rest of our button sizes feature a fixed pin-back design which is more durable.

The rest of our round button sizes:
1.25″ Round
Our 1.25″ round button is almost tied for second place in popularity. This custom button size is good for bands, artists and companies. It is still quite small but has more durability than the smallest button size.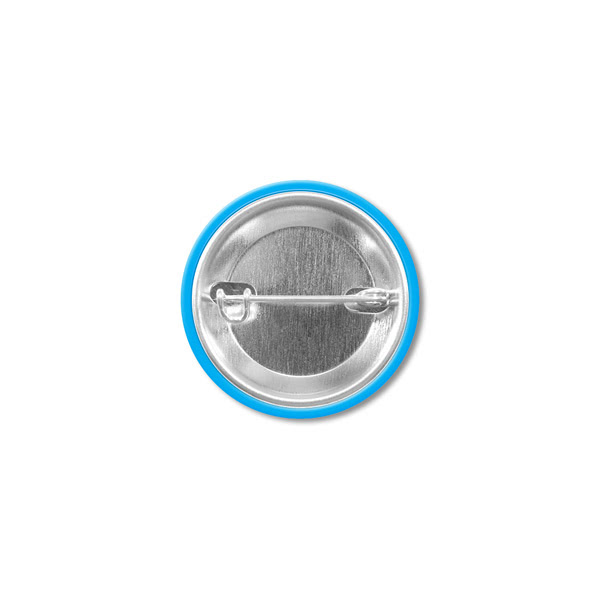 1.5″ Round
Another popular size is the one and a half inch round button. This shapes works well for bands, artists and companies who want custom promotional products at a low cost per button. This and the 1.25″ size are sold all around the world, in many popular chain stores and amusement parks.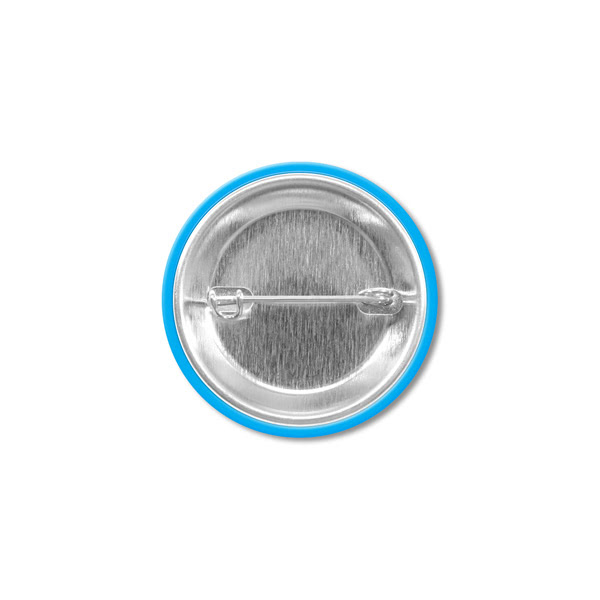 1.75″ Round
The one and three-quarters inch round button works well for larger logo buttons. These work great for corporate giveaways or as promotional products to promote your brand.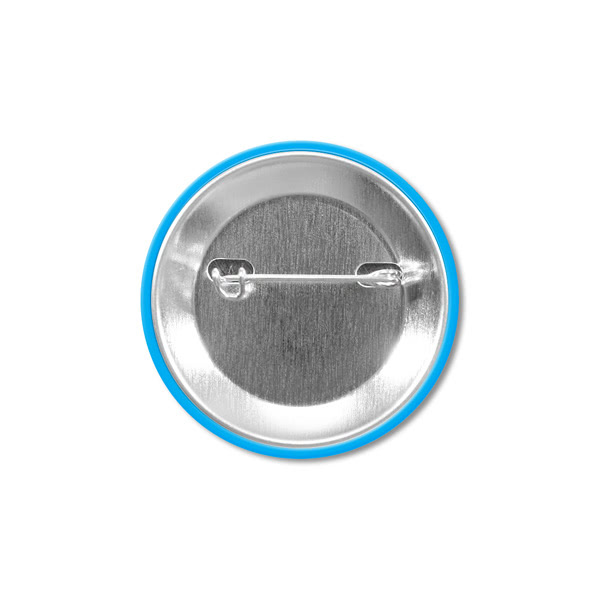 2.5″ Round
Just slightly larger than our most popular size, the two and a half inch round button is great for bands, artists or companies who need to be seen. From this size and up, all of the buttons feature the same safety pin size, but the button parts become larger.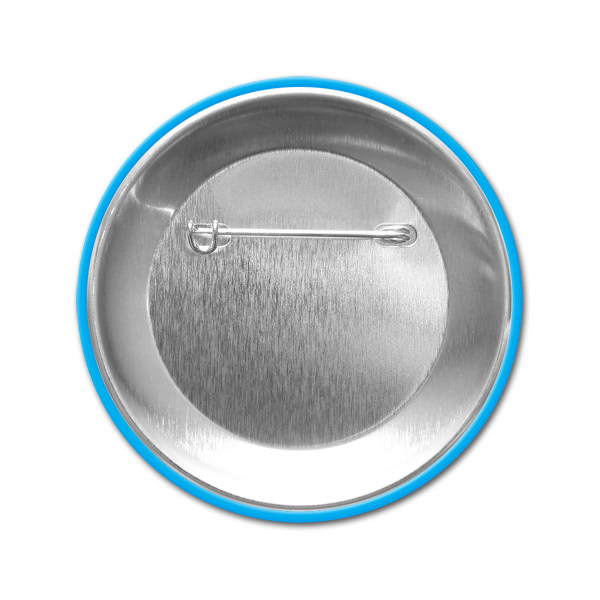 3″ Round
The three inch round button is a great size for any company looking to make an impact. These buttons are available on demand. You can design online, order a few, and reorder as many as you need in the future with our easy reorder feature.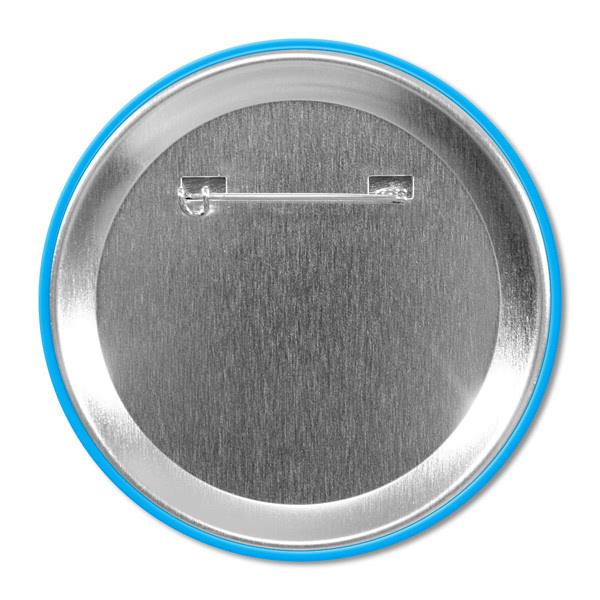 3.5″ Round
The three and a half inch round button is our second to largest round button size. These are really great for companies who want to make an impression with their logo or button based promotion. This and the largest size are more cumbersome to wear than our smaller button sizes, but if you want to grab attention, this is for you.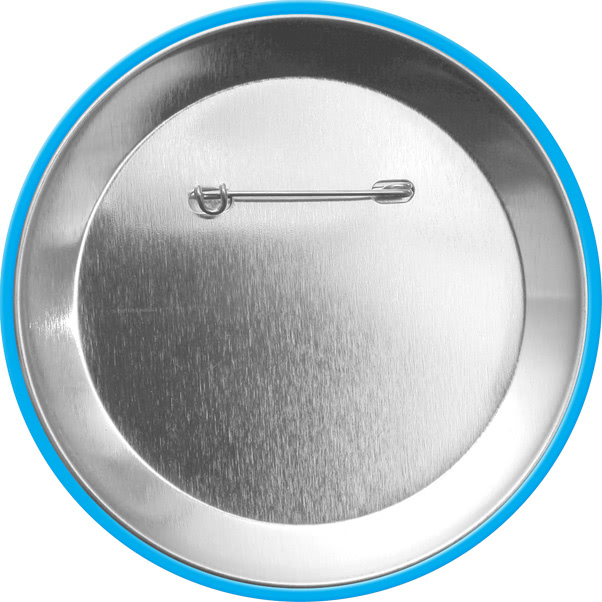 4″ Round
Our largest round button size is four inches in diameter. This giant round button is perfect for grabbing attention at all costs.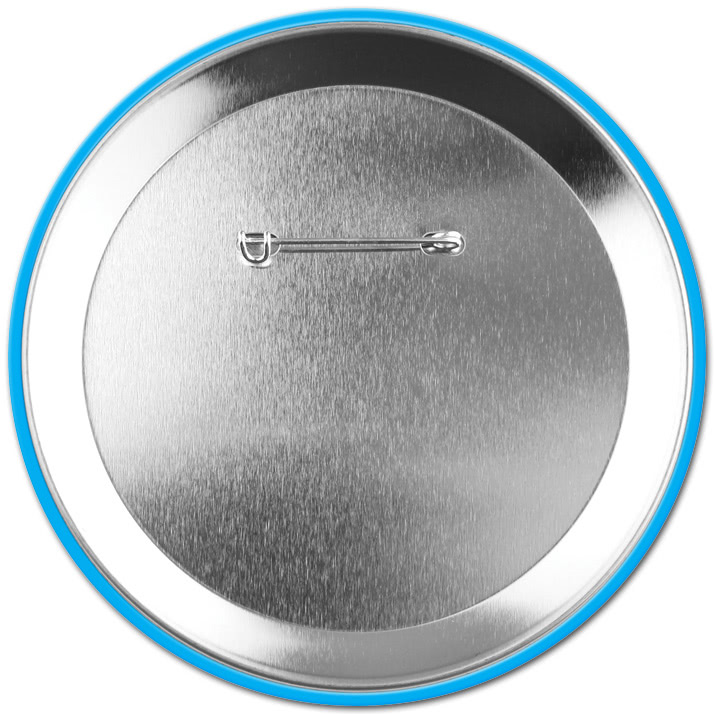 Square Buttons
Square buttons can be worn horizontally or at a "diamond" orientation. They are a great way to promote special offers, discounts and company logos. The square shape gets attention and they are excellent for displaying square artwork like album covers and instagram photos.
Our square pin badges feature a metal body construction, but differ from the round buttons in appearance on the back side. Square buttons feature an additional black plastic plate to keep the pin in place.
1″ Square
The one inch square button is the smallest of our square custom buttons. This tiny square button features a diagonally oriented pin back. These small square buttons would make awesome QR code buttons!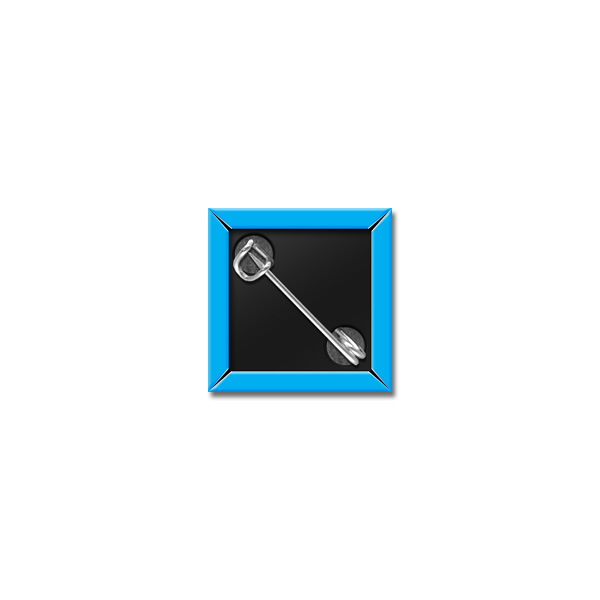 1.5″ Square
The one and a half inch square button is the next size up in our line of squares. This medium-sized button is our most popular square button size by a wide margin. Note the extra holes in the black back plate to allow for diamond orientation if requested.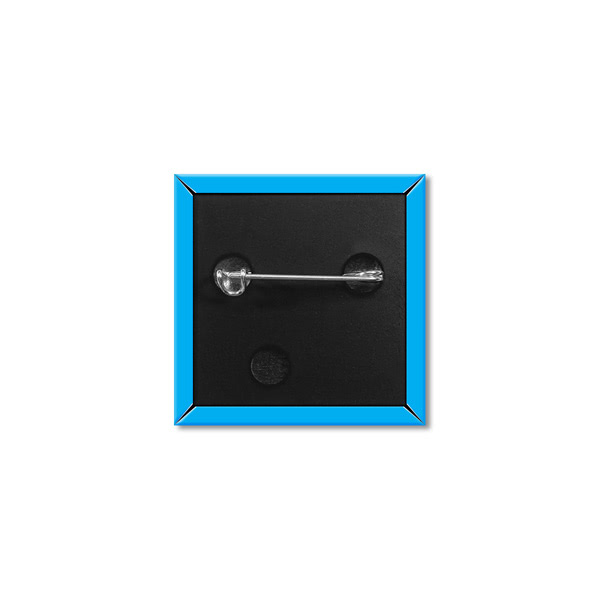 2″ Square
The two inch square button is our medium size offering among square buttons.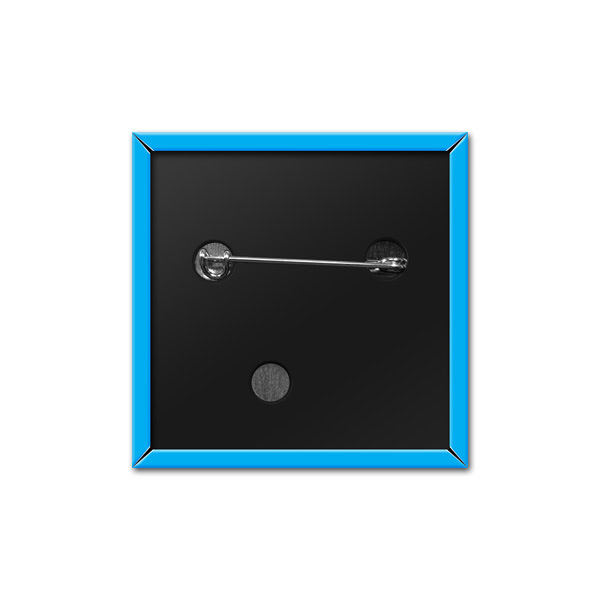 2.5″ Square
The two and a half inch square button splits the difference between our largest and middle square size.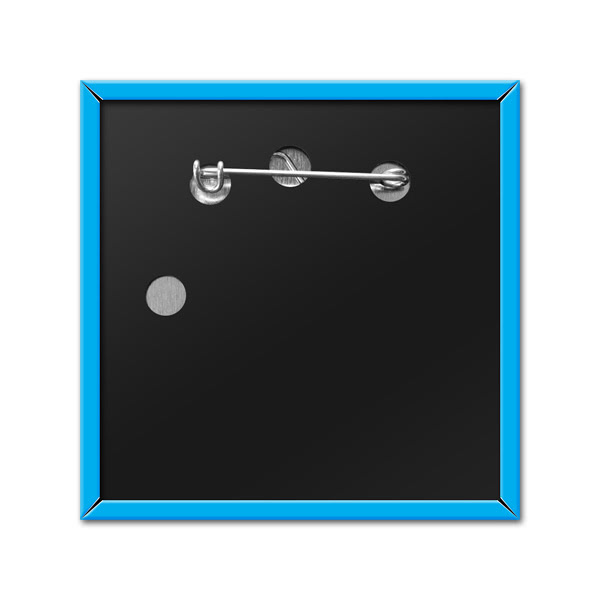 3″ Square
Our three inch square is the largest square button we offer.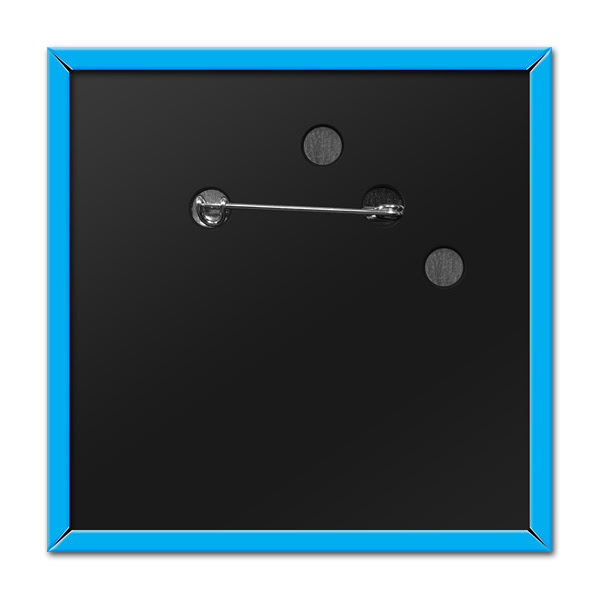 Rectangle Button Sizes
Rectangle buttons can be oriented horizontally or vertically. Choose an orientation when you order custom buttons with multiple orientation options. You will then be directed to the appropriate art tool template when you design buttons online!
Our rectangle buttons also feature a metal body construction, but differ from the round buttons in appearance on the back side with the exception of our 1.5″x4.5″ Rectangle Button seen below.
All of our rectangle shaped buttons feature the same size of custom button pins on the back.
1.75″x2.75″ Rectangle
These are the first rectangular buttons we offered and remain popular for use as custom name tags and badges.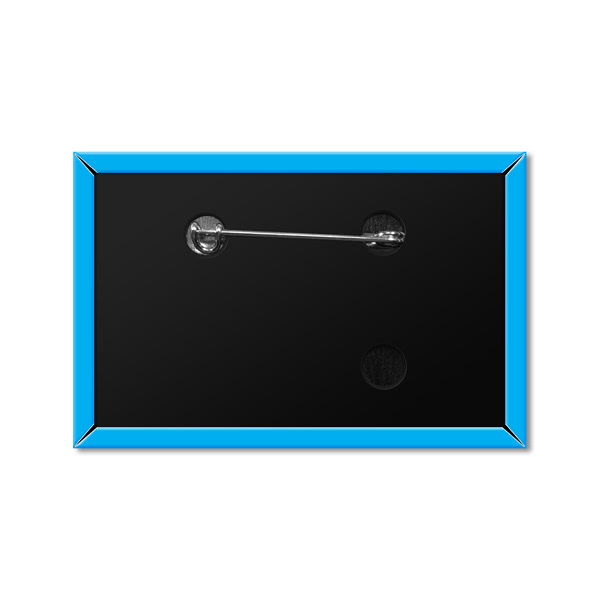 2″x3″ Rectangle
These buttons are large and impressive. Perfect as custom name tags or logo buttons.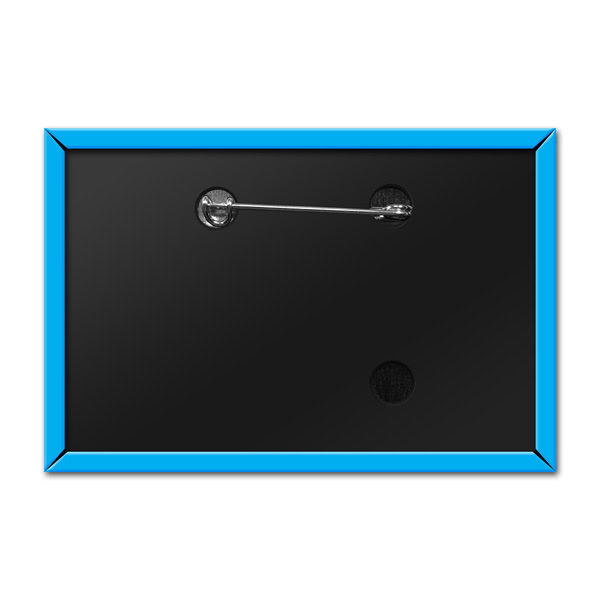 2.5″x3.5″ Rectangle
These are our most popular rectangle button size. This large button really gets noticed and offers a lot of real estate to get your message seen. This size can be used as photo buttons, event passes, ID badges and more.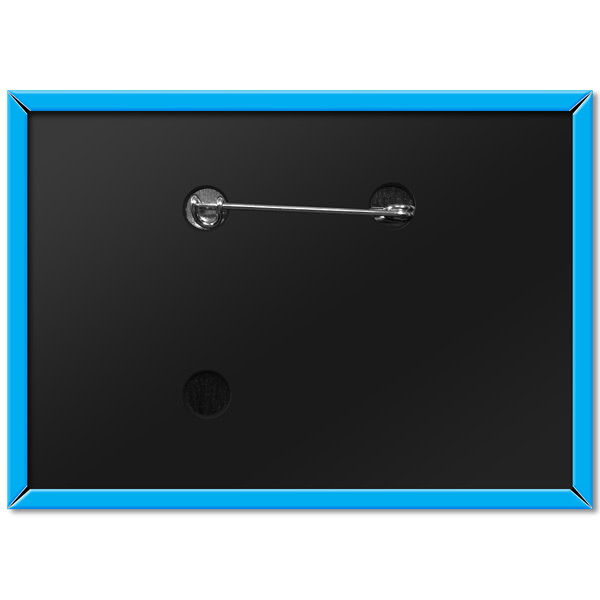 1.5″x4.5″ Rectangle
are a unique size perfect for custom name tags, great for tradeshows and events.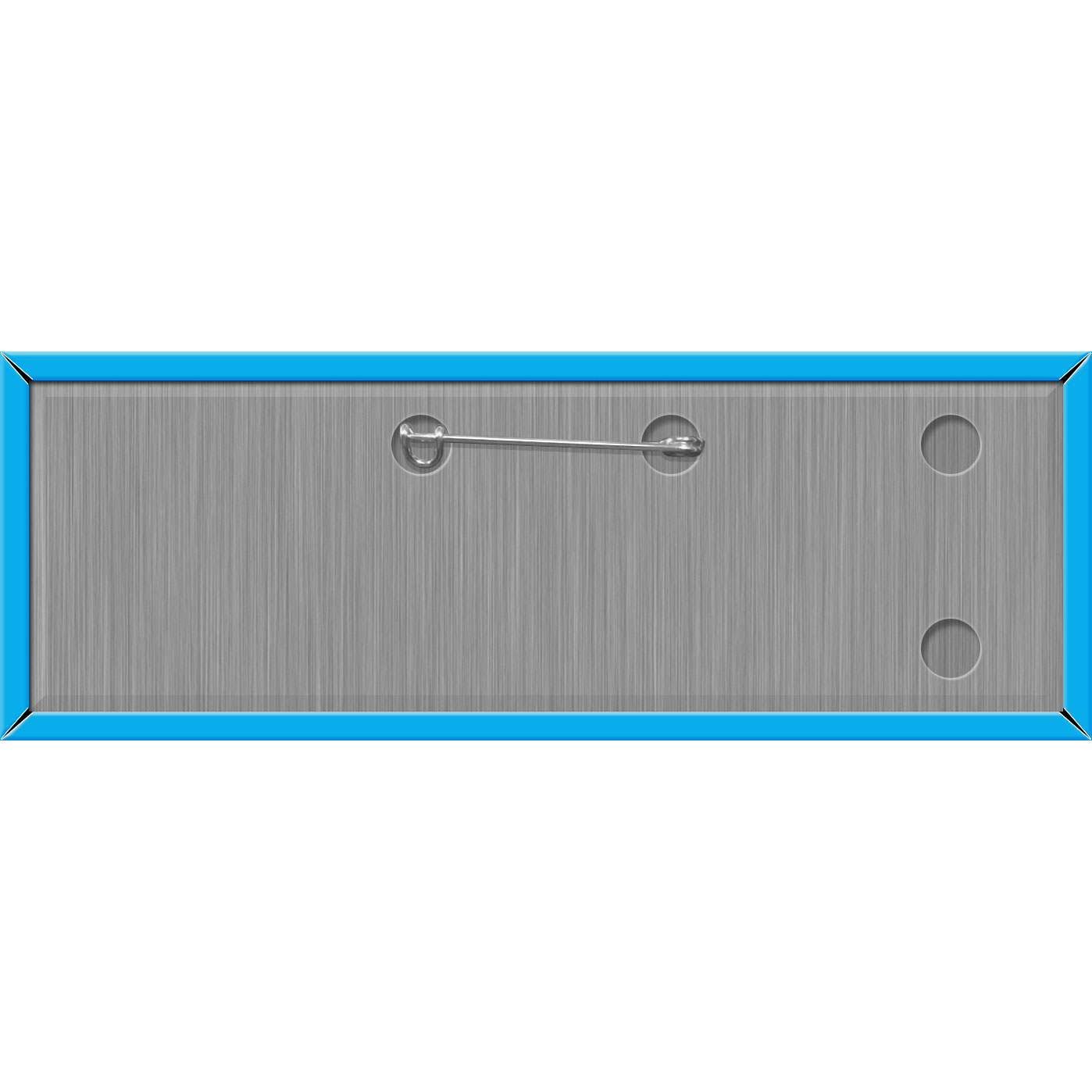 Oval Buttons
1.75″x2.75″ Oval
is our only oval button size. Great for custom name tags and can be worn horizontally or vertically.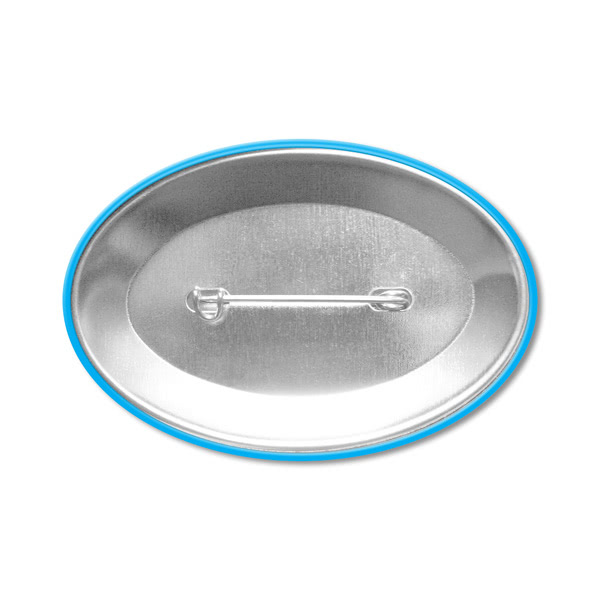 Our high quality personalized buttons are Made in Ohio, USA with fast turnaround time.
Enjoy free shipping with coupon code FREESHIP on orders over $25 shipped to the contiguous USA.
All of our custom buttons can be designed online in our free online tool, in any orientation. Upload your artwork and create custom pins in minutes.
Get free digital proofs to approve before you checkout when you design online.
Order Custom Buttons and choose from any of the 19 shapes and sizes above!
Win a Gift Card and Send Mom a Photo Gift!
We are giving away TEN $25 gift cards on instagram Monday. So head over to the post and check it out!
To enter, simply do the following:
1) ❤️ Like the post
2) Tag a friend who's mom would also like a Mother's Day photo gift!
We will choose five pairs of winning friends and DM you each a gift card code if you win!
If you win, you can use the gift card to buy any custom merch, but we really think you should send your mom a custom Mother's Day Photo Gift. Mother's day (May 9th) is coming soon! You can design them online in minutes and we'll ship it right to her doorstep.
Our Mother's Day Photo Gifts are easy to personalize and our high quality products will last and be appreciated for many years to come!
Either way, hurry over to instagram and enter our giveaway by liking the post and tagging a friend before we choose five pairs of random friends on Monday!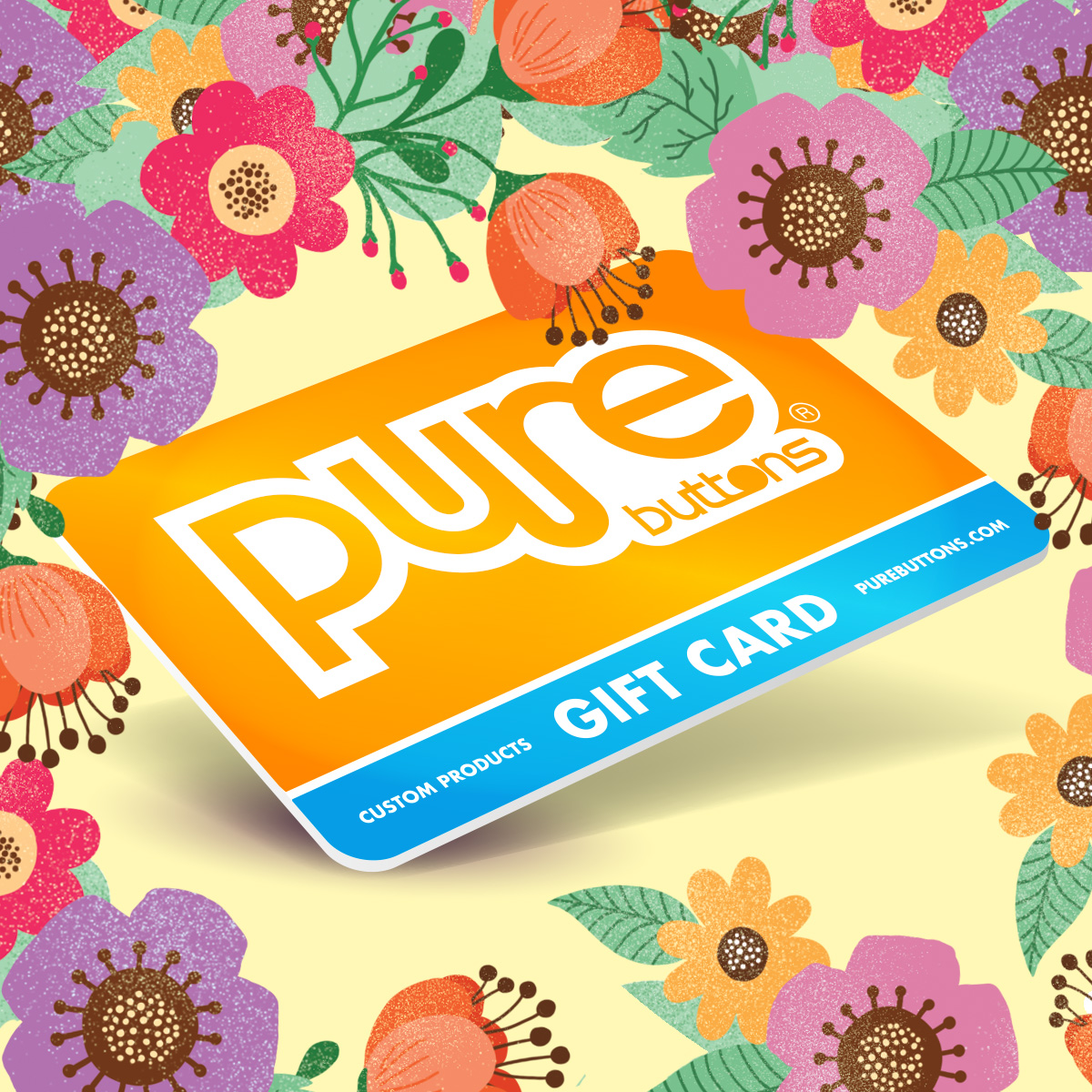 Four New Baby Photo Frames Added To Our Design Gallery
We have added four adorable new baby photo frames to our gallery of baby photo gifts. These custom photo frames are a great way to print your baby photos and add a creative touch. These gender neutral frames are perfect for your favorite baby pictures and many of them feature lines of editable custom text to make them truly unique.
These personalized photo frames are great for displaying in your home or giving as a gift! Celebrate the arrival of your new baby with a baby photo magnet or go big with our patented 6″ magnetic easel which can hang on your fridge or stand up with its pop out easel back.
These designs can also be used as baby shower gifts. You can print any photos in these picture frames, from sonograms to newborn photos, all the way through the toddler years.
We now have six unique designs to choose from, and you can customize each one to your liking with no minimums and free instant digital proofs. It's easy to create a personalized baby picture frame at Pure Buttons!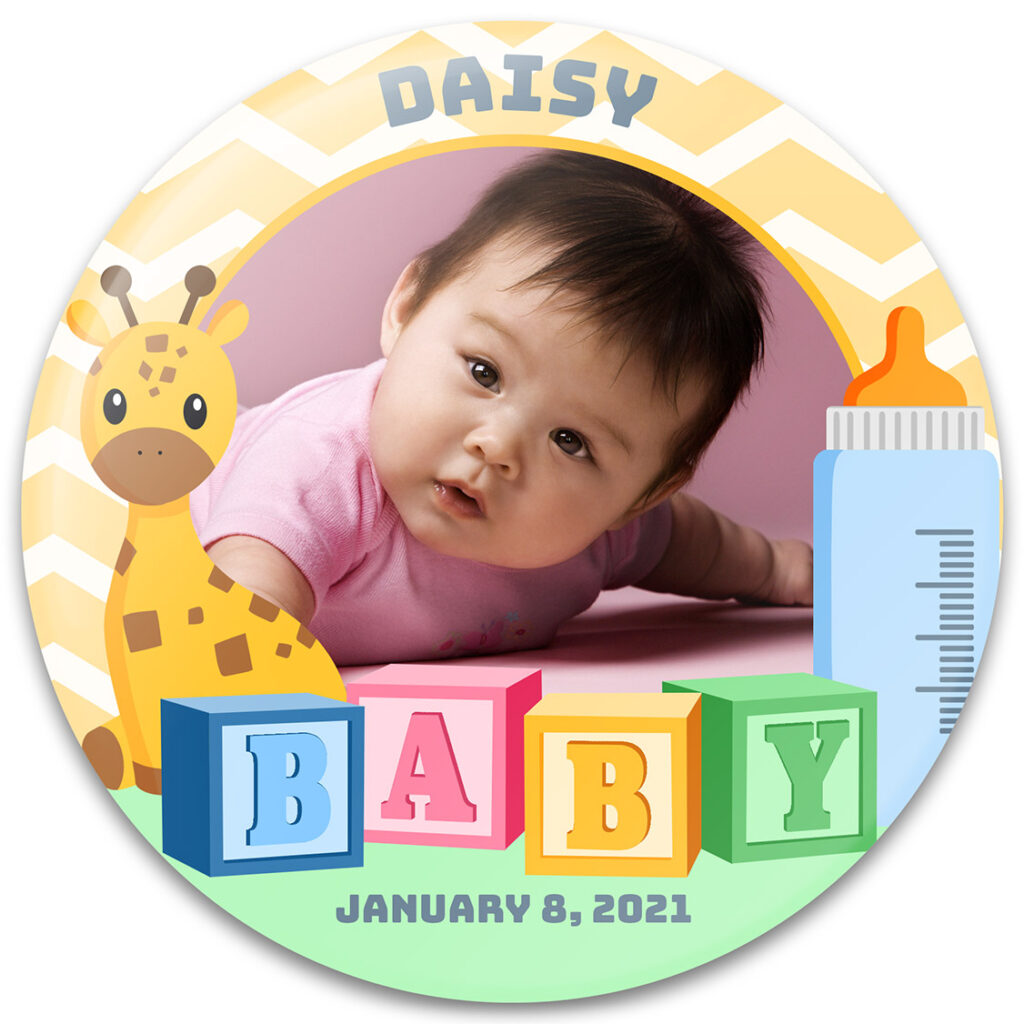 This gender neutral photo frame design features two lines of personalized text and a large photo area. Enhance your best baby photos with this free to personalize frame design.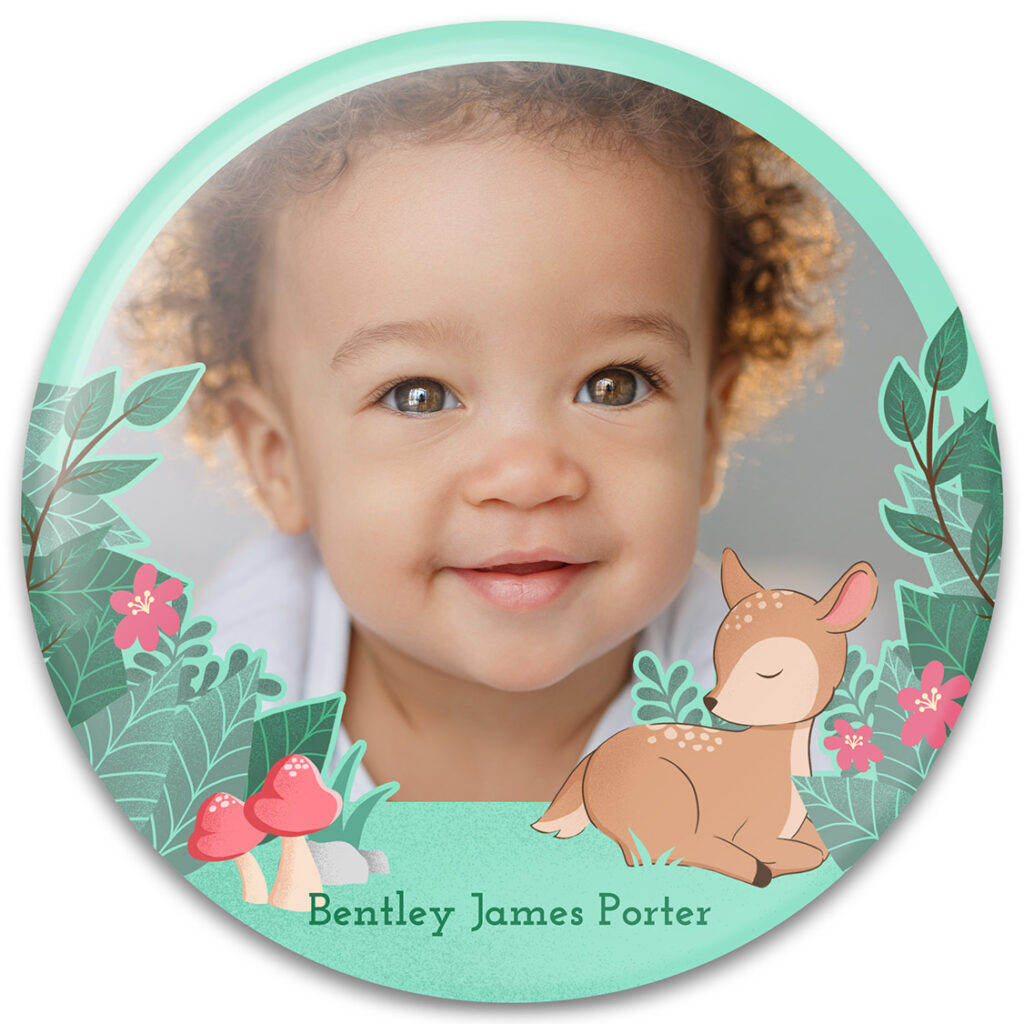 Add your favorite photo to this woodland setting and add your baby's name to this enchanting photo frame design.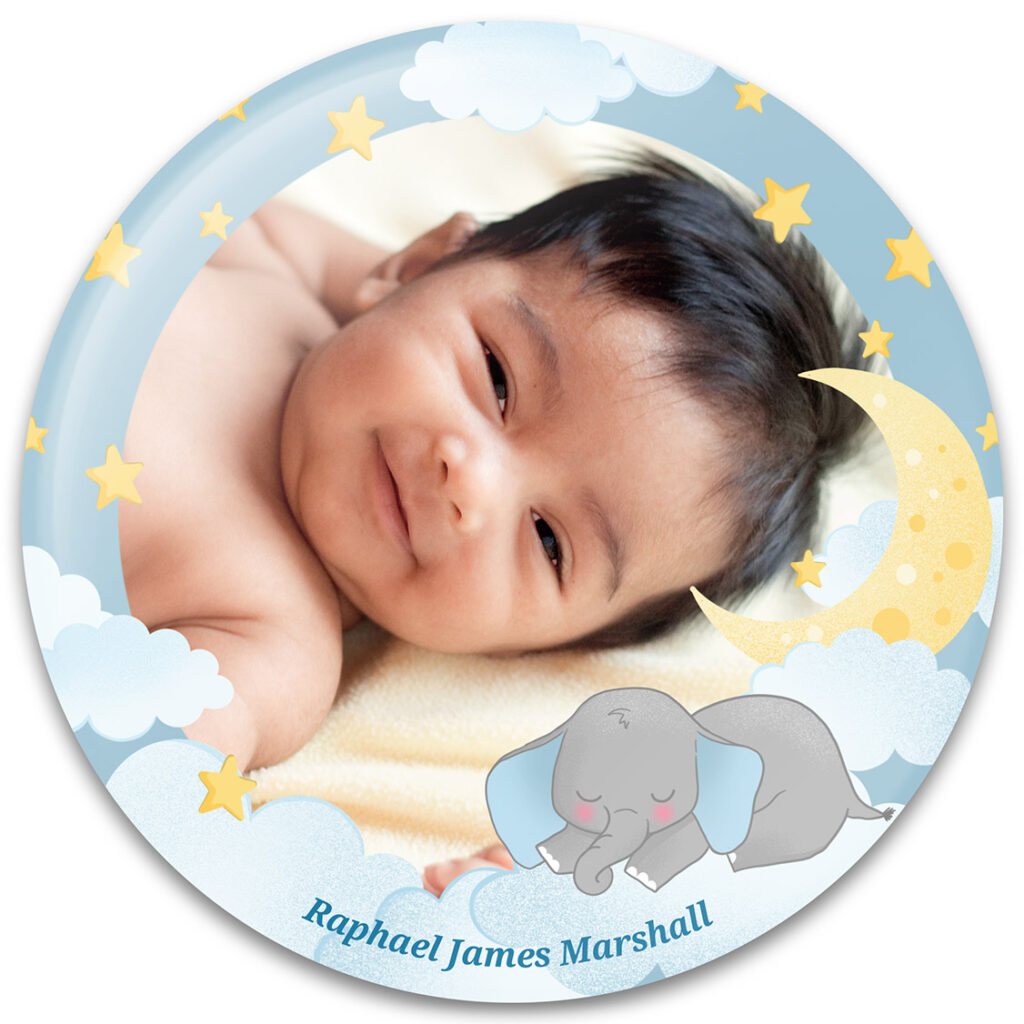 This baby elephant is resting in the clouds. Add your favorite baby photo to this peaceful photo frame.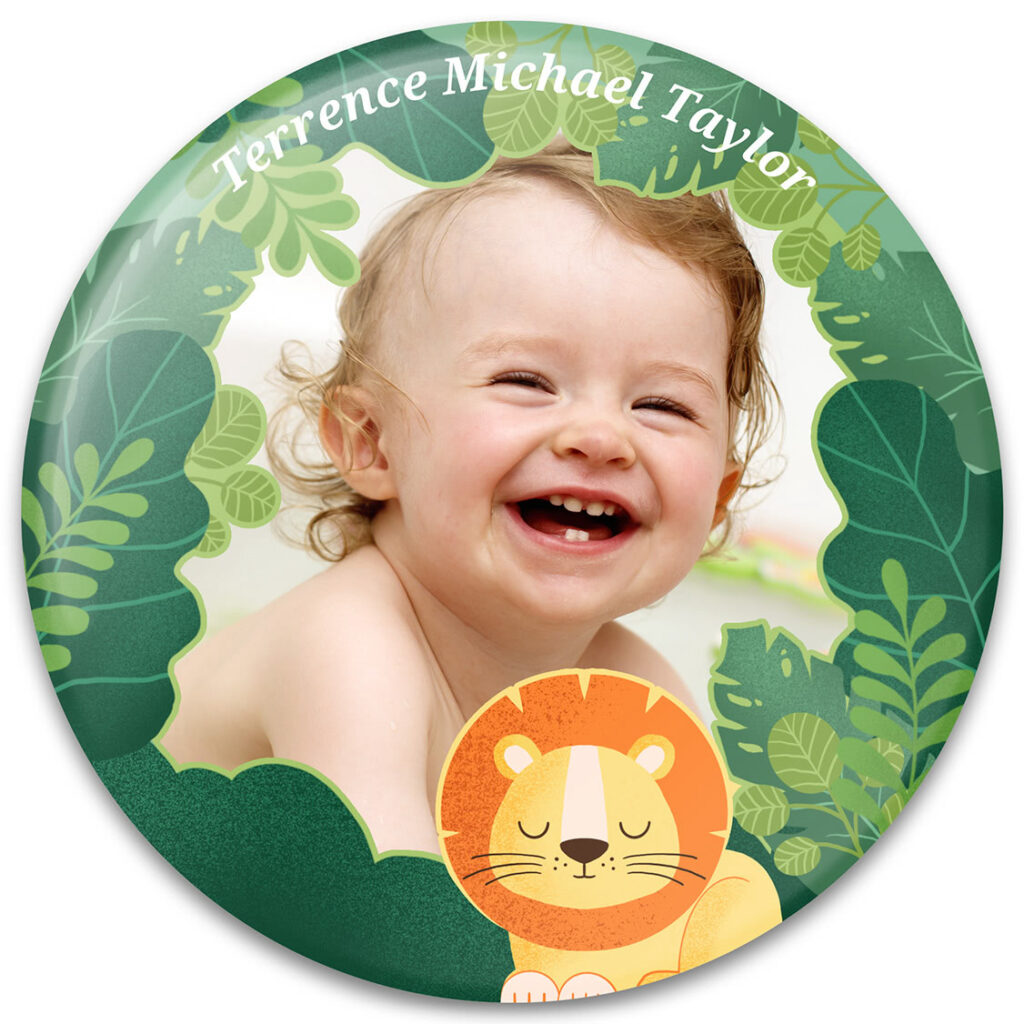 This lion and jungle themed photo frame is ready for your happy baby photo. Use our easy online tool to add your image and personalize the text with your baby's name.
New Birthday Button Designs Available to Personalize
Looking for a way to celebrate an important birthday? We recommend creating personalized birthday buttons for your special person. Our happy birthday button designs are ready to customize with your favorite photo and custom text. Whether you are creating them for the whole party to wear or as an individual photo gift just for the birthday boy or girl, our birthday buttons are easy to customize and affordable too!
For about the same cost of a greeting card you can create a memorable keepsake celebrating a birthday in a totally unique way!
We also offer these birthday photo gift designs on our entire line of 3.5″ and 6″ custom products. Perhaps custom coasters or magnets are more what you're looking for?
Try our easy online tool today. Simply choose your favorite birthday button template, and pick a product to customize. You'll be directed right into our online tool where you can add a photo and personalize your text. Approve your free instant digital proof and checkout in minutes with our simple website.
We offer a variety of photo gifts for any occasion, including birthdays, graduation, major holidays, and even sympathy gifts. Take a look at our design gallery and see what sparks your inspiration!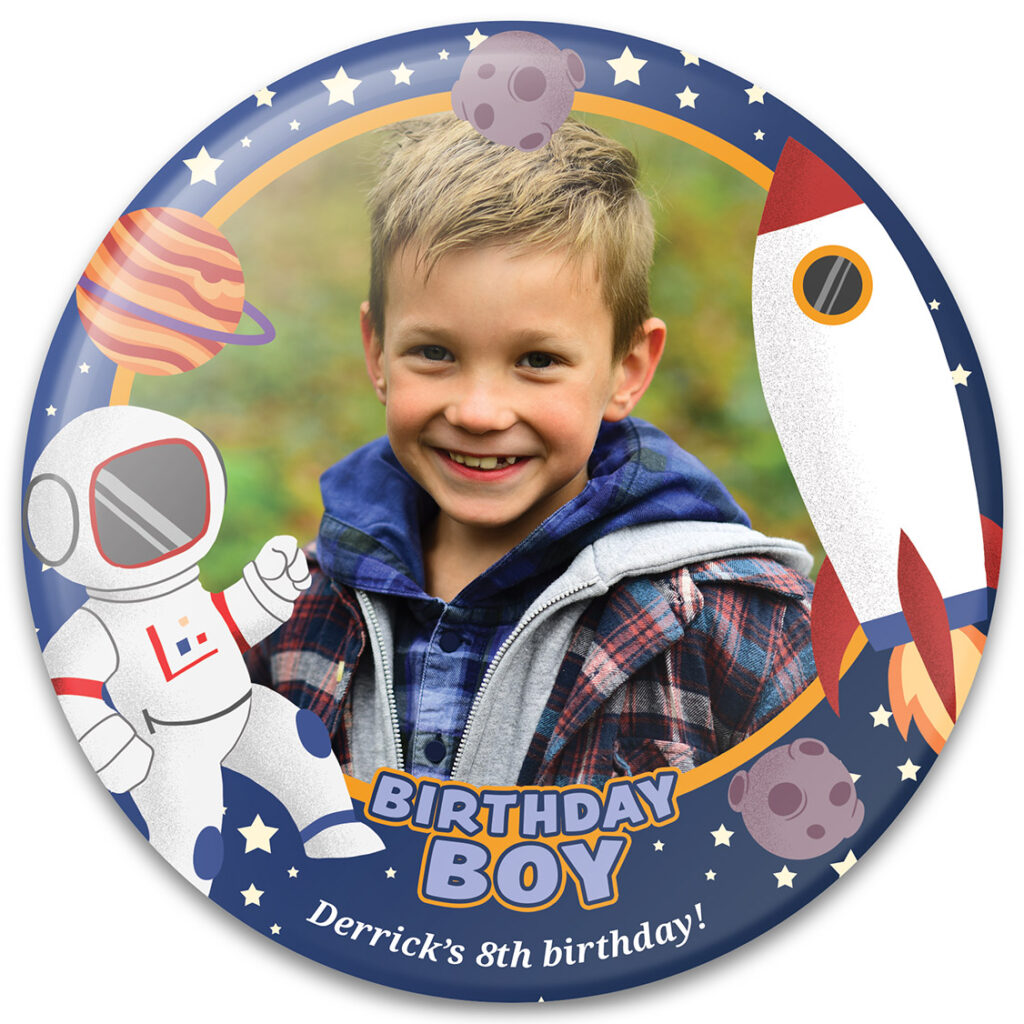 Celebrate a birthday that's out of this world with this space themed birthday button design. Add a photo of your birthday boy and personalize the custom text for a totally unique photo gift he'll love wearing on his special day!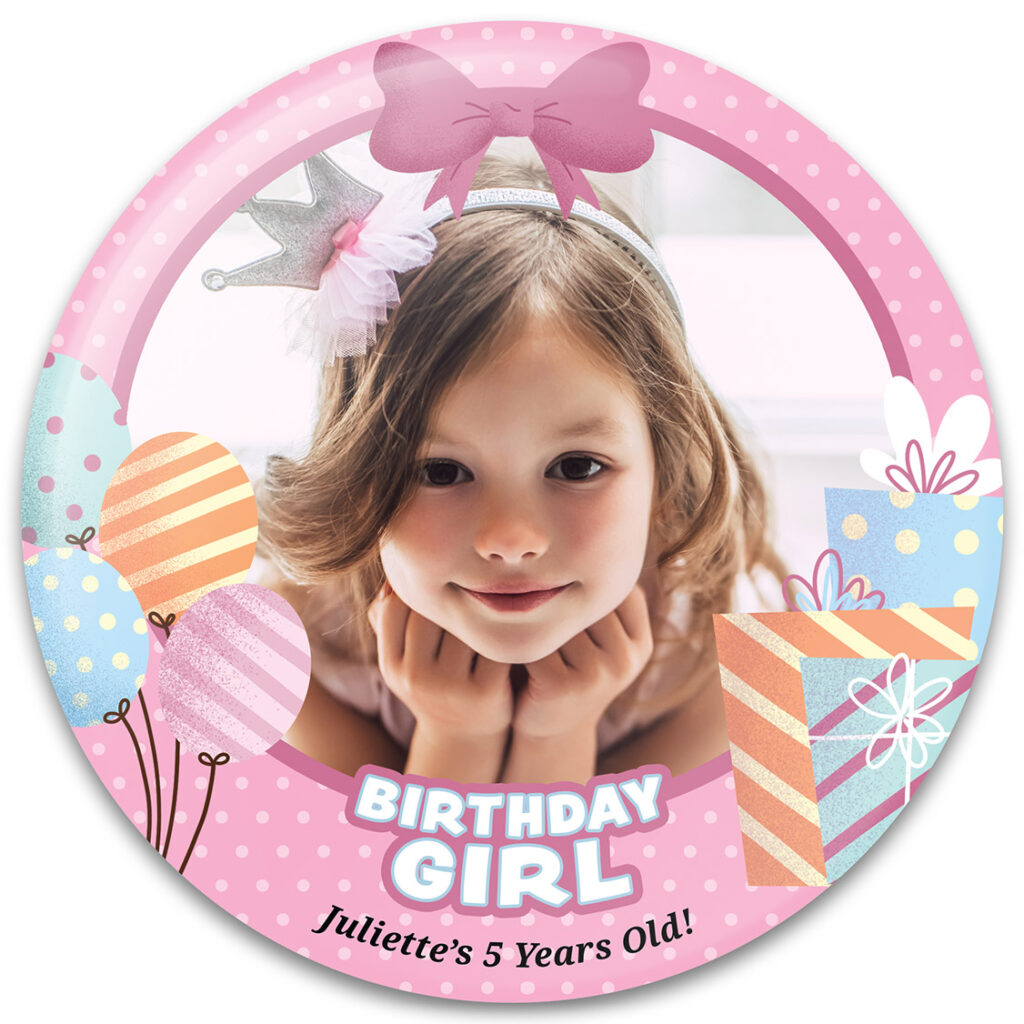 Celebrate your favorite birthday girl with this exciting photo gift template. This adorable photo frame features a large area for a portrait of the birthday girl or print a photo of you and the birthday girl that she will love to keep and display for years to come. One line of personalized text lets you make this design totally your own.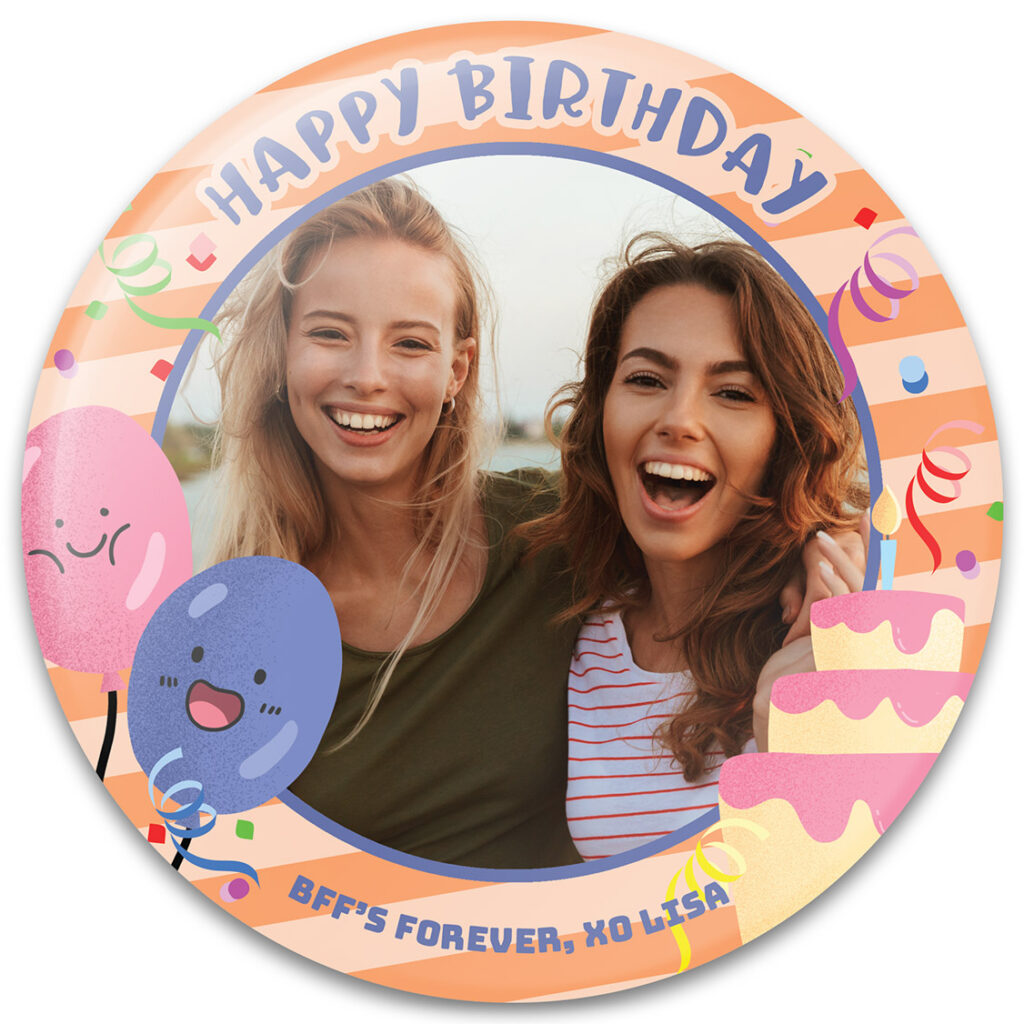 This festive birthday button design is perfect for friends who want to celebrate a birthday with a memorable keepsake. Print your favorite memory in this birthday photo gift design and add your own custom message to the bottom. It is an affordable way to create a big impact for someone who means a lot to you.
We have many more birthday button designs on our website! With our variety of designs and styles, you'll be sure to find something perfect for friends and family and make this year's birthdays extra special for them!
Call 800-710-2030