PureButtons News
Welcome to our PureButtons News category! Below you will find articles, posts, coupons or samples featuring PureButtons News. To see our latest content, visit Home.
Now Offering UPS carbon neutral Deliveries
At Pure Buttons we are always looking for ways to reduce our carbon footprint. We know that shipping orders nationally, and especially internationally has a carbon cost that we'd like to reduce or eliminate. We are pleased to announce that the carbon cost of deliveries shipped from Pure Buttons and StandOut Stickers via UPS will be made net zero from now on through the UPS carbon neutral program.
What is carbon neutral shipping? To put it simply, each UPS delivery has a "carbon cost" associated with it based on weight, destination, and delivery method. This amount is calculated and then "offset" with investments in green / renewable energy projects, rainforest preservation, tree planting, carbon capture and more.
How do I get carbon neutral shipping? Simply choose one of our many UPS shipping options. We have made all of them carbon neutral at no additional cost!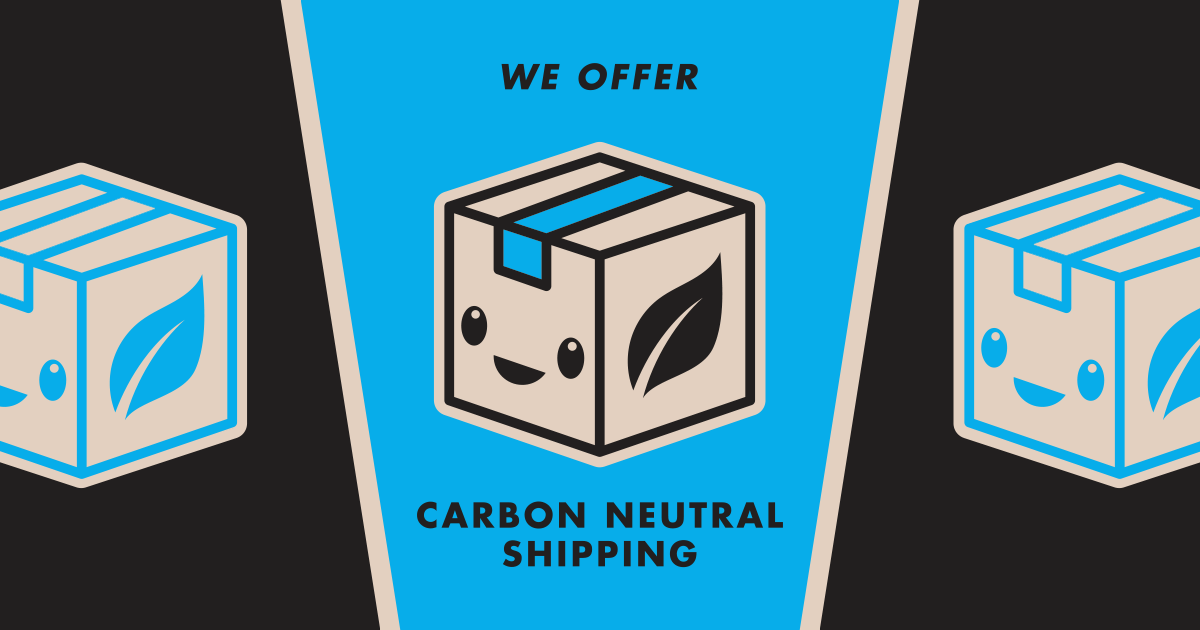 The UPS carbon neutral program is certified with the CarbonNeutral Protocol by Natural Capital Partners and verified by Société Générale de Surveillance (SGS).
As average consumers, it is incumbent upon all of us to take steps to reduce our waste and environmental impact. Offering carbon neutral shipping is one of the many changes we are taking to reduce our footprint in the coming years. Stay tuned for more announcements on this topic.
For now, UPS is the only carbon neutral shipping option available to us. USPS is making efforts to optimize their fleet vehicles and facilities but as of now does not offer a carbon neutral option. We will update when this becomes available for all carriers. For now, you must choose a UPS shipping method if you'd like carbon neutral shipment.
Can I get free carbon neutral shipping? Our FREESHIP code is programmed to offer the lowest cost shipping option as "free" and then discount all other shipping options by the dollar value of the lowest cost shipping option. Many times on larger orders, UPS offers the cheapest shipping option, so this will in fact be the free option. That being said, using FREESHIP can still offer discounted carbon neutral shipping even if USPS is the free option for your particular order. (note: coupon code FREESHIP is valid on orders over $25 shipped to contiguous USA).
How do I identify carbon neutral shipping options? We have marked our UPS carbon neutral shipping options with a this 🌱 seedling emoji to make them easier to spot during checkout. Thanks for helping us reduce our carbon footprint by choosing carbon neutral shipping!
Lucky You! ☘️ Get a Free Lucky Bottle Opener
Our Lucky Bottle Openers are back! Now through March 20th, get a free Lucky Bottle Opener in every order. Our custom bottle openers feature full metal construction and a strong neodymium magnet to hang as a fridge magnet, or catch loose caps!
This lucky bottle opener has a cute winking four leaf clover design printed with our metallic acetate finish. Our lucky bottle openers are ready to party and free in every order through March 20.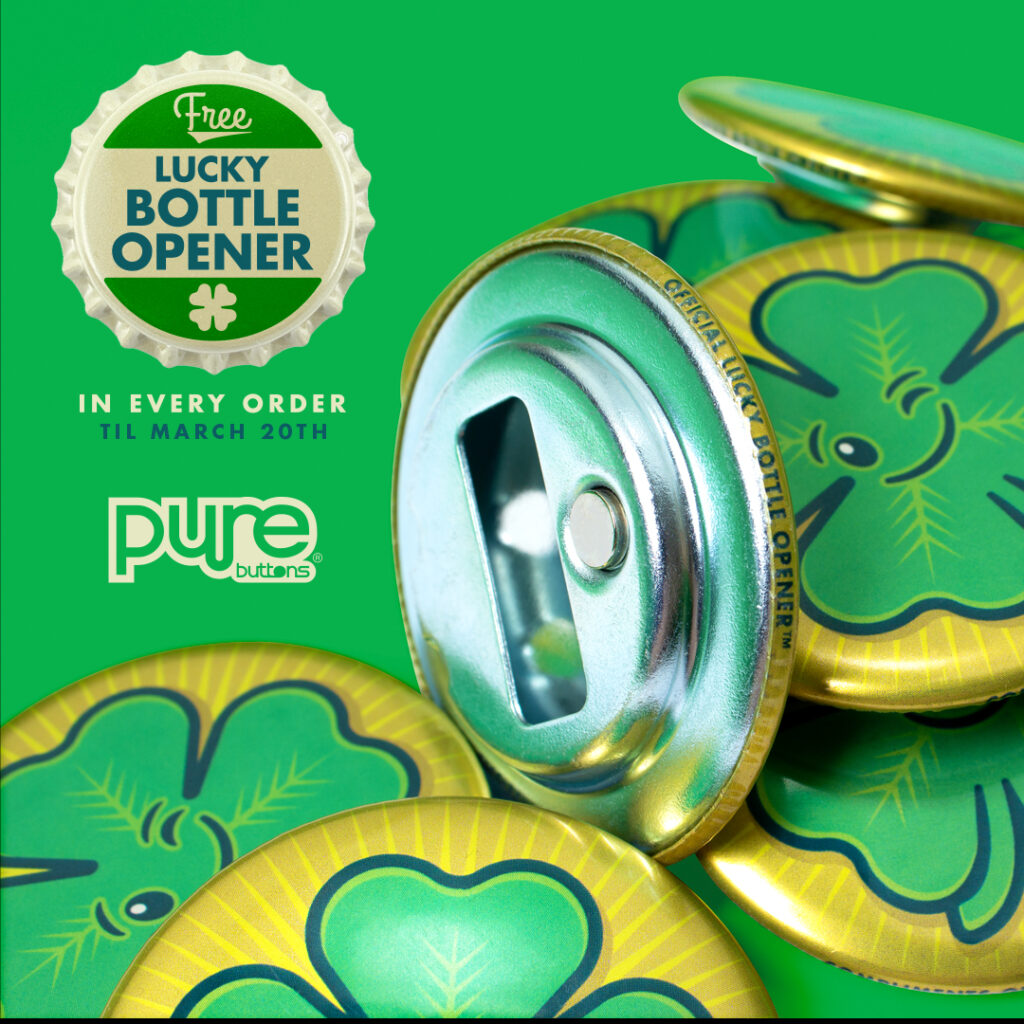 Live Chat Has Returned!
During the nationwide covid shutdown and over the course of the pandemic we quietly paused our live chat customer service so we could focus on e-mail and phone support.
We're happy to say our customer support team has grown and we are now offering Live Chat support once again!
You can start a chat with our friendly customer service representatives any time of day.
We're here to chat live during our normal business hours (8AM-4:30PM M-F EST) on the Pure Buttons website and TheButtonPost Blog.
If you have a question after hours you can also leave a ticket and our support will reply first thing when they return. Leaving a ticket will open an email thread between yourself and support.
To get chatting, hit the small button in the bottom left corner of our website.
Let's chat about Custom Buttons!
"Drinks On Me!" Custom Coasters 20% OFF
Our custom coasters are excellent promotional merch items. They also make incredible personalized gifts!
For a limited time you can take 20% off all custom coasters with code COASTER20
Upload your artwork, logo, or photo in our easy online tool and get an instant digital proof.

Our custom drink coasters are available in our soft-touch matte or original glossy finish, but we recommend soft-touch matte for better drink stability.
These personalized drink coasters feature your full color graphics protected by a water-resistant lamination. The metal body construction gives them durability while a natural cork backing protects your tabletops.
A great housewarming gift, wedding gift, or party favor for any special events. Custom photo coasters can be personalized in minutes.
No minimum, free digital proofs and 20% off with code COASTER20
Order Custom Coasters
Our Personalized Ornaments Are Officially Patented!
Our personalized ornaments are a product unique to Pure Buttons. We designed them in-house and had the parts manufactured locally for a unique product you won't find anywhere else!
We're proud to announce that our personalized ornaments were officially granted a patent by the U.S. Patent and Trademark Office.
These custom ornaments aren't just meant to be used as custom christmas ornaments. They're great for any time of year and can be hung anywhere with their elastic cord in your choice of metallic color: silver or gold.
See what one of our excited customers said in their personalized ornament review:
"These rock!!! Absolutely awesome product! I sell them all day long for $5 each, they fly off the shelves. Will be ordering many many many more." – DAKOTA FROM FERNDALE CA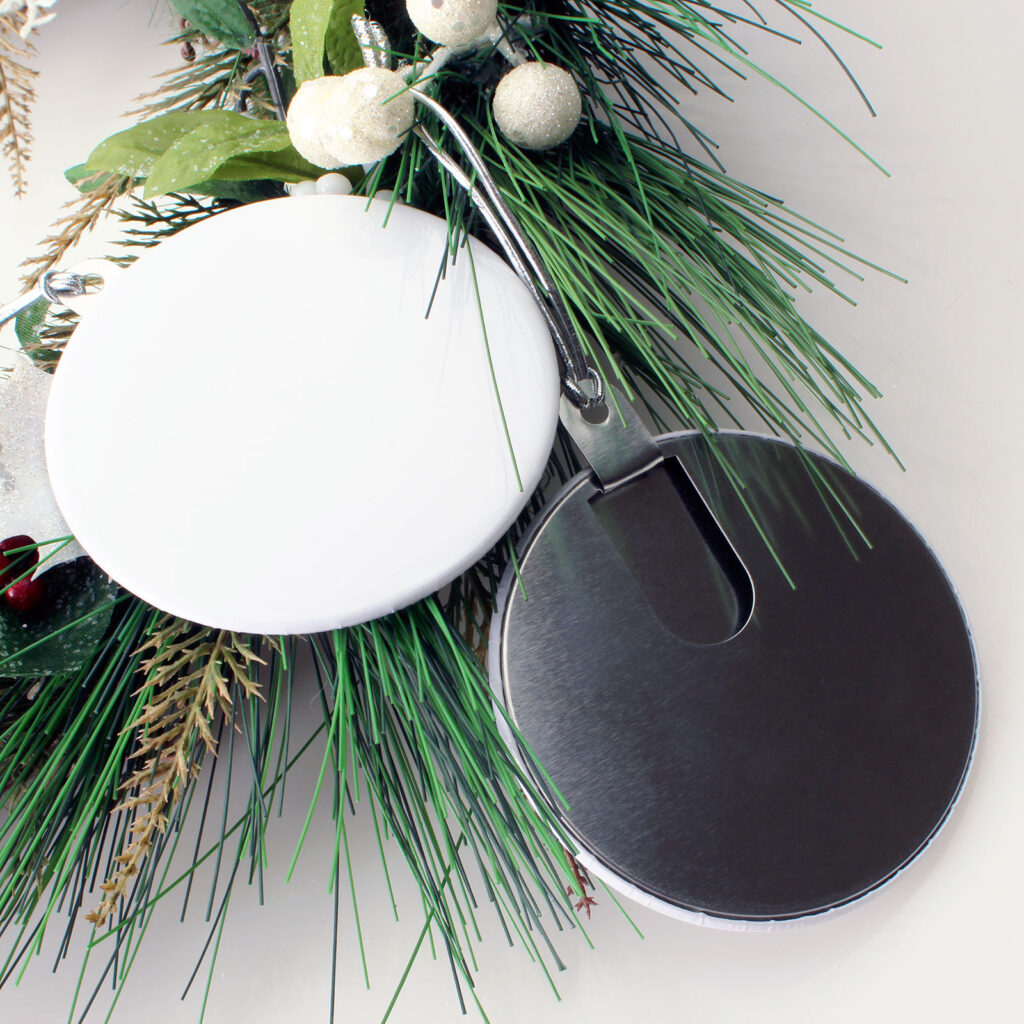 Call 800-710-2030