Custom Buttons Blog
Welcome to The Button Post by Pure Buttons! A blog where we discuss all things related to custom pin-back buttons and other custom promotional products that Pure Buttons offers. Stick around for coupons to score cheap pinback buttons, new button product announcements and more!
Get Your Free Coronavirus Awareness Button
We have produced these six bold Coronavirus Awareness Buttons to help spread simple hygiene and social distancing messages in this extremely critical time. We are offering these buttons free to anyone, just pay shipping.
These COVID-19 designs are printed on our 1.75″ Round Custom Buttons with our original gloss finish. You can add one of each design to your cart for no cost.
Sharing a selfie on social media wearing these buttons is the best (safe) way to share these messages. Please tag @purebuttons in any of your photos and we will be sure to share them with our followers as well.
Wash Your Hands Button – This free button design reminds yourself and others to do the most basic preventative measure: wash your hands! Washing your hands is one of the most important measures you can take to protect yourself from disease.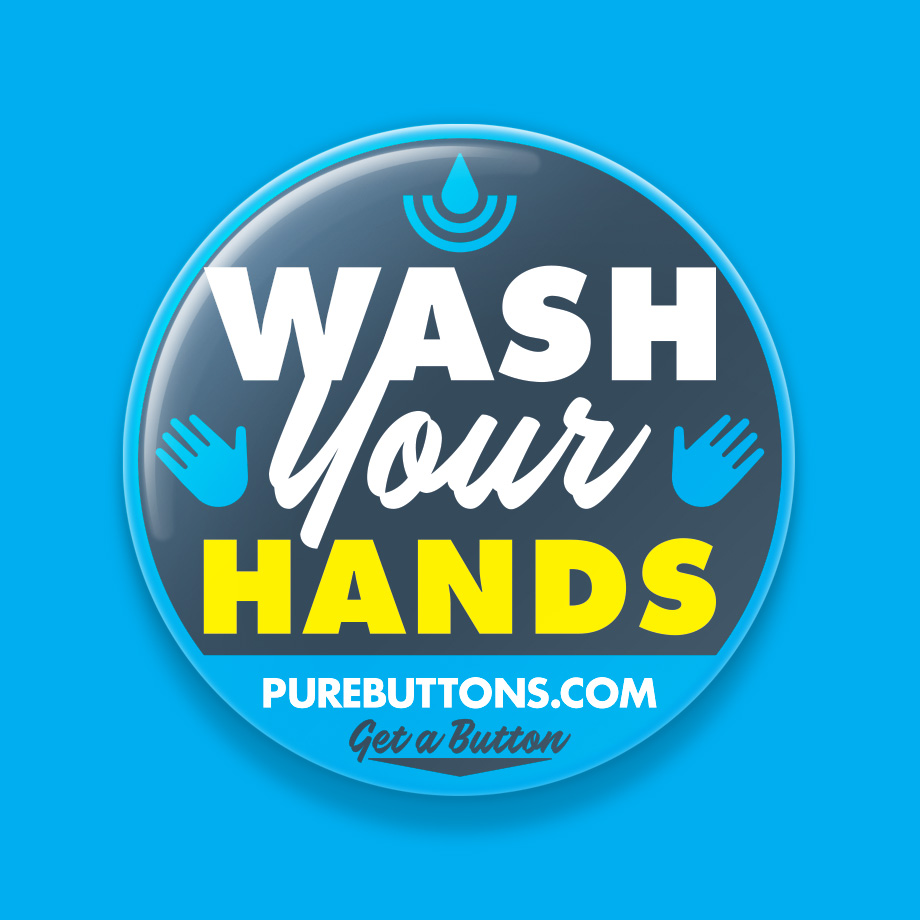 Cover Your Cough Button – (with your elbow). This free button design reminds everyone to cover their coughs (and sneezes) with their elbow, not your hand. This practice helps reduce the spread of the virus onto surfaces that are touched with bare hands.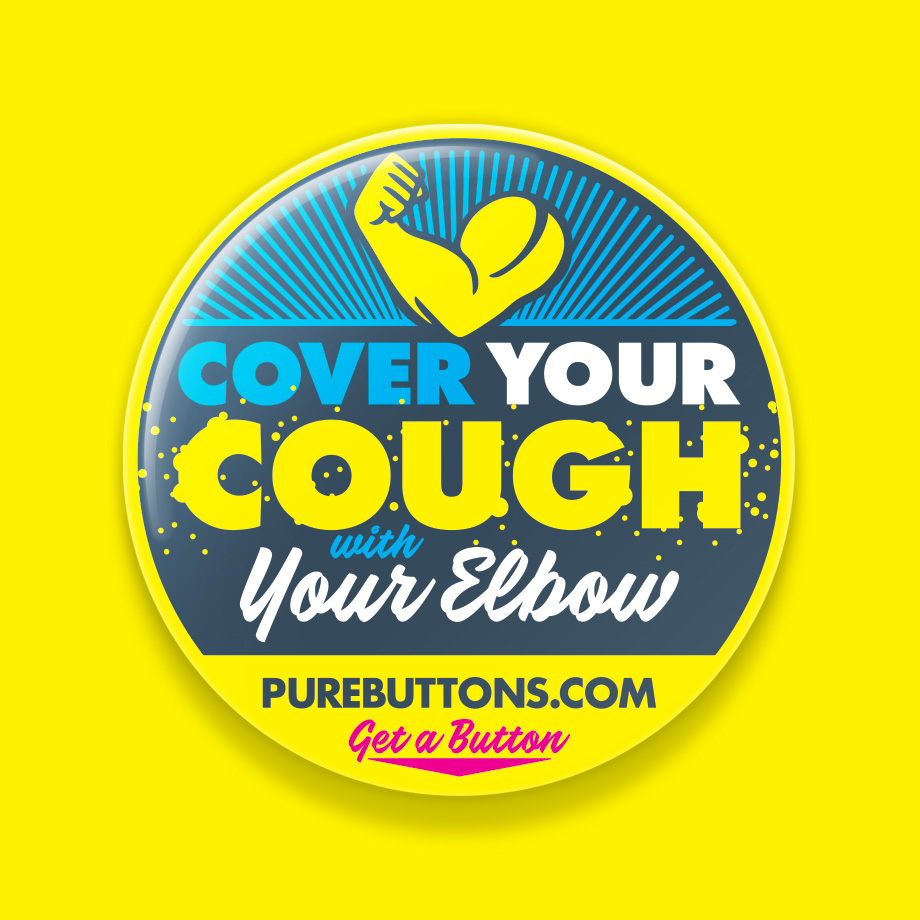 Keep Your Distance Button – Remind people to practice social distancing. It's not rude, it's LIFE SAVING in this dangerous time. Keep a minimum of 6ft from anyone to reduce the spread of airborne disease in spit, sneezes and coughs.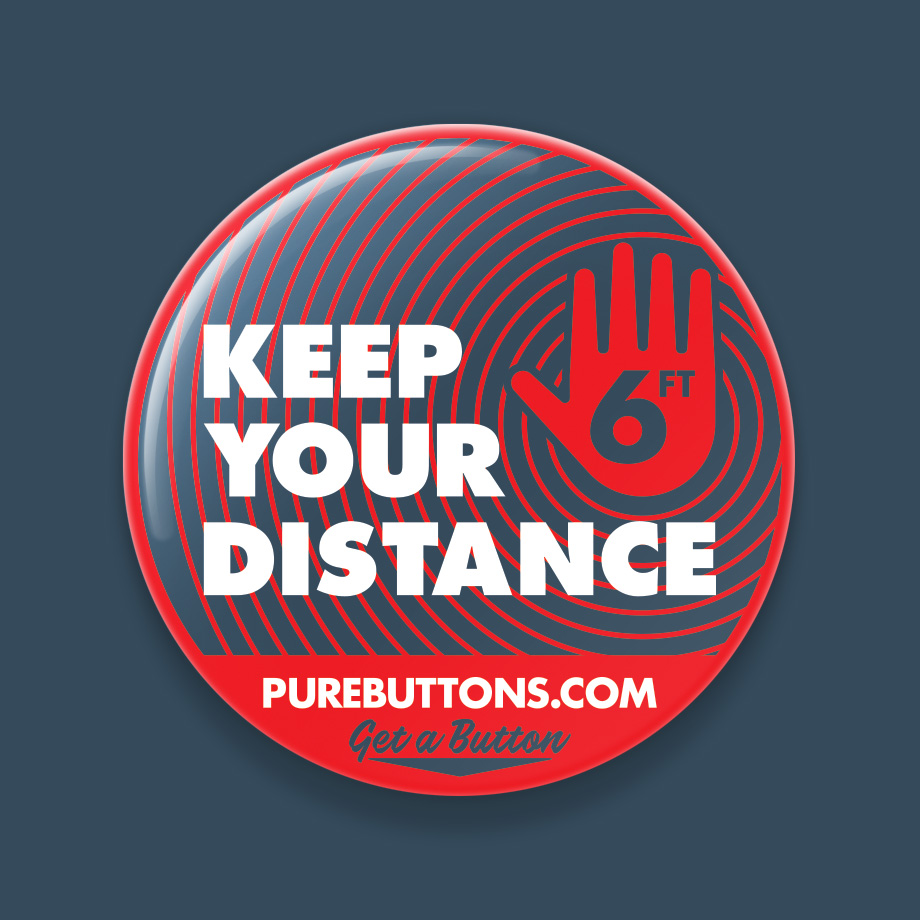 Stay Smart, Stay Apart Button – Another free button design that reminds people to practice social distancing. Take shutdown and shelter in place orders seriously, as they keep the virus from spreading at an exponential rate.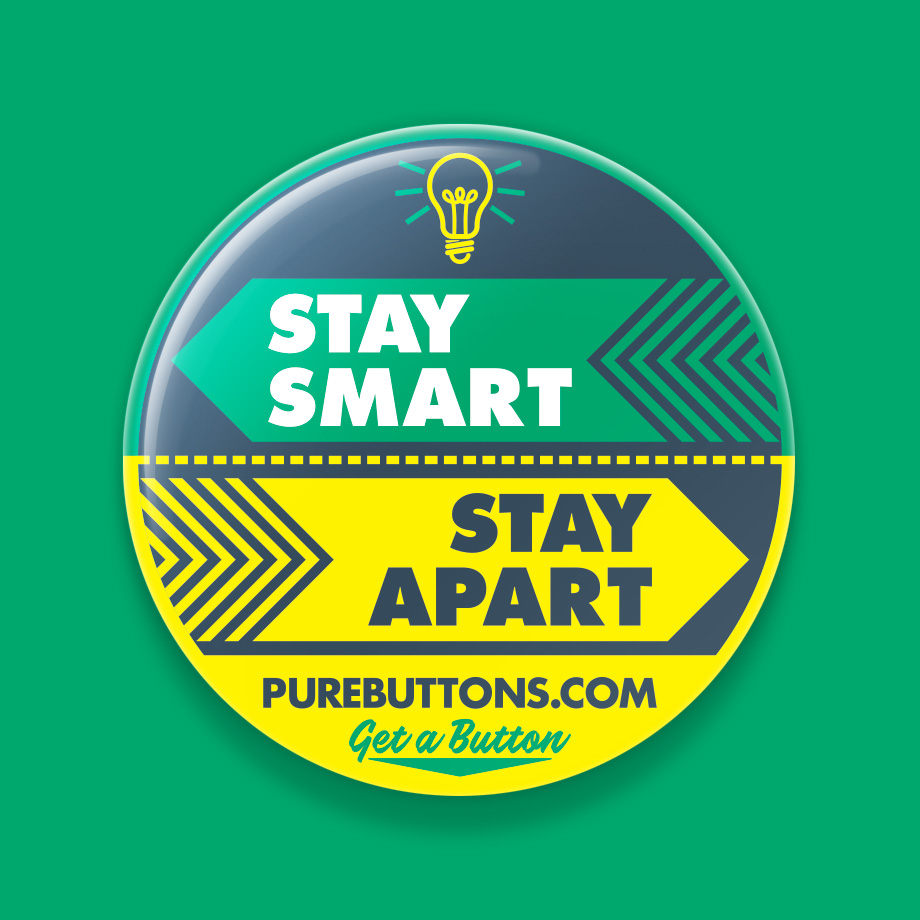 Flatten The Curve Button – Get your free button and remind yourself and others to "Flatten The Curve" – stop the exponential spread of coronavirus by practicing simple hygiene and social distancing.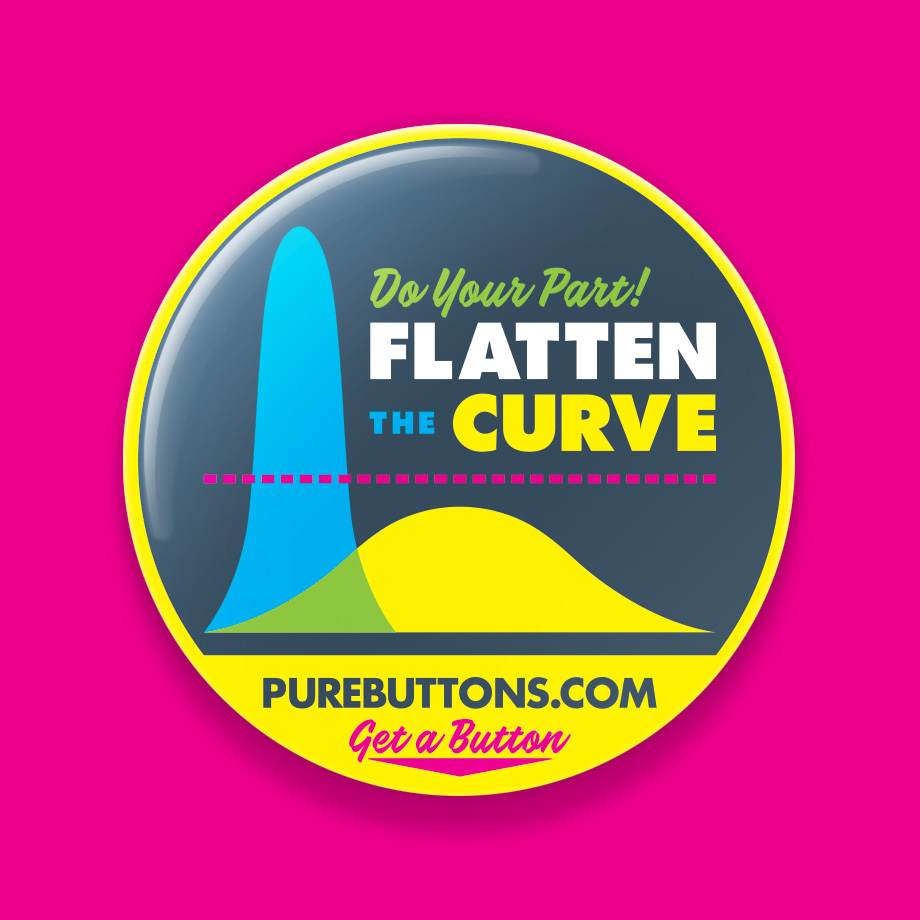 Don't Shake My Hand Button – It may sound rude, but in this global crisis it is VITAL to keep your hands to yourself. Remind everyone to not shake hands and practice social distancing.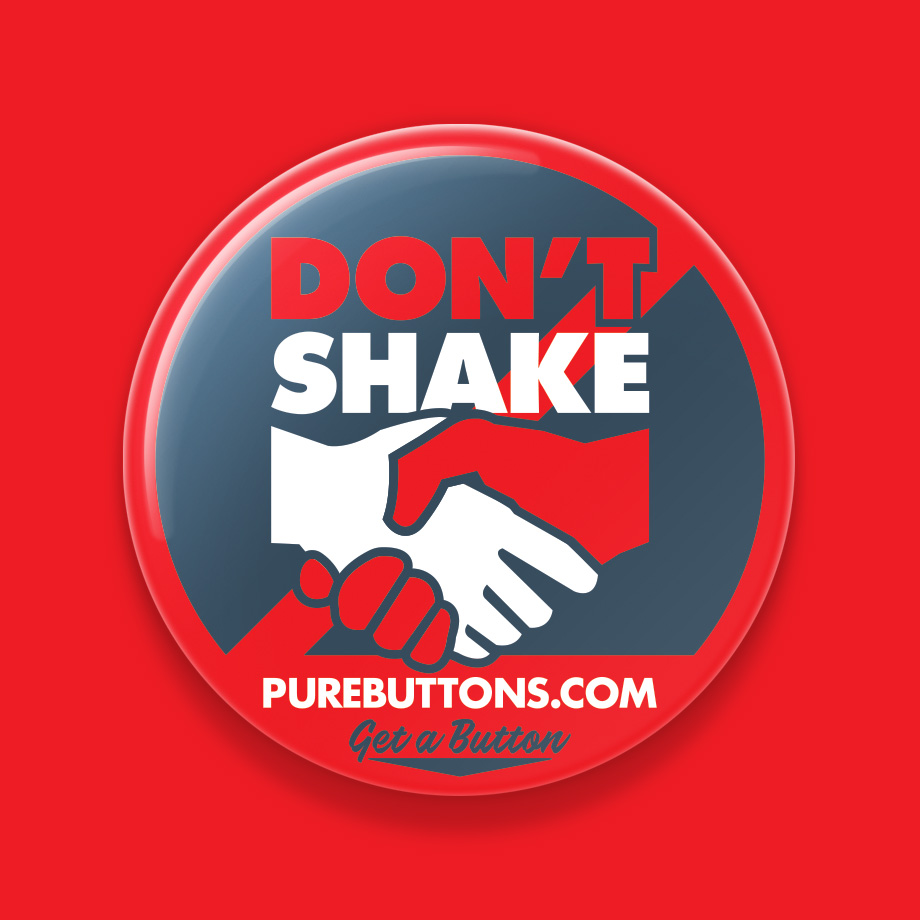 If you would like to buy a bulk quantity of any coronavirus design, we offer bulk quantities of 5 or more a 20% discount and you are free to use any coupon you'd like on your order for an additional discount. Use FREESHIP to get free shipping on any order over $25 shipped to the contiguous USA.
For more information on COVID-19, how to protect yourself and get tested, visit coronavirus.gov
How we are addressing the Coronavirus threat
The health and safety of our employees and customers is our number one priority.

During this time of global emergency, PureButtons.com is still open and operating as usual while following the CDC and Ohio Department of Health safety and sanitization recommendations.

We will continue to monitor the health and well-being of our employees carefully and keep you up to date with any changes to our operations due to this global emergency.

In the meantime, we are open for business as usual and would very much appreciate your orders!

Thank you and stay safe!
Create a Memorable Gift in a Minute: Magnetic Easels 20% OFF
Our 6″ Magnetic Easel is our largest custom product and perfect for gifting- a 6″ wide circular canvas for your best photos. It comes in gloss or soft touch matte finish to give your photos a sophisticated look. This product was designed and patented by PureButtons: you won't find it anywhere else!
Create a memorable photo gift in a minute in our free and easy customizer tool! Simply choose your favorite photo and approve your free instant digital proof.
The Magnetic Easel has a fold-out / fold flat easel back for table top display and two strong neodymium magnets to hang up on your fridge or any magnetic surface. This versatile platform is an all-in-one solution that replaces the need for photo frames.
Order a 6″ Magnetic Easel and take 20% OFF with coupon code EASEL20 this week only!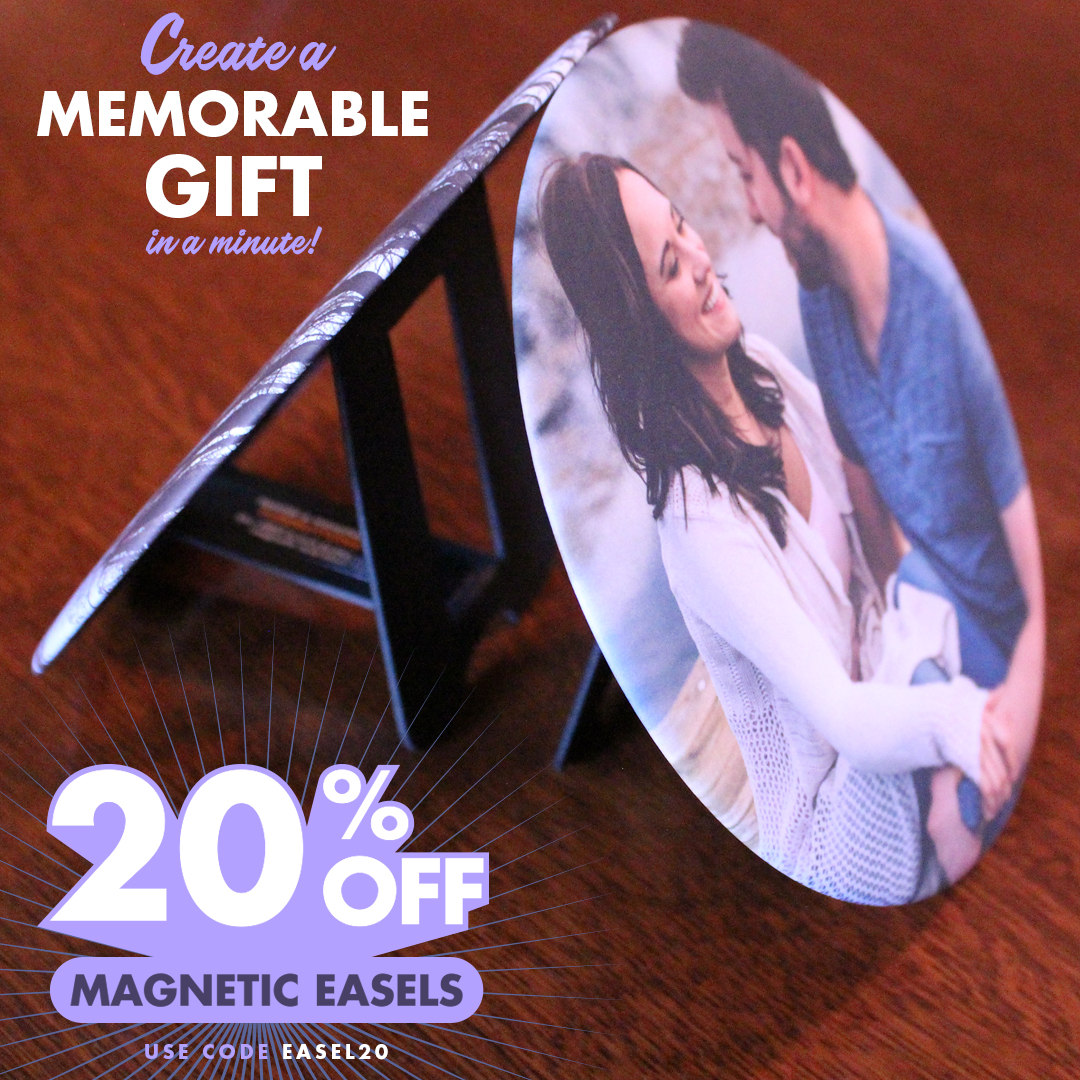 Fridge Magnets 20% Off This Week
20% OFF Fridge Magnets w/ code MAG20
THIS WEEK! Take 20% off any of our incredible custom Fridge Magnets with code MAG20. We have 19 shapes and sizes, all able to be customized in-browser with our easy tool.

Order Custom Fridge Magnets
and take 20% OFF with code MAG20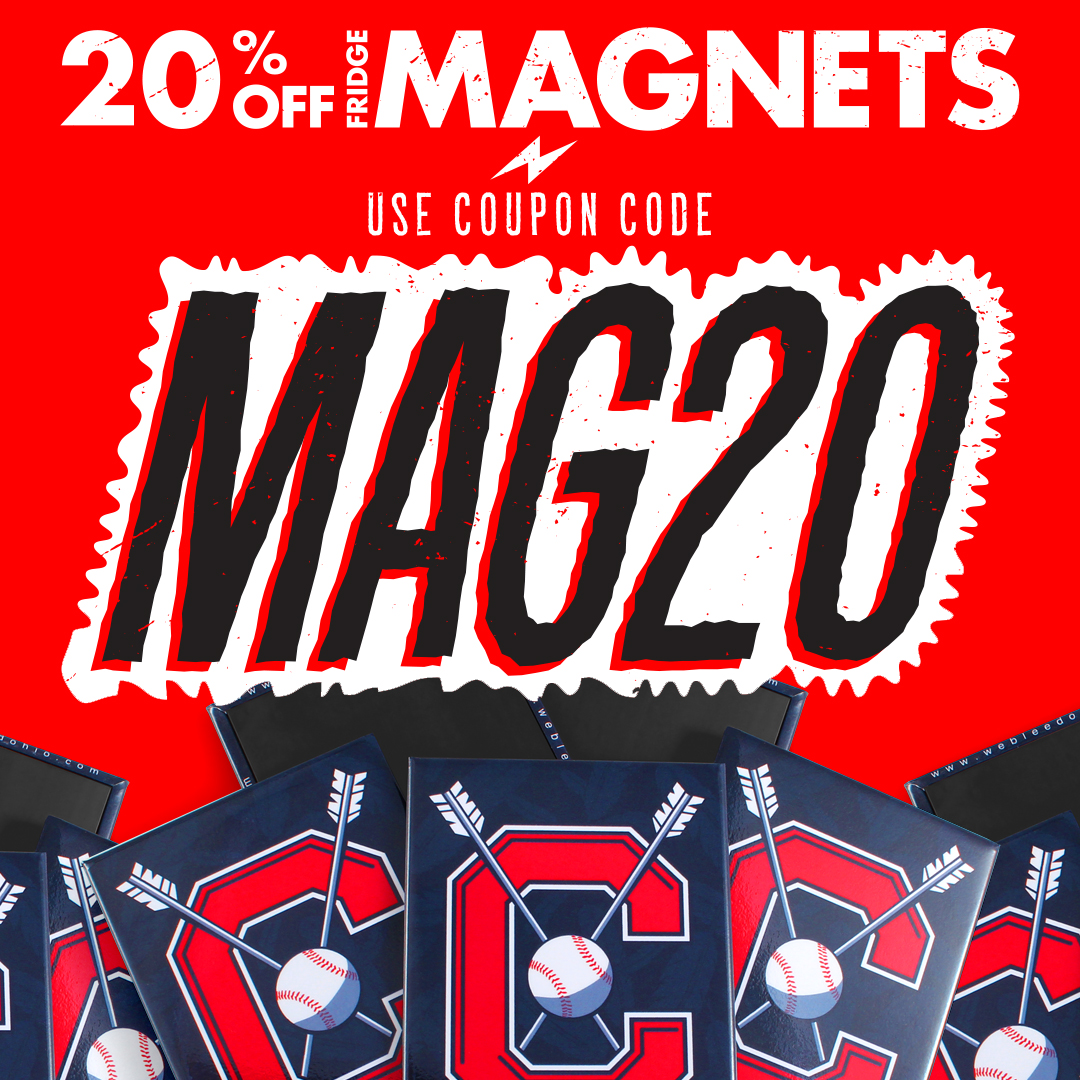 Get your own Lucky Bottle Opener!
In every order, now til the end of March, enjoy a free lucky bottle opener! This 2.25″ Round Magnetic Custom Bottle Opener features a cheerful four leaf clover graphic with a metallic finish. On the back, you'll find a bottle opener and a strong neodymium magnet that helps you catch those loose caps and hang it on the fridge in between brews.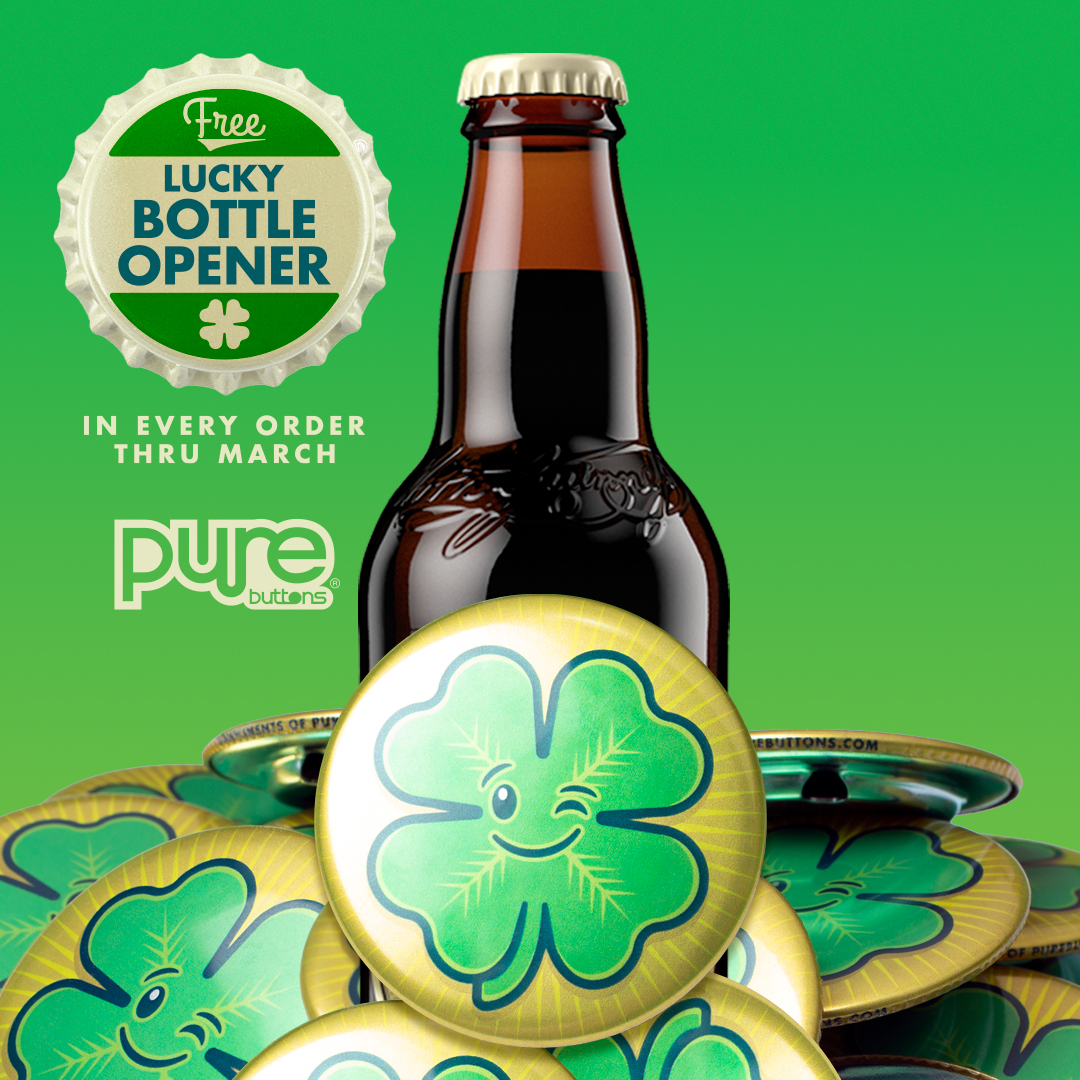 Get your own lucky bottle opener while supplies last in every order @ purebuttons.com through March.
Visit PureButtons.com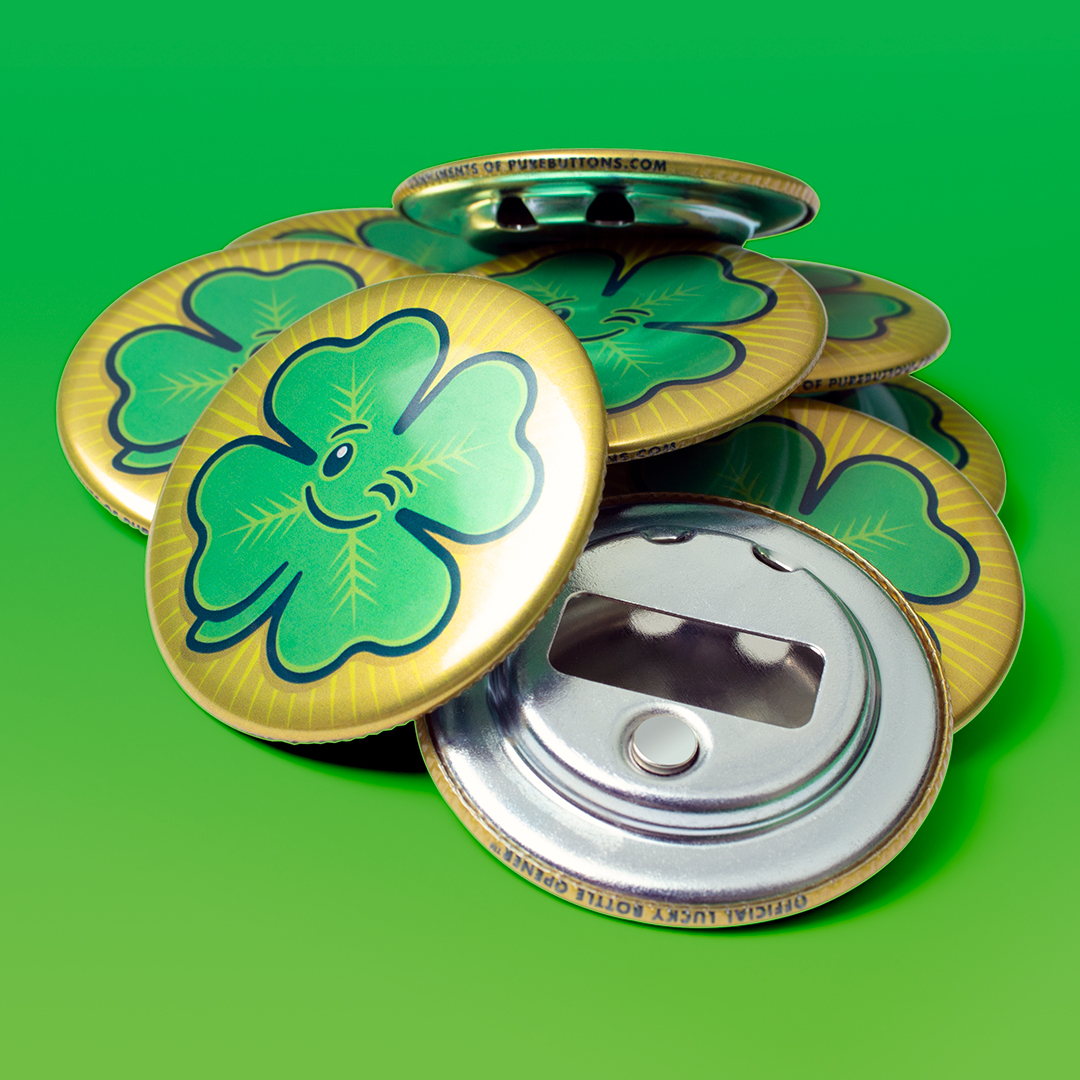 Call 800-710-2030