Custom Buttons Blog
Welcome to The Button Post by Pure Buttons! A blog where we discuss all things related to custom pin-back buttons and other custom promotional products that Pure Buttons offers. Stick around for coupons to score cheap pinback buttons, new button product announcements and more!
StandOut Stickers now offering Custom Glitter Stickers!
Our sister company, StandOut Stickers just announced their first new sticker finish in six years. The new glitter stickers feature a high gloss finish with tons of super fine transparent metallic glitter flake.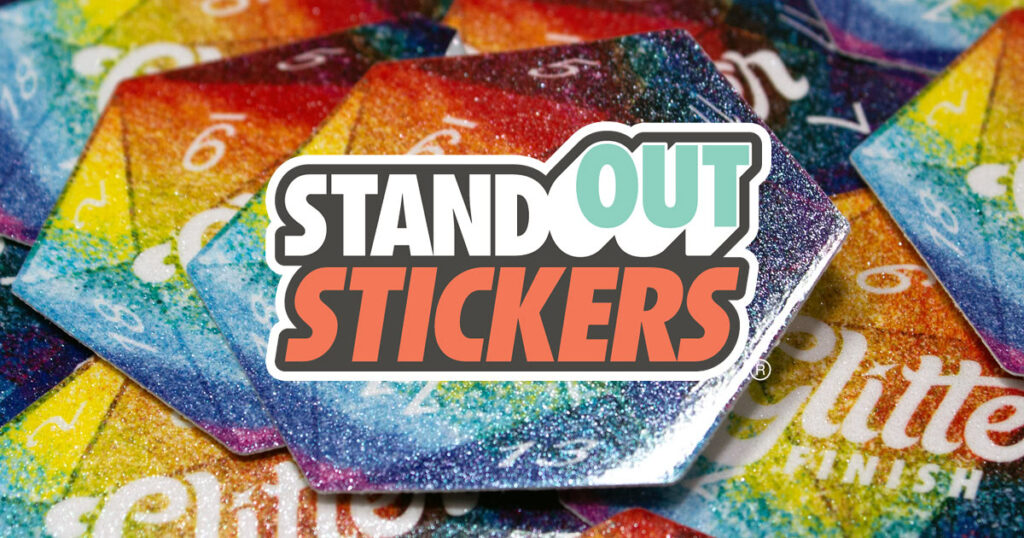 This glitter is more of a semi transparent silver glitter, not rainbow glitter or a hologram glitter effect, but actual glitter flake similar to the kind found in automotive or boat finishes. The sticker material is laminated with this as a top coat which provides extra durability and the glittery shimmer effect!
This now makes three unique sticker finishes that you can choose from when you order custom stickers. The original glossy finish and matte finish are offered at no additional cost. The new glitter sticker finish is offered as a premium upgrade.
You can order glitter stickers of any size or shape. Simply choose the glitter finish option when you're ordering. StandOut Stickers offers bulk discounts on higher quantities and prices are even lower on standard sticker shapes like circle, square, rectangle or oval stickers.
For the rest of this week, Circle Stickers are on sale 20% off with code CIRCLE20 – a great opportunity to check out this new glitter sticker finish at a great price!
Check out some sample photos below and learn more about glitter stickers on the StandOut Stickers website.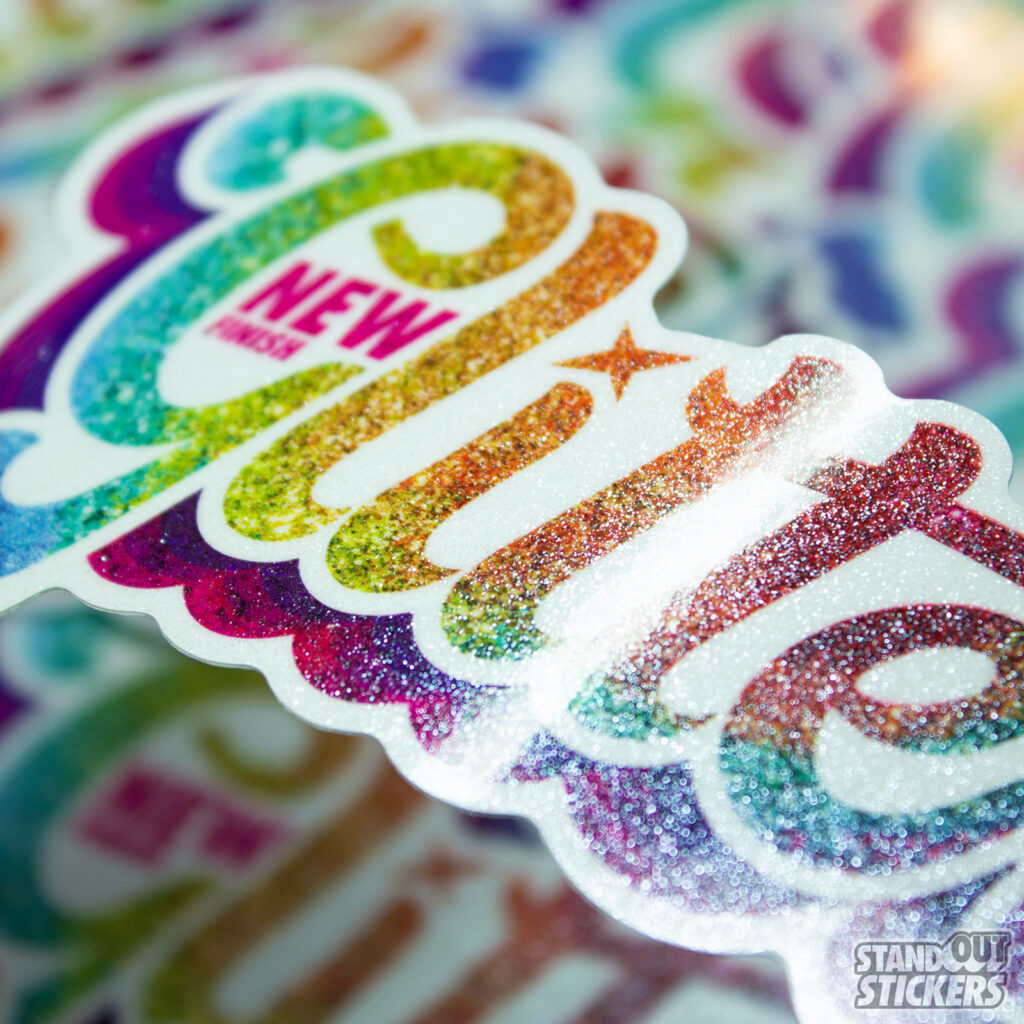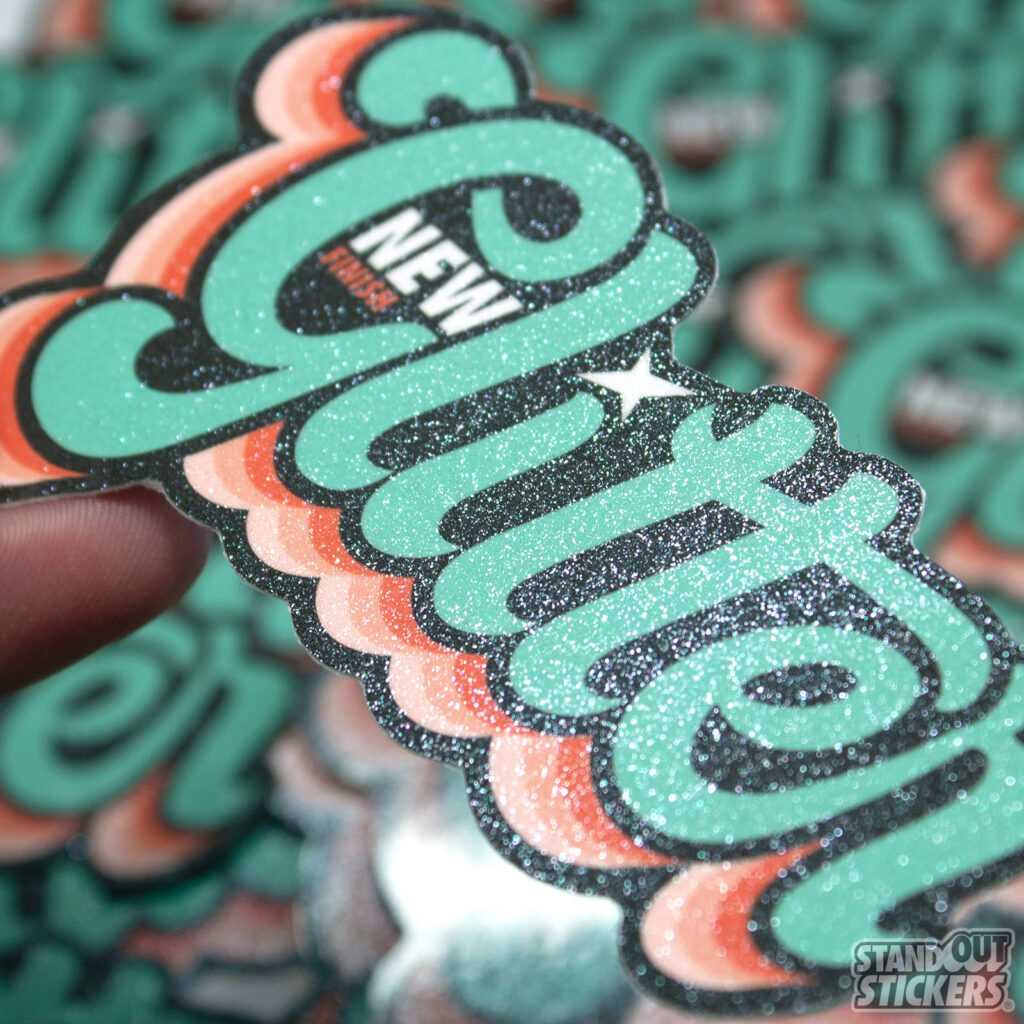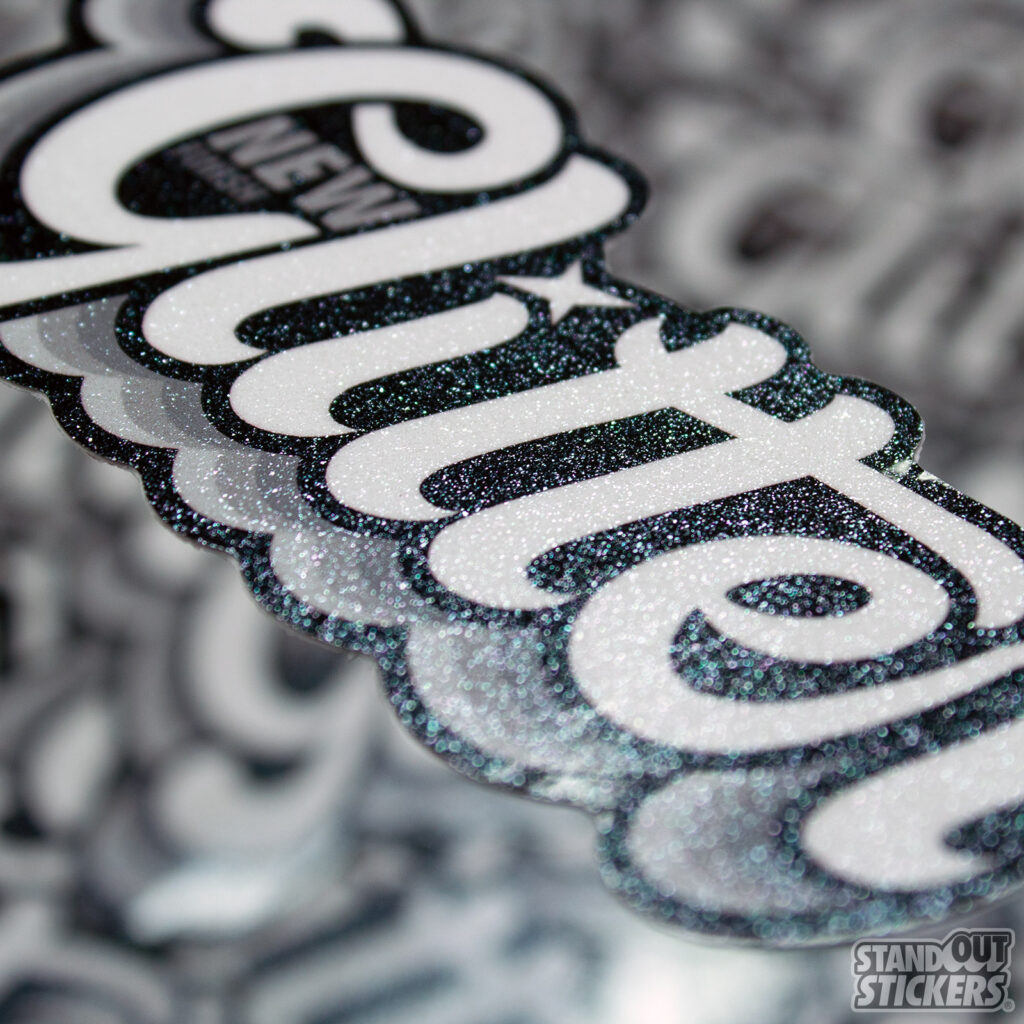 New COVID-19 Button Designs Added to Our Online Tool!
Now you can create COVID-19 buttons with our professional graphics, but in any style you'd like.
Our online art tool's Coronavirus design design gallery has been updated with our latest graphics. This includes our original social distancing button designs and our new covid vaccine button designs.
Covid vaccine buttons can be helpful in encouraging others to become vaccinated and reduce the spread of COVID-19.
All of our COVID-19 button designs are fully customizable. Choose your own colors and add your logo to create a completely unique coronavirus button design.
How to access:
Browse our gallery of coronavirus designs by choosing any of our customizable products and enter the art tool.

From there click the IMAGE & TEXT button in the tool bar (seen below), and then "CHOOSE FROM DESIGNS" in the floating window.
From here you can choose the Coronavirus gallery, or look at our other galleries of design assets.
Create a totally customized coronavirus button design right in your browser and get an instant digital proof.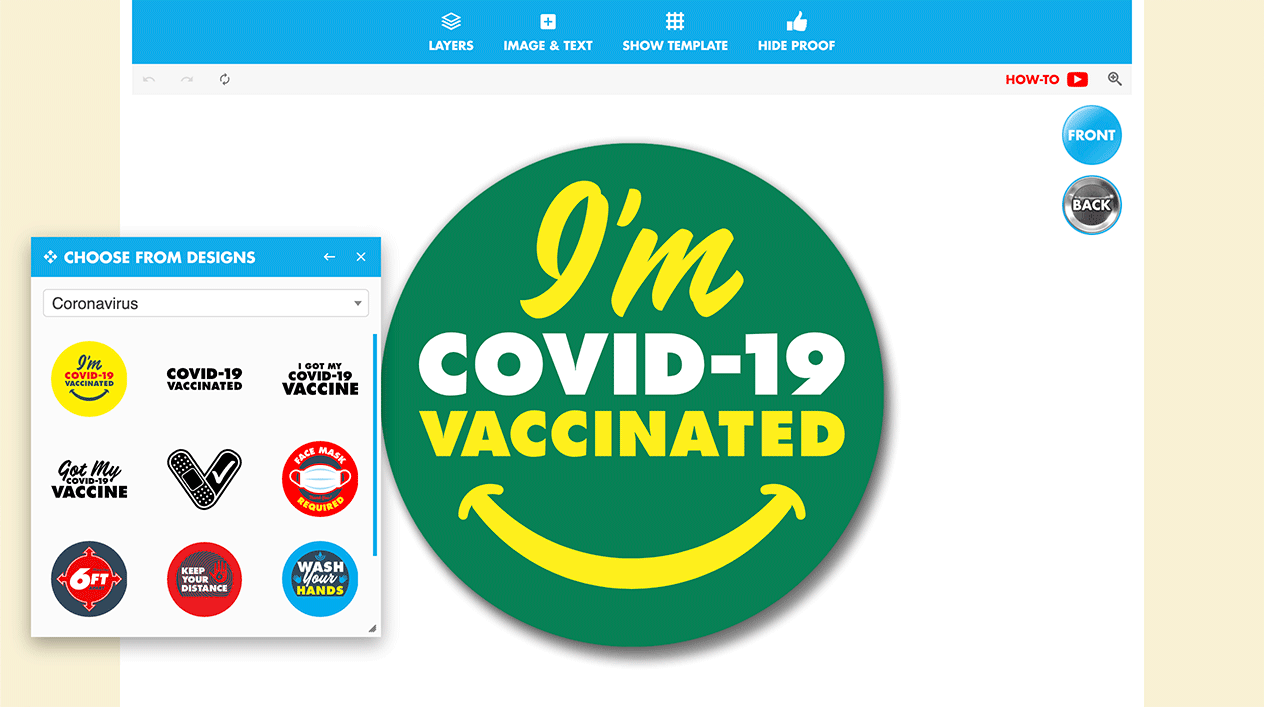 Our new High Risk Button is available now!
Are you at high risk from infection? Do you know someone who is? Remain vigilant and stay healthy with help from our new High Risk Button design.
This bold new button design compliments many of our other coronavirus buttons but can be worn all year during standard flu seasons for years to come.
Featuring bright colors and the words HIGH RISK, this eye catching design should help alert others to your condition.
Our High Risk Button is available in two round sizes: 1.5″ wide and 2.25″ wide.
Our pin-back buttons are water-resistant and easy to sanitize.
The Centers for Disease Control recommend social distancing and mask wearing to reduce the spread of infectious diseases. This may be our most effective social distancing button design yet!
Minimum order is just one button but you can unlock huge pricing discounts when you order our buttons in bulk quantities.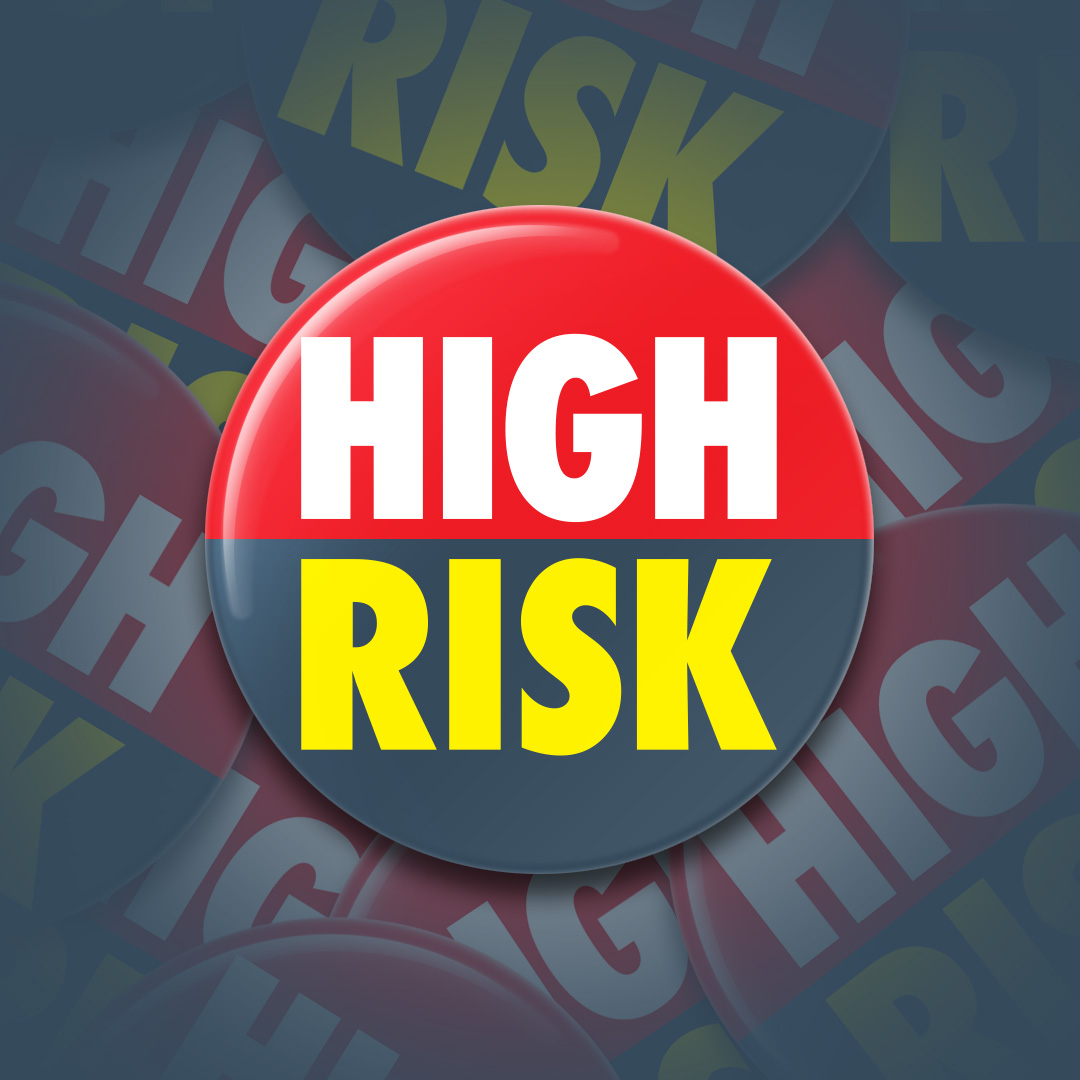 COVID-19 Vaccine Buttons Available Now!
We are pleased to announce 3 new bold designs for you to proudly display your status as VACCINATED for COVID-19.
These COVID-19 vaccine buttons are available in two sizes: 1.5″ & 2.25″ buttons.
There is no minimum order, but we offer significant discounts on bulk orders.
Our affordable pricing starts at $4.99 for one button and goes as low as $0.172 each for large bulk orders!
All of our pin-back buttons are water resistant and easily sanitized!
I Got My COVID-19 Vaccine Button
Large text reads I GOT MY COVID-19 VACCINE on this green and blue button that is sure to be noticed. Featuring a bandaid V shape for "vaccine", this button is stylized after the official Centers for Disease Control (CDC) graphics for covid vaccine buttons and stickers.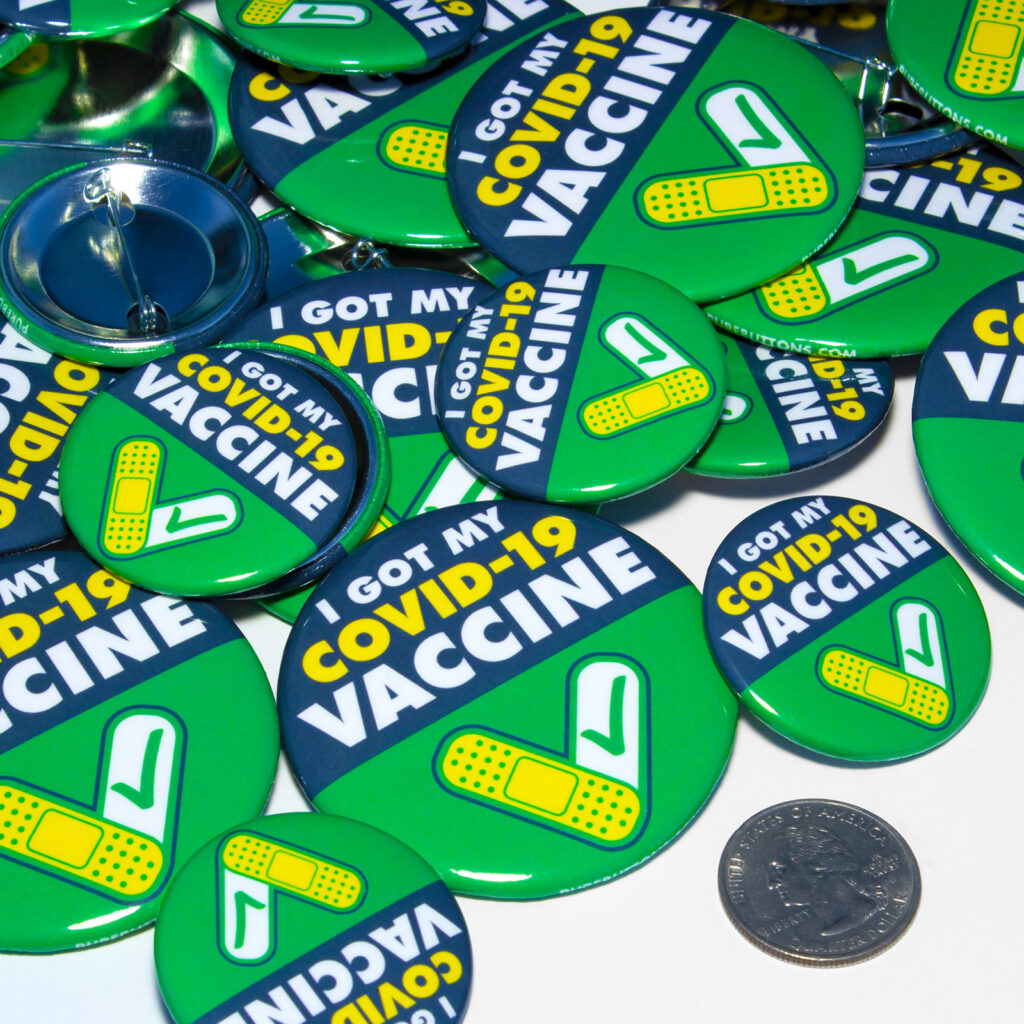 I'm COVID-19 Vaccinated Smiley Button
Show how happy you are to have your coronavirus vaccine with this bright yellow button featuring the text "I'm COVID-19 Vaccinated" and a large smiley mouth graphic.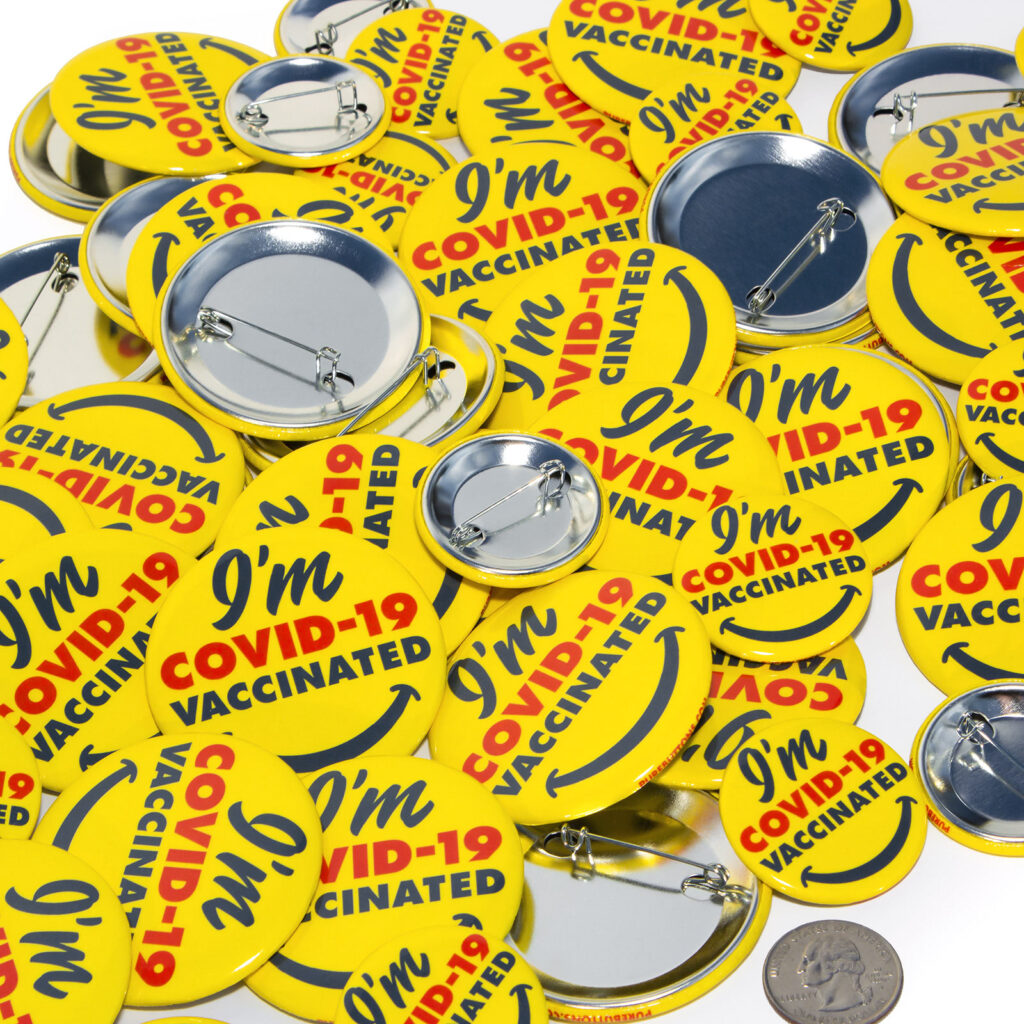 This red button features large white letters reading COVID-19 VACCINATED. Sometimes simple is better! This red button will certainly get noticed!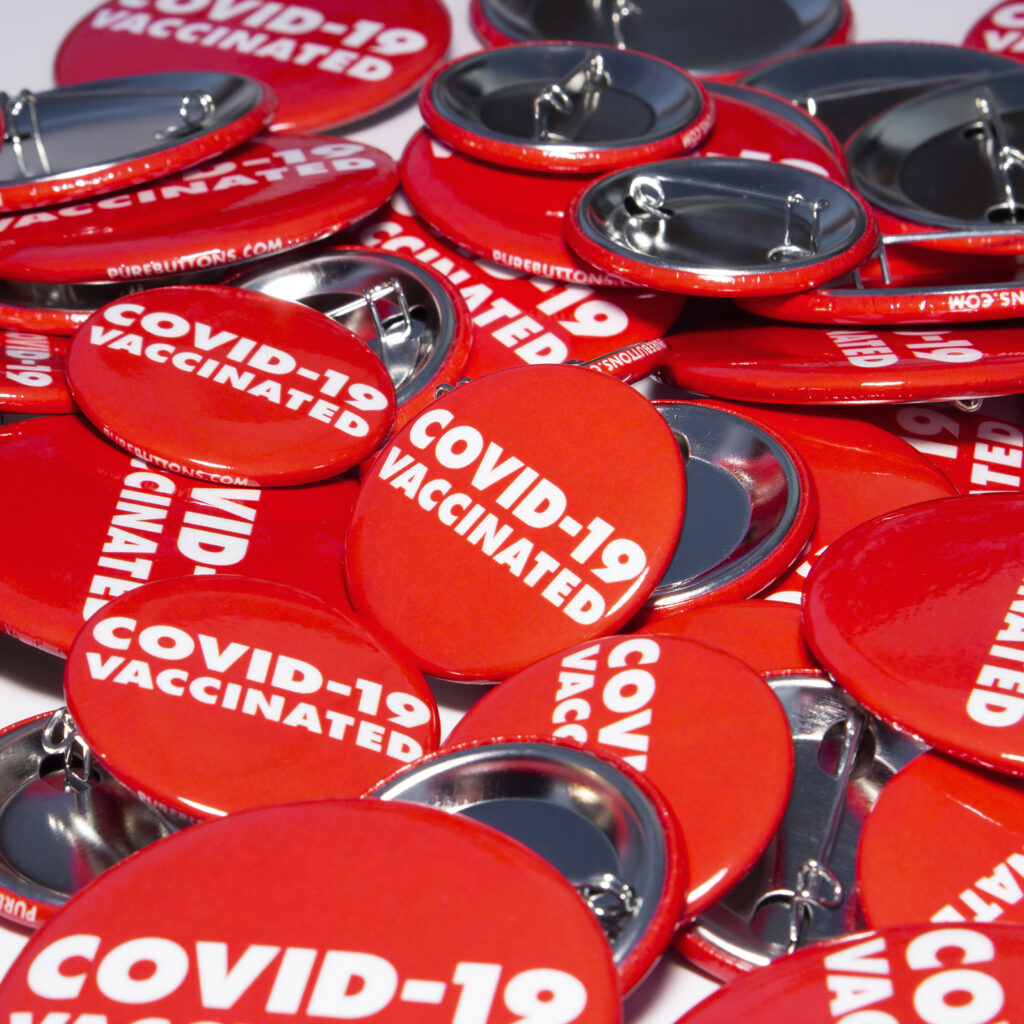 These vaccine buttons are great tools to ensure confidence in hospitals, nursing homes, restaurants, and schools.
Getting the coronavirus vaccine is a great part of disease control and prevention, but it is not the only step needed to flatten the curve.
Wear these buttons to encourage vaccination and put others at ease while remaining vigilant to continue wearing masks and maintaining social distancing.
We all must play our part in staying healthy in these uncertain times. We hope that these custom buttons can help you and your employees or loved ones do just that.
Last minute gift idea: Pure Buttons Gift Cards!
Our digital gift cards can be sent in any amount to any e-mail address. Send joy to the inbox of your favorite creative person with a Pure Buttons gift card!
Order Pure Buttons Gift Cards
P.S. We are giving away two $100 gift cards on our instagram profile. You could win one for yourself and a friend! Tag a creative friend to enter!
Winner will be chosen at random on Monday, December 28th.
Merry Christmas!
From the Pure Buttons Family
Made in Ohio Ho Ho!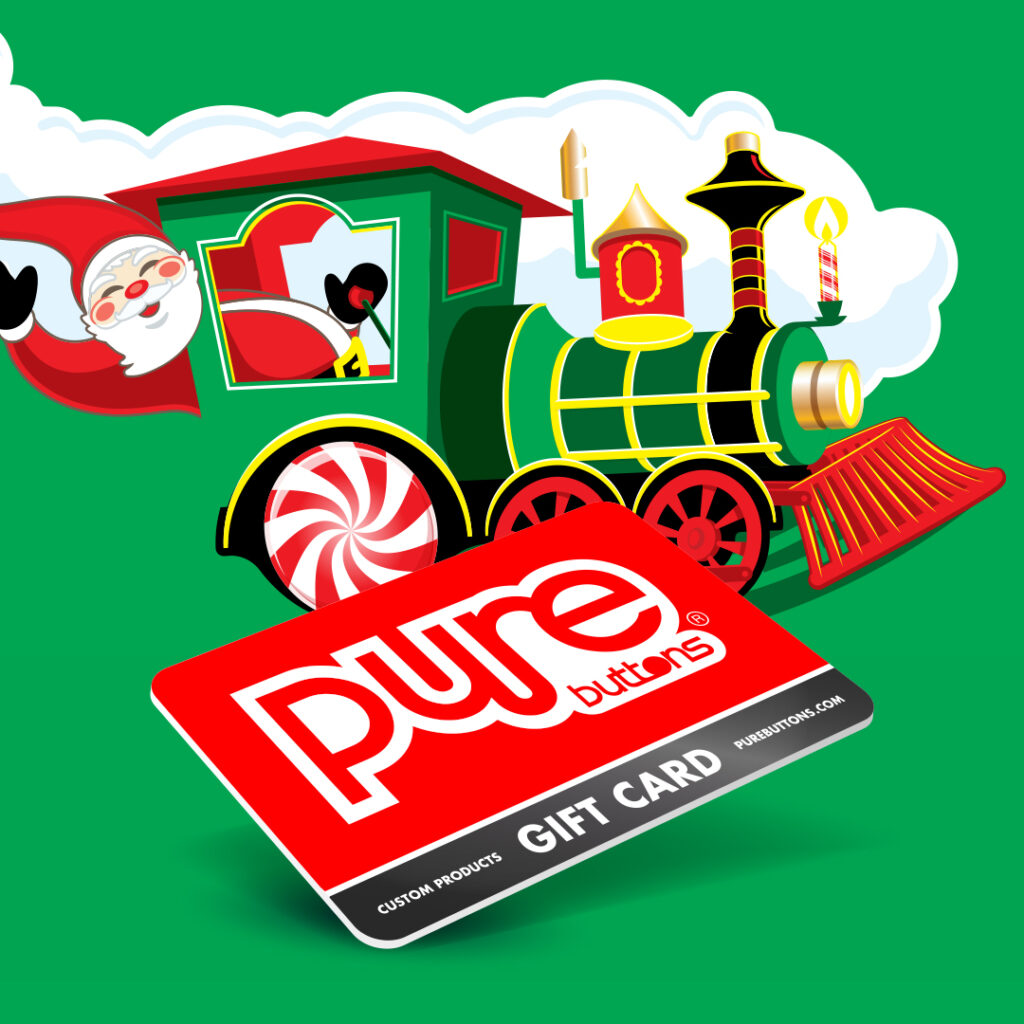 One more note: Our customer service will be operating remotely next week, so phone service will be unavailable in the final week of December. Please email any inquiries. Thanks!
Call 800-710-2030