"Drinks On Me!" Custom Coasters 20% OFF
Our custom coasters are excellent promotional merch items. They also make incredible personalized gifts!
For a limited time you can take 20% off all custom coasters with code COASTER20
Upload your artwork, logo, or photo in our easy online tool and get an instant digital proof.

Our custom drink coasters are available in our soft-touch matte or original glossy finish, but we recommend soft-touch matte for better drink stability.
These personalized drink coasters feature your full color graphics protected by a water-resistant lamination. The metal body construction gives them durability while a natural cork backing protects your tabletops.
A great housewarming gift, wedding gift, or party favor for any special events. Custom photo coasters can be personalized in minutes.
No minimum, free digital proofs and 20% off with code COASTER20
Order Custom Coasters
10+ Photo Ideas to Print as Photo Ornaments
Our custom ornaments are perfect for remembering milestones. Printing photo ornaments has never been easier than it is right now at Pure Buttons.
Simply visit our website with your photo of choice and add it to our easy online tool. You'll be given an instant digital proof to approve before you checkout. It only takes a moment and checkout is a breeze.
Photo ornaments are a great idea to create for yourself or as a photo gift! Every year during the holidays you will be reminded of your milestones and important photos can be enjoyed all over again.
But our photo ornaments aren't only for the holidays! They can really be enjoyed all year long and hung from anywhere! Print custom ornaments for yourself or for friends and family… they'll love receiving your diy photo ornament.
Our custom ornaments are 3.5″ inches wide, round, and come in 3 unique finishes. Our original gloss finish is great for full color photos. Our soft-touch matte and metallic acetate finishes are also fun if you're looking for something unique. These ornaments can be individually bagged and come with your choice of elastic cord color: gold or silver. They're a truly personalized product from top to bottom.
We have compiled a list of photos and occasions that we think would make perfect photo ornaments. Can you think of other ideas? Let us know on social media!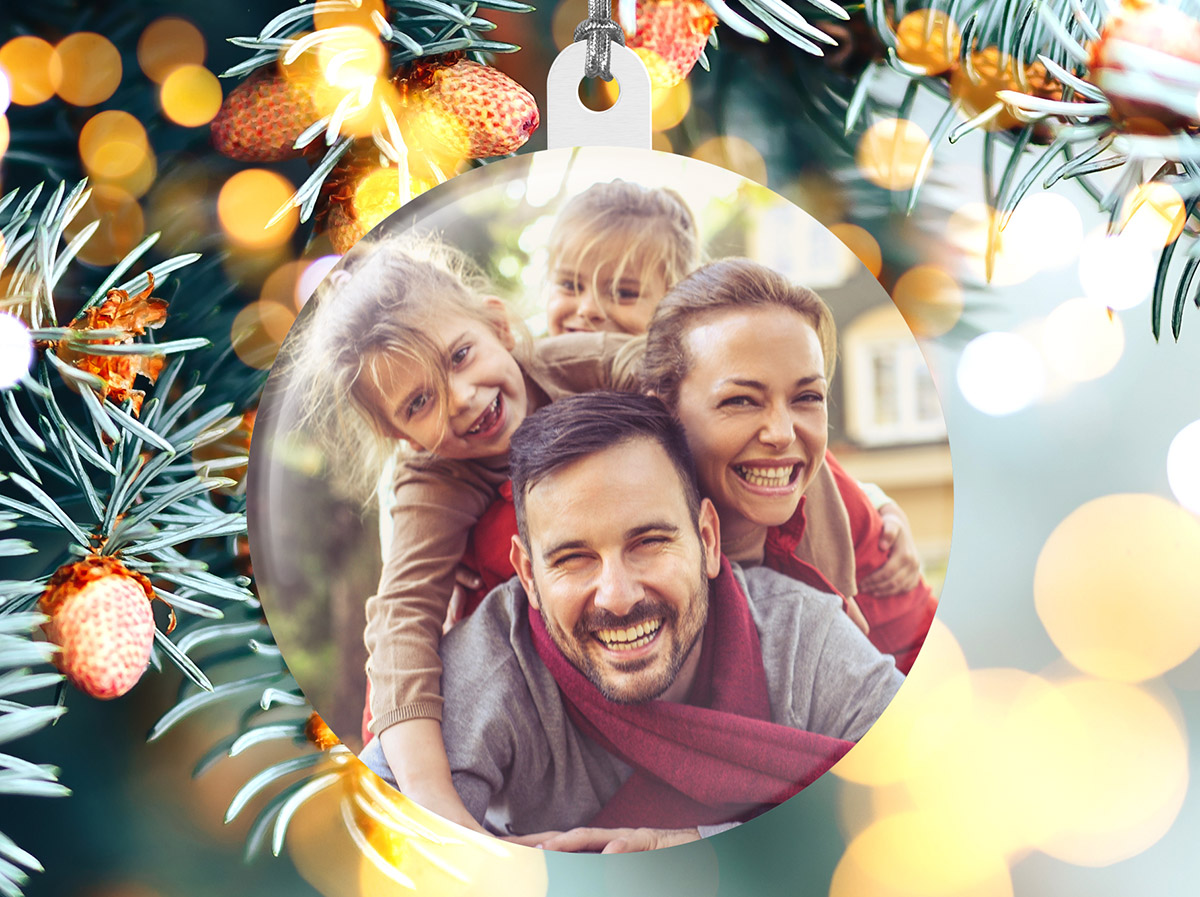 Family Portrait Ornaments
If you have taken a recent family portrait, it would be perfect for printing as a custom photo ornament. Our custom ornaments are produced with metal body construction and scratch resistant finishes to make sure your photo prints stay looking good through handling and displaying for years to come.
In our easy online tool you can simply drop your family portrait in and approve your instant digital proof. Add custom text to mark the year the photo was taken and every year you'll remember and enjoy your family pictures in a unique way.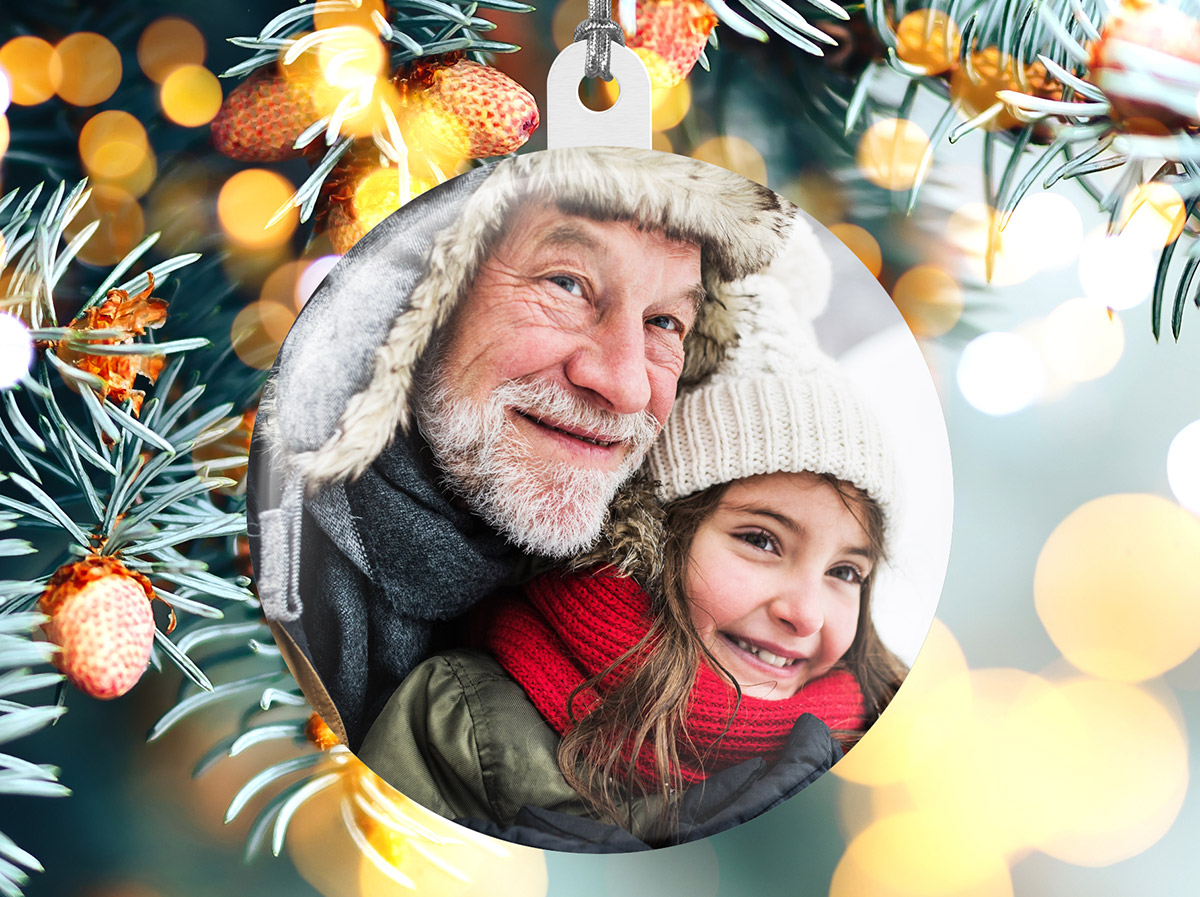 Grandparents Photo Ornament
Preserve cherished moments with the grandparents and create a unique photo ornament featuring grandma or grandpa that you can enjoy year after year. It's a perfect custom christmas gift idea for grandparents who are often hard to buy for, and it's something that you'll want to hold on to as well.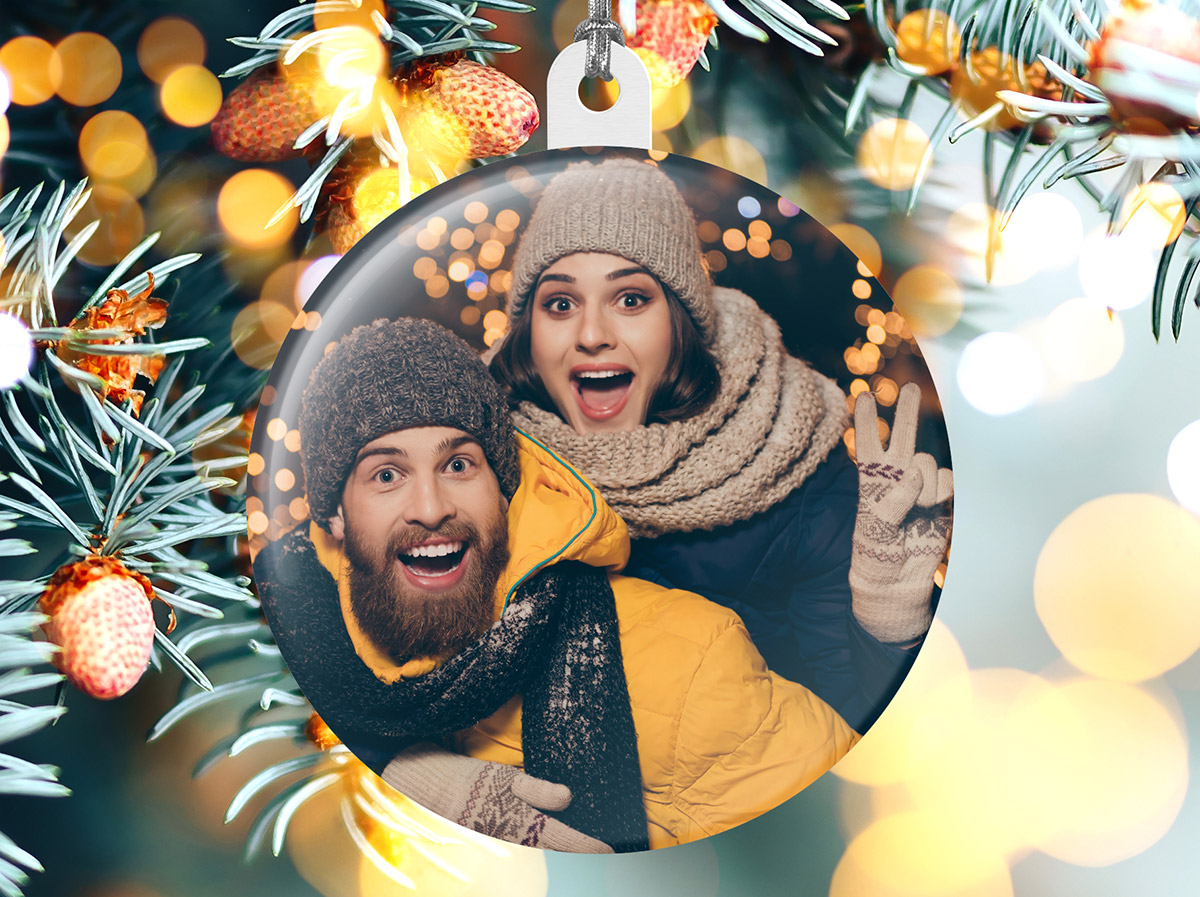 Selfie Couple Ornament
Remember milestones as a young couple with a selfie couple ornament. Upload your favorite selfie into our tool to create unlimited unique ornaments.
We have no minimum order so you're free to order one of each of your favorite selfies.
Or print more copies to give to friends! Our bulk discounts mean custom ornaments get cheaper the more you order.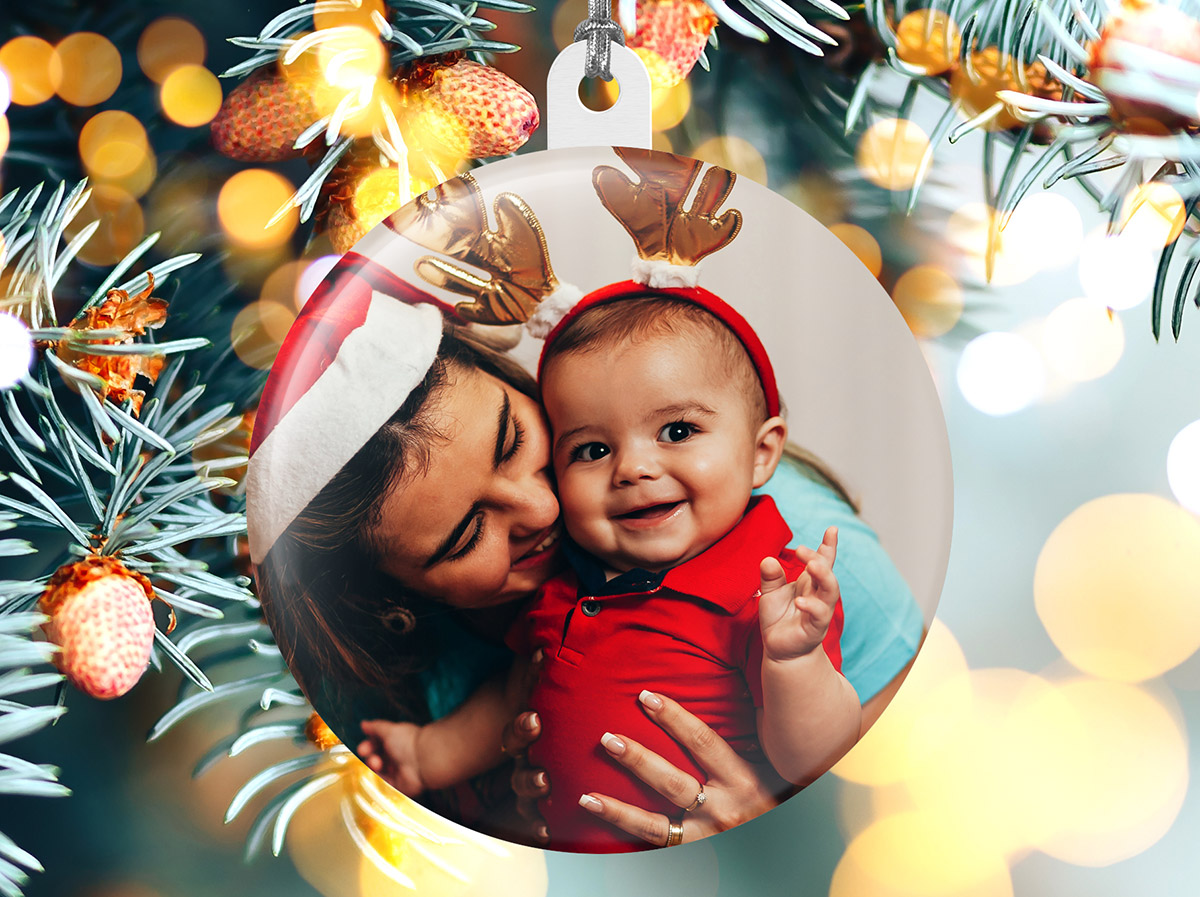 Baby's First Christmas Ornament
Our photo christmas ornaments are perfect for commemorating your baby's first christmas. Every year you take the decorations out of storage and see your beautiful baby's first christmas ornament, you'll be glad you took a moment to create such a unique keepsake.
This is a great personalized christmas gift idea for grandparents and extended family who are excited to share your baby's first christmas too!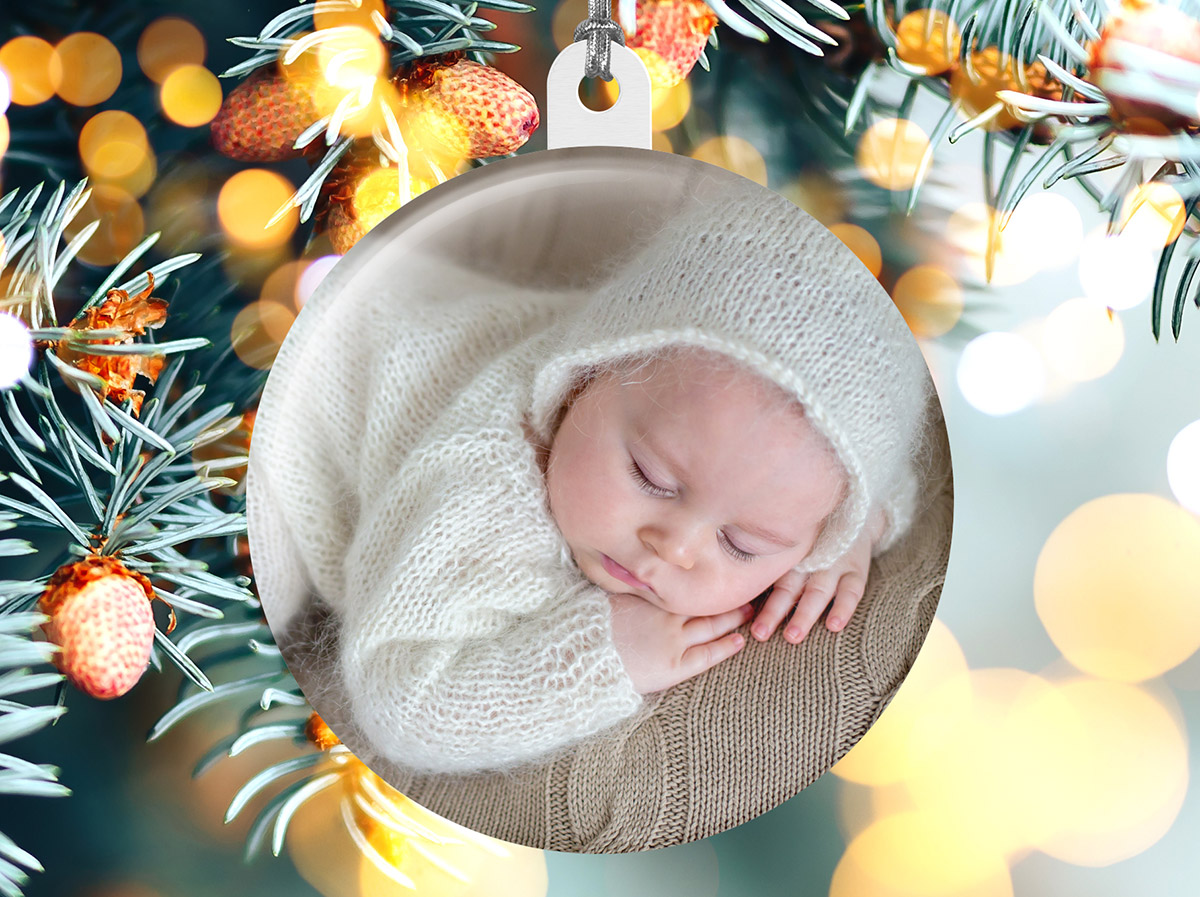 Baby Photo Ornaments
Maybe it's not your baby's first christmas but they're still adorable nonetheless. That's fine!
Print your baby photos on ornaments to collect and share with friends and family! They'll make your Christmas tree a whole lot cuter year after year!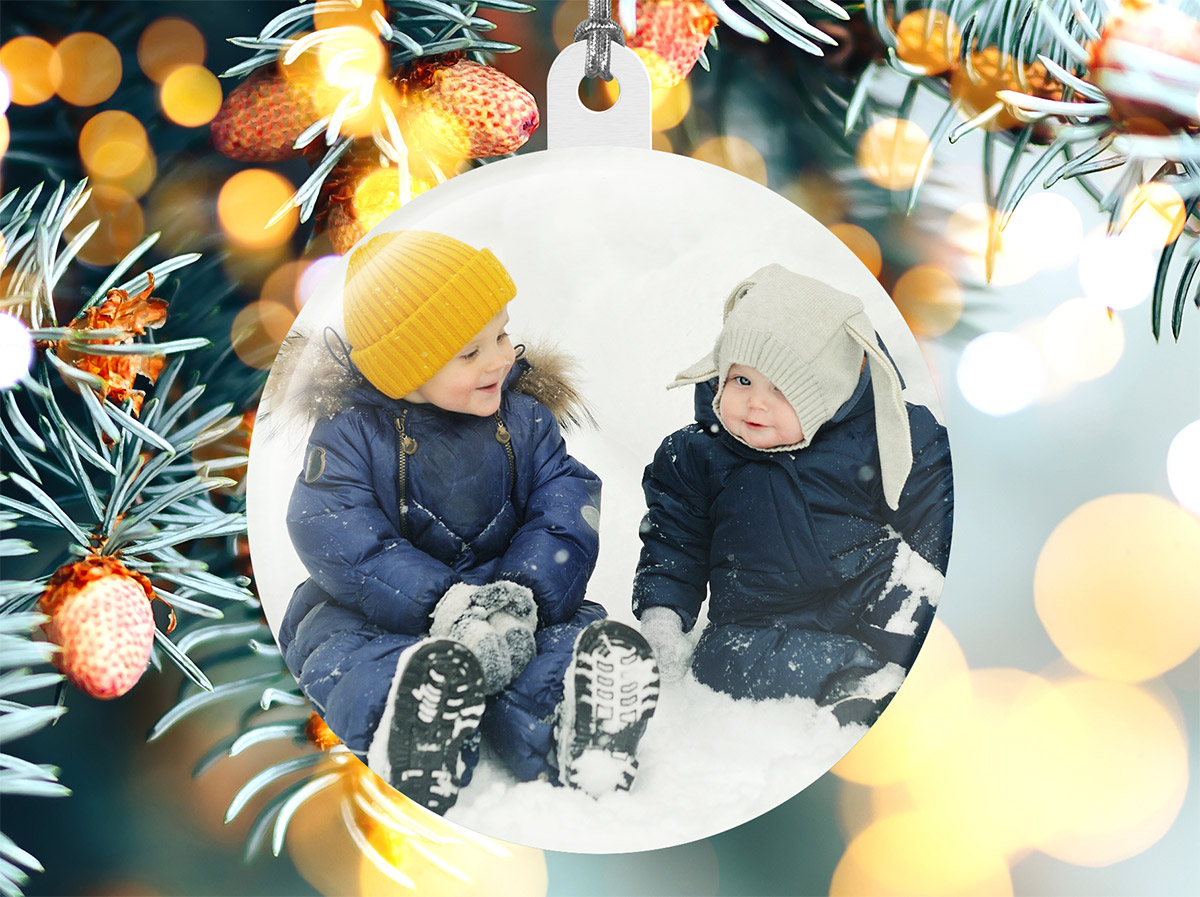 First Snow Day Ornament
Another great idea for winter fun is to print pictures from the first snow day of the year. These photos are a great idea for easy christmas photo gifts or just to remember your day.
In our customizer tool you can even include custom text to mark the date of the snow day if you wish to add a personal touch.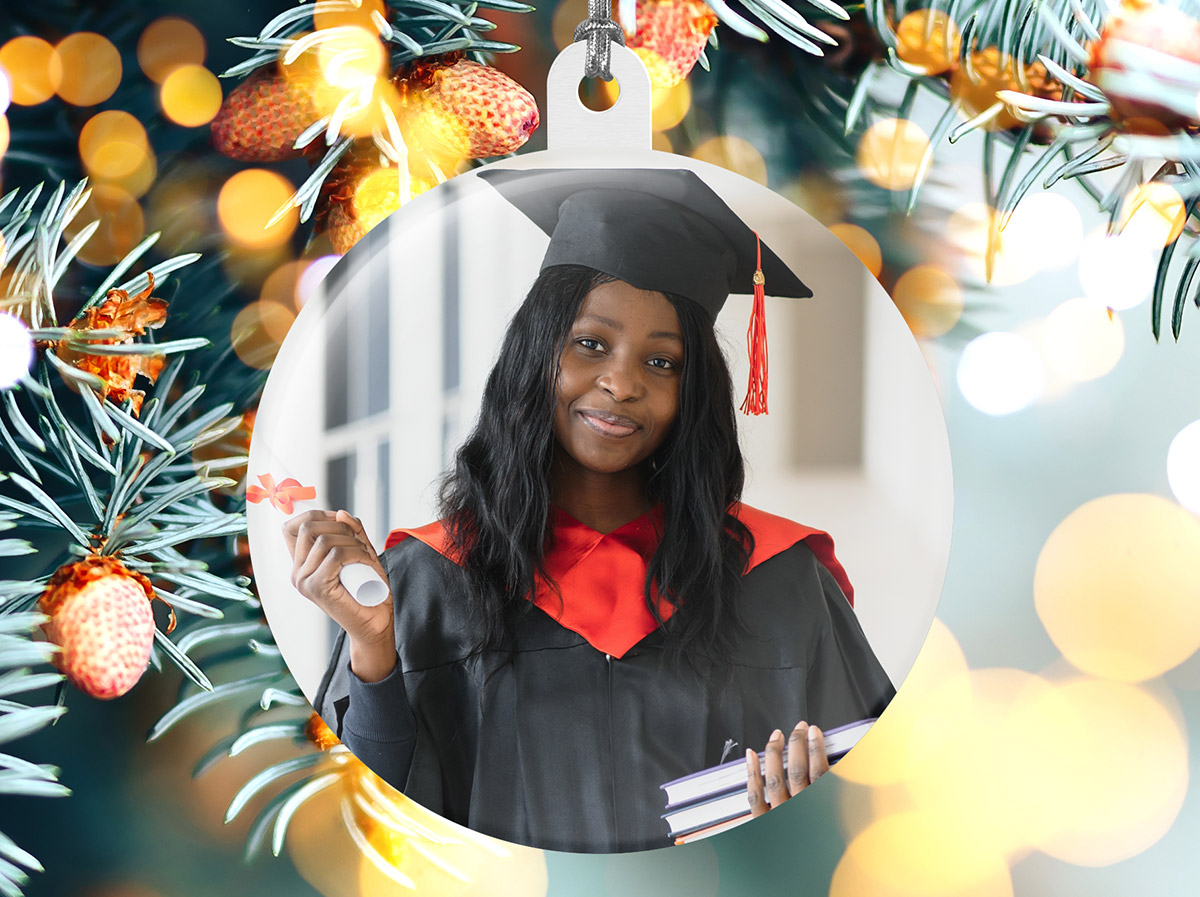 Graduation Photo Ornament
Celebrate a recent grad with graduation photo ornaments! Simply add your favorite graduation pictures to create photo ornaments that you can enjoy for years to come.
Our custom ornaments make excellent graduation party favors or thank you gifts for guests and people who send graduation gifts.
School Picture Christmas Ornaments
Upload your school portraits to create unique school photo ornaments each year. Your tree can be filled with high quality school picture ornaments as yours kids grow up and advance in grades from year to year.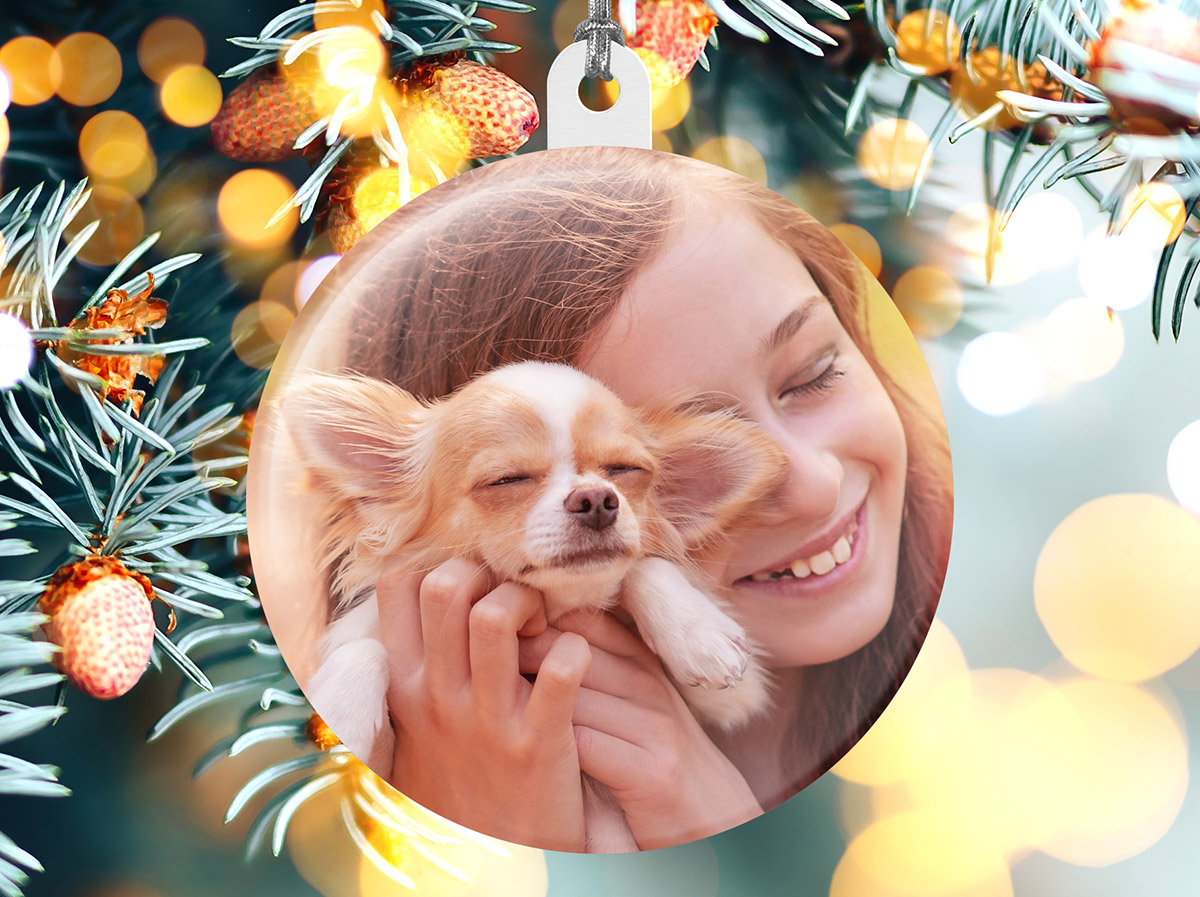 Personalized Pet Ornaments
Your furry friends shouldn't be left out! Pet ornaments are a great idea to add to your family christmas tree. With no minimum, you can print a variety of pet photos on ornaments… you don't have to pick just one!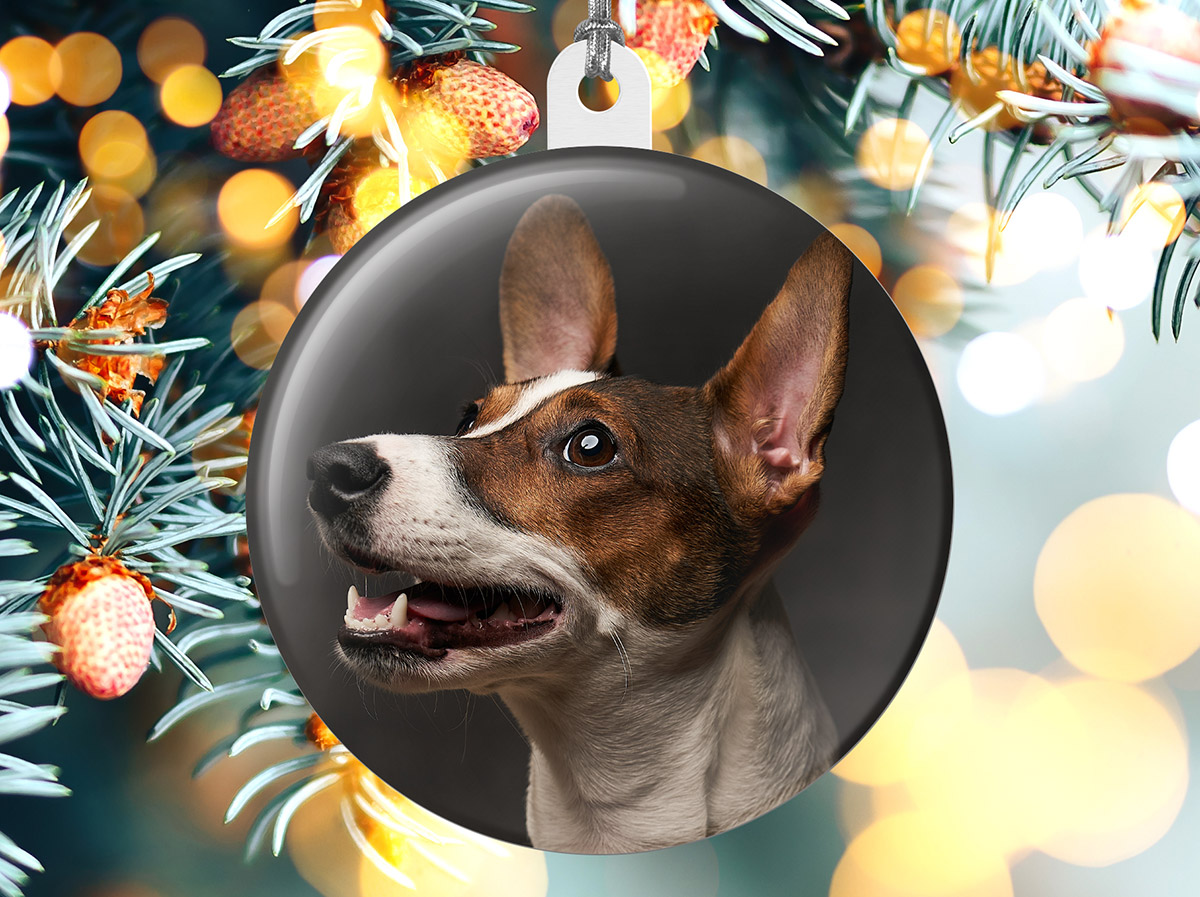 Pet Memorial Ornament
Or what better way to cherish the memory of a lost pet than with a high quality pet memorial ornament to help you reflect on their memory every year to come.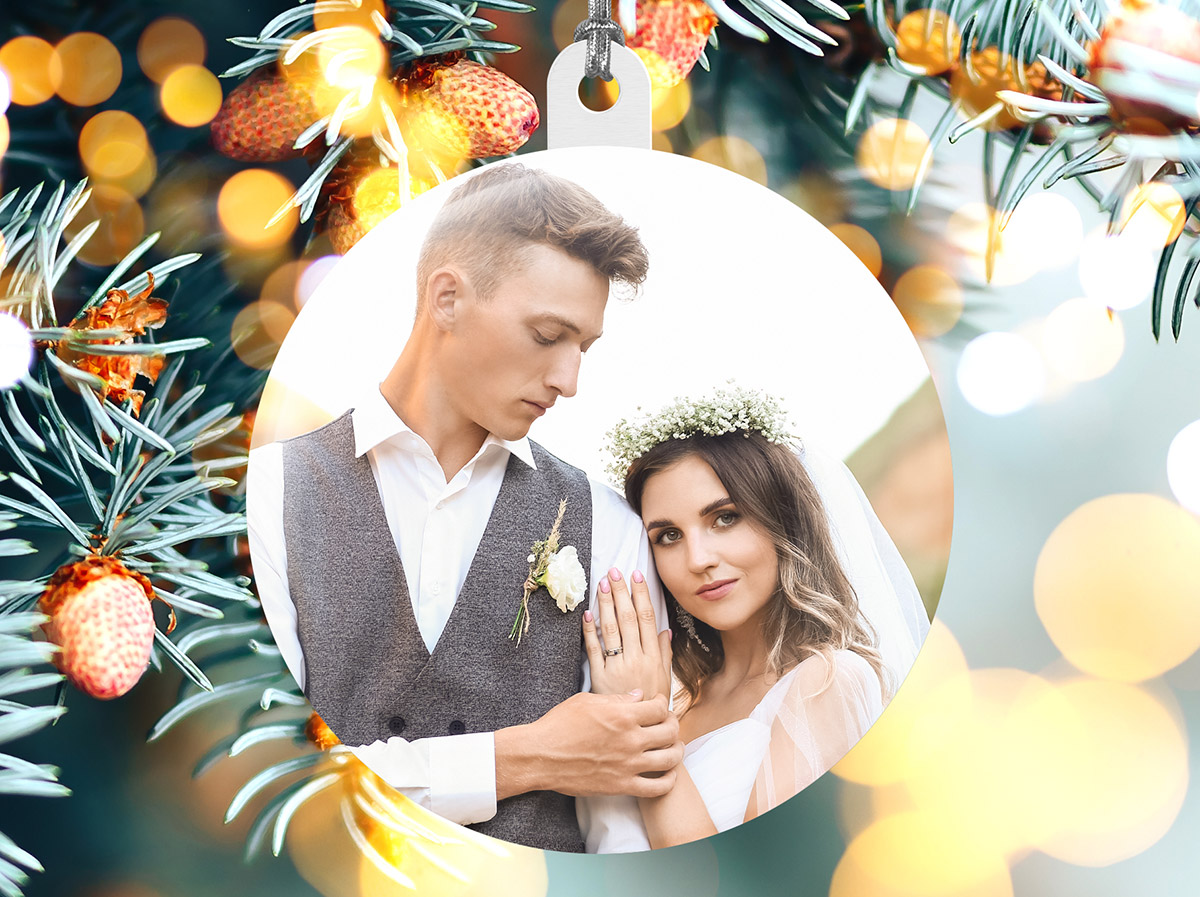 Wedding Photo Ornament
Your wedding is one of the defining moments of your life and what better way to relive that memory year after year (besides your anniversary of course), than with a wedding photo ornament!
Your beautiful wedding photos will be printed with care on our high quality custom ornaments and decorate your tree with happy memories from your most important day.
You can also surprise your wedding guests with photo ornaments as wedding party favors! Print your engagement photos on them with a thank you note, all customizable in our easy online tool.
What Photos Will You Print as Photo Ornaments? Let Us Know!
Photo frame ornaments are the perfect gift idea and they've never been easier to design online than at purebuttons.com
No matter what occasion you choose to create a personalized photo ornament for, you can rest assured that our high quality products will last and make your memories shine bright!
Cheers! Take 20% Off Custom Bottle Openers
Howdy! We just wanted to let you know that we've got custom bottle openers on sale for 20% OFF for a limited time.
Use code BOTTLE20 to save.

These 2.25″ wide custom bottle openers feature a full metal construction with your custom graphics, artwork or logo printed on the front!
Our easy online tool lets you design personalized bottle openers on any device and when you do, you'll get an instant digital proof to approve before checkout.
There's no minimum. Order one or one million, we're ready to make sure every round bottle opener looks amazing!
Our custom magnetic bottle openers feature a neodymium magnet on the back to allow them to hang on the fridge like a fridge magnet, but also this strong magnet helps catch loose caps when you pop bottles!
Perfect for beer, soda, or any bottle cap you throw at 'em. Our custom bottle openers are not only popular with customers, but these bottle openers also make great personalized gifts for friends and family!