Custom Buttons Blog
Welcome to The Button Post by Pure Buttons! A blog where we discuss all things related to custom pin-back buttons and other custom promotional products that Pure Buttons offers. Stick around for coupons to score cheap pinback buttons, new button product announcements and more!
Need Graduation Party Ideas? Try These New Graduation Party Favor Designs!
A new class is about to graduate from high school or college and if you're planning a graduation party, chances are you're looking for a fun and creative way to celebrate your favorite grad or grads! If you need unique graduation party supplies we've got just the thing!
Our new graduation party favors are live and ready for your best graduation photos! Create wearable graduation buttons, or fridge magnets for graduation party favors that your guests will love! Drop them in your favor bags or put them on the tables as placeholders for your party guests. They are the perfect addition for a custom touch in your party planning.
Or create graduation party decorations for your tables with graduation party centerpieces printed on our large 6″ magnetic easel. Perfect for showcasing your best graduation portraits with friends and family.
We now offer 8 unique graduation favor designs that can be used for a variety of reasons, but primarily to celebrate the achievements of someone you're very proud of!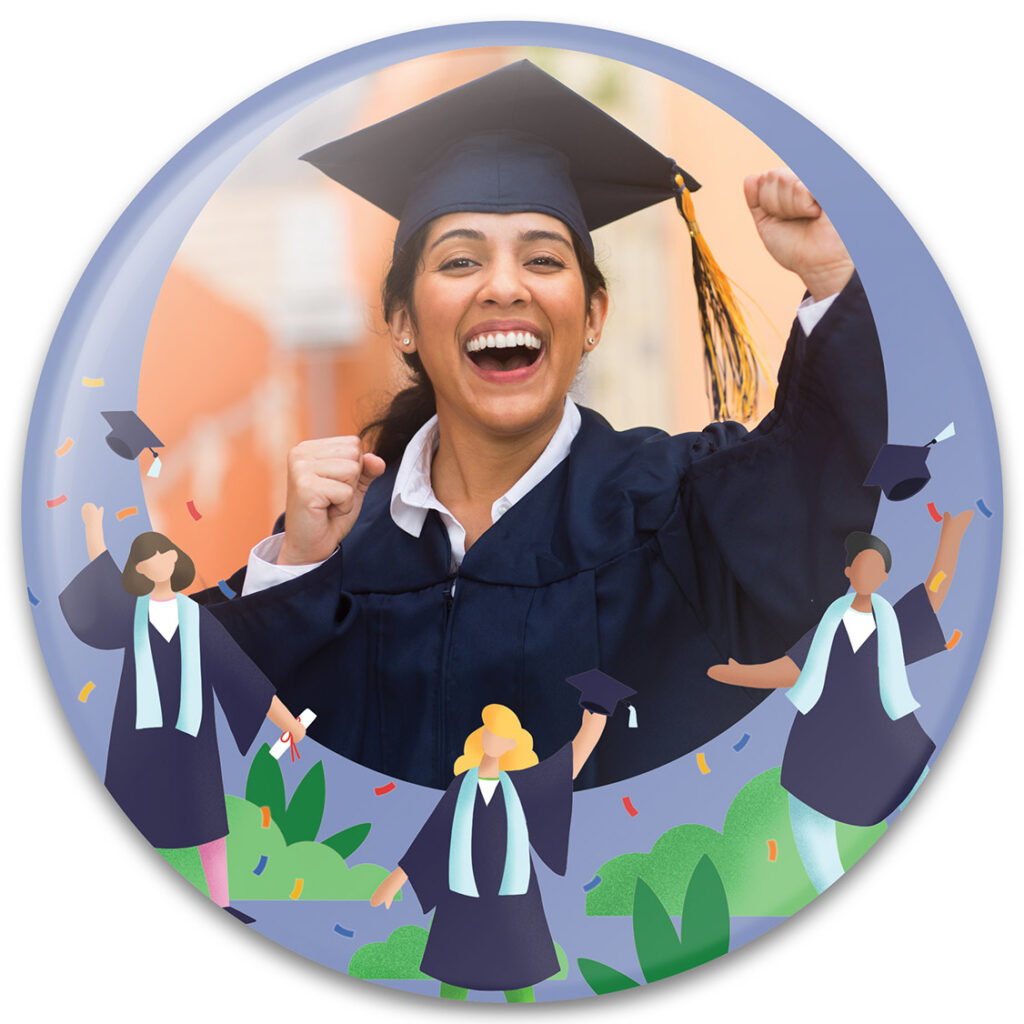 Three cheers for you or your favorite grad with this easy to personalize graduation photo frame. You can choose any of our 3.5″ or 6″ products and use our simple customizer tool to add your best portrait.
These affordable custom designs can replace a standard graduation card for the same price and they mean so much more!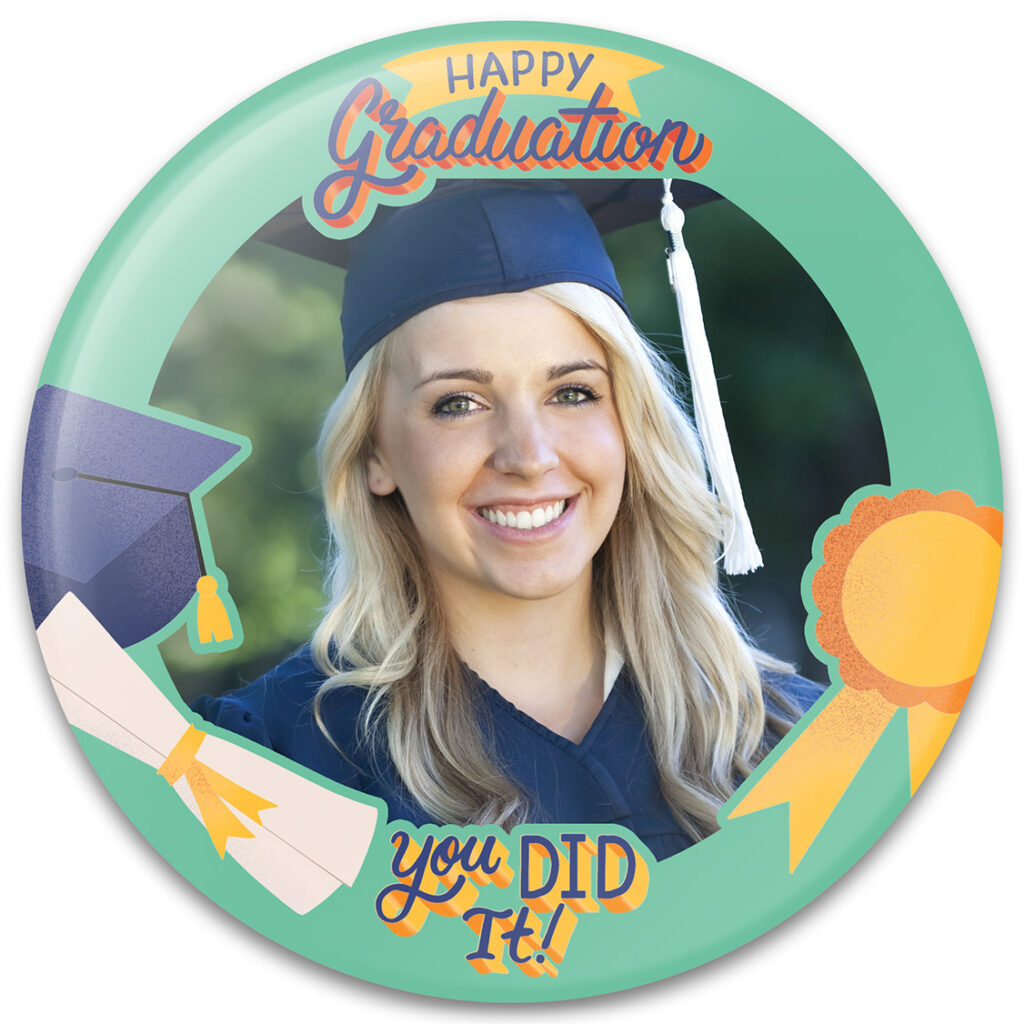 This bright and cheerful happy graduation design is perfect as a photo gift for your favorite grad. Create a cherished graduation magnet with your photo of a fun memory.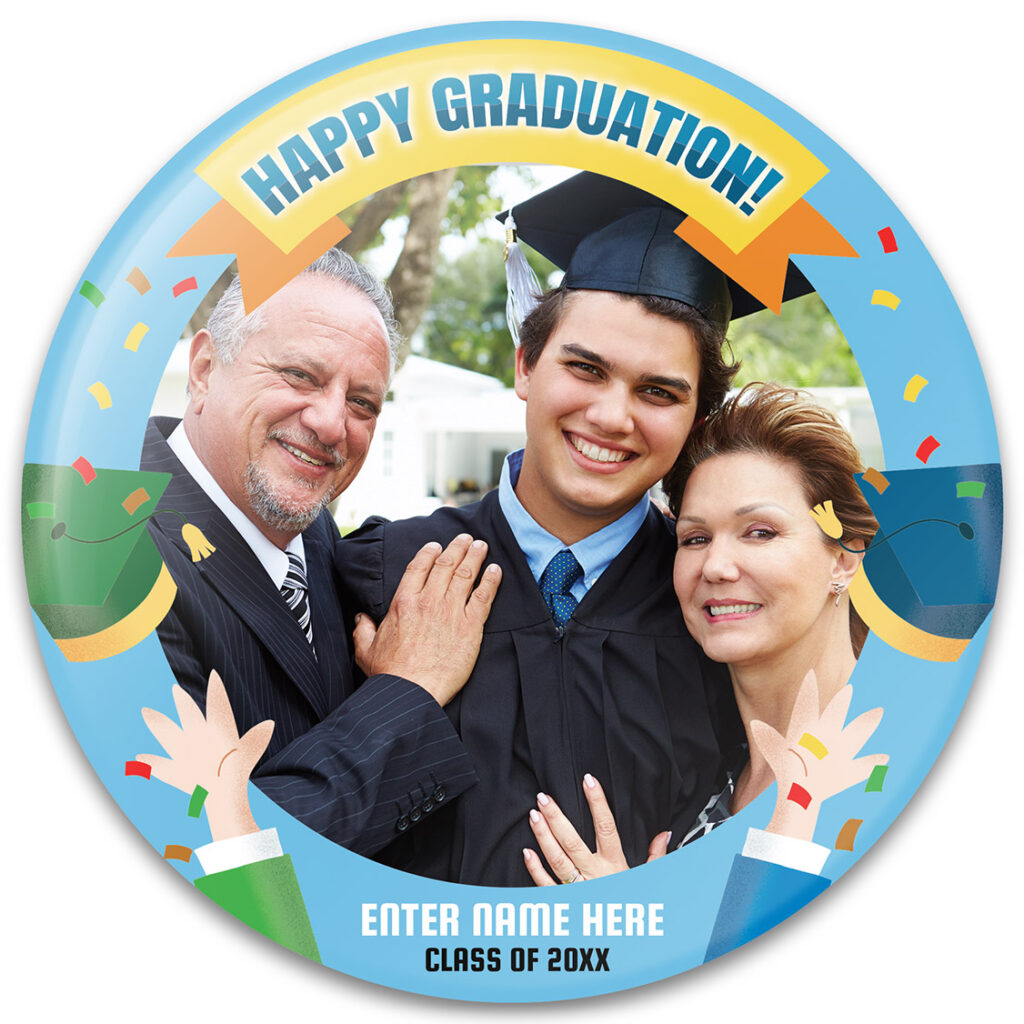 Celebrate with this jubilant graduation photo frame. Add your best photo and personalize two lines of custom text.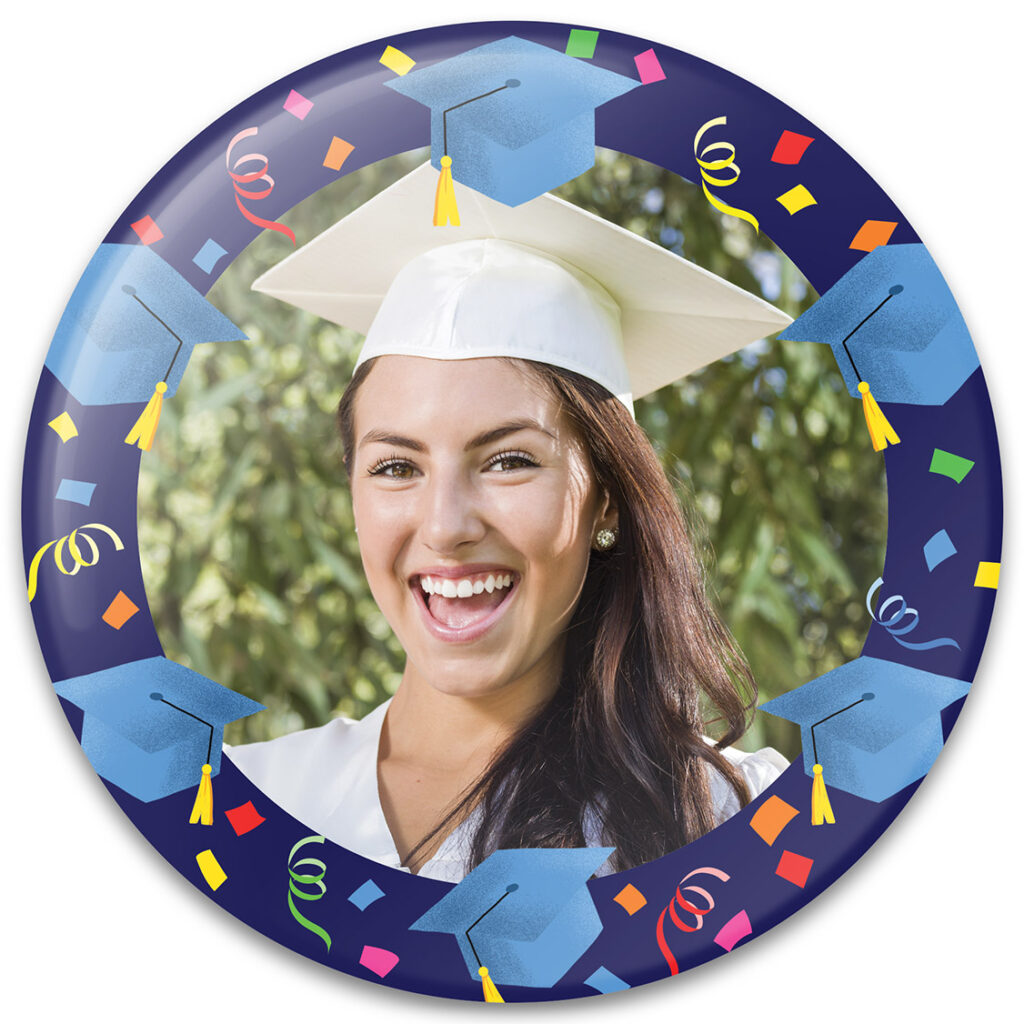 This lovely graduation party favor design is simple and fun, just add your best photo and approve your free and instant digital proof!
These designs can also serve as custom save the date magnets or personalized graduation invitations. Simply use our easy online tool to add your custom text and enjoy huge discounts on bulk orders!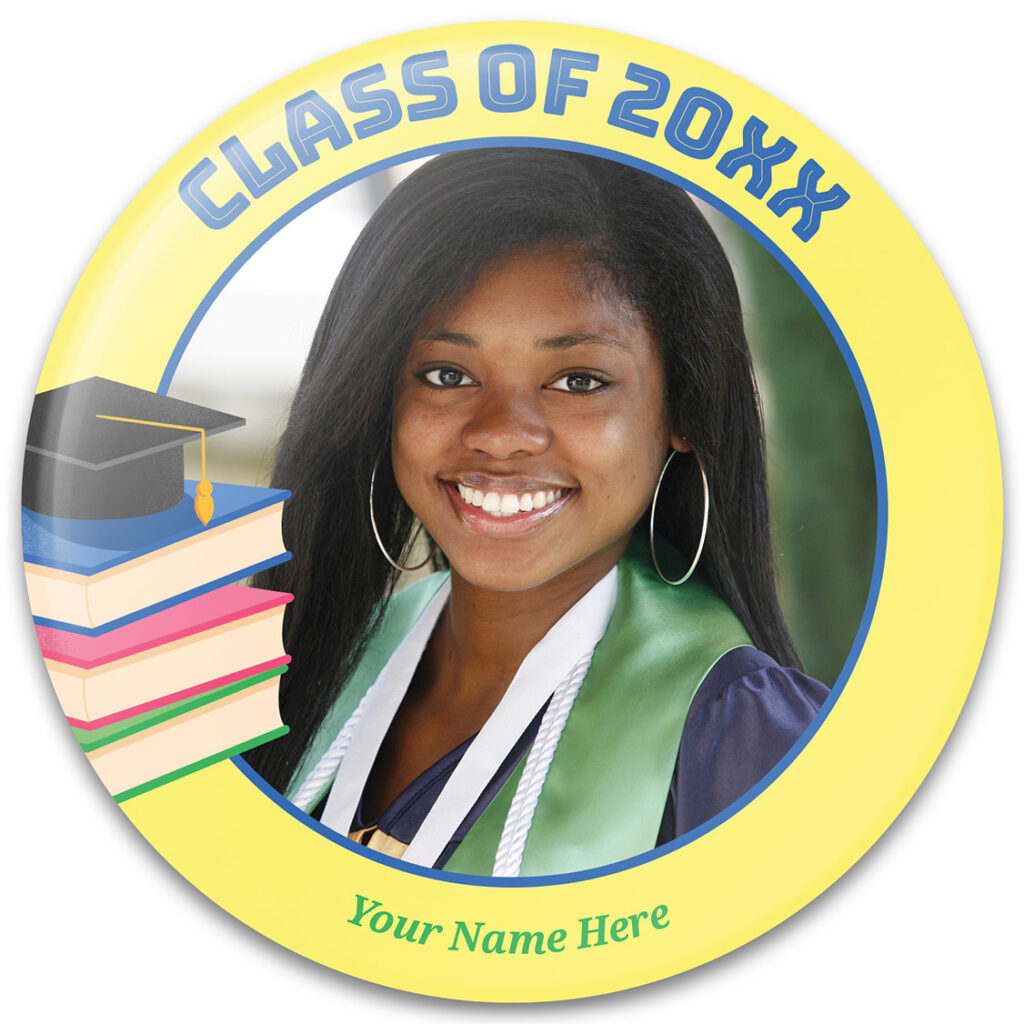 Your favorite bookworm deserves to be celebrated on their important day. Customize this as a pin-back button and wear it to the graduation ceremony to support your favorite graduate.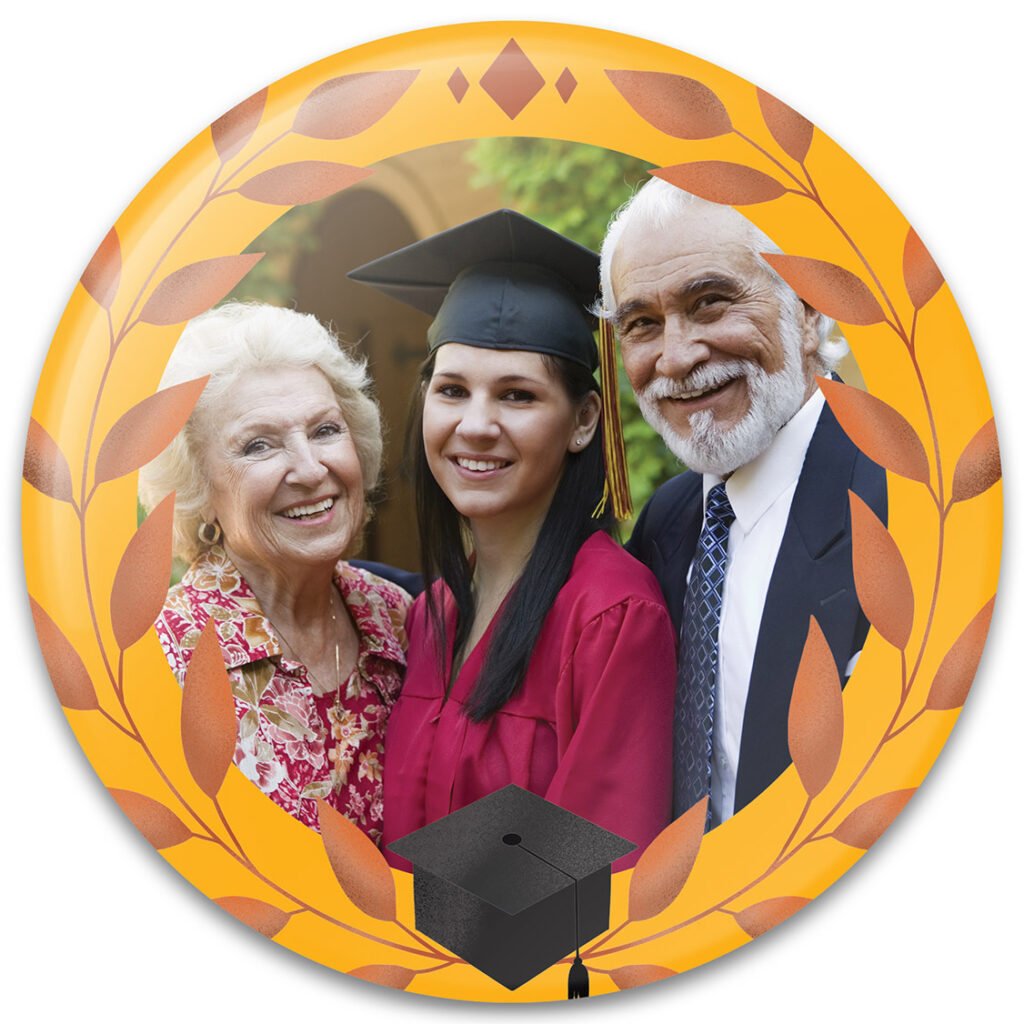 This bright photo frame is perfect for group photos or family pictures taken with the beloved grad. Create a memorable keepsake for family members in this classy graduation party favor design.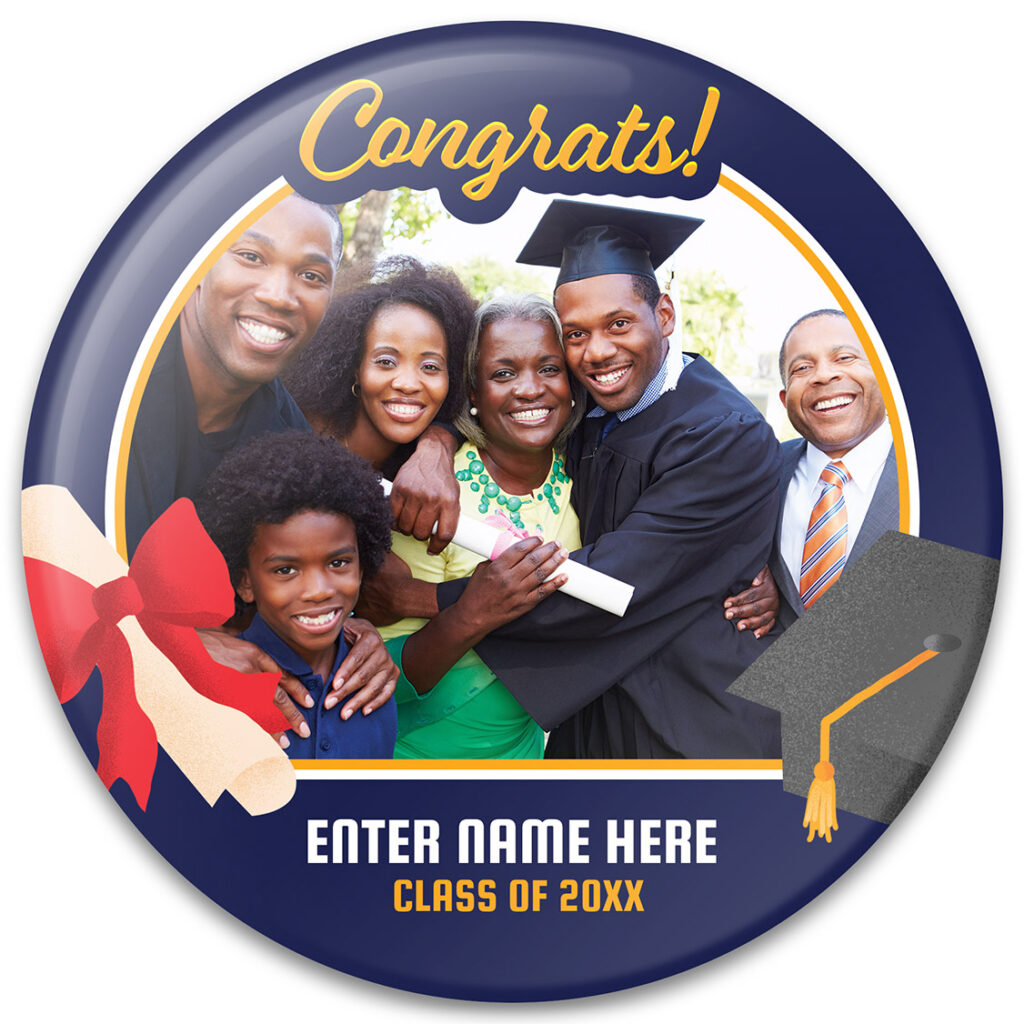 Say Congrats! With this bold graduation photo gift. Add your favorite photo of the graduate and make it unique with two lines of custom text.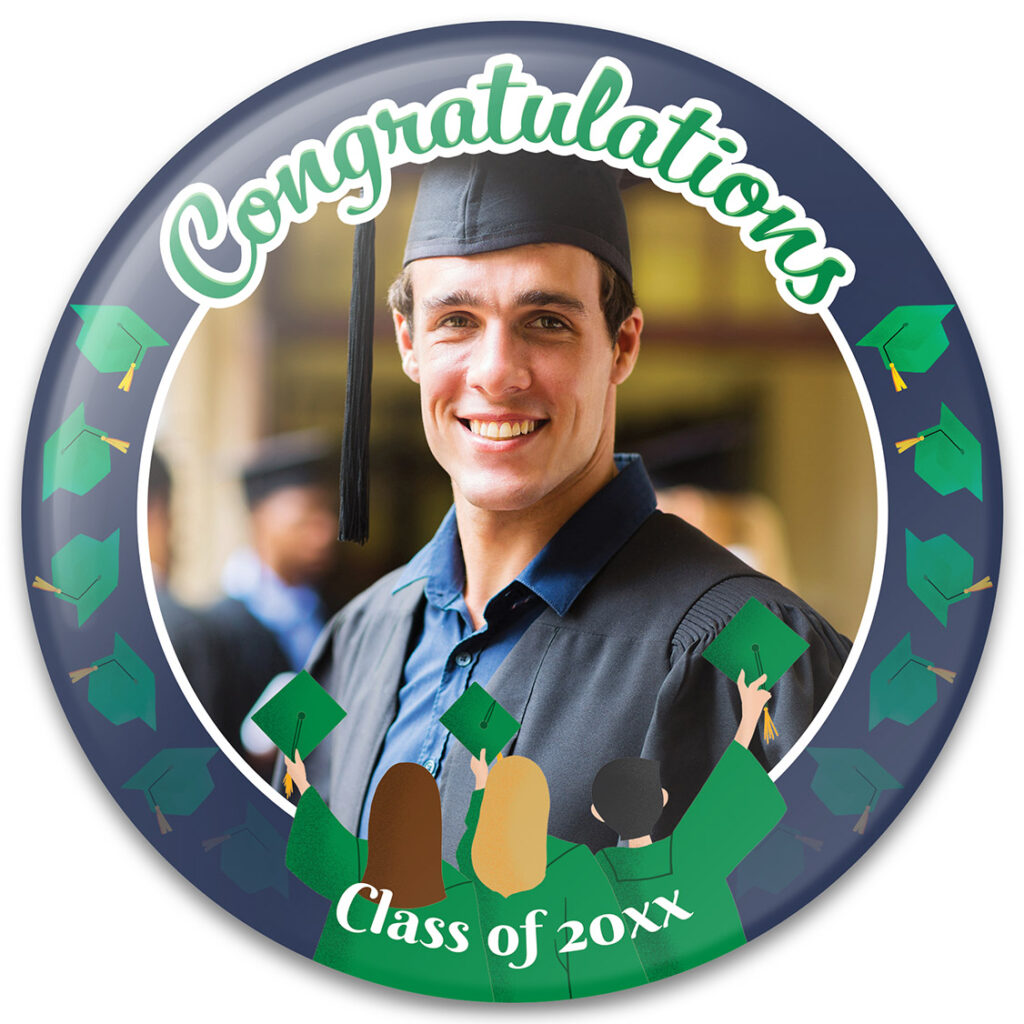 Throw your graduation caps in the air and celebrate hard work and achievement with this congratulatory photo frame. One line of custom text lets you add your unique message or the class year.
Whatever unique photo gift design you choose, your favorite grad will feel loved and appreciated when they see what you've created for them.
Our minimum order is just one piece, and prices start at $4.99ea with huge bulk discounts!
Whether you're planning a high school graduation party or a college graduation party, every grad deserves special attention and celebration. What better way than creating custom graduation party favors featuring them?
Our Personalized Ornaments Are Officially Patented!
Our personalized ornaments are a product unique to Pure Buttons. We designed them in-house and had the parts manufactured locally for a unique product you won't find anywhere else!
We're proud to announce that our personalized ornaments were officially granted a patent by the U.S. Patent and Trademark Office.
These custom ornaments aren't just meant to be used as custom christmas ornaments. They're great for any time of year and can be hung anywhere with their elastic cord in your choice of metallic color: silver or gold.
See what one of our excited customers said in their personalized ornament review:
"These rock!!! Absolutely awesome product! I sell them all day long for $5 each, they fly off the shelves. Will be ordering many many many more." – DAKOTA FROM FERNDALE CA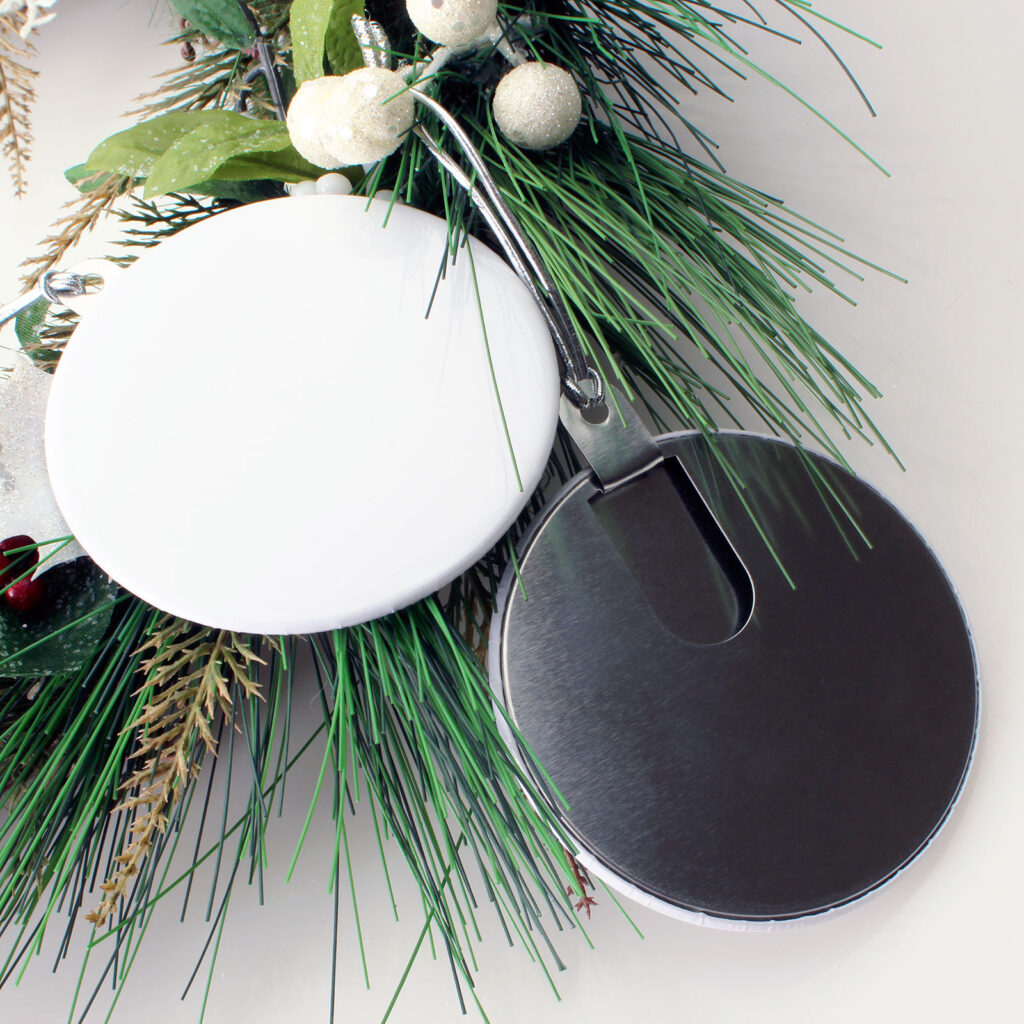 New Father's Day Photo Gift Templates Available to Customize
Father's Day is on the way and we have just added four new customizable templates to our gallery of Father's Day Photo Gifts. These designs are free to personalize with your favorite portraits and custom text.
We offer Father's Day gift ideas for dad's who are hard to buy for. They'll be proud of your customized gift and since all of our custom products are high quality, dad can enjoy it for years to come.
We offer these Father's Day gift designs on all of our 3.5″ products including fridge magnets (a favorite), but also drink coasters, ornaments and more! We also offer them on our large 6″ magnetic easel display. This giant photo gift lets you hang it on the fridge with its strong magnetic back, or pop out it's easel feature and display it on any table top.
These exclusive border designs let you print your favorite photos with a themed design and it all costs about the same as a father's day card you'd buy at the store. Plus, these personalized gifts mean so much more than a standard greeting card.
Our new Father's Day photo gift designs: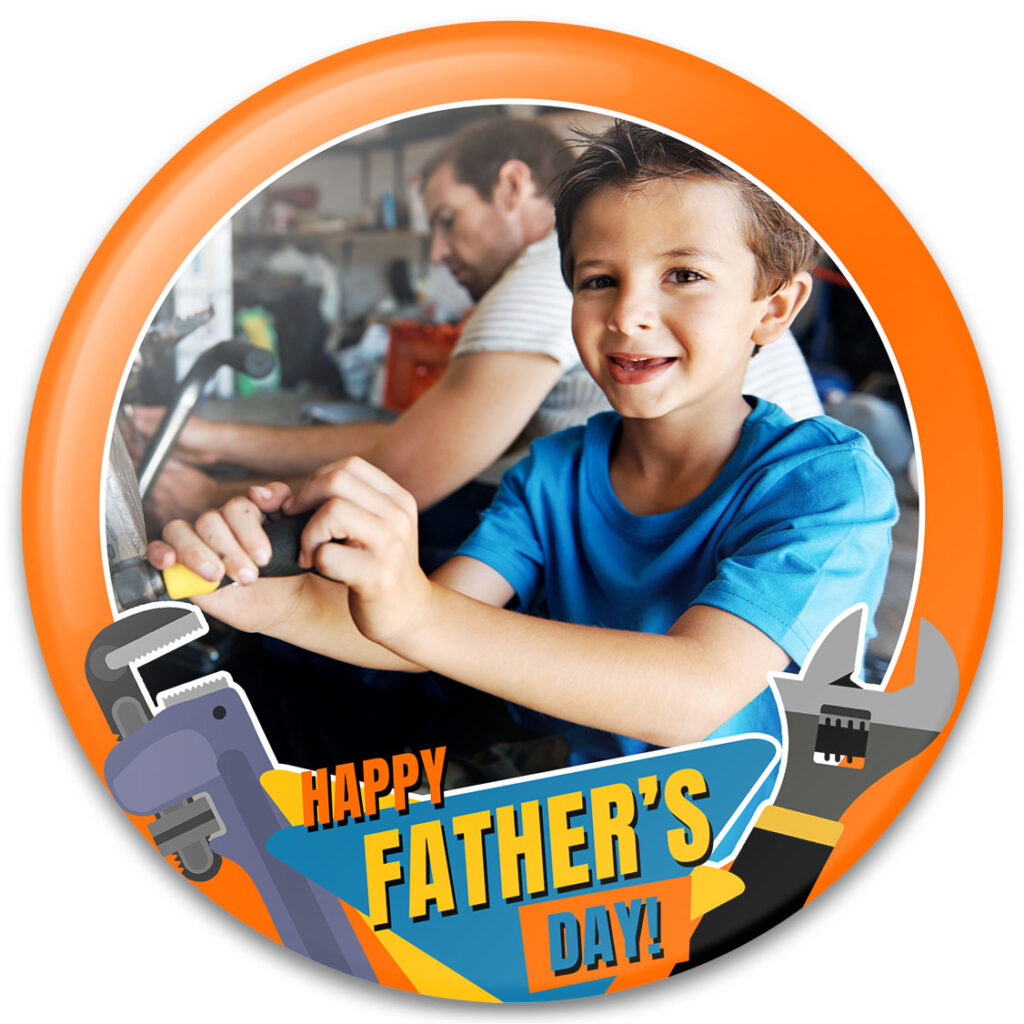 This custom photo gift is for the Handyman in your life. Just drop in a photo that dad or grandpa will love and approve your instant digital proof. It couldn't be easier to make a unique gift.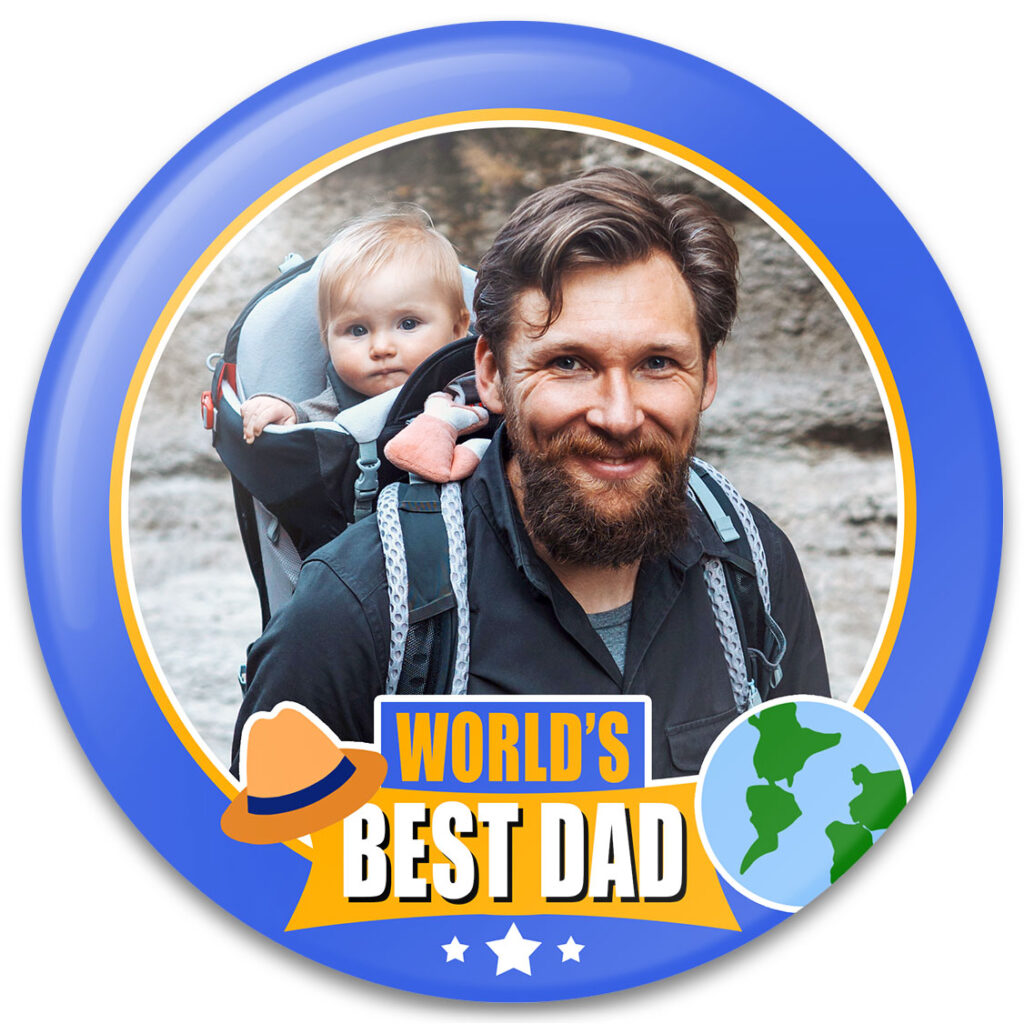 For the World's Best Dad we offer this easy to customize photo frame.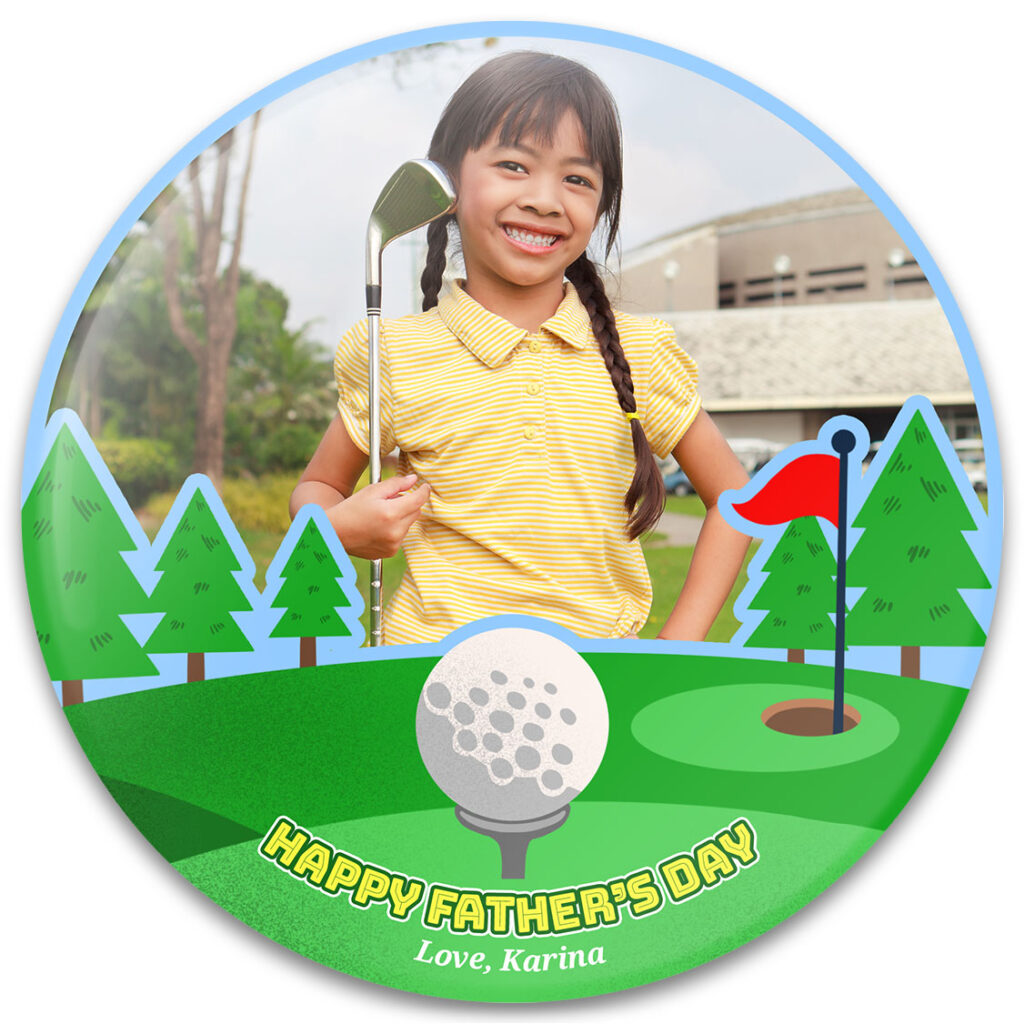 For the golf enthusiast, our Hole In One photo gift design features a large portrait area and one line of personalized text.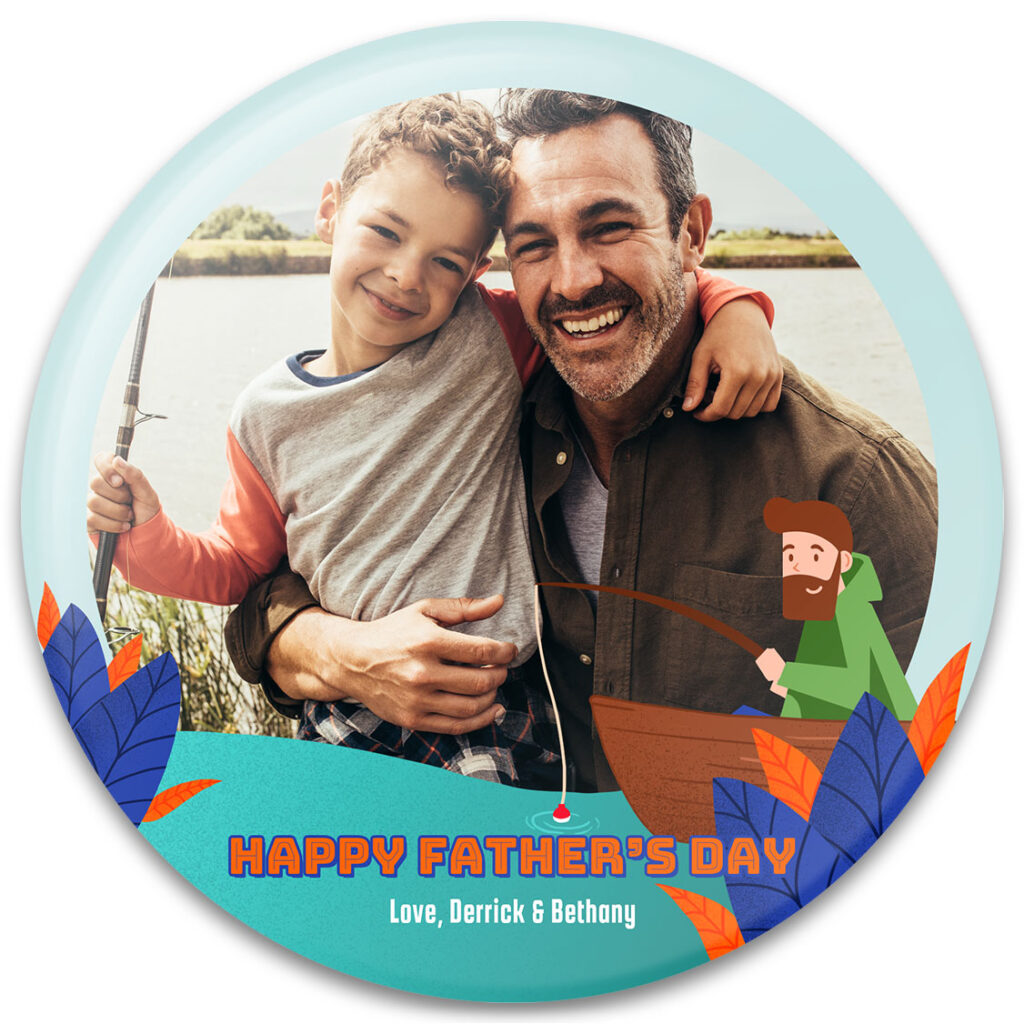 Finally, for the fishing father, this Reel Great Dad design features a large photo area and one line of customizable text.
We have twelve unique Father's Day photo gift templates to choose from, so check them out at our website!
New Mother's Day Photo Gift Templates Added
We have just added six new templates to our Mother's Day Photo Gifts gallery. Mother's Day is coming up and your mom or grandma deserves a unique and personalized gift! Just your luck, our personalized mother's day gifts are about the same price as a greeting card.
We offer Mother's Day photo gift templates on all of our 3.5″ products including fridge magnets, ornaments, mirrors, coasters, buttons and more. We also offer these personalized photo gifts on our large 6″ magnetic easel display, a unique product that features both a magnetic back and a pop out easel for table top display.
Our 6″ magnetic easel replaces the framed prints of the past, instead print your family photos on this unique and eye catching format.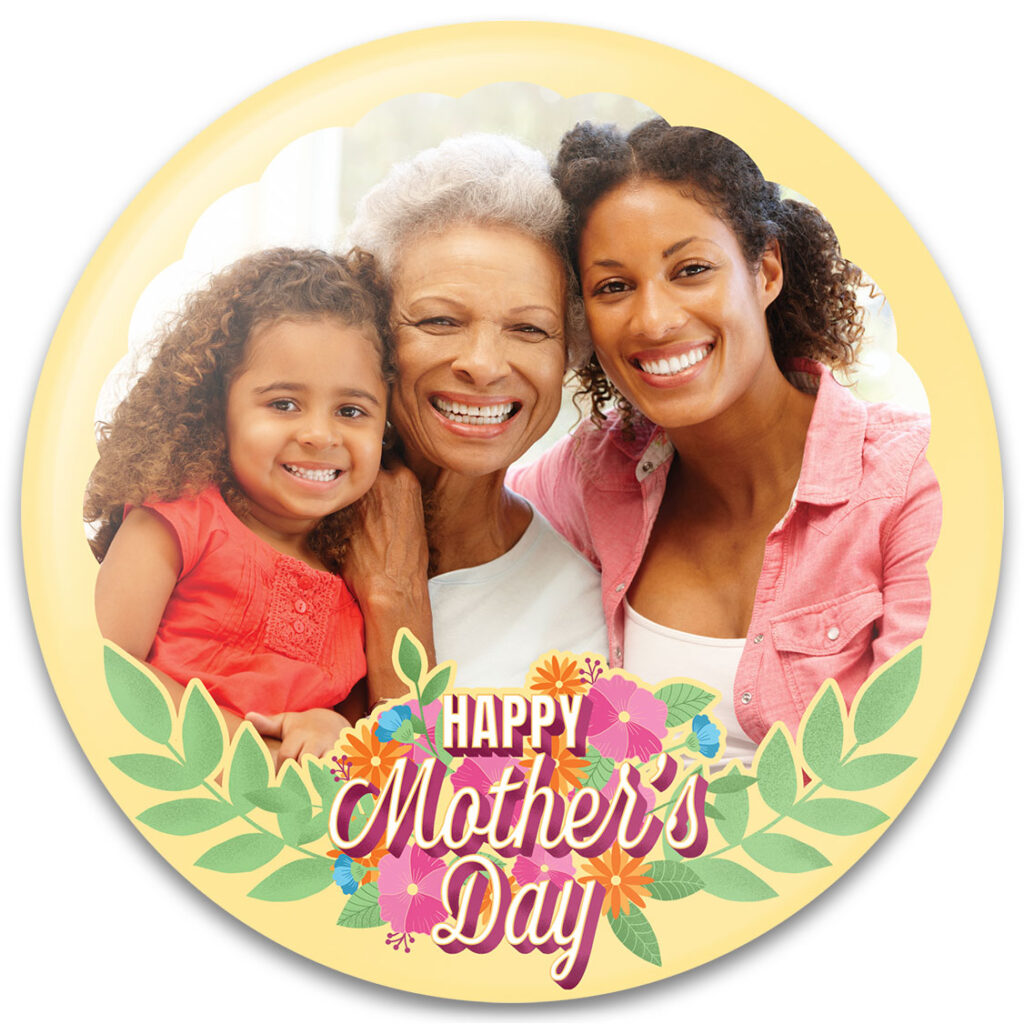 This lovely new design reads "Happy Mother's Day" and has a large scalloped edge photo area. Just drop in your best photo to create a fantastic photo gift for mom in minutes.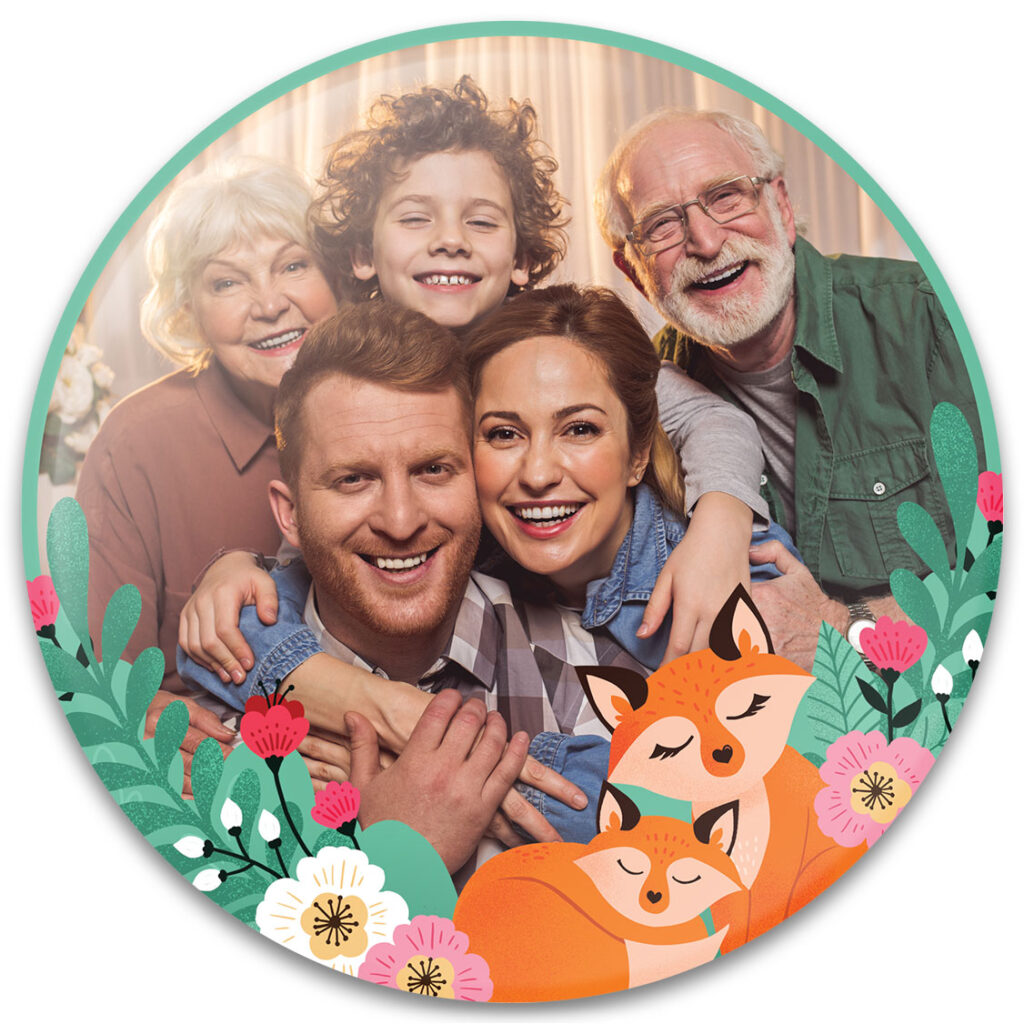 Our Foxy Mama photo gift design is easy to customize with its large photo area. Simply drop in a photo mom will love and approve your instant digital proof! This is a great way to dress up your favorite photos and make it extra special.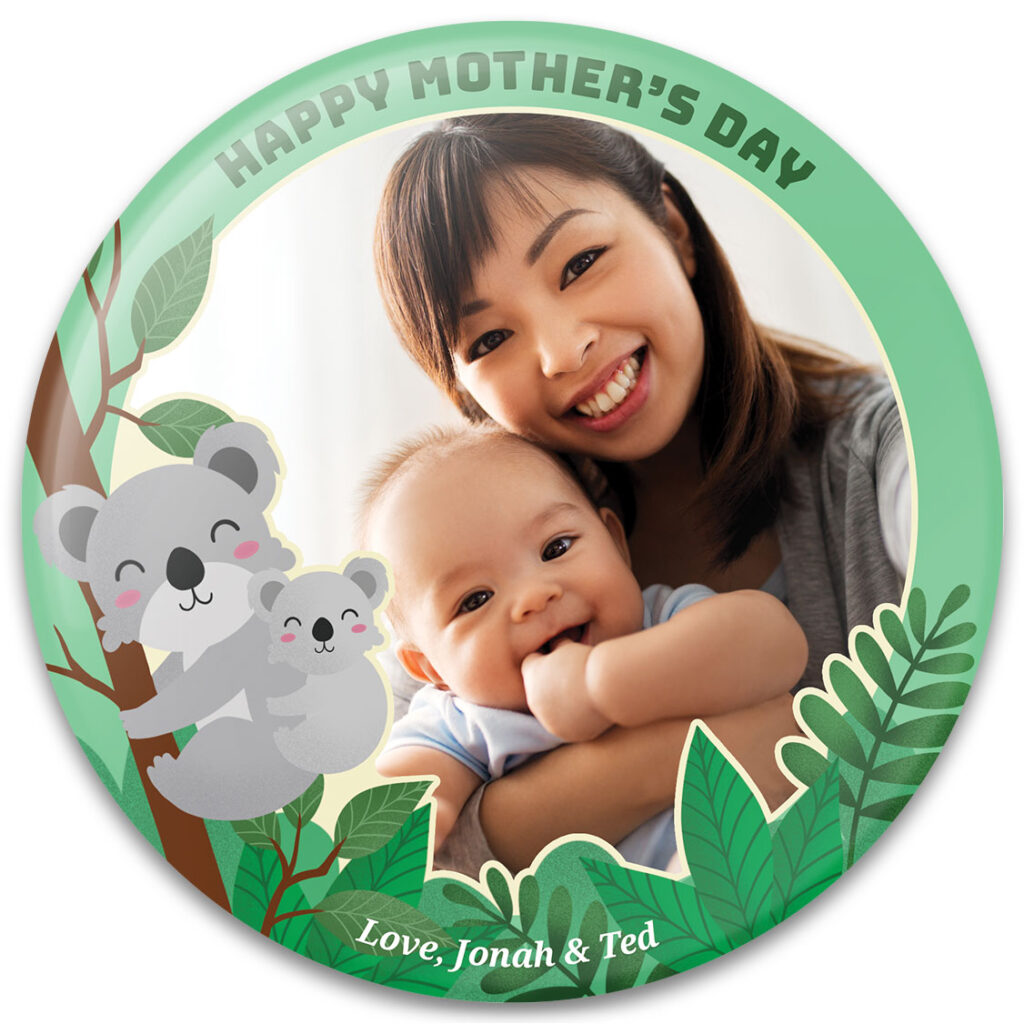 Spend Koalaty Time with mom or grandma and this cute photo gift design featuring two lines of customizable text for a truly unique gift idea!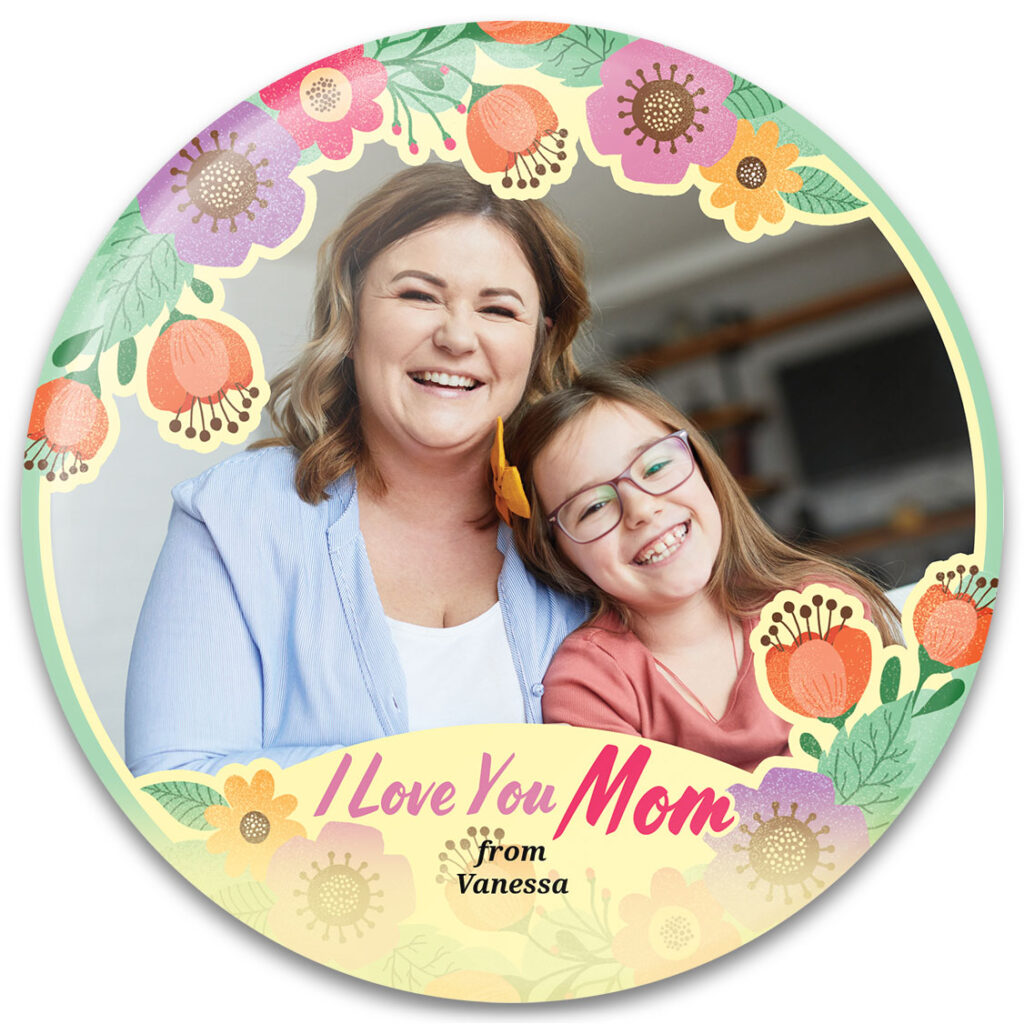 This new Mother's Day Flowers design says "I Love You Mom" and features two lines of customizable text along with a large photo area.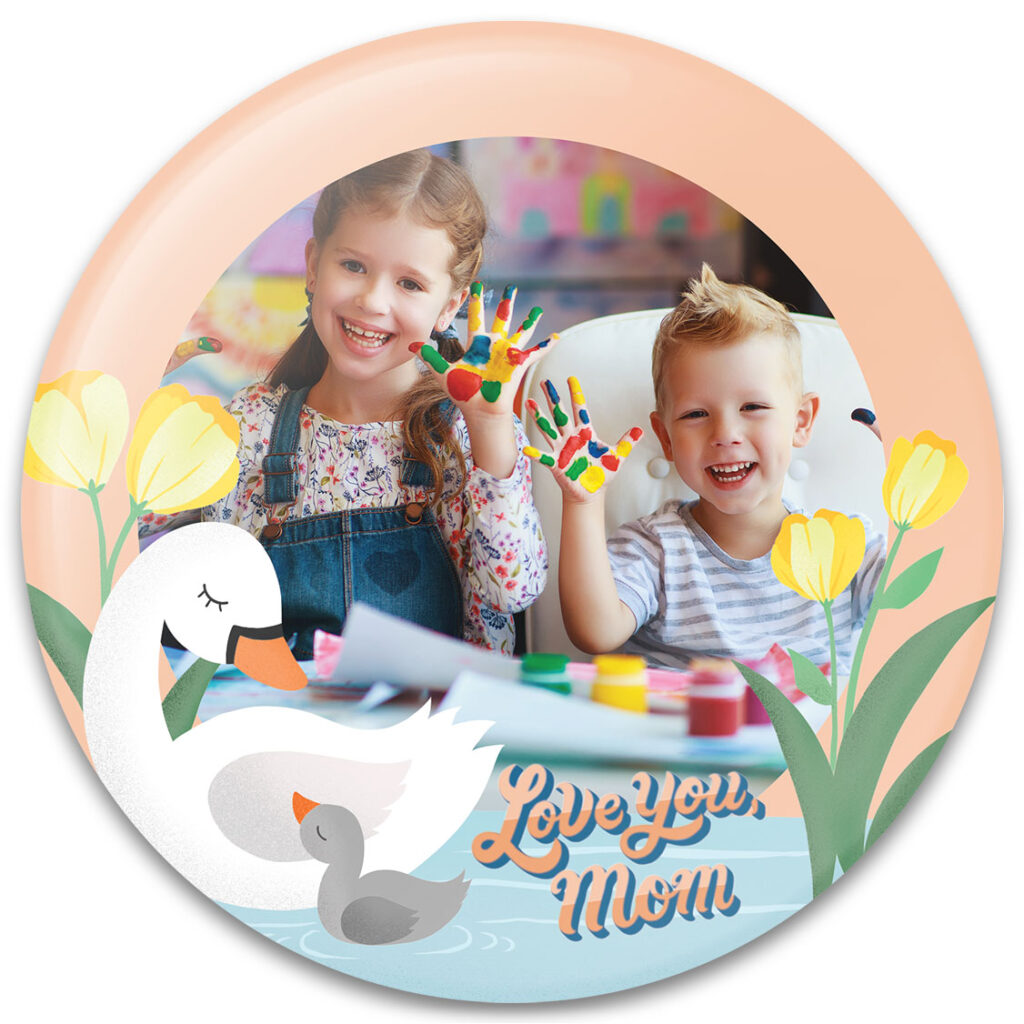 You're not an Ugly Duckling, you're a swan! And your beautiful mother deserves this lovely photo gift design. Add a photo that mom will cherish and create a unique photo gift on any of our 3.5″ products including our very popular custom fridge magnets.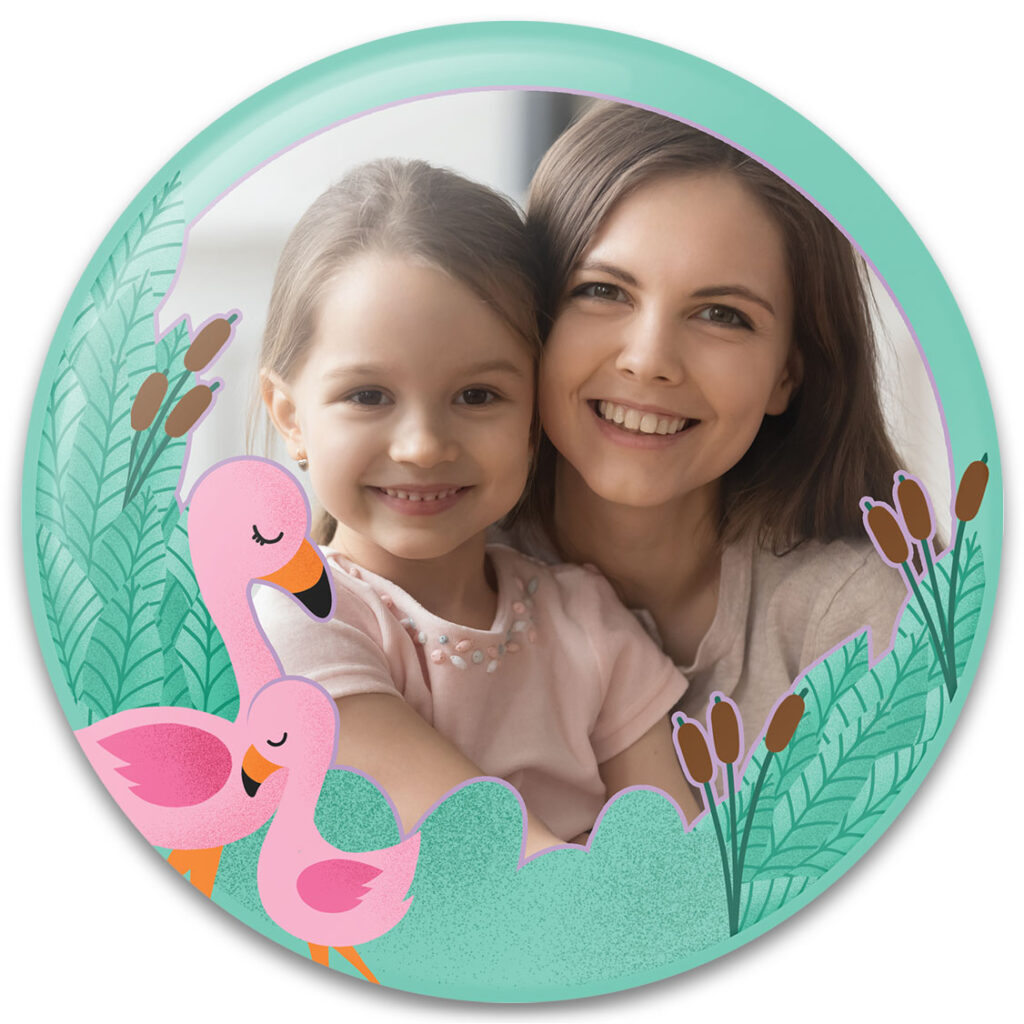 Tell your mom she's a Flamingood Mom with this beautiful photo gift border. Simply drop in your favorite portrait and this frame will elevate it to new heights, just for mom, or grandma.
Our Sympathy Gift Templates Make Excellent Pet Memorial Gifts
Our memorial button / sympathy gift designs were created with people in mind, but they're great as any type of sympathy gift including for someone who has just lost their beloved pet. Cheer up your pet owner friend with a unique pet bereavement gift you created just for them.
Our pet memorial gifts are ready to customize with your favorite pet photo and many of them feature editable text to add a pet's name for a truly personalized pet loss gift.
Whether you've recently lost a dog or cat, fish or bird, or know someone who has, these pet memorial gifts can serve as a cherished reminder of a lost pet. Simply choose your favorite pet memorial frame and add your pet portrait of choice!
Creating a pet sympathy gift has never been easier with our free online tool. Check out our gallery of free to customize templates at the link above.
Our minimum order is just one piece and you can personalize a variety of pet loss sympathy gifts: custom fridge magnets, mirrors, coasters, and more.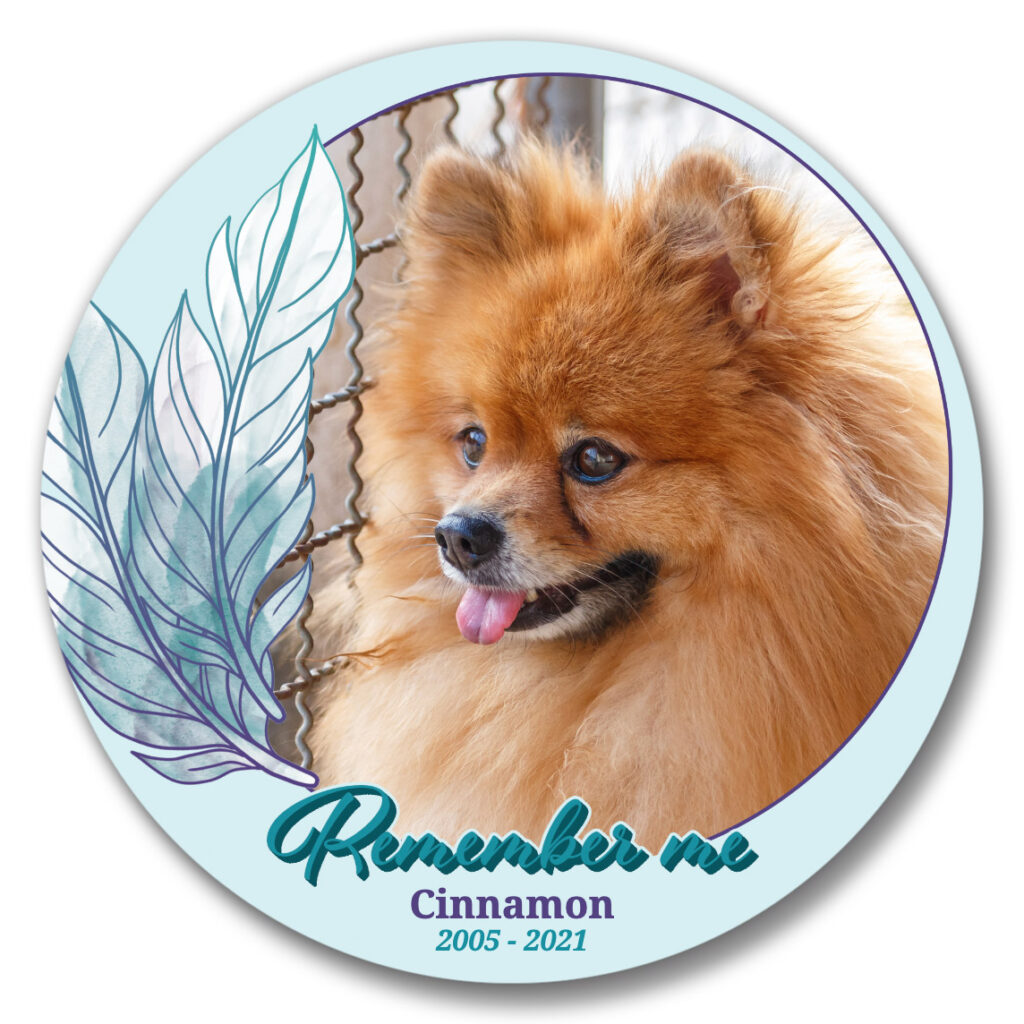 The pet loss gift design shown above was created with our Remember Me template. This free template features a large offset portrait area and two lines of personalized text to add your pet's name and dates of life.
Call 800-710-2030