Custom Buttons Blog
Welcome to The Button Post by Pure Buttons! A blog where we discuss all things related to custom pin-back buttons and other custom promotional products that Pure Buttons offers. Stick around for coupons to score cheap pinback buttons, new button product announcements and more!
20% Off the Perfect Photo Gift: Personalized Ornaments!
Now that October has come and gone we are in the countdown to Christmas. What better way to get ready than with an even bigger discount on our exclusive custom Christmas ornaments.
These photo ornaments make excellent Christmas gifts for friends, family and customers.
You can add your best photo or logo to these custom ornaments for a great gift that everyone will want to hang on their Christmas tree!
Now through December 31 your can take 20% off any order of personalized ornaments with coupon code ORNAMENT20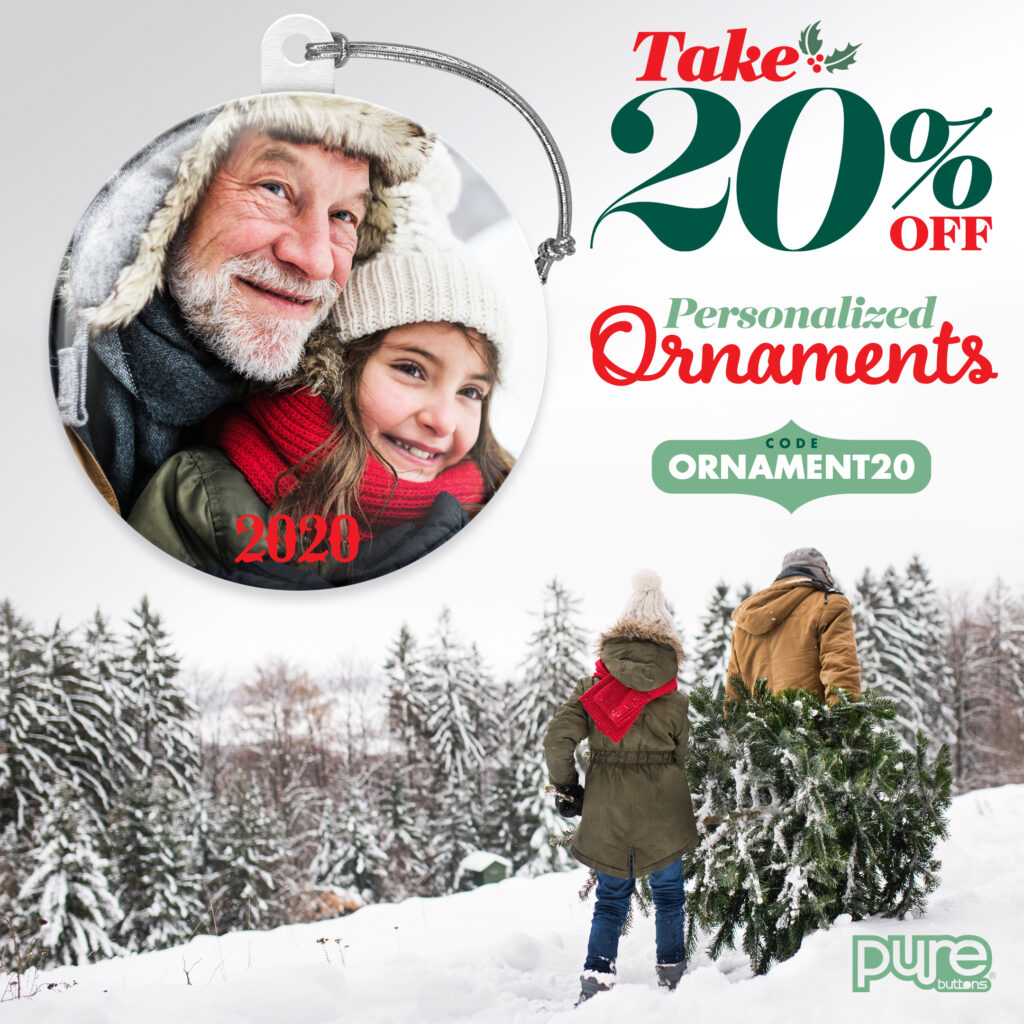 What do we mean by "exclusive" Custom Christmas Ornaments? We mean that nobody else carries personalized Christmas ornaments like ours. We conceived, designed and manufactured this unique photo gift ourselves.
You won't find personalized ornaments like this anywhere else!
We want you to see how easy it is to create a custom ornament at Pure Buttons! Just use our free online customizer tool. You can drop in your best photo from your phone, computer, or facebook. Add your custom text and approve your instant digital proof.
It's that simple to create a personalized photo gift.
If you'd like something more creative, we offer a free gallery of Christmas Photo Gifts. These are high quality design templates feature a place for you to drop your best photo.
Choose your favorite seasonal photo gift template and get started on the perfect gift this holiday season!
We first created our custom Christmas ornaments in 2018. In 2019 we made a design revision to the ornament's back panel to make the ornaments more durable and substantial feeling in your hands. Rest assured that this is a very high quality product that will impress friends, family and customers alike!
Many customers have reached out with their excitement about how well their ornaments are selling. Check out this review one of our happy customers left for our custom ornaments.
"These rock!!! Absolutely awesome product! I sell them all day long for $5 each, they fly off the shelves. Will be ordering many many many more." – DAKOTA FROM FERNDALE CA
Our custom ornaments are just one of our many custom promotional products, but they are a HOT selling seasonal item that you can't be caught without! Sell custom ornaments in your online shop or create personalized ornaments to reward your customers this holiday season.
Hurry, the holidays will be here before you know it! It's better to be early so your friends, family and customers can enjoy your ornaments all season.
Win a $100 Pure Buttons Gift Card!
Our Pure Buttons Giveaways page has been updated with our latest giveaway! You can enter to win a $100 Pure Buttons gift card simply by completing some simple social media actions. Check it out!
If you win, you can use this gift card to purchase any of our custom promotional products like our famous custom buttons and so much more.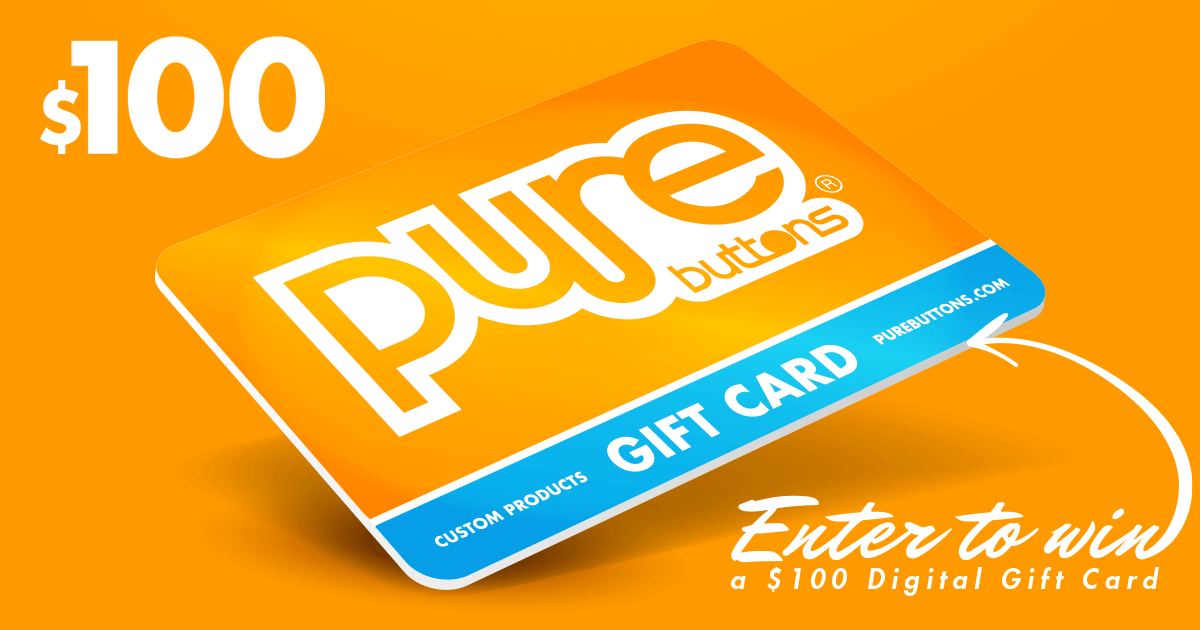 Win a $250 Pure Buttons Gift Card!
We are pleased to announce a new page on our website for Pure Buttons Giveaways!
Here you can participate and engage with us on social media to win Gift Cards and more. Our first contest is for a $250 Pure Buttons Gift Card.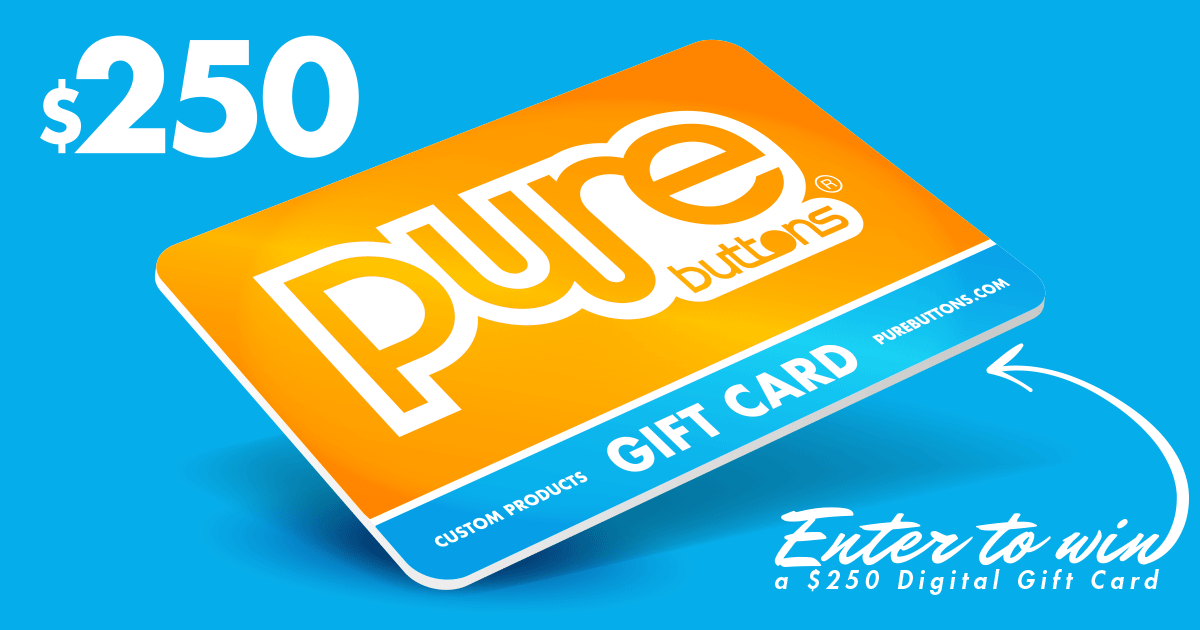 To enter, simply visit our new Pure Buttons Giveaways page and choose any number of actions to enter your name in the drawing.
You may complete multiple actions to be entered more times. The first winner will be picked in two weeks.
A few of the actions you can complete to enter are:
– Following, liking or engaging with our social media profiles
– Sending us a photo of your custom buttons or other Pure Buttons merch
– Writing a blog post about us
Visiting this very blog!

The more complex the action is, the more giveaway entries you can earn. Writing a blog post about Pure Buttons earns you a whopping 10 entries!

You can use Pure Buttons Gift Cards to purchase any of the custom promotional products or photo gifts that we offer.

We have also begun to give Pure Buttons gift cards to random friendly people who like / follow / subscribe / comment on social media.

Who will win next? It could be you!

No Purchase necessary. Reward / Gift Card has no monetary value and cannot be returned or exchanged. This promotion is in no way affiliated with Twitter, Instagram or Facebook, Linkedin, Pinterest, or YouTube.
Photo Buttons are Increasing in Popularity!
Our high quality photo buttons have seen a widespread adoption since we introduced our face buttons sale.
One of our customers is an art teacher and took this selfie while wearing their custom photo button: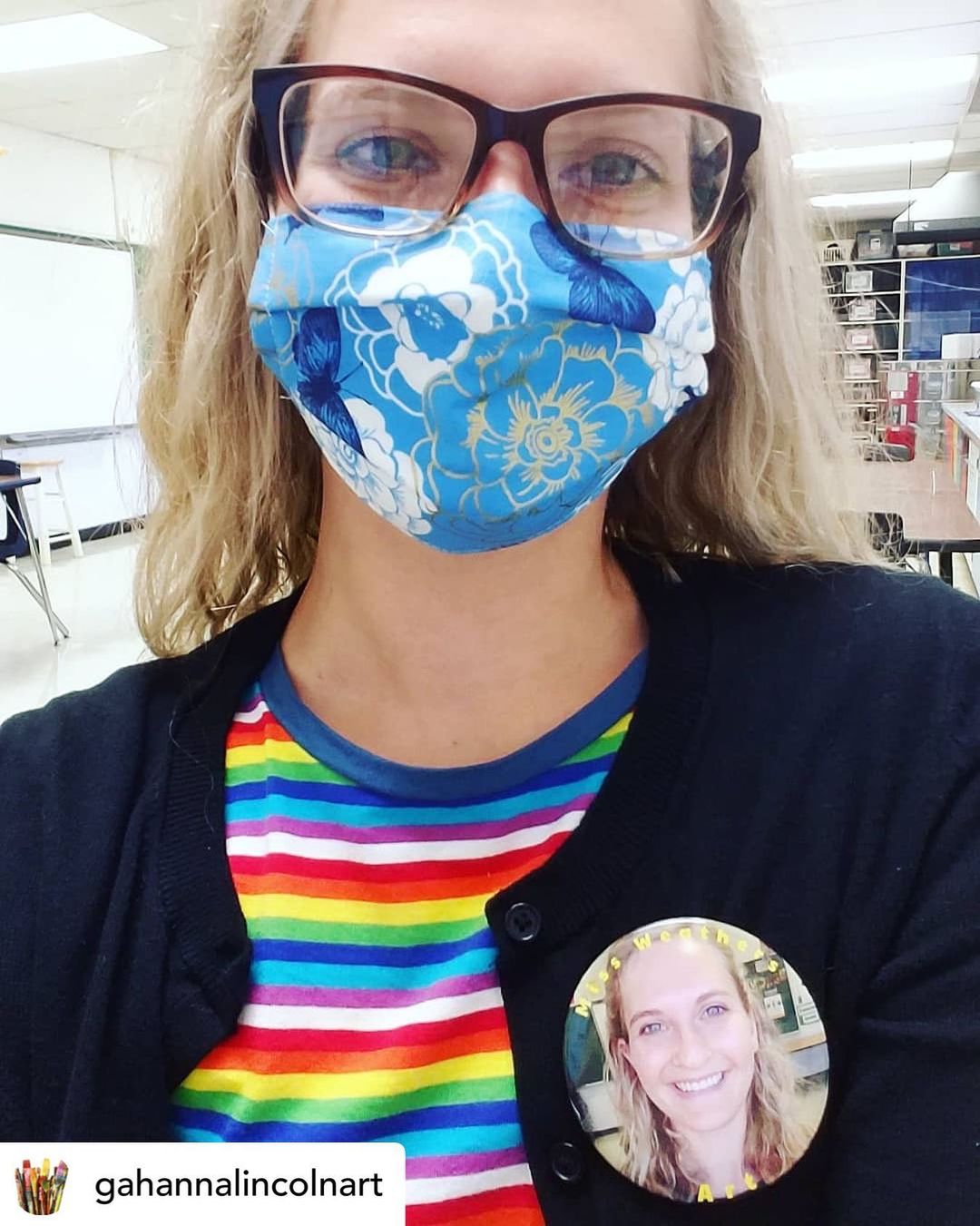 Face buttons for teachers have become a useful tool when interacting with young children in a mask-wearing environment.
You can personalize photo buttons on our website in minutes using our free and easy tool. Simply choose your best selfie and approve your free digital proof. We'll manufacture and ship your photo buttons fast!
Due to the popularity of our face buttons sale we have decided to extend the offer throughout the fall season!
You can take 25% off any photo buttons when you order a quantity of 5 or fewer per design. Order cheap photo buttons for all of your friends and family; they make an inexpensive happiness gift for any occasion!
Use Coupon Code: FACEBUTTONS
Our custom button pins are water resistant and can be sanitized easily. Our durable construction means your pin-back buttons will last for years of daily use.
A little bit about Pure Buttons:
Pure Buttons has been manufacturing custom button products for over 15 years! We offer the most size and shape options of any button maker. Our wide variety of nineteen button shapes and sizes means you'll be sure to find your "just right" size of custom pin.
We also offer two unique button finishes: original gloss and soft-touch matte. Both finish options are provided at no additional cost.
Your photo button pins will be printed and manufactured in 1-3 business days. We pride ourselves on some of the fastest turnaround times in the button making industry.
Join the thousands of happy photo button wearing, social distancing people who have ordered photo buttons from Pure Buttons!
Healthy Halloween Treat Idea: Custom Buttons!
This halloween is certainly going to be different than in years past. Social distancing and sanitization are concerns, and shared candy bowls can be a disease vector.
It's time to start thinking about holiday treats that don't have to be eaten to be enjoyed!
Pure Buttons has a suggestion: Custom Buttons! You can use our free online tool to create Halloween buttons and get an instant digital proof to approve before checkout.
Your halloween buttons will be appreciated much longer than a piece of candy! Our durable pin-back buttons are made with high quality materials and will last for years.
Our custom buttons are water-resistant and can be sanitized easily to help prevent the spread of disease!
Order Custom Buttons for a healthy halloween treat in these unprecedented times!
Check out the example below of halloween buttons we recently printed for a customer.
Have a safe, healthy and Happy Halloween!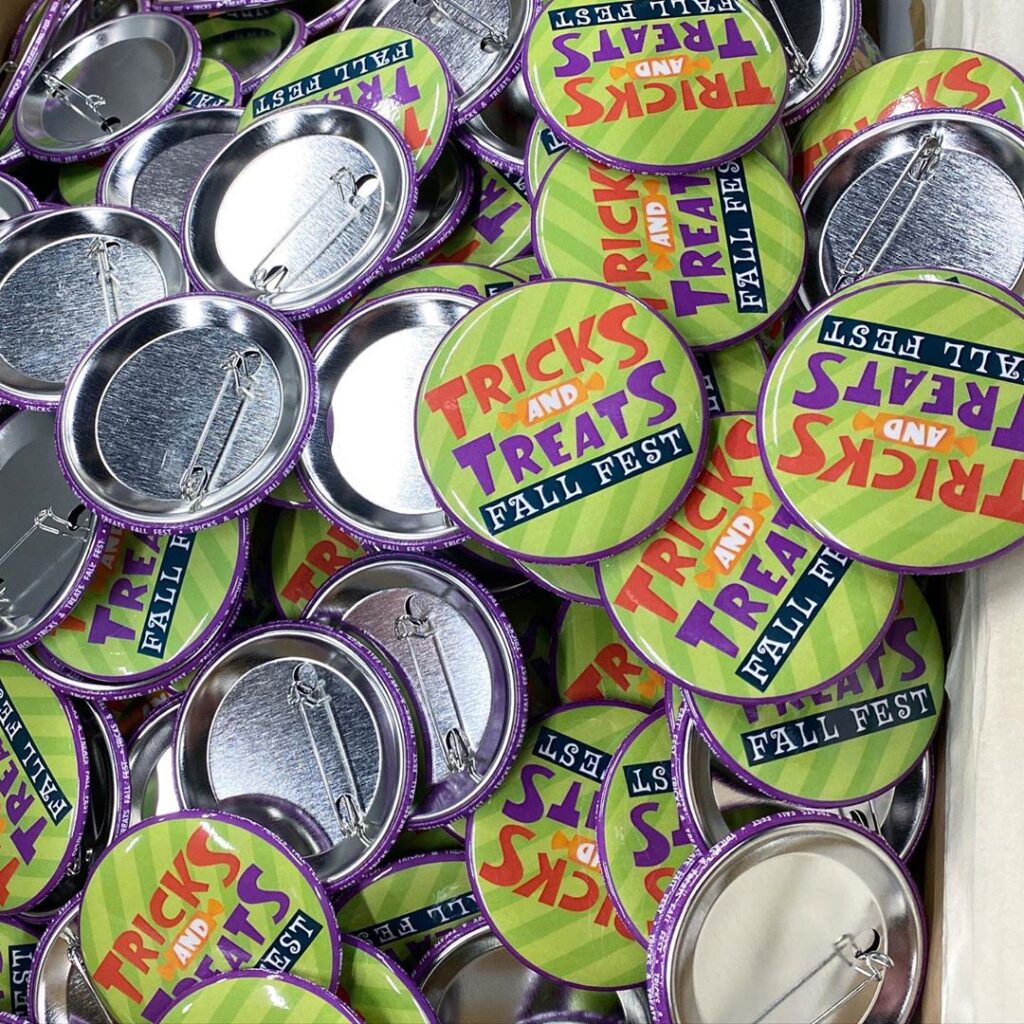 Call 800-710-2030