Promotional Button Use
Welcome to our Promotional Button Use category! Below you will find articles, posts, coupons or samples featuring Promotional Button Use. To see our latest content, visit Home.
3″ Custom Buttons – Music Day 2011
Showcased in this post is an order of 3 Inch Round Buttons we completed for Prince George's County School. These custom buttons work great as promotional or advertising products! For more information regarding our custom 3 inch buttons, visit PureButtons.com
Great Examples of Custom Button Rim Text
We recently have seen an increase in Rim Text use on our custom buttons which is a great because rim text offers a fantastic way to add more text/copy to your button, without putting it right on the front. This is a great place for your name, url, or slogan. We've also seen phone numbers, emails, and twitter handles on rim text.
We will follow this post with a video tutorial on creating rim text, but for now, below are some great examples of rim text on our custom buttons.
Rim text on custom buttons for the TV Show The Big Bang Theory, produced by Warner Bros. Entertainment.
Rim text on custom buttons for Johnny Cupcakes Designer Clothing Label.
Rim text on custom buttons displaying the web URL for artist Andy Gonzalves.
Rim text on our custom buttons for My Little Pony, by Hasbro,Inc.
Rim text on custom buttons featuring a slogan and call to action to visit a website.
Rim text on custom buttons featuring the web url for a video game.
Rim Text that reads "Eye-Popping custom buttons PureButtons.com" for some promotional buttons we created recently.
Rim text that gives the name and date of an event.
Rim text that features the company name, slogan, and website for Navitas Naturals Foods.
Movie Promotions with Custom Buttons
Many of the largest movie studios in the world know that our custom buttons are the perfect promotional tool. Check out these examples of movie buttons. We recently created custom buttons for the film Sid & Nancy which starred Gary Oldman as The Sex Pistols' Sid Vicious.
Our custom rectangle buttons are perfect for promoting DVD/Blu-Ray covers and movie poster artwork. When worn vertically, they can replicate the format of the DVD/Blu-Ray cover or movie poster. You can provide these buttons to promote a DVD/Blu-Ray release on store employees, or a promote an upcoming theater release on theater staff.
We have also been lucky enough to produce custom buttons for Disney's Beauty and the Beast, and Disney Pixar's latest film, BRAVE.
If you are in charge of marketing for a major or independent motion picture, custom buttons are an affordable, collectable and fun way to promote your film!
Need something Completely custom? No Problem!
When you have something in mind and don't see it offered on our site, never hesitate to contact us. We worked with The CSK Group to develop a completely custom button pack, using unique paper stock, and a perforation which transformed the button pack into an information sheet and a bookmark!
These unique double-sided information sheets were handed out as trade show giveaways and the included 1.5″ Round Custom Button accent helped grab attention and interest people in taking the customer's materials!
We created these packs with 2 versions of the button. A yellow robot with a blue heart, and a green robot with a yellow heart.
Have an idea? We're open to suggestions! Let us know how we can help you develop your vision!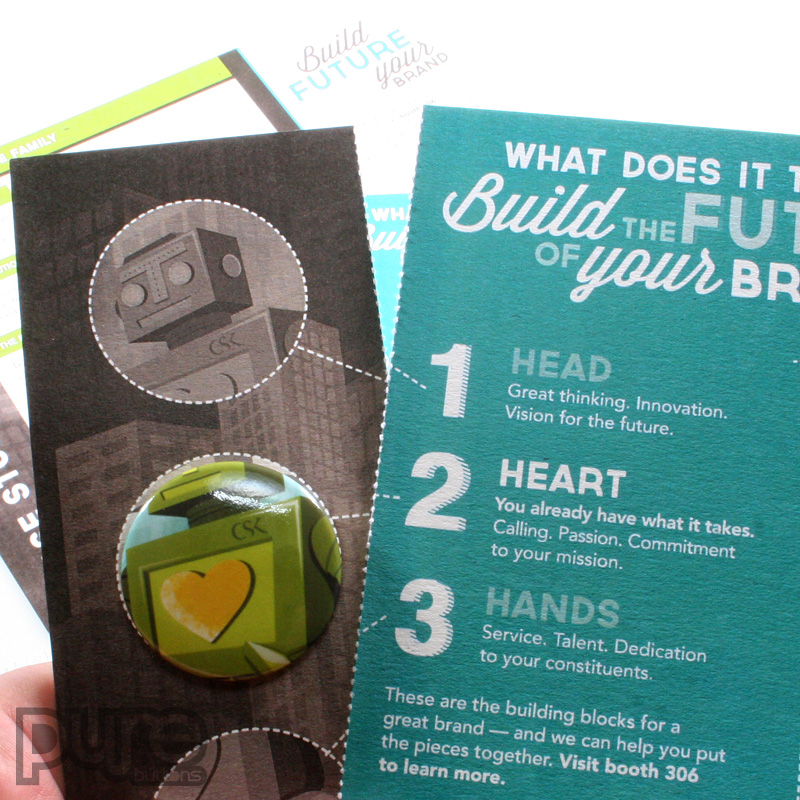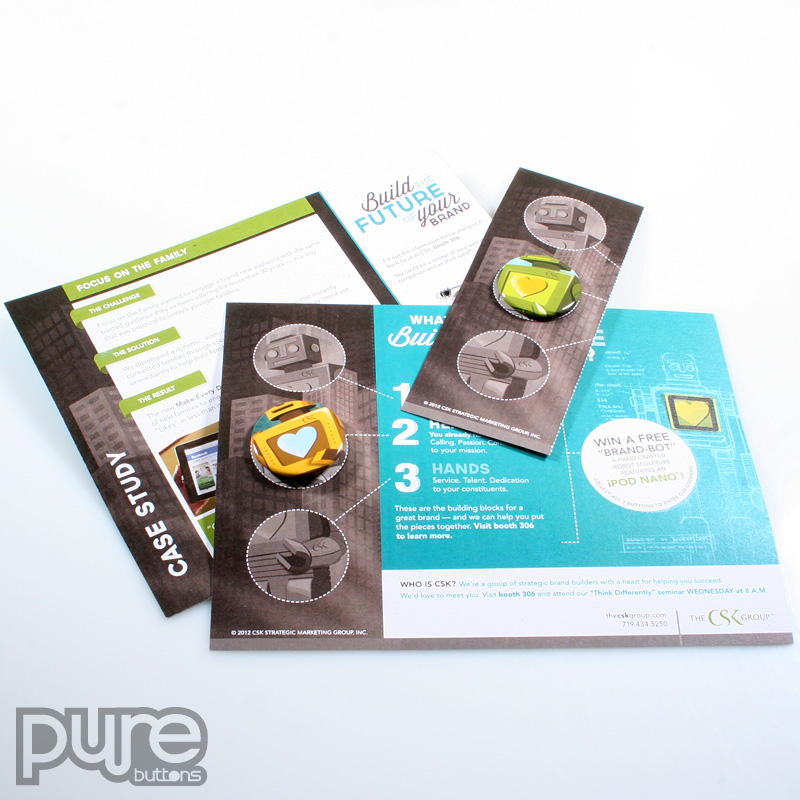 Fun. We Are Young Promotional Buttons
We recently had the opportunity to work with Fueled By Ramen Records to produce this campaign-style 2.5″ Round button for the band FUN. Their latest single "We Are Young" has been tearing up the charts for the last few weeks, currently NUMBER ONE on the Billboard Hot 100 Chart!
They are very happy with how this promotional button turned out. check out a gallery of people wearing this button here.
Watch the music video for "We Are Young" Below:
Call 800-710-2030