Custom Buttons
Welcome to our Custom Buttons category! Below you will find articles, posts, coupons or samples featuring Custom Buttons. To see our latest content, visit Home.
Years of Happy Buttons by Leonard "Porkchop" Zimmerman
One of our most prolific customers is Leonard "Porkchop" Zimmerman who has designed buttons with a smiling robot and the word "Happy" in hundreds of styles over the years.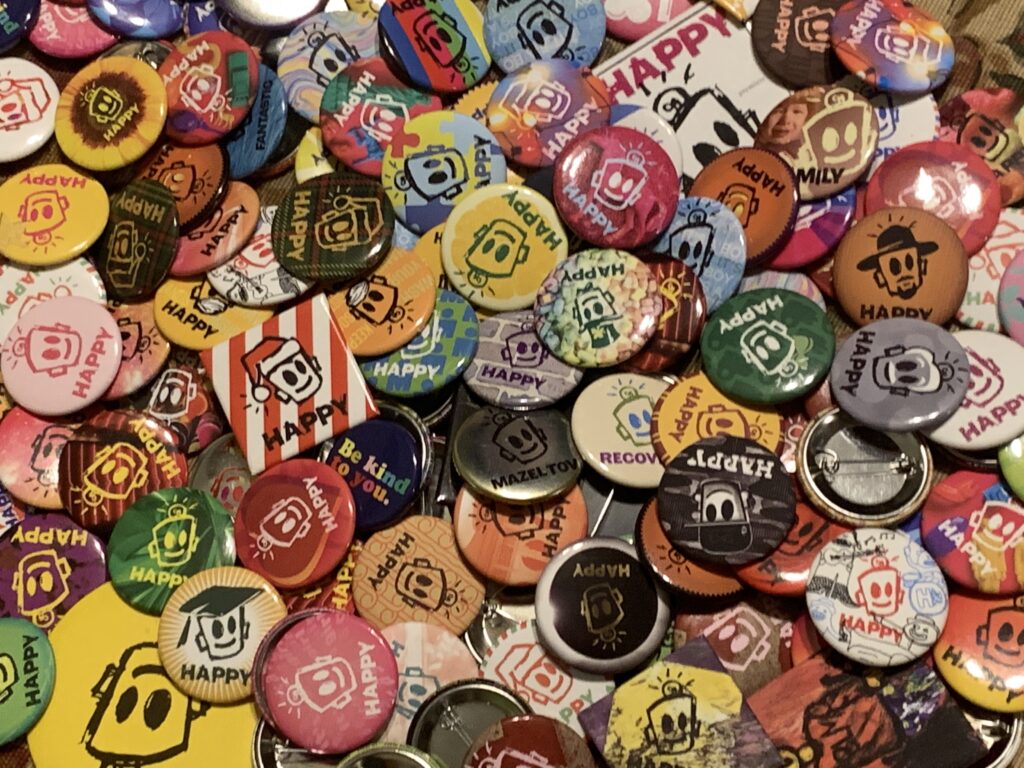 Recently Leonard shared photos of a large collection of these various button designs and we thought it was fascinating to see all the variations he has created all at once.
"My mom and dad both have been saving these – there are probably 200-250 different HAPPY buttons."
To learn more about Leonard, you can watch the Happy Documentary. The documentary is about Leonard's artwork and life, as well as coping with loss and grief, and the importance of family and expressing yourself.
You can also view his website and artwork to see more of his robot paintings.
Follow him on instagram to see him create art every day.
We appreciate Leonard's campaign to spread joy and think our buttons are the perfect canvas!
Check out this huge collection of Happy custom buttons: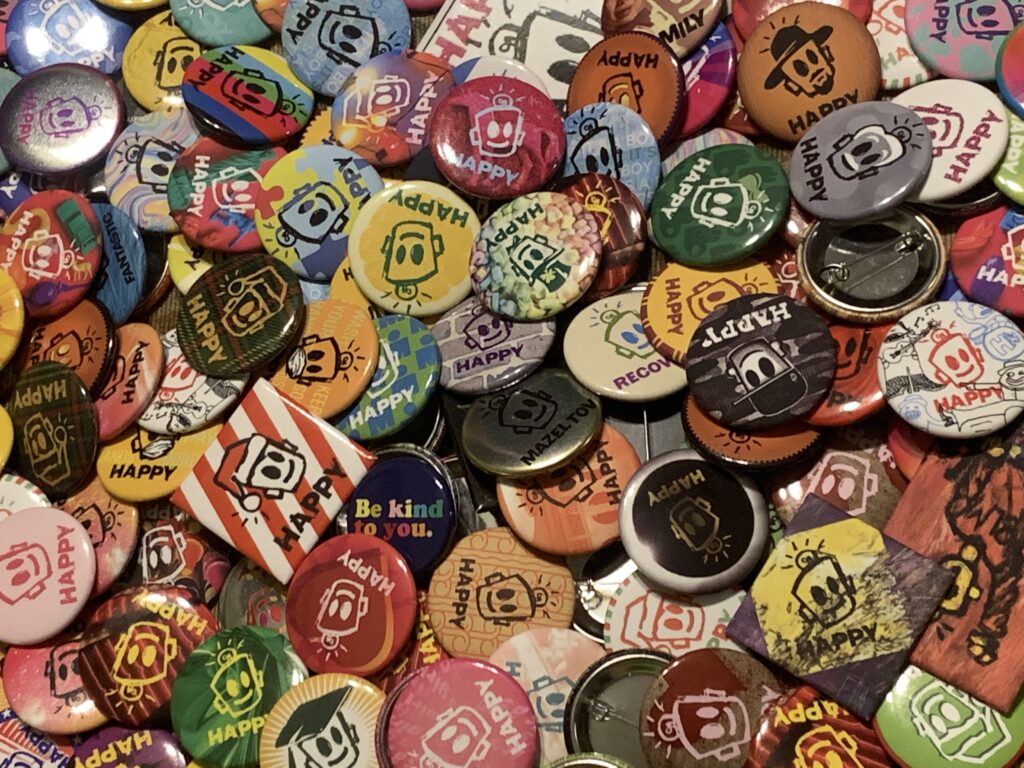 Custom Name Tags & Magnetic Name Tags
Our custom buttons and clothing magnets are the perfect platform for reusable custom name tags or custom name badges. These pin-back name tags can be personalized and printed with the wearer's name very affordably. Our minimum order is just one name tag which allows you to create a custom name tag for everyone in your team!
We also offer high quality magnetic name tags with a magnet bar on the back that easily attaches the name tag to your clothing without the need to pierce cloth.
Reusable name tags can be designed like the examples below. These full color designs leave a blank space in the design that can be written on with a permanent marker.
For a truly custom name tag, you can use our easy online tool to add your name to any size or shape name tag and get a free instant digital proof to approve before you checkout.
Try our online tool to create custom name tags for your whole team!
The photos below are of reusable name tags with blank spaces to manually fill out in the future. Others have ordered custom name tags with names included in the printed design, but we have not included photos of these personalized name tags for privacy.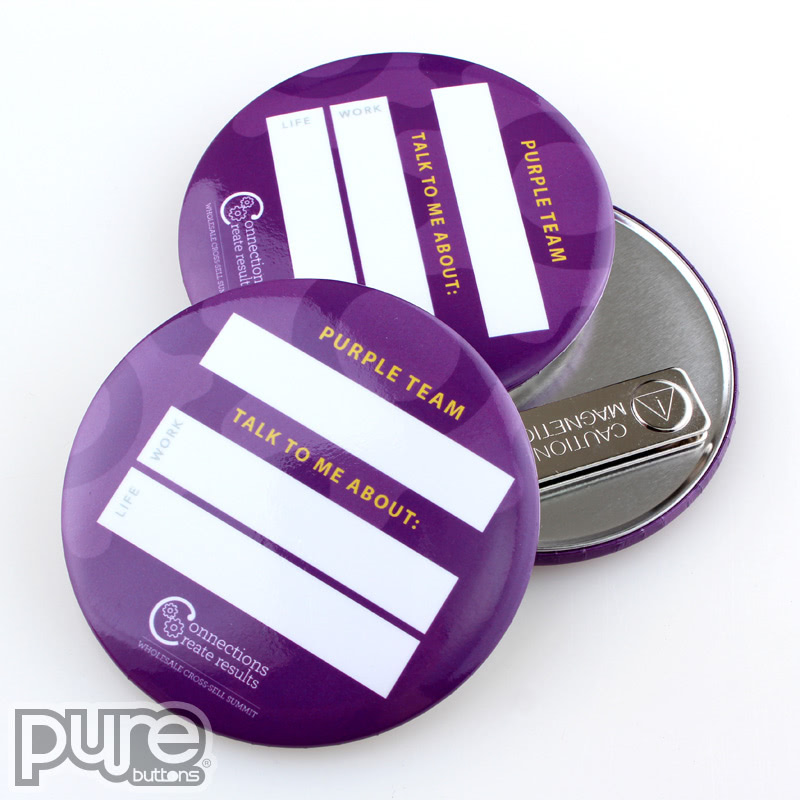 The magnetic name badges above features multiple fields to fill out. Notice the magnetic fastener bar on the back side of the name badge. High quality metal construction ensures long term performance!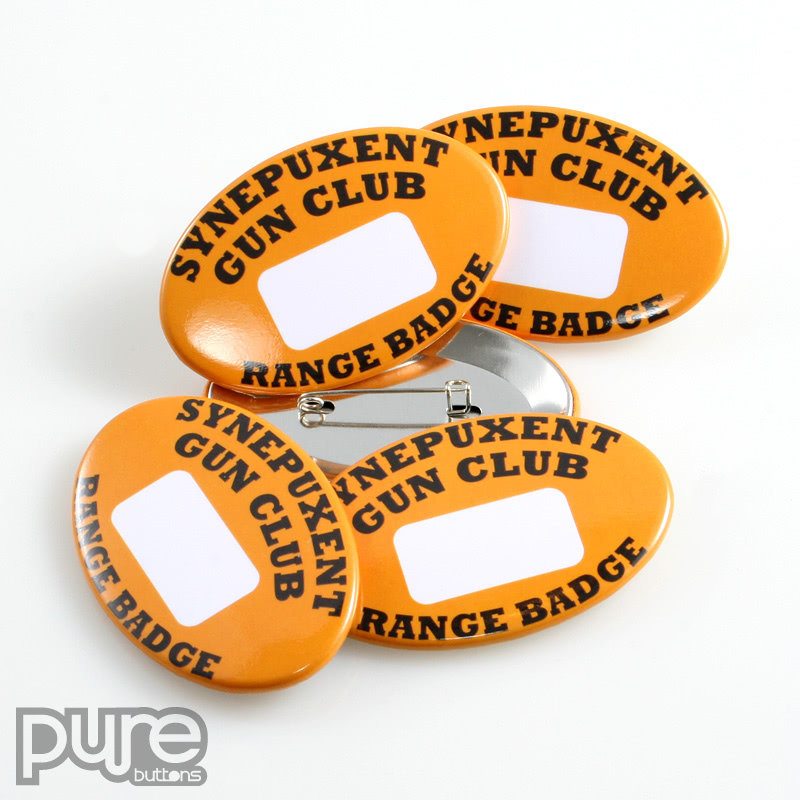 The Synepuxent Gun Club uses the pin-back custom name tags above to identify members at their gun range.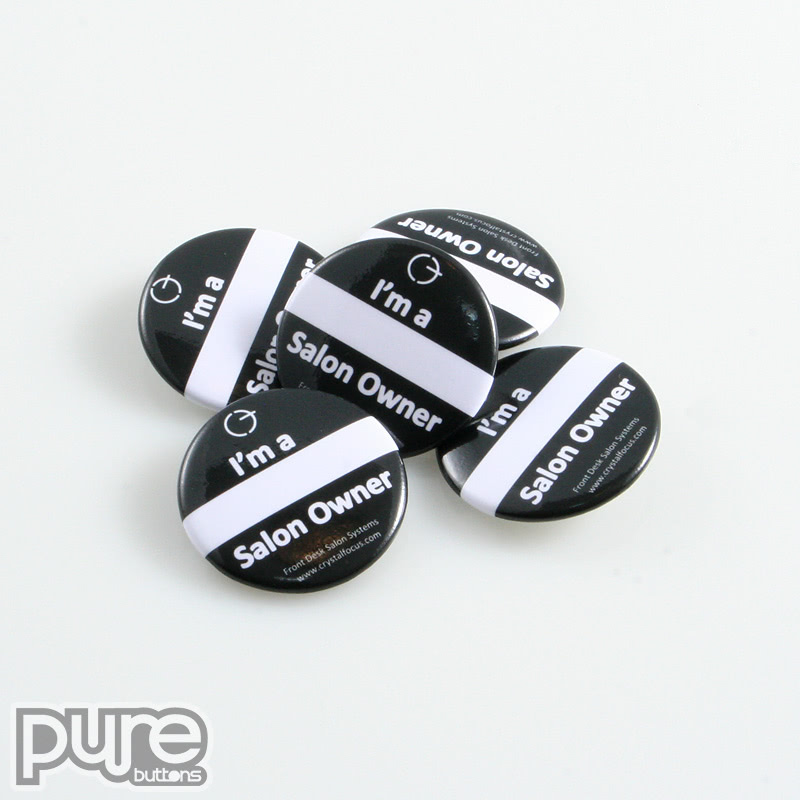 The name tags above were used at a cosmetology convention and salon owners could fill in the blank to identify themselves.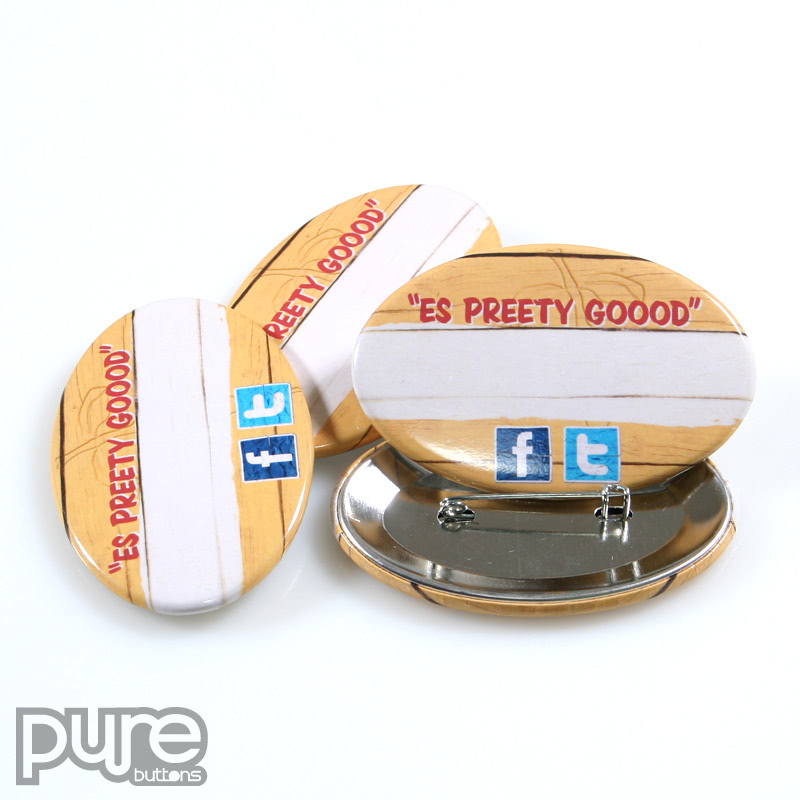 The restaurant Lupe Tortilla uses the pin-back custom name tags above to identify their employees. A large blank area can be decorated with a permanent marker and buying blank name tags in bulk saves money!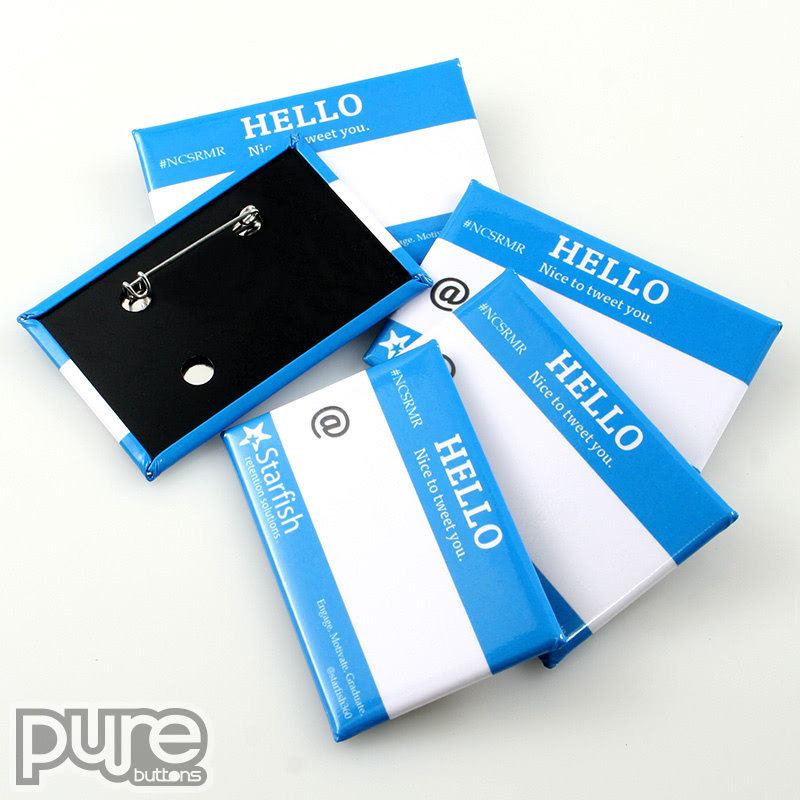 The pin-back custom name tags seen above mimic the classic "Hello My Name Is" name tag stickers in a more durable and eye catching way.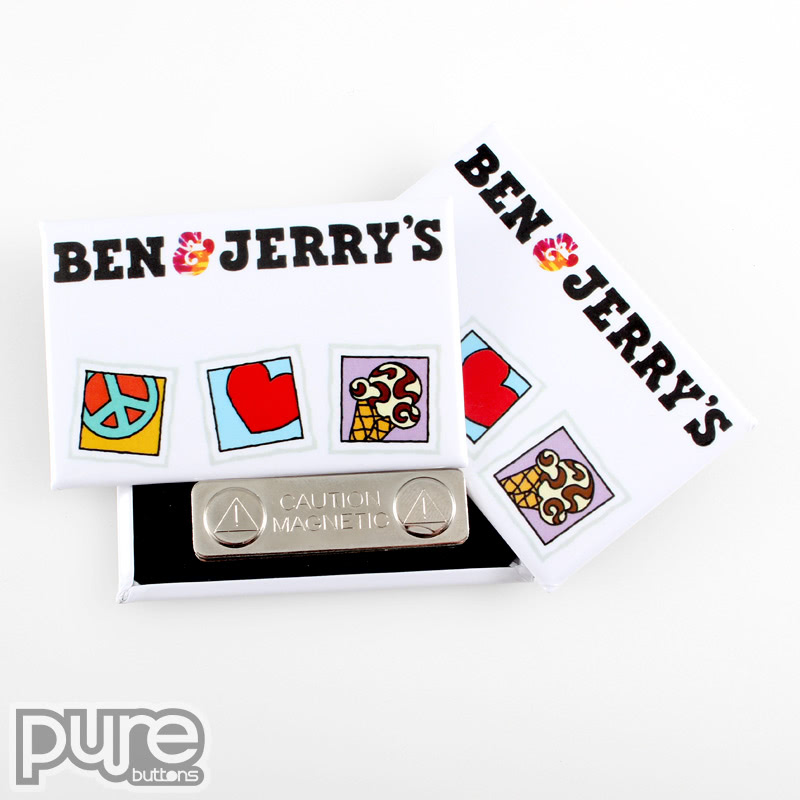 Ben and Jerry's ice cream shops use the magnetic name tags shown above to identify employees in a fun and custom way!
New and Improved Custom Button Pack and Button Box Print Quality!
PureButtons remains committed to offering the highest quality custom buttons and promotional products available. This means regular upgrades to our production facility and printing and manufacturing capabilities. We are proud to announce a new and improved printing quality for custom button packs and button boxes.

Our newest digital printing press features enhanced resolution, color quality and double sided printing capabilities. This means that our custom button packs and custom button boxes have never looked better!
It's a great time to try our custom button packaging for yourself and see how you can take your custom products to the next level with retail-ready packaging solutions that are not only affordable, but look fantastic!
Entice customers and make more sales with custom button packs and retail display boxes with your custom graphics.

PureButtons offers standard button packs in a wide variety of configurations but also offers completely die cut button packs with unlimited possibilities. Contact us for a quote on a completely unique button pack design or get pricing and order standard button packs on our website.

We will always be striving to improve and you'll be first to hear about it right here on TheButtonPost! Our goal is to make you look great!
Our new High Risk Button is available now!
Are you at high risk from infection? Do you know someone who is? Remain vigilant and stay healthy with help from our new High Risk Button design.
This bold new button design compliments many of our other coronavirus buttons but can be worn all year during standard flu seasons for years to come.
Featuring bright colors and the words HIGH RISK, this eye catching design should help alert others to your condition.
Our High Risk Button is available in two round sizes: 1.5″ wide and 2.25″ wide.
Our pin-back buttons are water-resistant and easy to sanitize.
The Centers for Disease Control recommend social distancing and mask wearing to reduce the spread of infectious diseases. This may be our most effective social distancing button design yet!
Minimum order is just one button but you can unlock huge pricing discounts when you order our buttons in bulk quantities.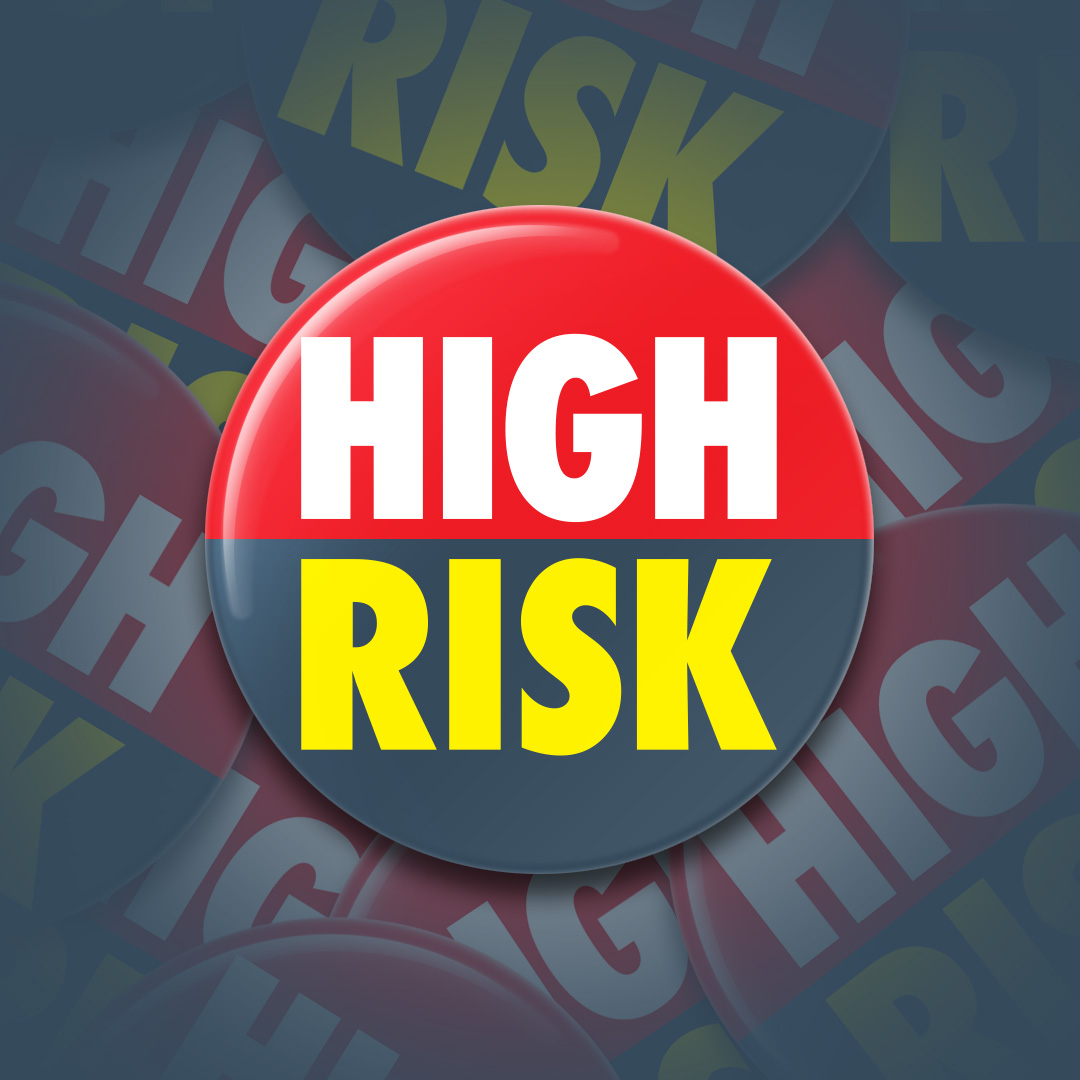 Healthy Halloween Treat Idea: Custom Buttons!
This halloween is certainly going to be different than in years past. Social distancing and sanitization are concerns, and shared candy bowls can be a disease vector.
It's time to start thinking about holiday treats that don't have to be eaten to be enjoyed!
Pure Buttons has a suggestion: Custom Buttons! You can use our free online tool to create Halloween buttons and get an instant digital proof to approve before checkout.
Your halloween buttons will be appreciated much longer than a piece of candy! Our durable pin-back buttons are made with high quality materials and will last for years.
Our custom buttons are water-resistant and can be sanitized easily to help prevent the spread of disease!
Order Custom Buttons for a healthy halloween treat in these unprecedented times!
Check out the example below of halloween buttons we recently printed for a customer.
Have a safe, healthy and Happy Halloween!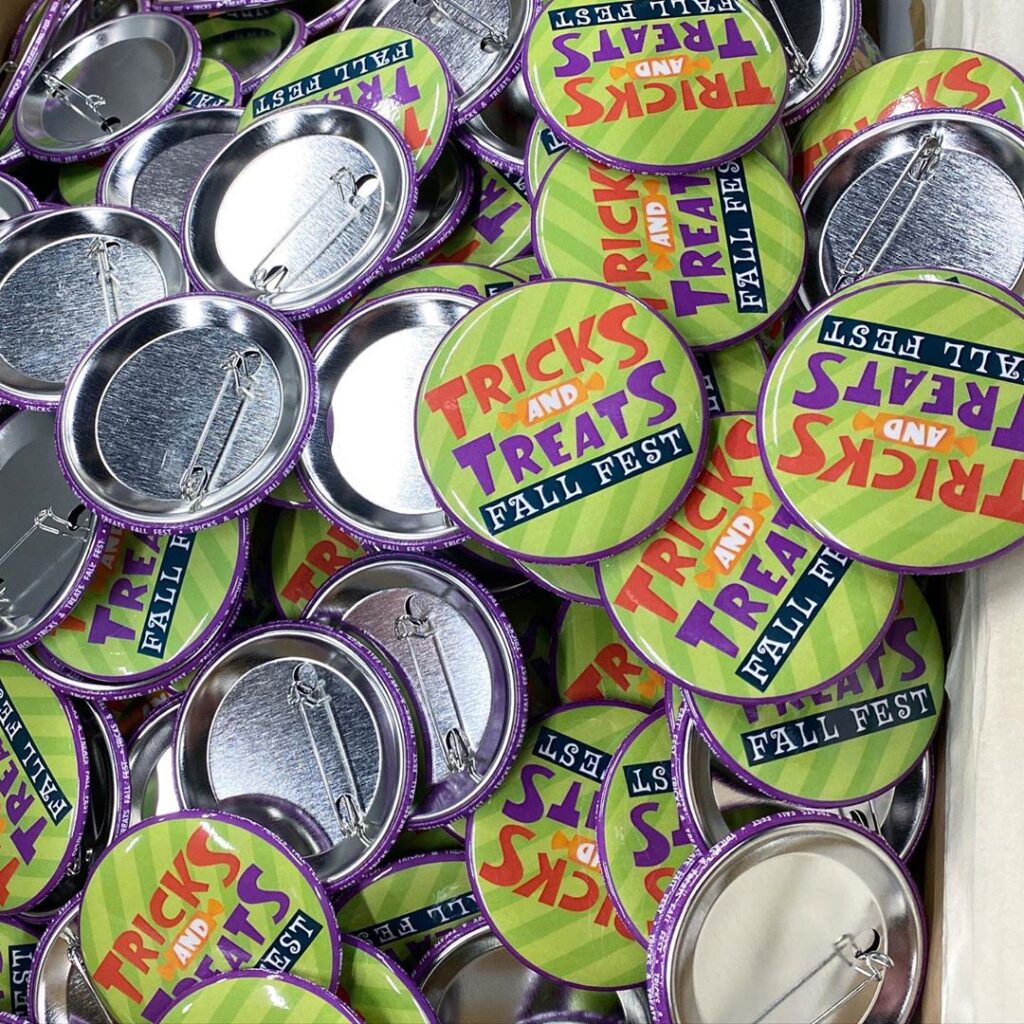 Call 800-710-2030