Cedar Point Button Stop Loaded with Button Boxes
This weekend, we attended opening weekend of our favorite amusement park, Cedar Point! We were so excited to see their new Button Stop shop featuring tons of unique button designs all sold out of our custom button boxes. This pagoda style building was once a hat shop, but now houses thousands of unique custom buttons ready to be collected by park visitors!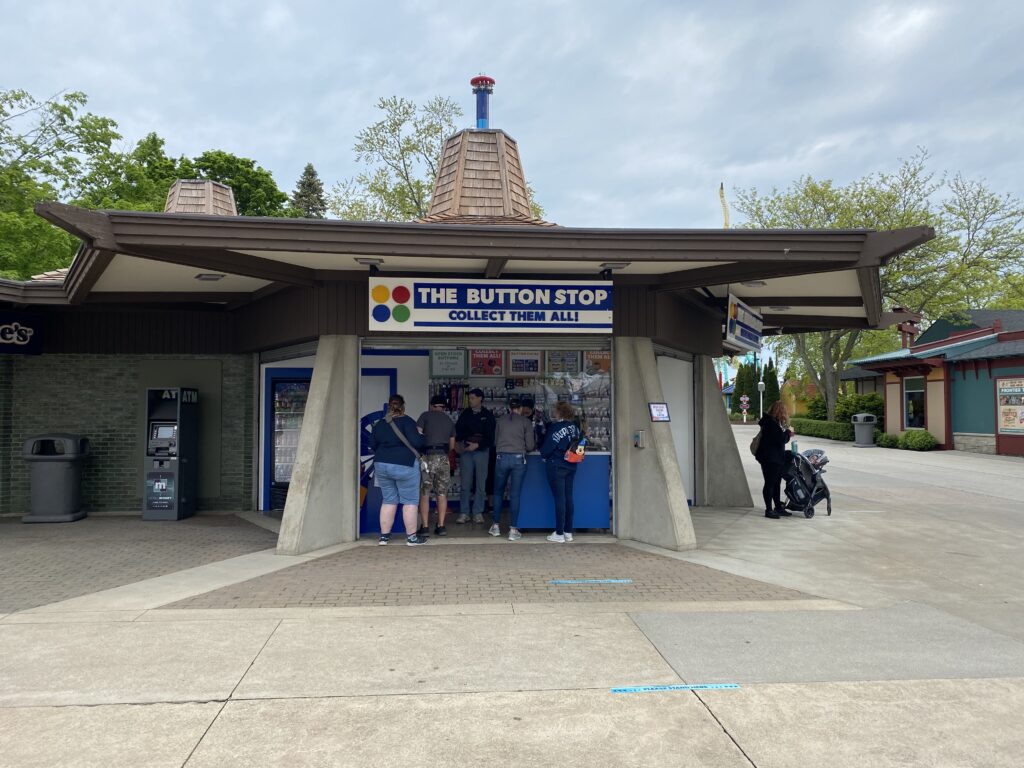 The Button Stop at Cedar Point Amusement Park. Sandusky, Ohio
Inside, park guests are invited to choose from a wide selection of limited edition button designs featuring current attractions of the park and attractions and events from years past. Special limited edition buttons are also circulated around the park. Our button boxes are self-serve and make for an attractive presentation in any retail setting.
In the photo below you can see how the park is selling their custom buttons in a self-serve style. Open button boxes are presented with the button design they contain attached to the pop up top of the box. You can also spot some closed button boxes waiting on the shelf behind the open boxes.
Bright and colorful signage advertises the custom button designs as well as passholder exclusive buttons and button packs. Lanyards are also sold which the buttons can be attached to!
We've never seen so many button boxes displayed at once. This was a great surprise!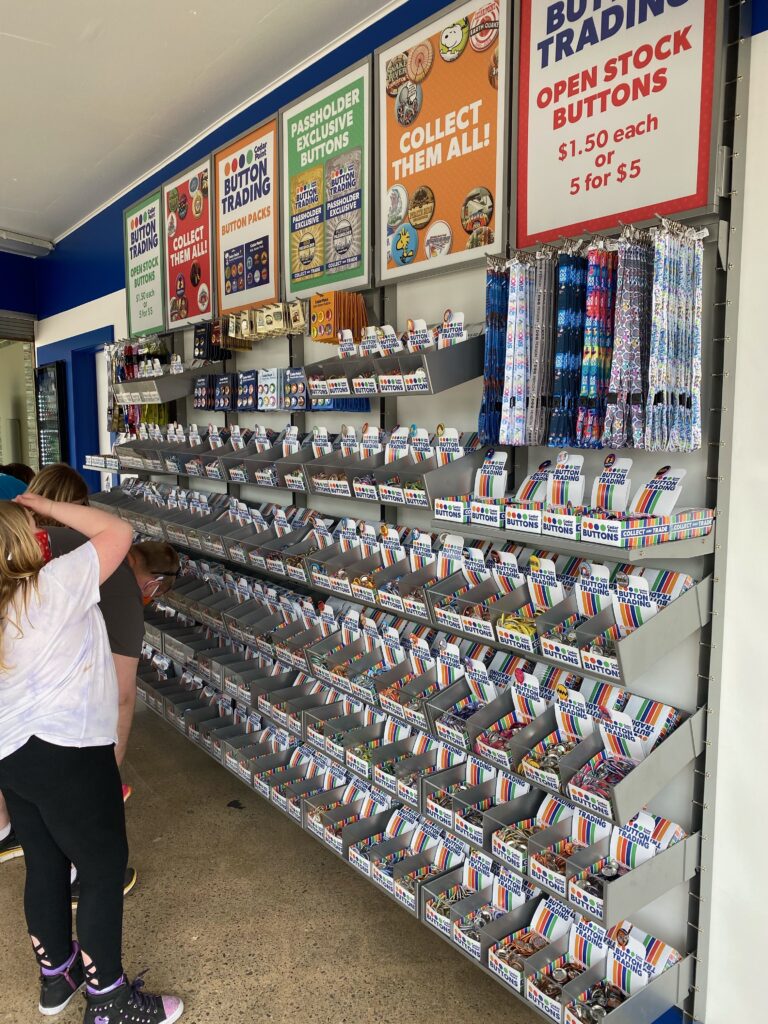 In addition to bulk buttons sold out of button boxes, Cedar Point is selling button packs which are perfect button retail packaging and are available in any size or shape. With our custom button packs, you can die cut your backer card whatever shape you'd like! We offer a wide variety of standard button pack options for order on our website, or contact us for something completely unique.
Cedar Point is an incredible theme park built on a Lake Eerie peninsula right outside Sandusky, Ohio. A quick 1.5 hour trip from PureButtons headquarters! We love visiting the park regularly. If you've never been, consider visiting this unique theme park and while you're there, pick up some custom buttons in The Button Stop shop!
You can virtually ride one of their most famous steel roller coasters Millenium Force in this youtube video!
Cedar Point is a globally awarded theme park with some of the best roller coasters in the world. We're so happy they've decided to include custom button boxes and custom button packs in their amusement park merchandise offerings.
Custom Button Size Guide: Find the right button for your needs
The pinback button has been a staple of the promotional products industry for decades. This is because they are versatile, cost-effective and easy to use. But as with any product in this arena, there are many options that can make it difficult to choose which size is right for you. Our goal is to simplify your decision by providing an overview of all the available size options, their corresponding benefits, and popularity.
Custom pinback buttons have become one of the most popular ways people promote themselves or their businesses. Pin-back buttons come in a variety of shapes and sizes so whether you want something big and bold or small and subtle, we've got what you need! They're also extremely cost-effective since there's no minimum order required and we offer major bulk discounts.
All of the images below come from our product backs gallery which includes the back view of all of our custom products so you can see how the various sizes differ in pin-orientation and more. We offer many more custom products than just pinback buttons! Take a look for yourself.
All of the button sizes mentioned here are describing the approximate button diameter. Some of our sizes are exactly what size they are named, and others are very close. The word Round or Square, Rectangle or Oval refers to the shape of the button.
The button images below are not shown at their actual size on your screen.
How to choose a custom button size
It can be tough to pick the right button size from 19 unique shapes and sizes. However, a few of them stand out as being particularly popular for good reason
We recommend starting with a round button. They look great on clothing and in swag bags, plus they're our most economical and popular button shapes.
Our most popular button sizes:
2.25″ Round
Our most popular button size is 2.25″ round. This is a generous size good for getting attention while not being too big to comfortably wear.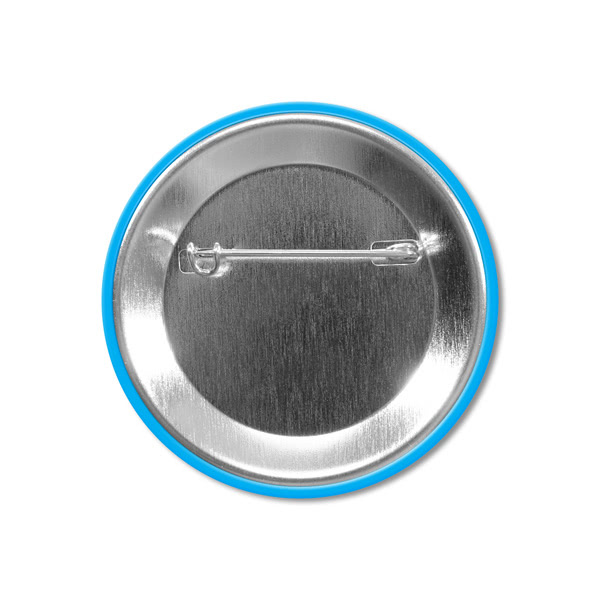 1″ Round
Our second most popular size is 1″ round, our smallest buttons. This affordable size is perfect for advertising at conferences where you don't want to spend too much money while still getting major exposure! The one inch round button is also a classic staple of band merch offerings.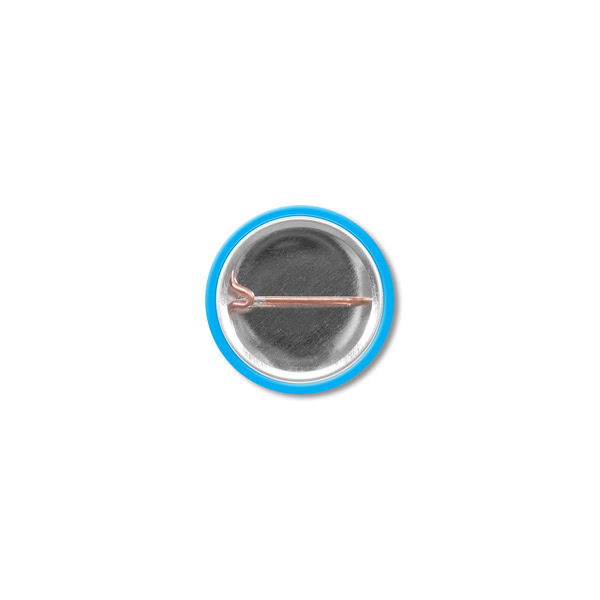 Floating pin vs fixed pin back
Our 1″ round button features a floating pin which allows the face of the button to spin freely. So it doesn't matter how you affix the button, you can twist the design into the correct position.
The rest of our button sizes feature a fixed pin-back design which is more durable.

The rest of our round button sizes:
1.25″ Round
Our 1.25″ round button is almost tied for second place in popularity. This custom button size is good for bands, artists and companies. It is still quite small but has more durability than the smallest button size.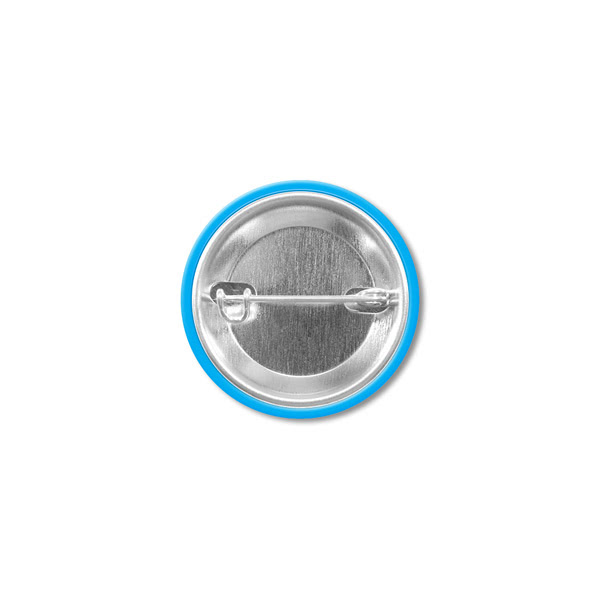 1.5″ Round
Another popular size is the one and a half inch round button. This shapes works well for bands, artists and companies who want custom promotional products at a low cost per button. This and the 1.25″ size are sold all around the world, in many popular chain stores and amusement parks.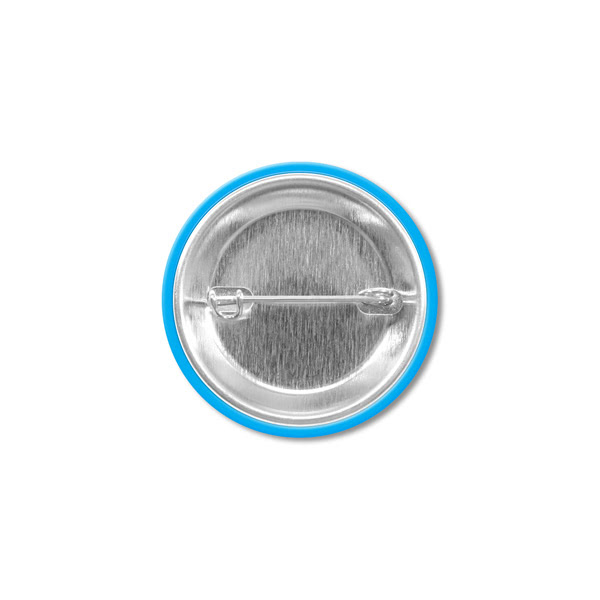 1.75″ Round
The one and three-quarters inch round button works well for larger logo buttons. These work great for corporate giveaways or as promotional products to promote your brand.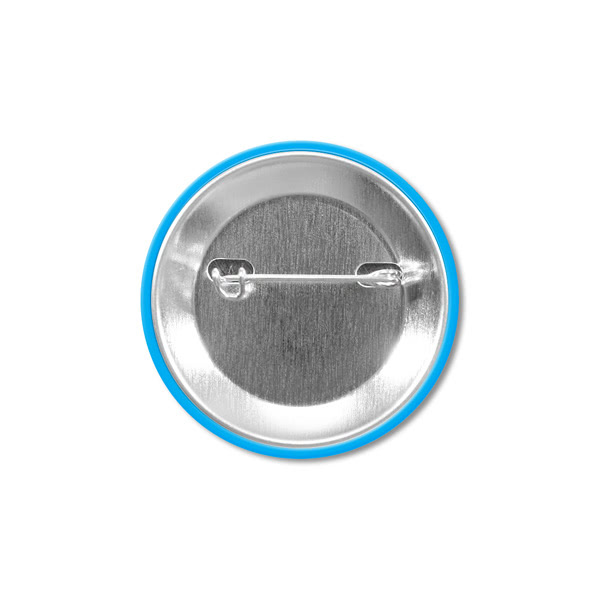 2.5″ Round
Just slightly larger than our most popular size, the two and a half inch round button is great for bands, artists or companies who need to be seen. From this size and up, all of the buttons feature the same safety pin size, but the button parts become larger.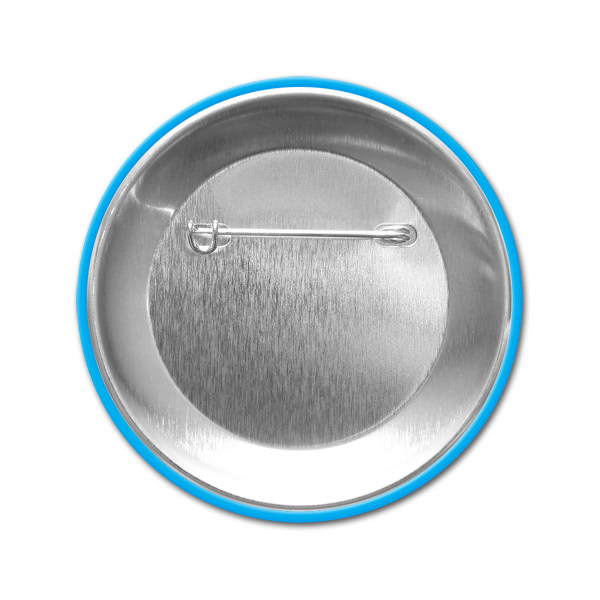 3″ Round
The three inch round button is a great size for any company looking to make an impact. These buttons are available on demand. You can design online, order a few, and reorder as many as you need in the future with our easy reorder feature.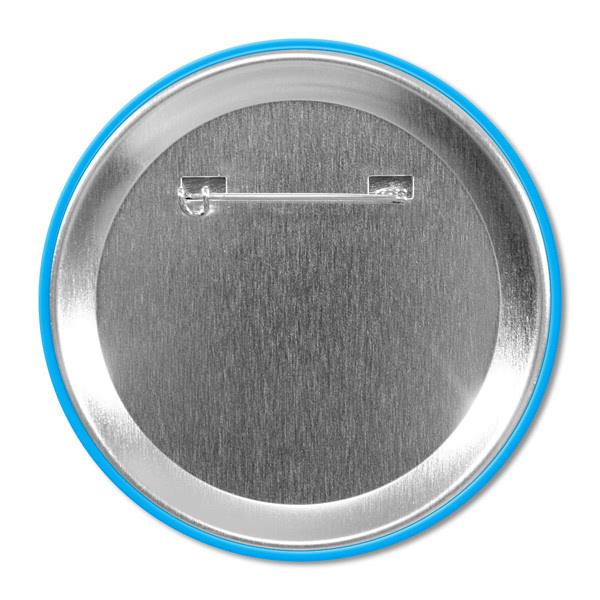 3.5″ Round
The three and a half inch round button is our second to largest round button size. These are really great for companies who want to make an impression with their logo or button based promotion. This and the largest size are more cumbersome to wear than our smaller button sizes, but if you want to grab attention, this is for you.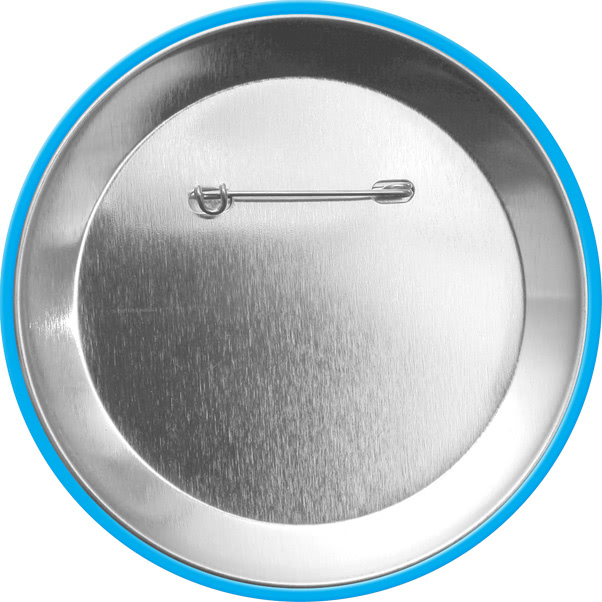 4″ Round
Our largest round button size is four inches in diameter. This giant round button is perfect for grabbing attention at all costs.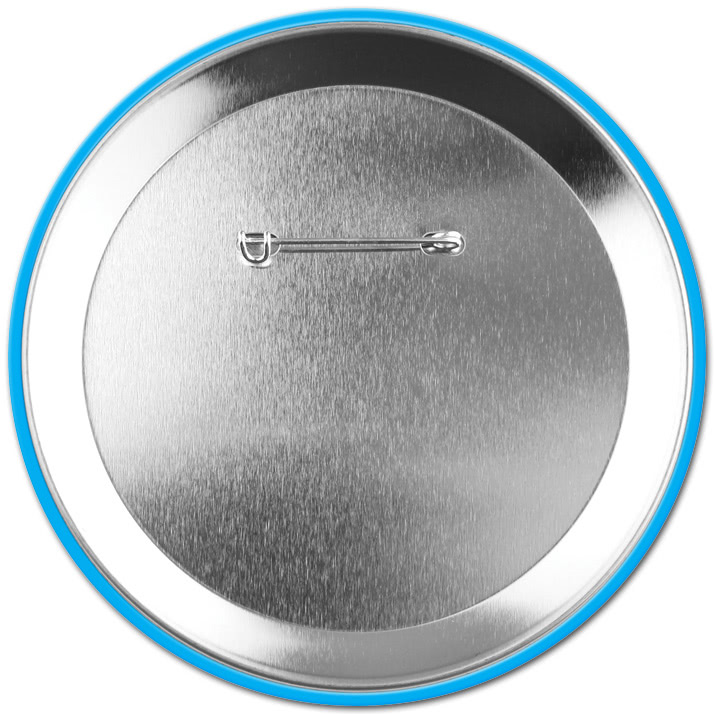 Square Buttons
Square buttons can be worn horizontally or at a "diamond" orientation. They are a great way to promote special offers, discounts and company logos. The square shape gets attention and they are excellent for displaying square artwork like album covers and instagram photos.
Our square pin badges feature a metal body construction, but differ from the round buttons in appearance on the back side. Square buttons feature an additional black plastic plate to keep the pin in place.
1″ Square
The one inch square button is the smallest of our square custom buttons. This tiny square button features a diagonally oriented pin back. These small square buttons would make awesome QR code buttons!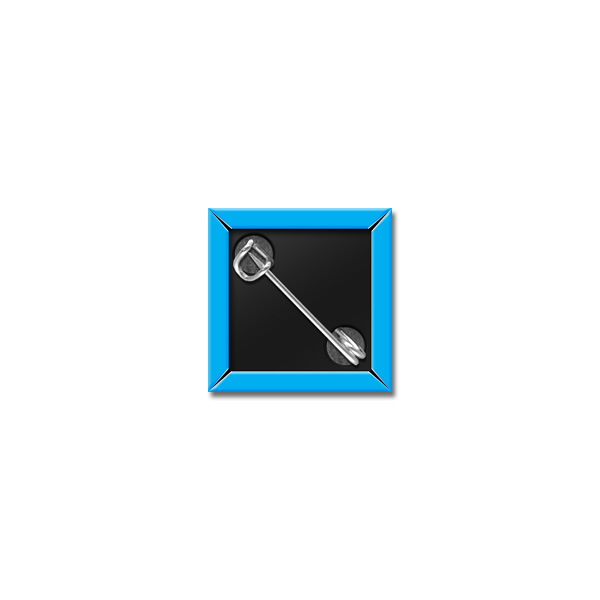 1.5″ Square
The one and a half inch square button is the next size up in our line of squares. This medium-sized button is our most popular square button size by a wide margin. Note the extra holes in the black back plate to allow for diamond orientation if requested.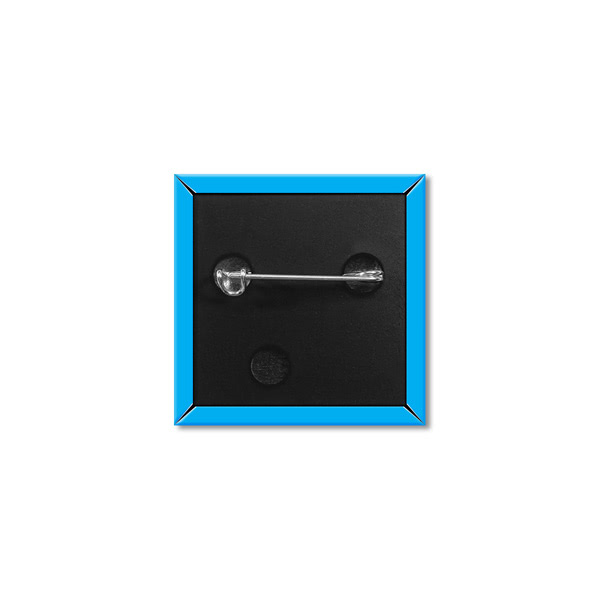 2″ Square
The two inch square button is our medium size offering among square buttons.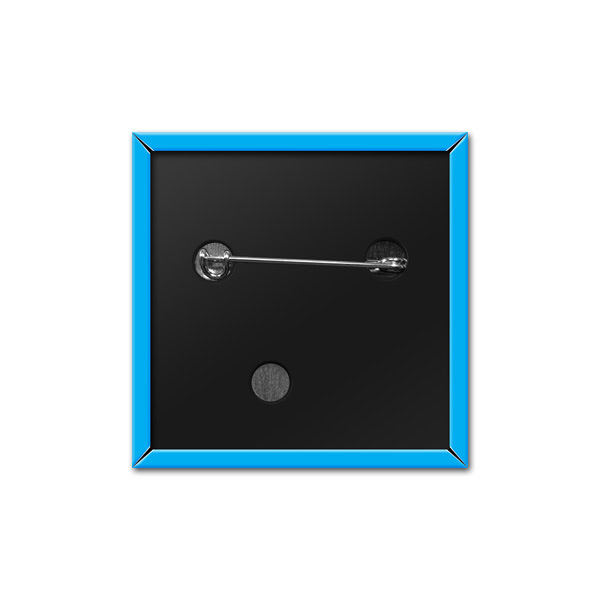 2.5″ Square
The two and a half inch square button splits the difference between our largest and middle square size.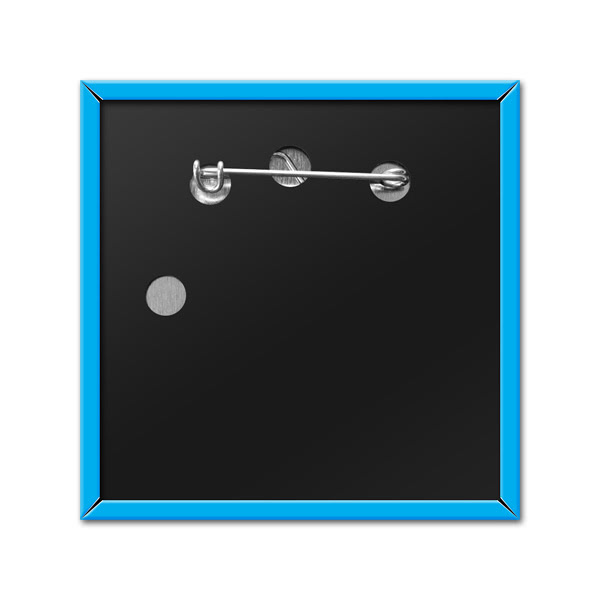 3″ Square
Our three inch square is the largest square button we offer.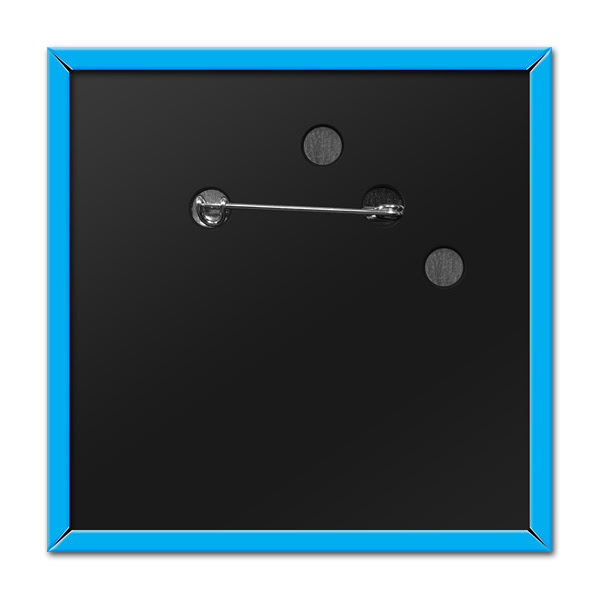 Rectangle Button Sizes
Rectangle buttons can be oriented horizontally or vertically. Choose an orientation when you order custom buttons with multiple orientation options. You will then be directed to the appropriate art tool template when you design buttons online!
Our rectangle buttons also feature a metal body construction, but differ from the round buttons in appearance on the back side with the exception of our 1.5″x4.5″ Rectangle Button seen below.
All of our rectangle shaped buttons feature the same size of custom button pins on the back.
1.75″x2.75″ Rectangle
These are the first rectangular buttons we offered and remain popular for use as custom name tags and badges.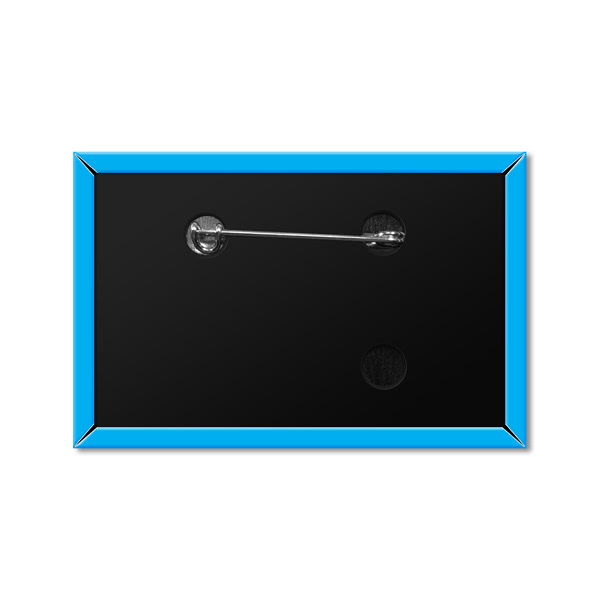 2″x3″ Rectangle
These buttons are large and impressive. Perfect as custom name tags or logo buttons.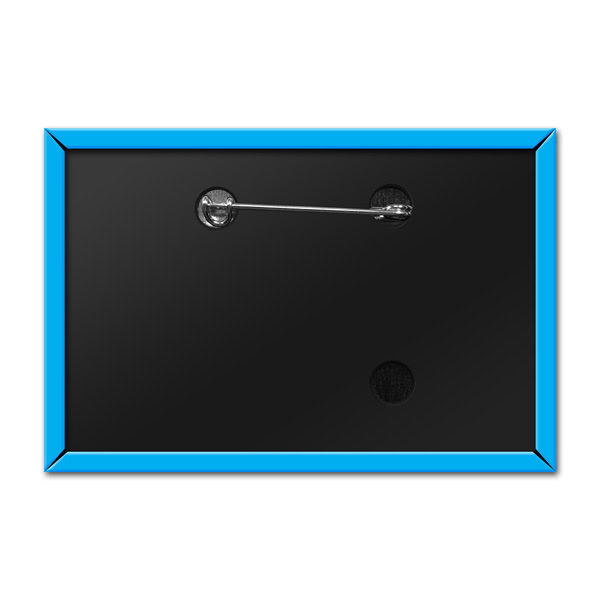 2.5″x3.5″ Rectangle
These are our most popular rectangle button size. This large button really gets noticed and offers a lot of real estate to get your message seen. This size can be used as photo buttons, event passes, ID badges and more.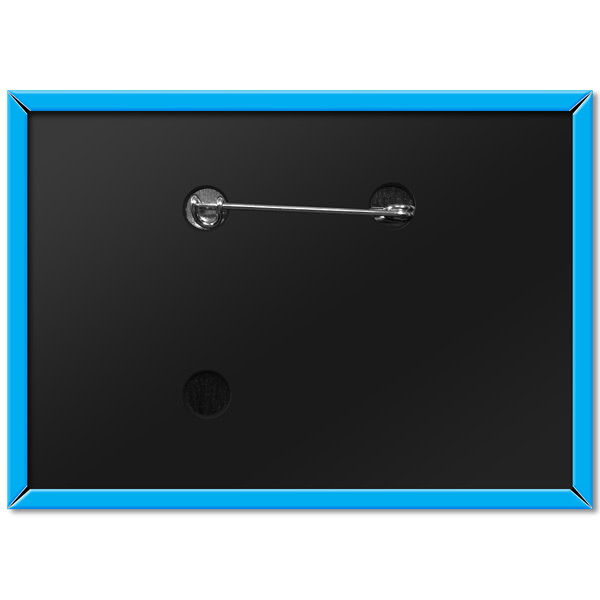 1.5″x4.5″ Rectangle
are a unique size perfect for custom name tags, great for tradeshows and events.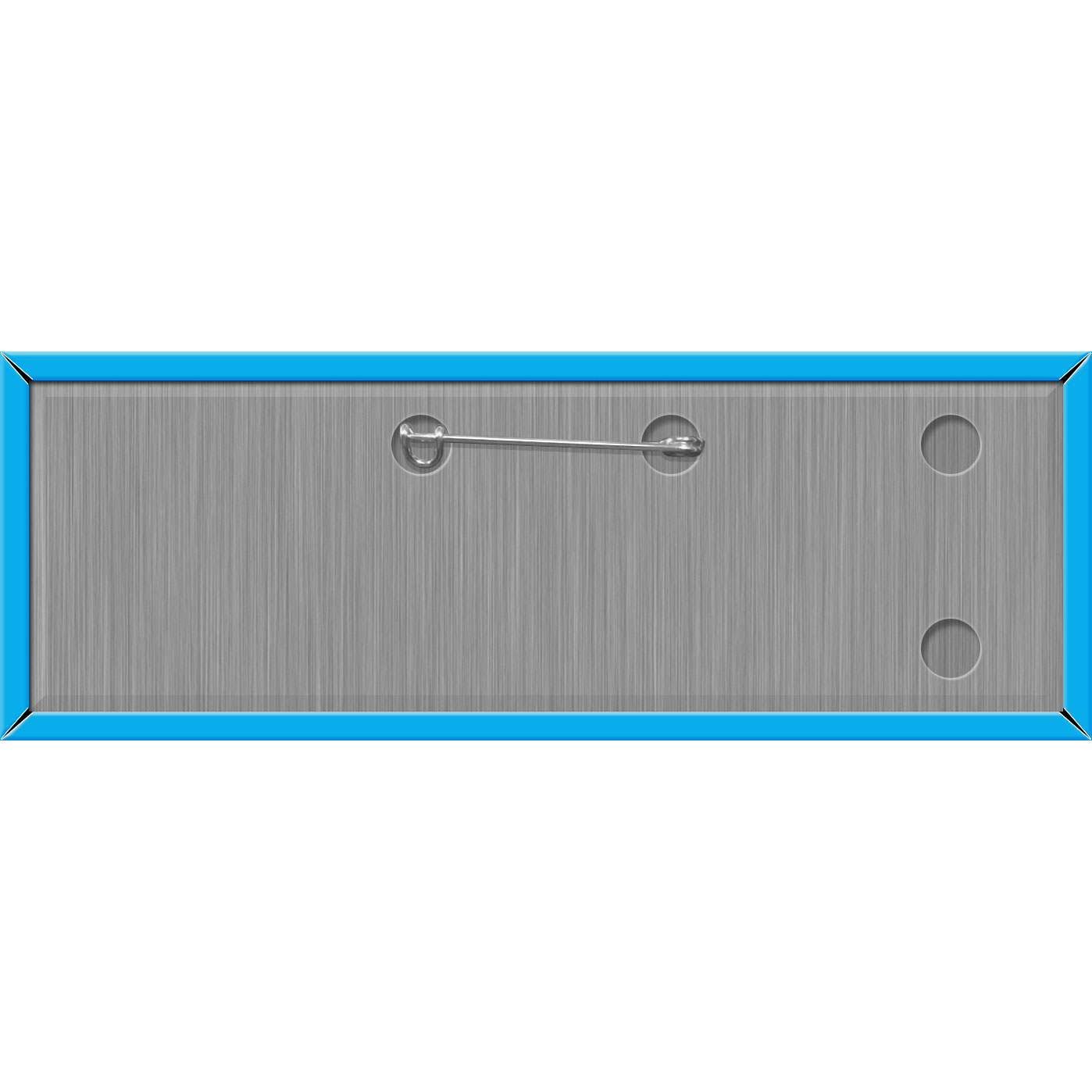 Oval Buttons
1.75″x2.75″ Oval
is our only oval button size. Great for custom name tags and can be worn horizontally or vertically.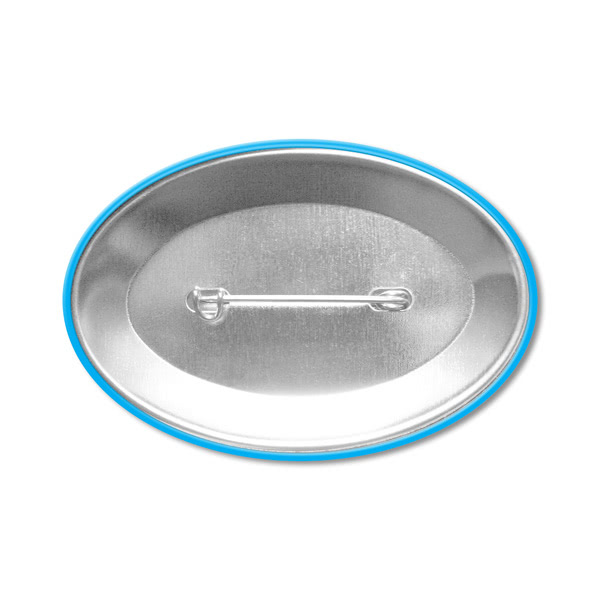 Our high quality personalized buttons are Made in Ohio, USA with fast turnaround time.
Enjoy free shipping with coupon code FREESHIP on orders over $25 shipped to the contiguous USA.
All of our custom buttons can be designed online in our free online tool, in any orientation. Upload your artwork and create custom pins in minutes.
Get free digital proofs to approve before you checkout when you design online.
Order Custom Buttons and choose from any of the 19 shapes and sizes above!