Campaign Buttons
Welcome to our Campaign Buttons category! Below you will find articles, posts, coupons or samples featuring Campaign Buttons. To see our latest content, visit Home.
Customize campaign button templates with your unique colors!
Our popular campaign button templates are free to customize with your own text, logos and even colors! All of our campaign button designs have been created in a way to let you set any colors you'd like on the various design elements. Match your existing campaign branding with our unique template designs to create a fantastic campaign button.
We currently offer 14 templates for campaign buttons. Choose your favorite template and you'll be redirected into our easy online tool. Select the background design to choose your own colors. You can also edit all the text to your liking. Some of our campaign button designs give you a spot for your logo or photo, and some are purely text based.
Check out the gif below featuring one of our most popular campaign button templates getting color changes in our customizer tool!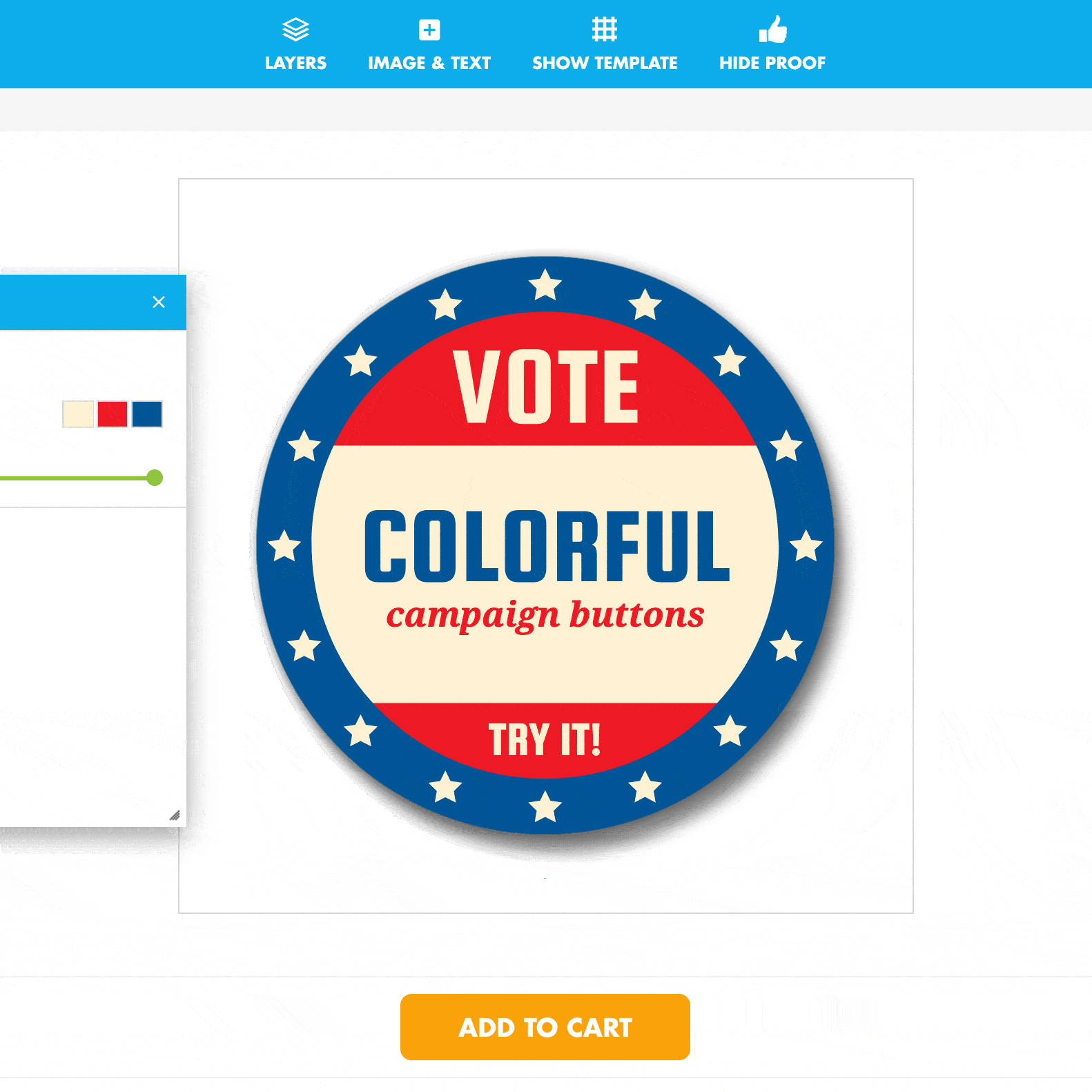 Campaign Button Designs added to online customizer tool
You can now find our popular campaign button designs right in our customizer tool by choosing "Add Image + Text" and then "Choose From Designs". In this menu you'll find our galleries of assets we have provided to make a successful custom button design. Choose your favorite design for your campaign buttons and edit the colors or add custom text or a photo to create a one of a kind campaign pin design.
You can use these campaign button designs on any of our custom promotional products, not just pin-back buttons! We offer a wide variety of custom merch that you can design online and when you do, you'll get an instant digital proof to approve before you checkout.
Give it a try:
Create Custom Products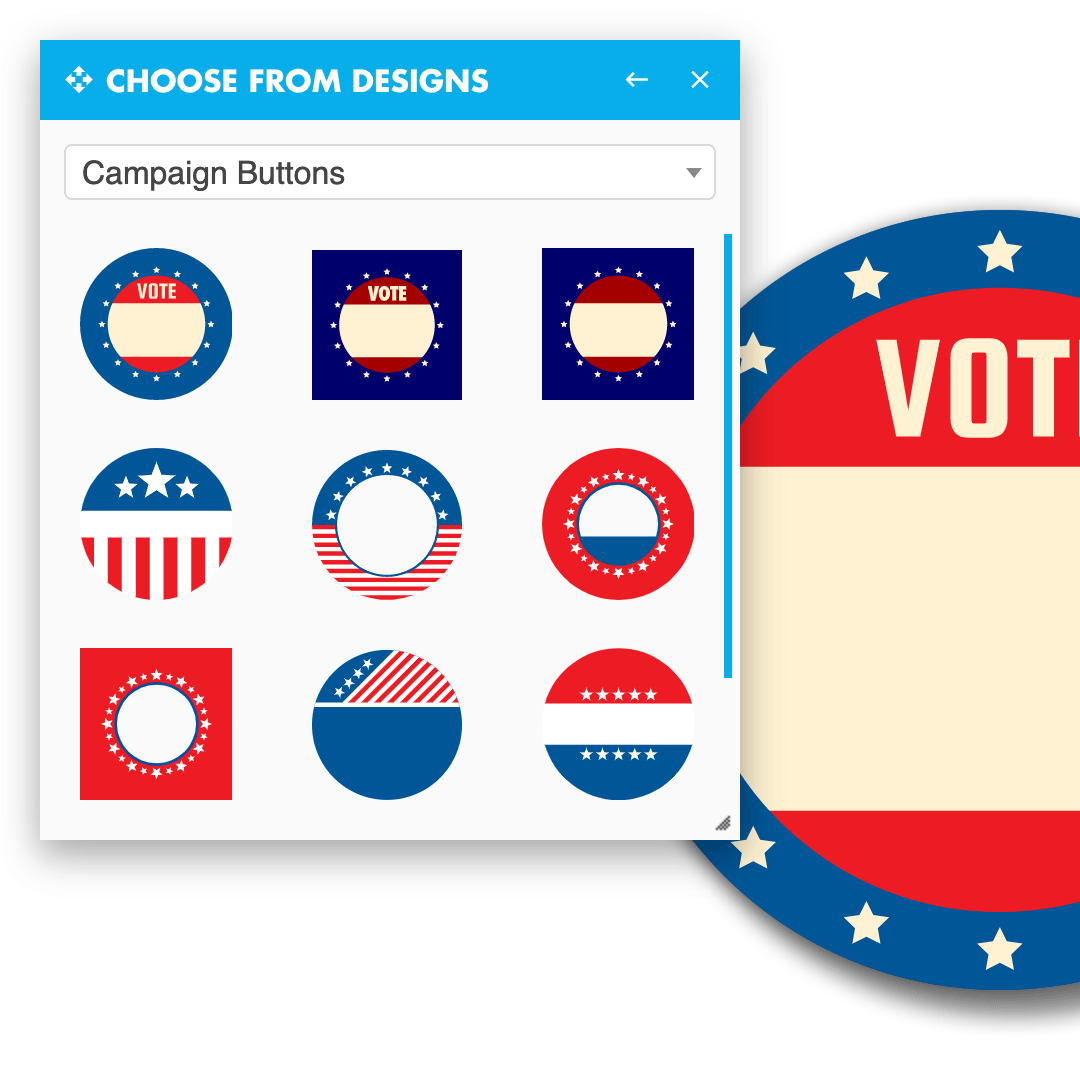 How much is that campaign button worth?
As political campaigns come and go, they leave a variety of custom merch in their wake. The most notorious and beloved of all is the humble campaign button. Traditionally, round pin-back buttons serve as the canvas for voters to promote their favorite politicians or political causes.
This election year is no different, as we've seen many campaign button designs pass through our facility including designs for many of the leading democratic primary campaigns.

With our shareable reorder links, we've noticed grassroots campaigners who will design campaign buttons with our free tool and easy to use campaign button templates. They will then share their design's unique bit.ly reorder link with their social media followers so they too can order and share the campaign button design.
This viral campaign button marketing is very effective for running a modern political campaign!
While antique relics for presidential campaigns of Kennedy, FDR or even Abraham Lincoln can fetch hundreds if not thousands of dollars at auction or on ebay, we believe that pin-back buttons provide the greatest value for the campaigns themselves.
Give your voters a viral keepsake to help spread the word. Order Custom Buttons at PureButtons, made with pride in Ohio USA!
Running for office? Customize your own Democrat Campaign Buttons
Running for office in the Democratic Party? We now offer designs for Democrat Campaign Buttons in our gallery of borders that let you design campaign buttons.
All of our campaign button designs feature customizable colors and text, so you can perfectly match your campaign's branding materials.
When you order promotional products from PureButtons, you are supporting an American small business. All of our custom promotional products are printed, assembled and shipped from our facility in Ohio.
Our campaign button designs are formatted to fit on any of our promotional products size 2.25″ Round or larger. We offer all of these designs on our excellent Fridge Magnets, Bottle Openers, Coasters, Pocket Mirrors, Christmas Ornaments, Clothing Magnets, Bulldog Clip Buttons and our 6″ Magnetic Easel.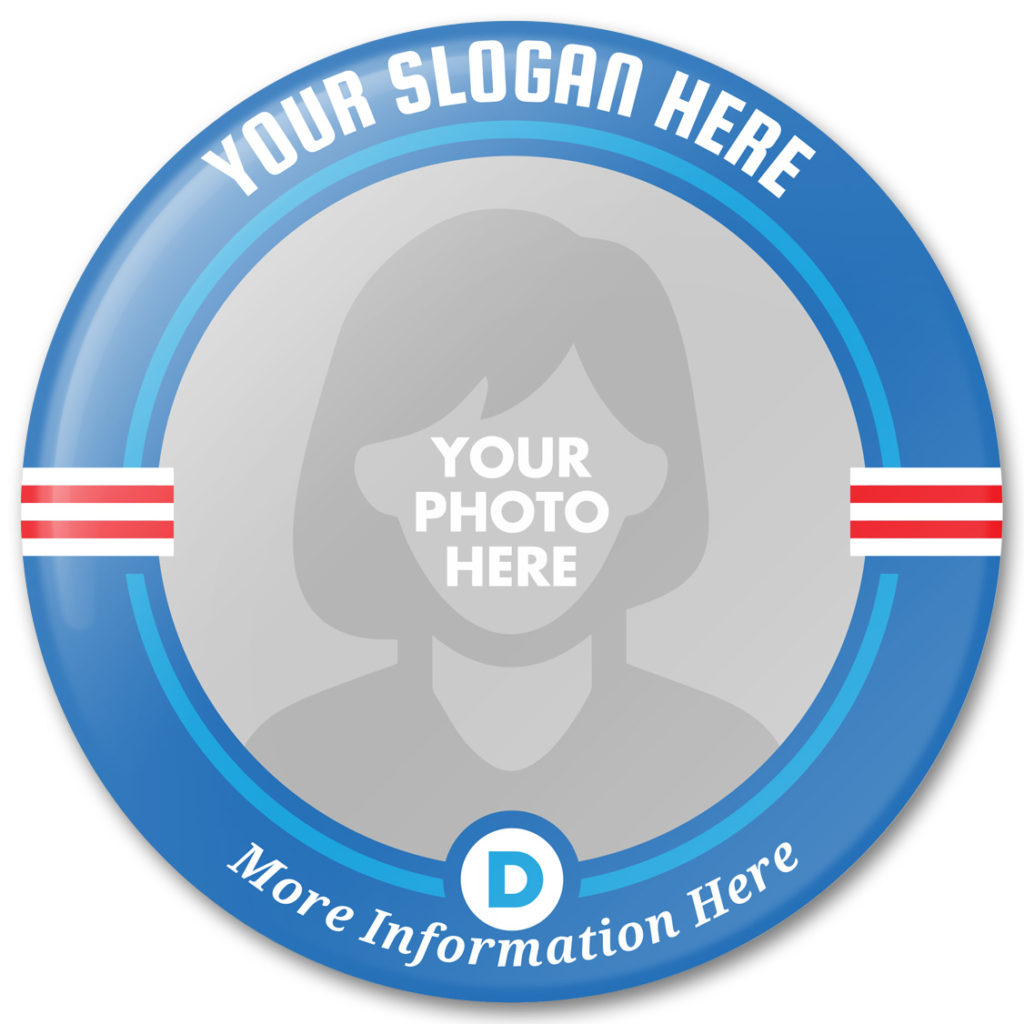 Republican Campaign Buttons Available Now!
If you are running a campaign as a Republican candidate, we have introduced a free new campaign button design for you to easily customize and order online fast. Our Republican Campaign Buttons design features an area for a portrait, and custom text in two locations.
We also offer twelve other campaign button designs for you to modify to your liking. All custom campaign button designs allow you to alter the colors and text of the design to match your exact campaign branding materials.
When you design campaign buttons on PureButtons, all of your campaign's promotional products by PureButtons are printed, assembled and shipped from our facility in Ohio, USA.
Choose PureButtons: the world's #1 manufacturer of Campaign Buttons!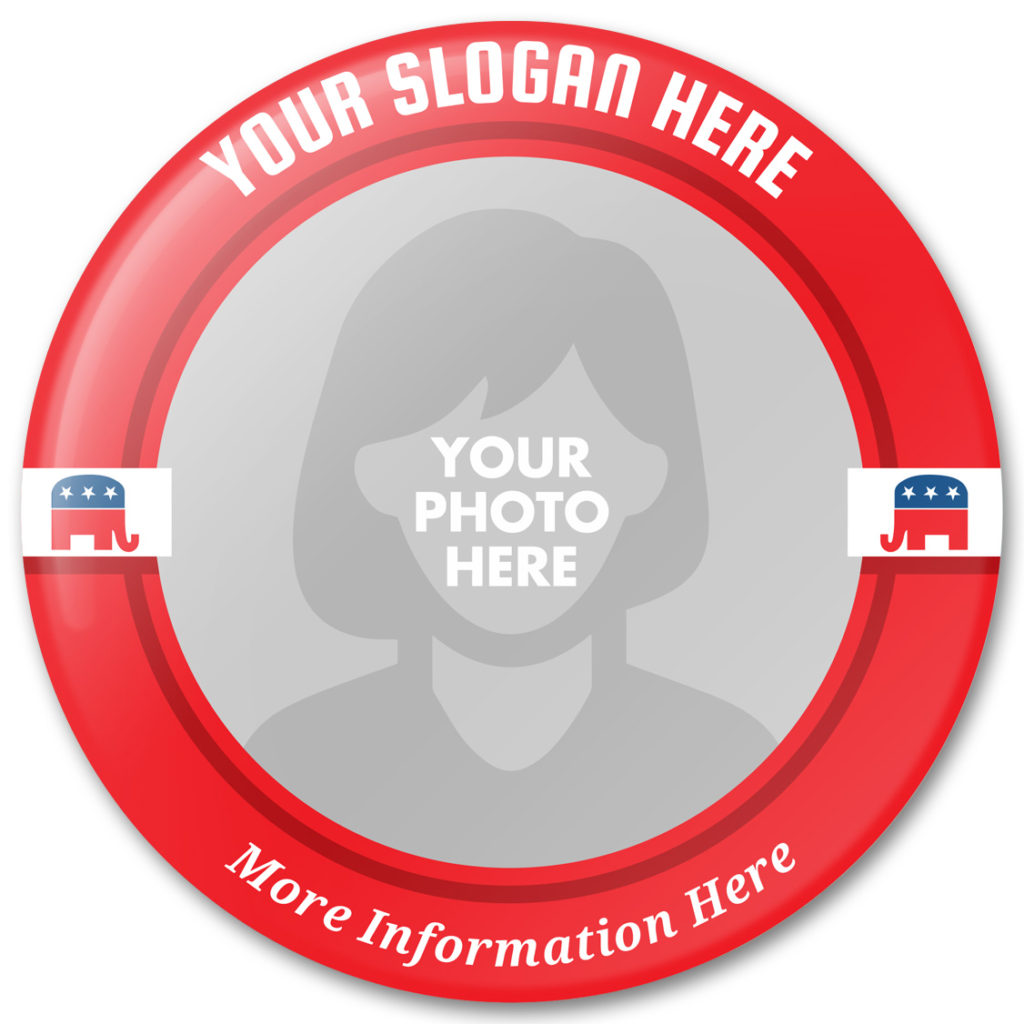 Call 800-710-2030