Custom Buttons Blog
Welcome to The Button Post by Pure Buttons! A blog where we discuss all things related to custom pin-back buttons and other custom promotional products that Pure Buttons offers. Stick around for coupons to score cheap pinback buttons, new button product announcements and more!
Our new square buttons!
Now that you are starting to see that we're offering more and more products, I should probably take a minute to show you our new square buttons These buttons are a great way to showcase your bands album artwork or anything else you can think of. Why not have a unique square button instead of the conventional round one? Choosing our new square button option is a great way to make your next button order stand out!
– Below you'll see some photos of our NEW square buttons.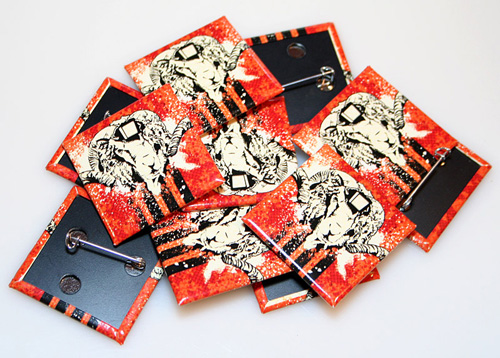 These are one of our Square Button samples we hand out in our button orders.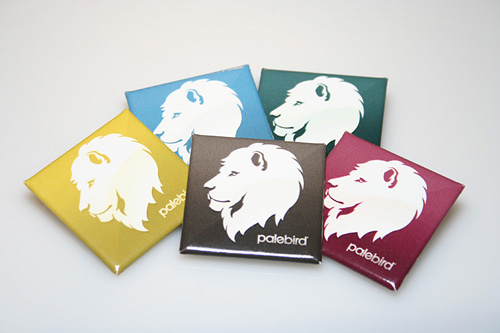 Showcasing our Square Buttons with gradient color backgrounds.
The square buttons we currently offer are 1.5″ square, 2″ Square, 3″ square and soon 2.5″ square. These seem to be the most popular size for this type of button, which is why we decided to produce these. I will be showcasing more examples of our square buttons in the next couple weeks. Keep checking back for more information.
We also offer several sizes of square fridge magnets and square clothing magnets.
Interested in placing an order? Please contact us at info@purebuttons.com and title the email: Square Buttons. Stay tuned for an upcoming post on how to promote and sell more square buttons.
Top 5 ways to increase sales with our button packaging
The customer is king/queen. We have all heard this before. It's up to you, our customer, to prove it so. With these five tips you will be a lot closer to proving that you are on top of industry trends and technologies for the button packaging industry.
1) Understand your customers. The problem today is that one package may not satisfy the needs and requirements of all your customers. There are numerous niche markets out there that require specialized packaging. So if you are targeting one of these niche markets, we recommend you do your research first. What works for one target market may not work for another.
2) Find out what button package attributes appeal to the customers you are targeting. If it's the high school kid that is into your band, make sure your package employs the characteristics that appeal to your target market.
3) Understand how your button packs will be used. This is important! Will your customers view this as a gateway to purchase more products or will this be all they purchase? The idea behind this is for your button packs to be a gateway purchase. We want your customers to buy more based on what they see. Button packs are a great way to help achieve this standard.
4) Know what your customers want. This is extremely important. Sometimes it might take that bit of extra pocket change to have a designer come up with a great looking button pack. Weigh these costs about before going about it though. Throw some rough numbers together on how many more button packs you think you'll sell because of the design. This could be more then you think. Remember a lot of times these are "gateway" products. These will help bring in customers to spend more money. Example: A friend buys a cool button over at Hot Topic (TM) and I see it and say to myself "I have to have that button". I then go to Hot Topic (TM) looking for that button and stumble upon some other things that interest me. Now, I went into the store only to purchase a $1.75 item and ended up spending $50.00 in the store because I found a couple of other items I found interesting.
5) Stay tuned into our site for our new button packaging options. We continuously offer creative new products that  have the advantage in the marketing world. Several years ago PureButtons took the button industry by storm. Now we'd like to continue to do the same which is why we are offering our new retail ready button packaging. Please look for innovative ways to combine our button packaging with other custom merch options.
A quick note, the customer depends upon you, the provider, as a resource. They expect you to keep up with packaging trends and provide the latest and greatest designs.
We look forward to seeing what you can come up with. Any new unique packaging ideas we see from our customers we will post here on our blog. Check back often!
Be sure to check out our Custom Button Packaging page.
The Button Post on WPCandy.com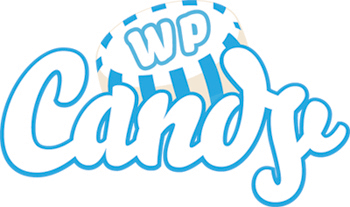 I just got an AIM message last night from Michael Castilla creator and co-founder over at WPCandy.com. I was working a late night shift trying to stay on AIM to answer any PureButtons customer service messages, when I get an AIM message saying "Hey, I featured your site" which immediately intrigued me to check their site out.
After spending about an hour chatting with Michael, I decided to blog about his site. I found myself spending a half hour just looking through his website at all the different blog themes. I was extremely impressed with what he had already found. I even put my two cents in on what blogs he should feature next. WPCandy is great looking website and would advise anyone who is a word press junky to check it out.
I've posted a few screen shots below for you to check out.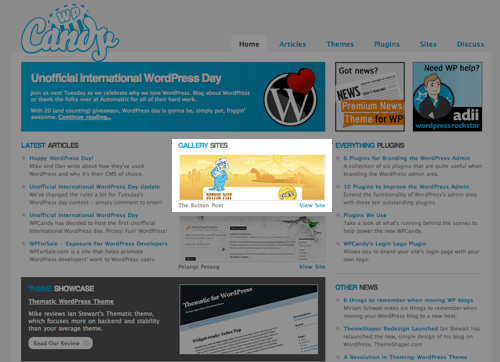 As you can see The Button Post is featured on the home page.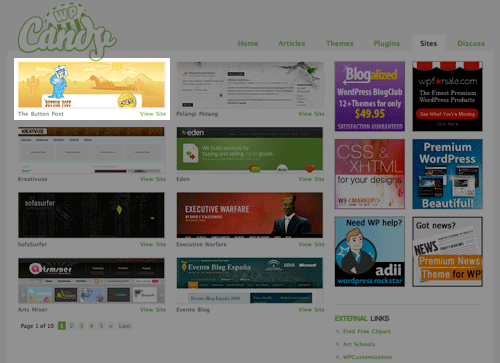 As of today, we are the #1 featured website
WPCandy.com is run by some young guns. Don't let that fool you though, these guys know what they are doing!
About WPCandy
– – – – – – – – – – – – – – – – – – – – – – – – – – – – – – – – – – – – – – – – – – – – – – – – – – – – – – – – – – – – – – – –
WPCandy is a blog and community that focuses on everything about WordPress, from the latest themes and plugins to tutorials and tips to interviews and contests. They also have a gallery section where they feature the sexiest WordPress powered sites.
WPCandy was created on October 1st, 2007, by Michael Castilla and Michael Cromarty, both WordPress lovers and gurus. Since the launch, the site has gone through 2 redesigns, tons of traffic, and a whole lot of fun. The site is currently run by Michael Castilla, Dan Philibin, and a few other people who help us out here and there.

Michael is the creator and the ideas man of WPCandy. He's a 16 year old student, currently living in Miami, Florida, who likes hanging out at the beach and chillin' with his buds. He's passionate about WordPress and using it to make the Web a better place.

Dan is the co-creator and development man of WPCandy. He's a self-taught web developer who's been on the web development scene for a few years, coding over 100 wordpress-powered sites, including the latest version of WPCandy.
– – – – – – – – – – – – – – – – – – – – – – – – – – – – – – – – – – – – – – – – – – – – – – – – – – – – – – – – –
Keep up the great work guys! It's always great to see some young talent out there. Be sure to visit WPCandy!
The fronts & backs of our buttons.
I've decided to post a quick blog about the fronts and backs of our buttons. I've taken a quick photo to show you the differences between each button size. As you can see below the backs of the buttons vary slightly between each size.
Take a look at our product backs gallery to see what the back of all of our custom products look like.
All of our button parts are made 100% in the U.S.A. and are sweat shop free. We order our blank button parts from two of the largest manufactures in the U.S. Once the blank button parts are shipped to us, we then inventory them and then manufacture ALL of our orders in house within 7 – 10 business days.
Interested in placing an order with us? Why not order from the best Custom Button supplier in the industry!
Do you need to request samples? Please send an email to: info@purebuttons.com with your complete mailing address. We can have these shipped the same day if requested before 4pm EST.
Thanks for choosing PureButtons.
Answers to your Button Packaging questions
With our inbox blowing up with button packaging emails, I thought this would be an appropriate place to answer some of our button packaging questions. I hope this helps everyone.
Do you offer 1″ button packaging?
YES! Take a look at all of our custom button pack offerings on our custom button packs order page.
What size buttons do you currently offer packaging for?
We now offer a button pack that features every size and shape we offer.
Does your button packaging pricing include the cost of the buttons?
Yes, The pricing you see in our emails includes the complete button pack with buttons, a backer card and fully assembled.  
Do you offer retail wrapping or bagging?
Yes we do offer button pack baggging. This gives your pack a retail ready look. It is an affordable upgrade during checkout.
These are some of our most frequently asked questions. I hope this has helped answer your questions. Want to see some examples of our button packaging? Head over to our Custom Button Packaging page.
Call 800-710-2030