Custom Buttons Blog
Welcome to The Button Post by Pure Buttons! A blog where we discuss all things related to custom pin-back buttons and other custom promotional products that Pure Buttons offers. Stick around for coupons to score cheap pinback buttons, new button product announcements and more!
PureButtons is now on FaceBook
With the boom of another social networking site called FaceBook, we've decided to jump on the bandwagon and create a profile for our PureButtons customers to follow.
You can join our group and become a PureButtons fan on FaceBook. We encourage you to post your testimonials on our page so the rest of our FaceBook community can see your thoughts.
What others think of PureButtons…
I've started saving some of our recent customer testimonials and I thought it might be a good idea to start showing some of them off. We'll keep you posted often on what others are saying about PureButtons.
Below are a few recent testimonials.
– – – – – – – – – – – – – – – – – – – – – – – – – – – – – – – – – – – – – – – – – – – – – – – – – – – – – – – – – – – – – – – – – – – – – – –
You guys are fantastic. I would've put in a bigger order initially, but frankly, I couldn't believe you could deliver such high-quality buttons for the price advertised. Your competitors are easily twice the cost, with some pushing small buttons at a dollar a piece. But when the first batch arrived, they were gorgeous. And popular. Everyone wanted some.
You've got a regular customer now.
– – – – – – – – – – – – – – – – – – – – – – – – – – – – – – – – – – – – – – – – – – – – – – – – – – – – – – – – – – – – – – – – – – – – – – –
You guys are GREAT!!  I ordered my buttons yesterday around noon and they arrived here before noon today!  Wow!  I will highly recommend you to anyone I know who needs buttons!  They look great and you gave us awesome service!
Wow!
– – – – – – – – – – – – – – – – – – – – – – – – – – – – – – – – – – – – – – – – – – – – – – – – – – – – – – – – – – – – – – – – – – – – – – –
We thoroughly enjoy working with each and every one of you. Be sure to check us out @ PureButtons.com – We specialize in Custom Buttons!
You can now read customer reviews on every product we sell. We have unique reviews for each size on our website. If you have purchased custom promotional products from us in the past, feel free to find your product and leave a review.
Promotional Buttons – Another use for Buttons
Chris, from Print Brigade just sent me an email this morning thanking me for the custom buttons we just did for him. These buttons were for his painting show he just had this past Saturday. The buttons turned out great and it looks like they were a hit!
Promotional buttons can always add more flair to your events. Which is why buttons can be such successful promotional items.
Be sure to check out his blog! Thanks Chris for the email! It's always great seeing our buttons that we manufactured put to good use!
Interview with Aaron Sechrist (OkPants Design)
You have an interesting company name. How did you come up with it?
If by 'interesting', you mean 'weird', the short of it goes like this. I just wanted a simple, catchy URL people could easily remember, unfortunately 'myspace' and 'google' were already taken.
OKPANTS.com
was a little further down my list. Fortunately, it's pretty short, it incorporated my nickname Pants, and I also happen to always feel ok; so it all works out in the end. I'm kind of amazed none of my clients get weirded out about it.
When did you start designing?
I have been about drawing since I was able to hold a crayon in my hand. Growing up, I wanted to work in comic books and animation. However when I got to art school (Cleveland Institute of Art) I started playing around with photoshop, illustrator and flash, and my focus shifted towards design. I've been doing design for print & web professionally/obsessively ever since, constantly trying to find places to fit those drawings in as well. Maybe one day I'll get to do that X-Men cover.
What motivates you to come up with new exciting designs?
Old boring designs. Good ones too. Knowing there's someone else out there that's going to do it better if I don't.


If you could have any super power, what would it be and why?
I would say flight definitely first, but what kid doesn't want a nice shiny adamantium skeleton and claws with a heaping helping of mutant healing powers. Although every time I see a commercial for "The Incredible Hulk" I think to myself how much being able to tear a Hyundai in half would rule. I don't know, this is like asking me my favorite kind of pizza. Let's move on.
How would you describe yourself in 5 words?
(In no order) Wide. Happy. Jewish. Impatient. Grateful.
What would your thoughts be for designing buttons? Any tips?
I really have no profound slabs of wisdom on this one. Buttons are a great opportunity to get a potent nugget of great design across in a very small space. Don't waste that opportunity. Get to the point and have fun with it.


What has been your favorite piece of artwork that you designed?
I don't know if I have ONE favorite, but a concert poster for Gym Class Heroes I did a couple years ago sticks with me. That poster sums up my point of view pretty well, I think. Also a mixtape cover I did for J Dilla, Busta Rhymes and Mick Boogie I did not too long ago; maybe more so because of the talent involved and my admiration for J Dilla. There are a lot of projects I've been fortunate to do with people I really admire, but THAT was a labor of love.
Who are some of your favorite designers?
Whew…I'll try to keep it down to a few: Andy Warhol, Shepard Fairey, Sam Keith and Chris Bachalo (amongst an obscenely long list of my favorite comic book artists). Frank Kozik and Derek Hess are giant influences on me, especially earlier on. Having gotten to work with Derek on some projects was a big thing for me…still is. I'd feel like a jerk to not namedrop the dudes at Go Media for educating young designers, doing solid work, and thriving in my home (Cleveland).
You've had experience designing button packs with us. Any tips on designing a unique button pack?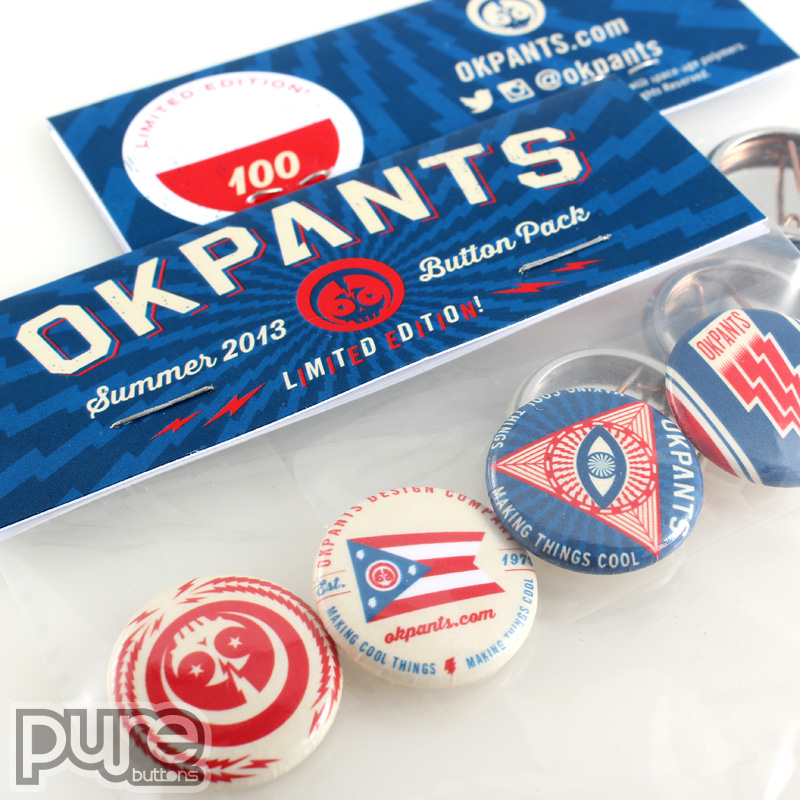 It's definitely important for designers to strive for something that's their own, but I don't know quite how to explain to someone else how to make something unique. For me, the setup of the packs reminded me of action figure packaging from when I was a kid, so I came at it from that angle, especially with my 'Space Race' pack. So I guess my advice would be to take a look at what's out there, find what gets you going, and just make the thing RULE. (in other words, don't make it suck.)
You've worked with some large clients. Who has been a client of yours that let you have complete control for a design project?

Mick Boogie & Terry Urban are favorites of mine for trusting me run wild with whatever I feel like. They both have a good eye for good design, but I believe the extent of their direction has been to "DO YOU". Their world was pretty different to me when I started working on their mixtapes and marketing, but that's what I love so much about the pieces I produce for them…it's an opportunity to do something different.That, and they are cool dudes to the max.Sole Collector Magazine also gave me an amazing amount of latitude as well, especially considering the project was a 90-page special layout for smack dab in the middle of their magazine. I can't stress enough that I've been very lucky to have a pretty diverse range of people that like what I do, that allow me to really let loose with my instincts and concepts with their brands and projects.
Any words of encouragement for new and upcoming designers?
I feel like I'm a new designer and I know I still have a whole bunch to prove, so that's a question I feel kinda ill-equipped to answer. I would say DO WORK. (Thanks Big.) There is TONS more to it than that, but like anything else to me, at some point you have to just jump in and do it. Doesn't matter if it starts in a sketchbook, a napkin, or on a wacom tablet. Learn from the masters and learn from the losers. And don't be a crybaby.
Thanks for taking the time to interview with us Aaron! Keep up the great work.
Please check Aaron's web site out
OkPants Design.
New Promo Material – Button Packaging
I'd like to thank all the designers who helped us create some new promotional button packs. You gave us something extremely unique. You can view a sneak peak photo below of some of the ones we had a chance to print. We look forward to making your next custom button / button packaging order happen.
We gave our designers the ability to run free with our logo and turn it into something that would flow with the button pack design. And FLOW they did!
If you are interested in our custom button packaging please visit us @ PureButtons.com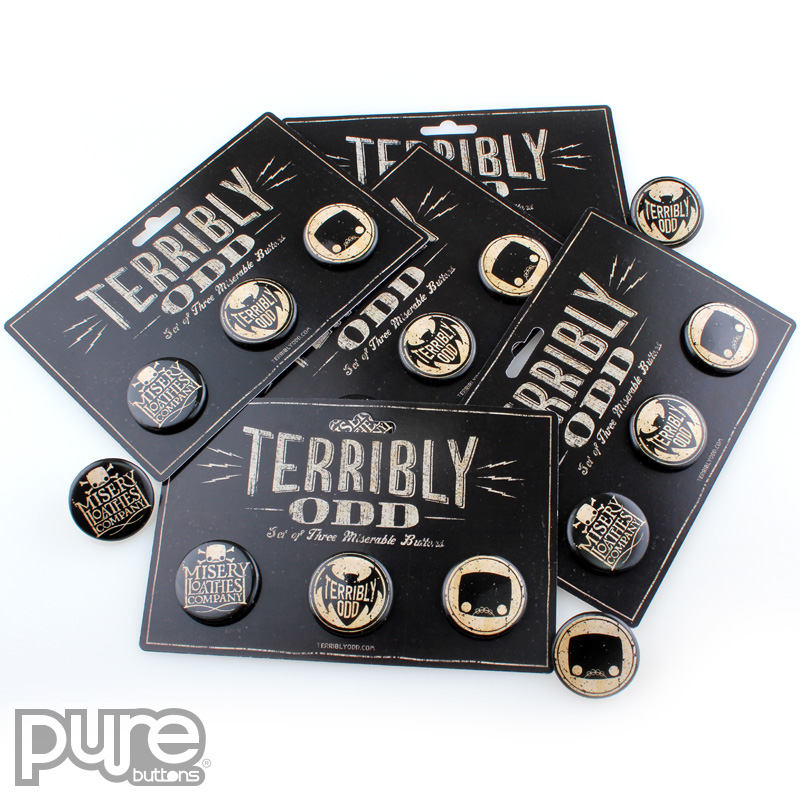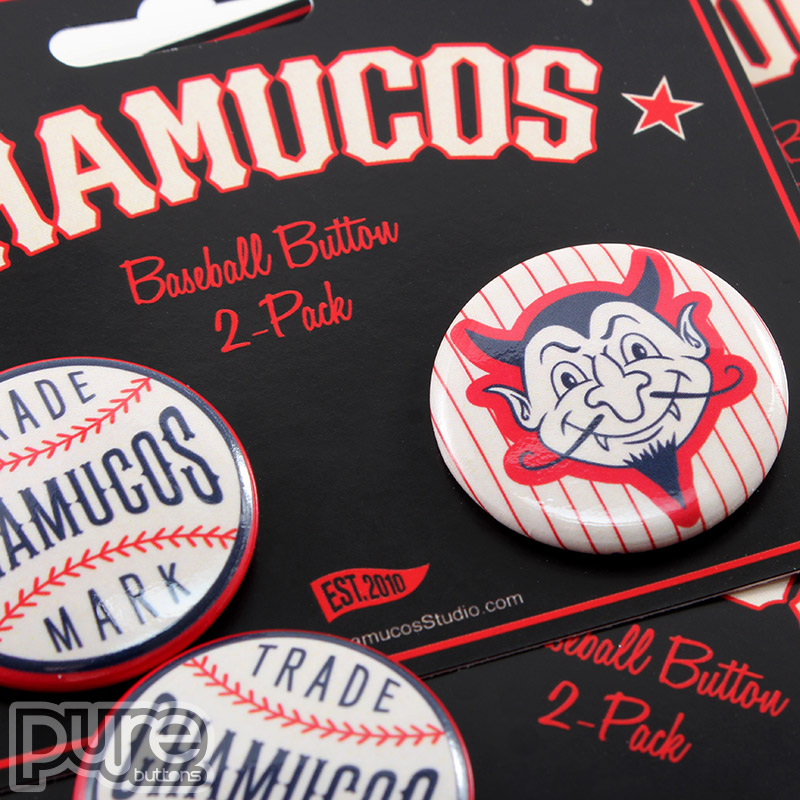 Call 800-710-2030