Custom Buttons Blog
Welcome to The Button Post by Pure Buttons! A blog where we discuss all things related to custom pin-back buttons and other custom promotional products that Pure Buttons offers. Stick around for coupons to score cheap pinback buttons, new button product announcements and more!
Promotional buttons one of the best forms of advertising
Promotional buttons, in fact, are an excellent form of advertising. Take a trip down memory lane, and try to think of how old you were when you saw your first button. What kind of button was it? Did it make a lasting impression on you? What was so special about it?
The first button was used in the 1896 for an election campaign. Since that time, buttons have been used in virtually every campaign. Why is that?
They are cheap

They stand out

They can effectively deliver a message
Buttons have been around for the a long time and continue to thrive today. Band buttons are extremely popular today. Fundraising buttons, promotional/advertising buttons, and still campaign buttons also thrive.
For this post we will focus on promotional buttons or advertising buttons. In marketing, the key to a successful campaign is Return On Investment (ROI). Basically, that means how much did you get for what you paid. If we look back to why buttons have been used in virtually every campaign since 1896, they are cheap. If we break down the ROI formula (how much you got-how much it cost)/(how much it cost)=(ROI), it will better explain our next point. PureButtons prices for 50 one(1) inch buttons is $10.00 or $.20/button. Basically, any sort of return, is going to be positive because they are so cheap.
Lets look at point 2, they stand out. This is one of the main reasons why political campaigns have used buttons for so long. When you see someone walking down the street, and something is attached to their shirt or hat. You pay attention to it, because it is out of the ordinary. Hypothetically, one person, who wears their button everyday, is walking down the street and runs into 3 people. One of the 3 people, sees the button and wants to buy one to wear every day. And this trend continues. In 30 days, 900 people are wearing that button. And if you selling that button for $.75, you profited $495, just in buttons. Not to mention, any other sales you made by people seeing you button.
As you can see, promotional buttons are very effective. In more posts to come, we will show you how to make better promotional buttons, and some tips on using you advertising buttons effectively.
The inside look on our Custom Button Packaging!
I've gone ahead and shot a few photos to show you what goes on during our button packaging process. It's a labor of love and we do this for you! This is a great way to make your next order of buttons stand out.
Below I've showcased one of our jobs we are in the process of completing this week. Our client ordered the 4 Button Pack with 1.25″ Buttons.
– – – – – – – – – – – – – – – – – – – – – – – – – – – – – – – – – – – – – – – – – – – – – – – – – – – – – – – – – – – – – – – – – – – – – – –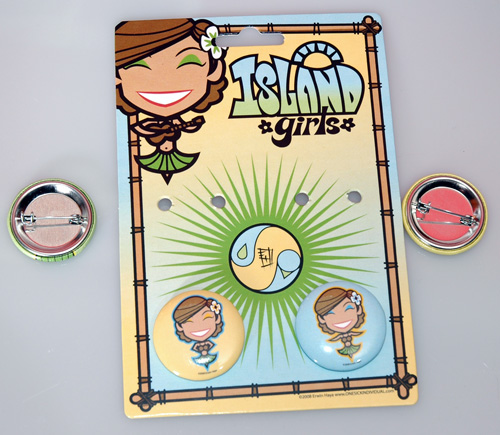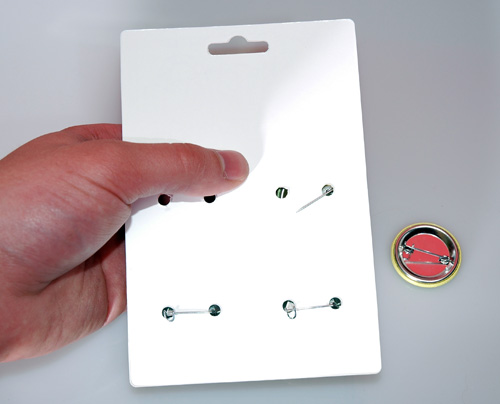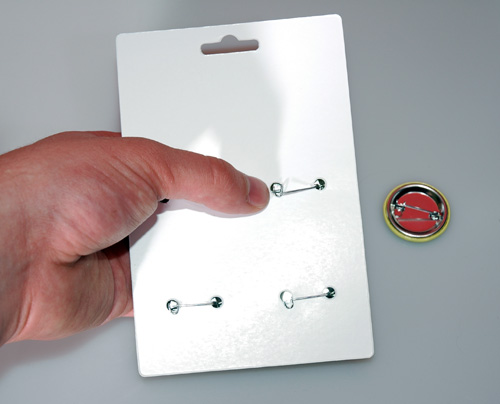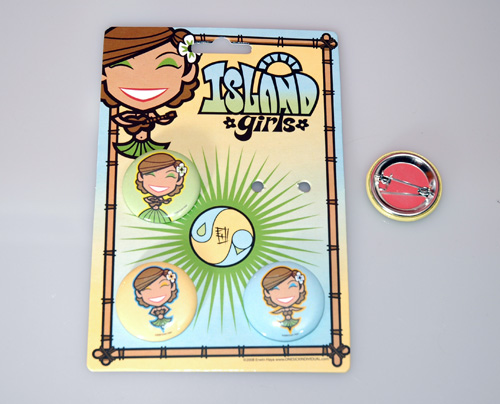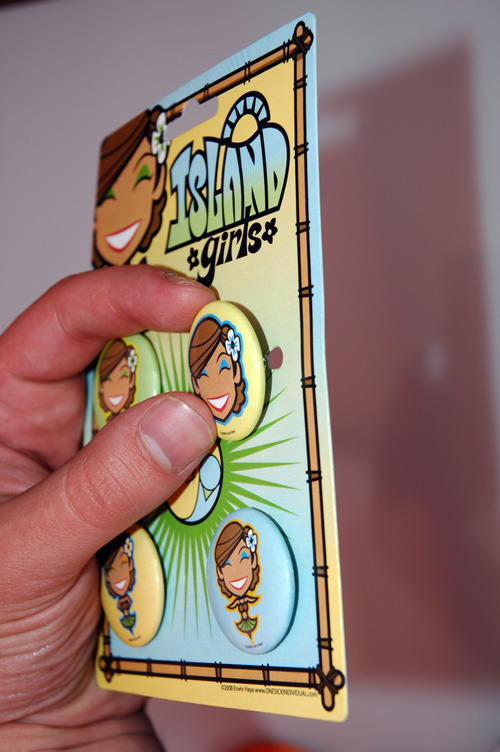 As you can see in the photos above this is a job that requires hands on assembly and there isn't a machine to do this for us.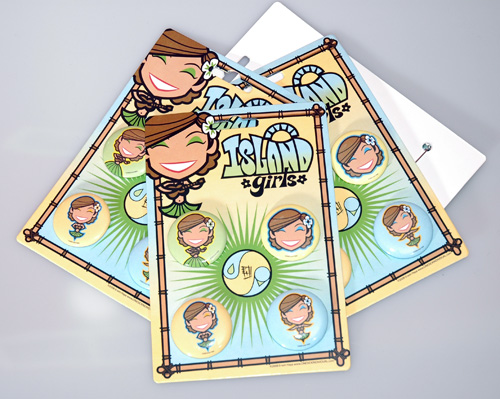 The finished product!
I'd like to thank Erwin for coming up with a great looking button pack!
– – – – – – – – – – – – – – – – – – – – – – – – – – – – – – – – – – – – – – – – – – – – – – – – – – – – – – – – – – – – – – – – – – – – – – –
If you are interested in obtaining custom button packs, check out purebuttons.com for our custom button pack pricing.
I Can Has Cheez Burger Buttons?
Does LOLCats sound familiar? Well, that's what they say over at I Can Has Cheez Burger! I've decided to post a sneak peak button photo.
Be sure to visit the site https://icanhas.cheezburger.com. Click the link to the left with caution, this site may cause laughter.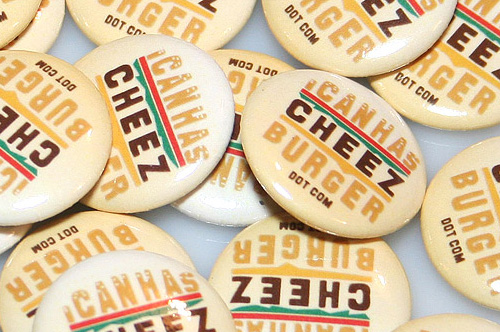 I Can Has Cheez Burger Buttons. We all want some!
The Fronts & Backs of our Button Packaging
You probably are asking yourself, How do you keep the buttons from falling off of the button packs? The answer is simple, we print your backer cards then die cut them using a traditional die cutting method. As you can see below I've showcased a photo of each type of button packaging option we currently offer. You'll be able to see below how the buttons are attached to the card just by glancing at the photos. I can assure you that your buttons will not fall off of our packs. Just take a look for yourself.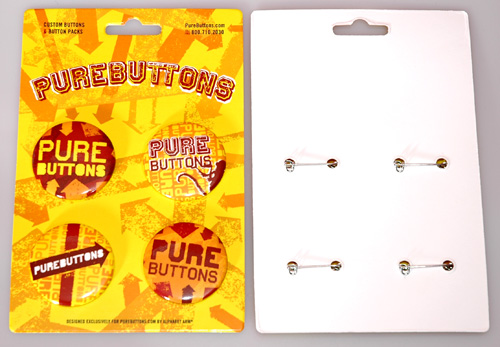 A photo of our 4 button pack. (This button pack is shown with 1.5″ buttons)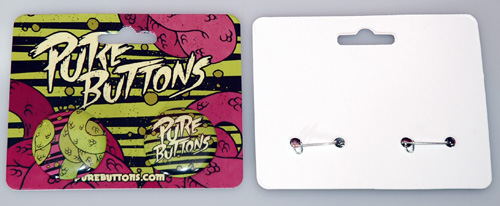 A photo of our 2 button pack. (This button pack is shown with 1.25″ buttons)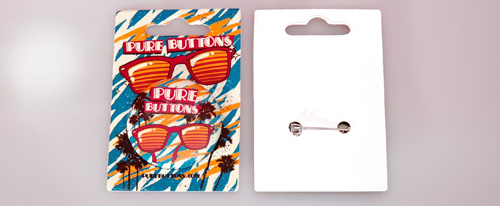 A photo of our single button pack. (This button pack is shown with a 1.5″ button)
For now, what you see is what we currently offer. We can not alter the amount of buttons per card or remove the retail hang hole. All of our backer cards are printed on 12pt Gloss Card Stock. If what you see is something that interests you, please go ahead and head over to our custom button packaging page.
We plan on launching many more styles and finishing options in the future.
A closer look at our Custom Zipper Pull Buttons
Here is a closer look at our zipper pulls. As you can see these would just clip on to any zipper and then just hang down. These are definitely a great new unique product we are now offering and are only available in the 1″ button size. These come fully assembled just like you see in the photo below.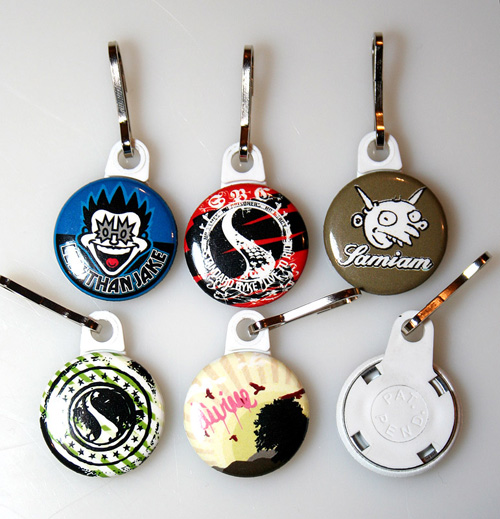 Some featured clients shown here. I tried to pull some examples of great colorful buttons.
I will keep featuring more photos throughout the course of time. Keep checking back daily for more updates.
Call 800-710-2030