PureButtons Testimonials
Welcome to our PureButtons Testimonials category! Below you will find articles, posts, coupons or samples featuring PureButtons Testimonials. To see our latest content, visit Home.
New Youtube Review of Custom Buttons by PureButtons
Youtuber Collector MMA recently posted a video review of some great fundraiser custom buttons he designed for his son's jiu jitsu and wrestling training camps. The video also shows several other custom button designs and a custom button pack that he has ordered in previous years. This youtuber has been a loyal PureButtons customer for over 8 years! Thanks for the review!
Update: Unfortunately this Youtube channel was deleted / video removed.
SolarWinds
Julie from SolarWinds sent us feedback from Cisco Live, along with a few pictures from the event.
"I wanted to let you know that all of the buttons arrived at Cisco Live and they were a huge hit with our booth visitors! Thanks so much for making it happen on a short timeline.
Thanks again!"
Julie
Customer Testimonial!
I just got my buttons. They look fantastic and i just absolutely love them! Thank you so much!
–Yarelis Cabrera
You're welcome Yarelis!
Feedback Requested! Review your order.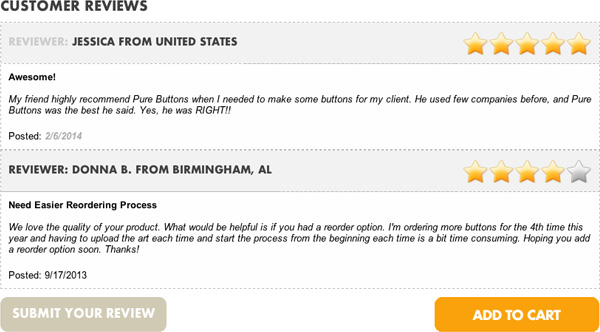 Our website has a handy review feature for each product type and shape. These reviews help new customers understand the benefits of each product, as well as information on our customer service and quality.
If you've ordered from us recently, we'd love a review! It's easy, just find the product you purchased on our site, and leave a quick review about the product and service you received at PureButtons.
We appreciate your time and thank you for choosing PureButtons!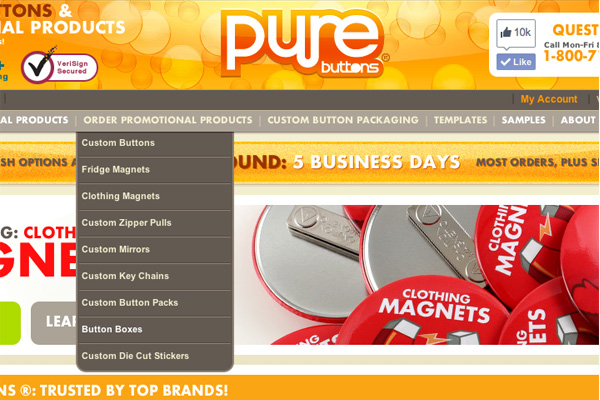 1. Select your product from the 'Order' Menu.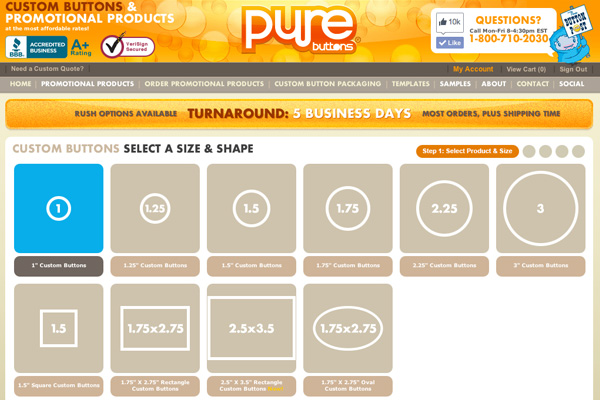 2. Select the specific size you ordered.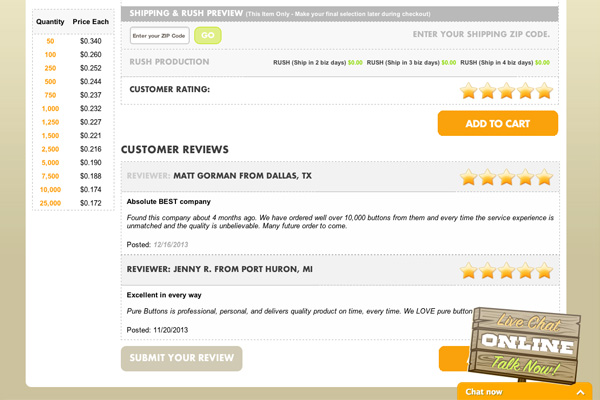 3. Find the reviews on the bottom of the page and click the "Submit Your Review" button.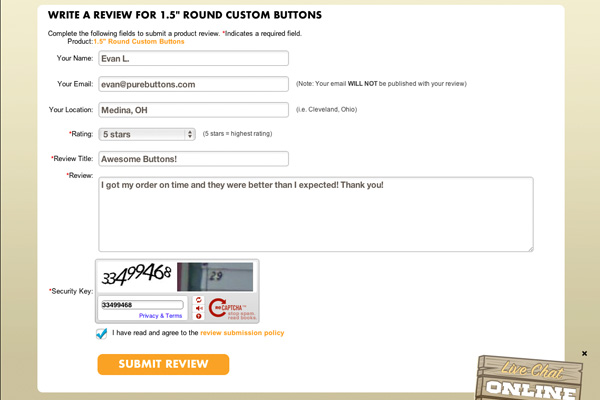 4. Leave your review. Done!
We hope to have many reviews to help customers read real reactions to our products and your input not only helps this happen, but you can also effect change by requesting new products, features, or ideas. Thanks for your input!
Happy Custom Buttons Customer!
"All we can say is WOW! We just received our first order from Pure Buttons and are blown away. We have been paying about FOUR TIMES the price for a button that doesn't even compare in quality to these. Exact same size and exact same logo; no changes whatsoever. I happened to find Pure Buttons one evening as I was growling at having to pay a ridculous amount of money for 40-some buttons. I did a search just to see if I could find anyone that could come in just a little lower and that's when I found YOU! And these are AMAZING!
Our last company always put up a fuss about the logo quality, etc, which you never did – and the quality is about a hundred times better! The lettering is crisper and the color is much truer – and they got here FAST!. Best of all, your prices are fantastic and literally unbeatable in the marketplace.
On behalf of Widows Wear Stilettos, Inc., THANK YOU to EVERYONE for such outstanding work – you have our future business wrapped up and we cannot wait to use you again! "
In gratitude,
Carole Brody Fleet, Author / CEO, Widows Wear Stilettos, Inc.
Call 800-710-2030