Coronavirus Buttons
Welcome to our Coronavirus Buttons category! Below you will find articles, posts, coupons or samples featuring Coronavirus Buttons. To see our latest content, visit Home.
Covid-19 Vaccine Buttons En Español
We are pleased to announce that many of our new covid-19 vaccine buttons are available with Spanish translations. You can order one button or get huge bulk discounts with larger quantities.
We also now offer these buttons as clothing magnets. These clothing magnets use high powered neodymium magnets to attach to clothing instead of our traditional pin-back buttons.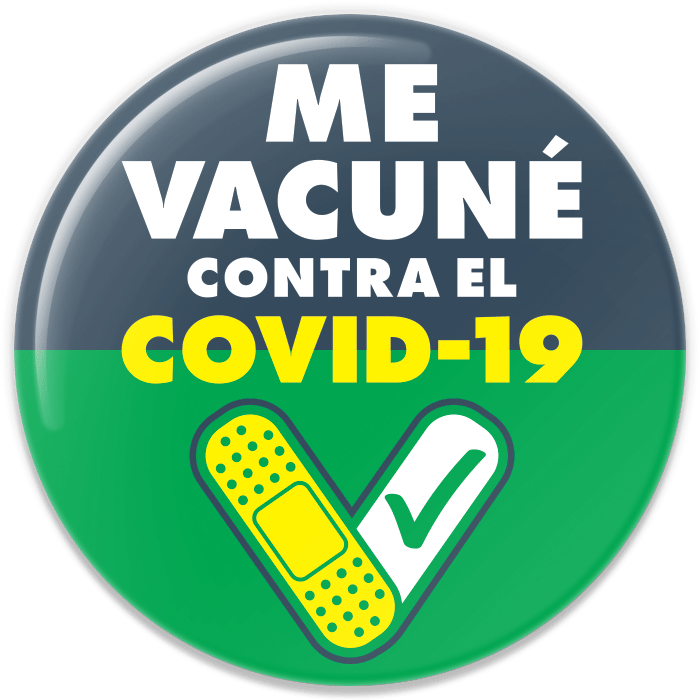 Me Vacuné Contra El COVID-19 Button is available now in two sizes. 1.5″ wide and 2.25″ wide.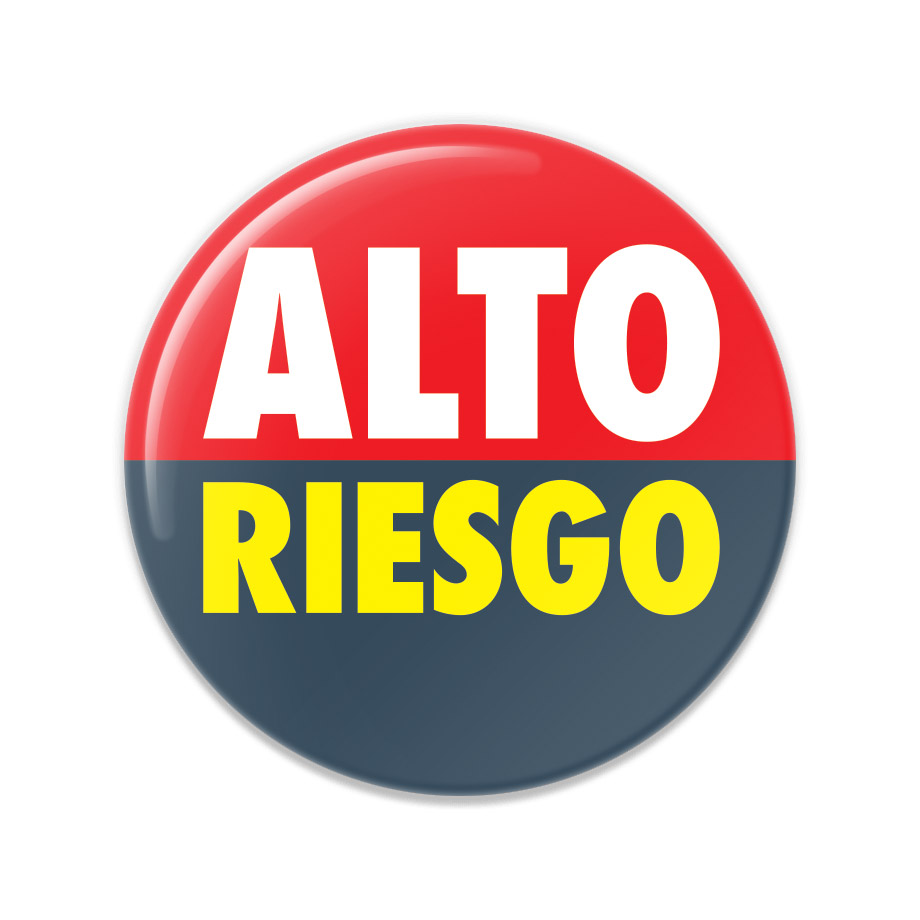 Our High Risk button is available translated as our Alto Riesgo Button.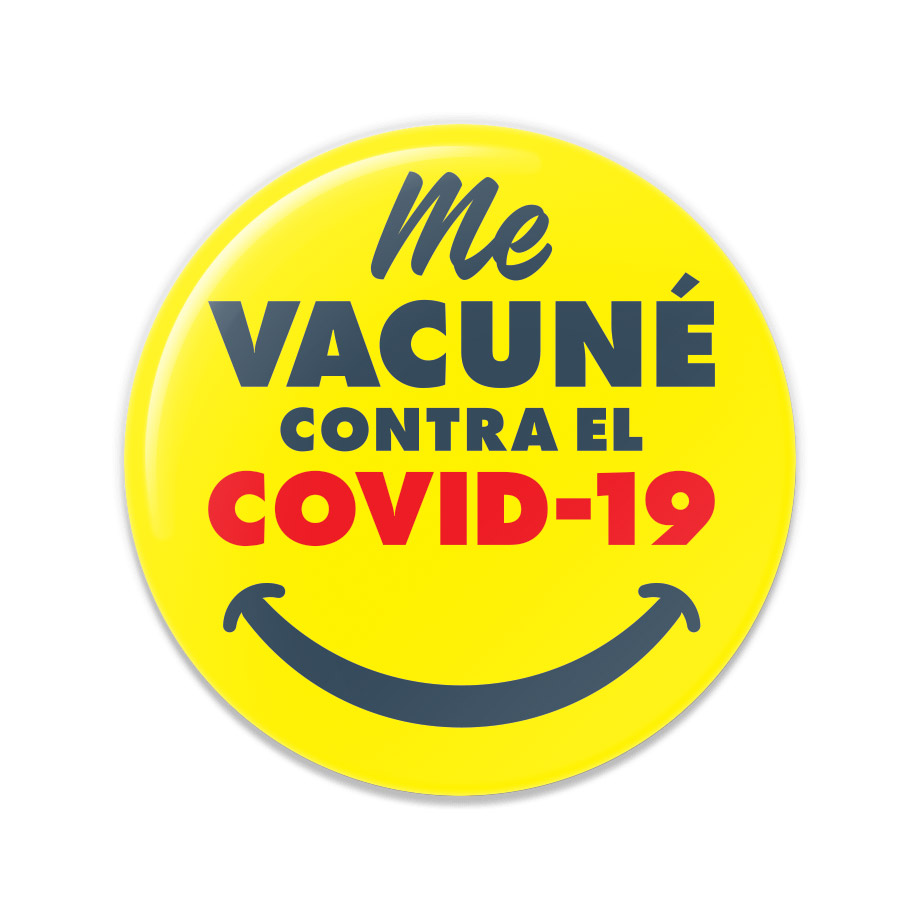 Our most popular smiley face design is available translated Me Vacuné Contra El COVID-19 Smiley Button.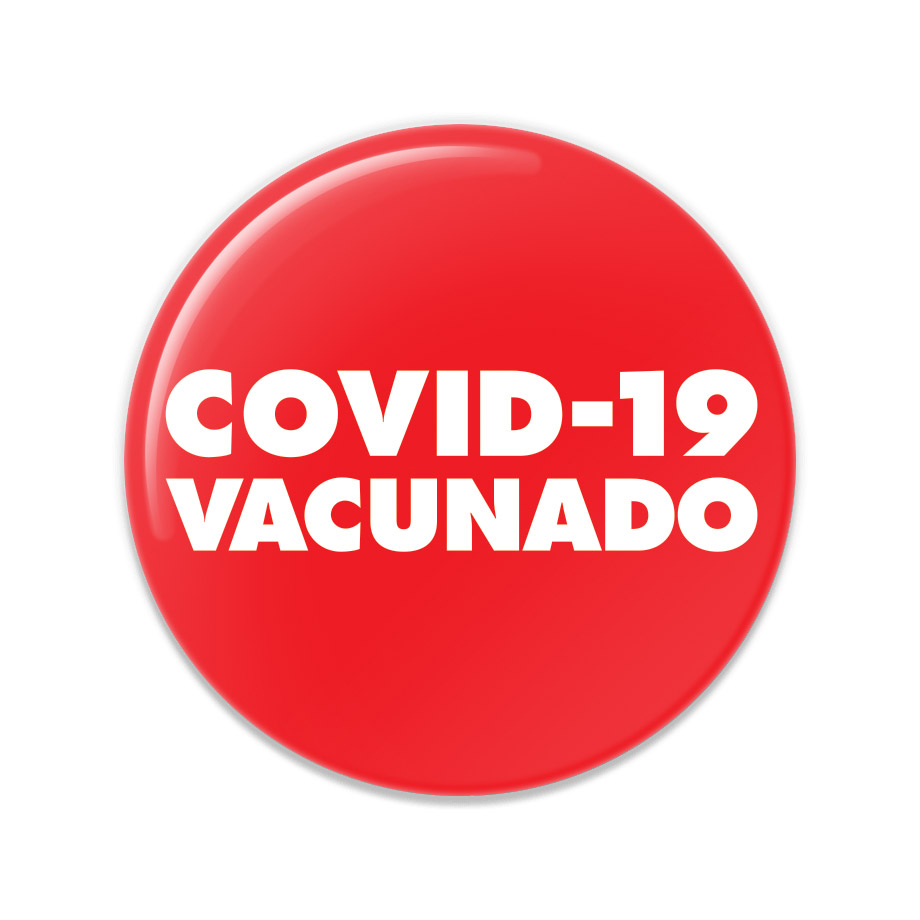 Our straight forward COVID-19 Vacunado Button grabs attention!
Two new Covid Vax Button Designs
We are pleased to announce two brand new COVID-19 Vaccine Button designs available for purchase as either a pin-back button or clothing magnet in two sizes: 1.5″ round and 2.25″ round.
I Got My Vax Button is a bold button design with large text and an illustration of a vaccine syringe. Get noticed when you're in public with this vaccine button design.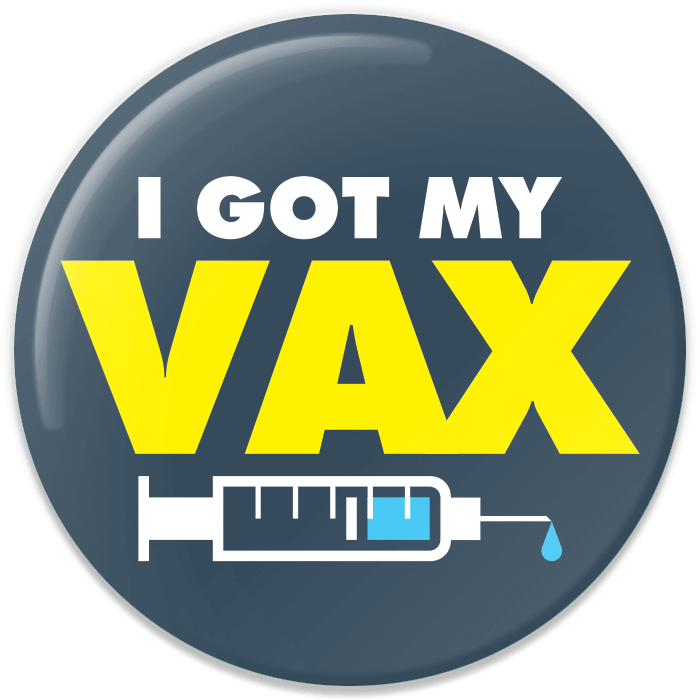 Vaxxed To The Max Button design is ready to grab attention and get some laughs when you wear it out. This bright yellow button design featured bold easy to read text and is available now!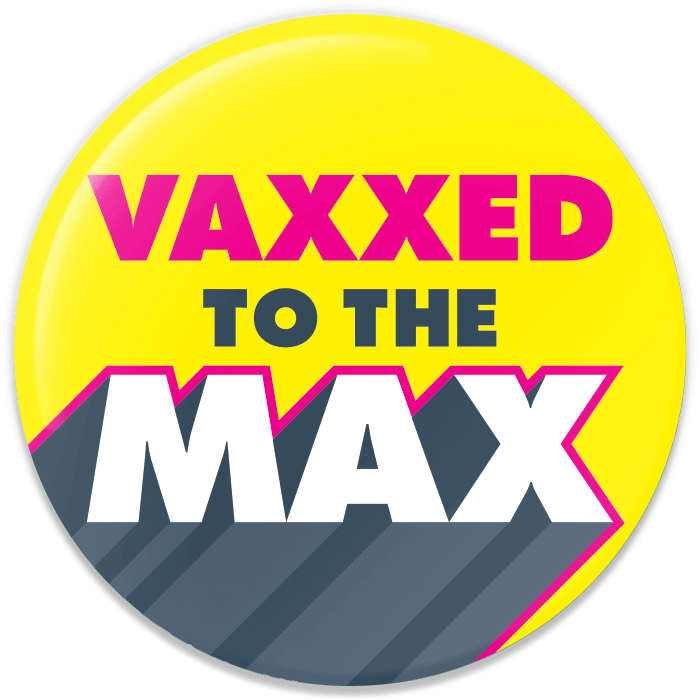 Enjoy bulk discounts when you order higher quantities for friends, family and co-workers. Or just get one for yourself!
Raise vaccine awareness and let others know that you're vaccinated with these easy to read button designs. We are currently offering six unique coronavirus vaccine button designs for you to choose from. These popular buttons are helping people be identified all around the world!
Stay safe out there!
Covid Vaccine Buttons Now Available As Clothing Magnets
We have added a clothing magnet upgrade option to our popular COVID-19 Vaccine Buttons. Now, instead of our classic pin-back button, you can choose to order our covid vaccine buttons with a neodymium magnet that holds on tight to clothing without the need for a pin to pierce cloth. Our clothing magnets can even be displayed on your refrigerator or any other magnet-ready surface.
Simply choose the clothing magnet option and add to cart. From there you can modify your desired quantity and checkout. Our easy website makes checkout a breeze.
Our most popular design is our I'm COVID-19 Vaccinated Smiley Button which features a bright yellow smiley mouth and easy to read bold text. Thousands of people around the globe are wearing this button to let the world know they're happily vaccinated for COVID-19.
Our coronavirus vaccine buttons are a great way to identify yourself in public as a vaccinated person. We also offer a High Risk Button for individuals who need to still remain more careful as public life resumes this year.
Covid-19 Buttons en Español
We also now offer these coronavirus vaccine button designs translated into spanish upon request. Or, contact us for a unique request!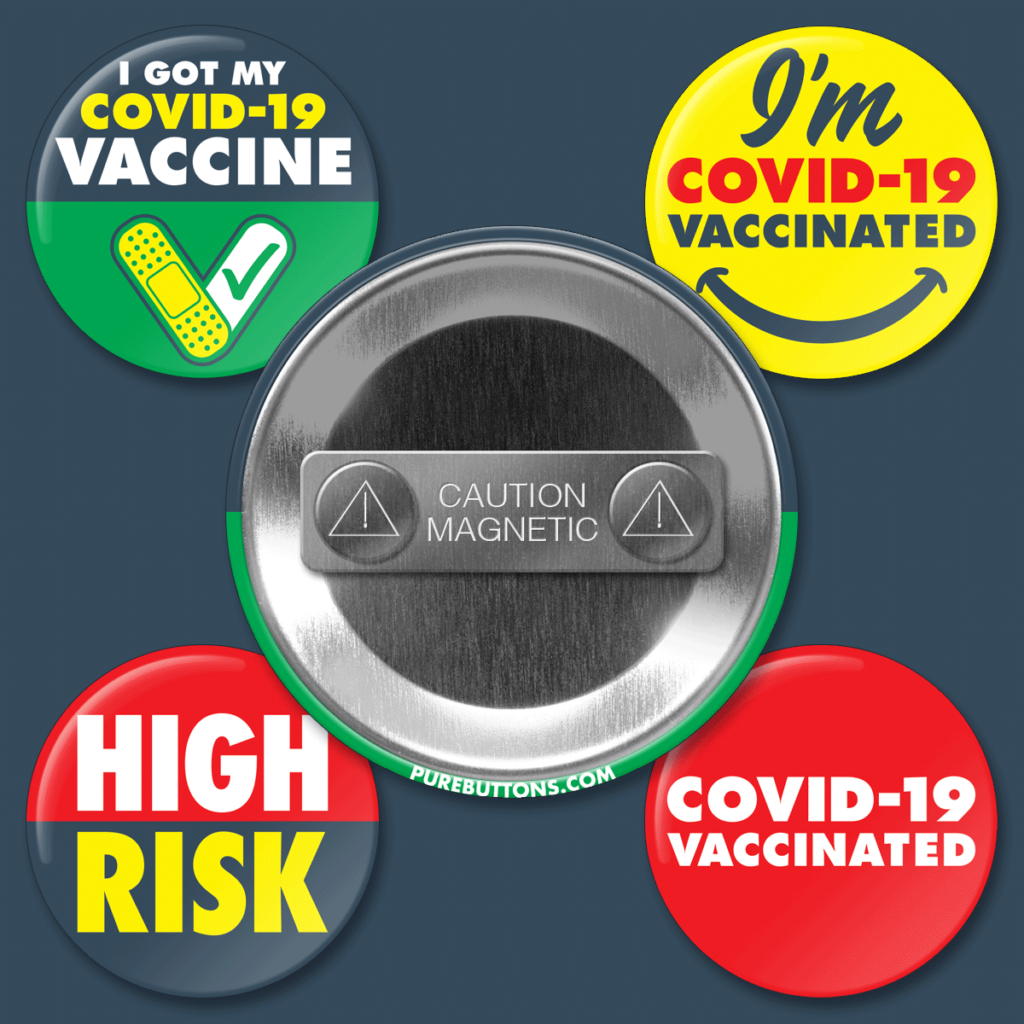 New COVID-19 Button Designs Added to Our Online Tool!
Now you can create COVID-19 buttons with our professional graphics, but in any style you'd like.
Our online art tool's Coronavirus design design gallery has been updated with our latest graphics. This includes our original social distancing button designs and our new covid vaccine button designs.
Covid vaccine buttons can be helpful in encouraging others to become vaccinated and reduce the spread of COVID-19.
All of our COVID-19 button designs are fully customizable. Choose your own colors and add your logo to create a completely unique coronavirus button design.
How to access:
Browse our gallery of coronavirus designs by choosing any of our customizable products and enter the art tool.

From there click the IMAGE & TEXT button in the tool bar (seen below), and then "CHOOSE FROM DESIGNS" in the floating window.
From here you can choose the Coronavirus gallery, or look at our other galleries of design assets.
Create a totally customized coronavirus button design right in your browser and get an instant digital proof.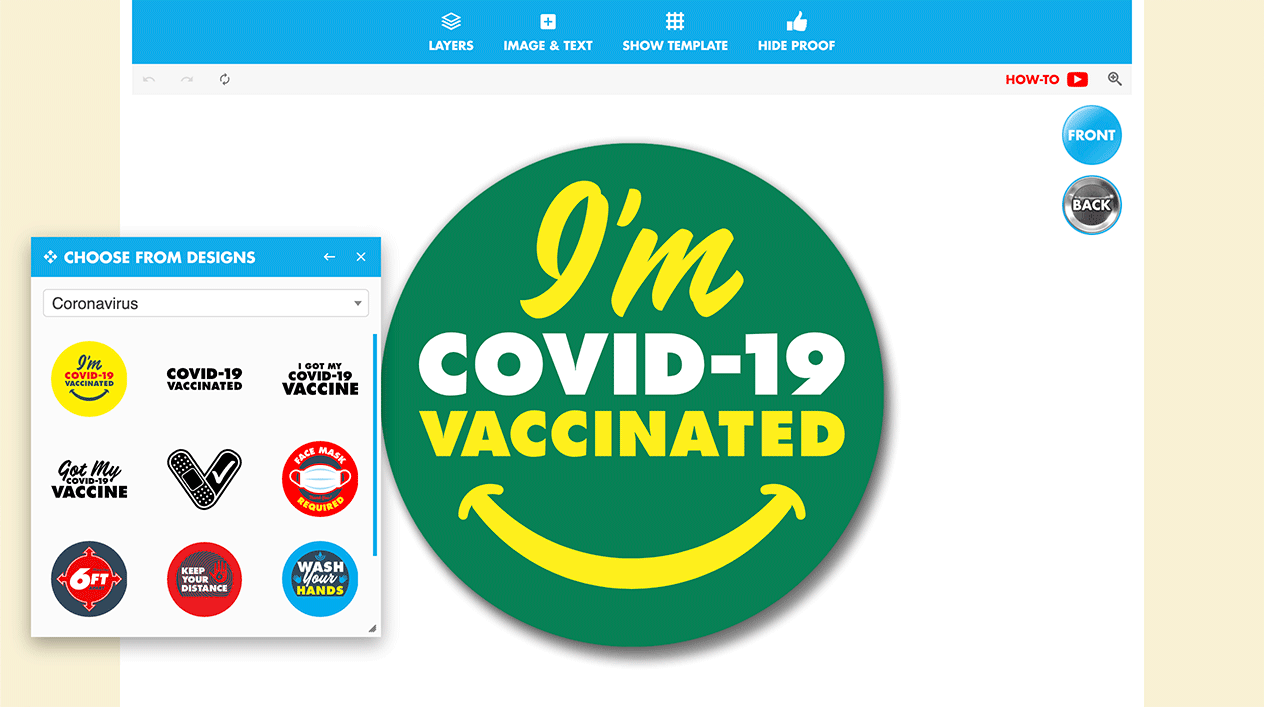 Our new High Risk Button is available now!
Are you at high risk from infection? Do you know someone who is? Remain vigilant and stay healthy with help from our new High Risk Button design.
This bold new button design compliments many of our other coronavirus buttons but can be worn all year during standard flu seasons for years to come.
Featuring bright colors and the words HIGH RISK, this eye catching design should help alert others to your condition.
Our High Risk Button is available in two round sizes: 1.5″ wide and 2.25″ wide.
Our pin-back buttons are water-resistant and easy to sanitize.
The Centers for Disease Control recommend social distancing and mask wearing to reduce the spread of infectious diseases. This may be our most effective social distancing button design yet!
Minimum order is just one button but you can unlock huge pricing discounts when you order our buttons in bulk quantities.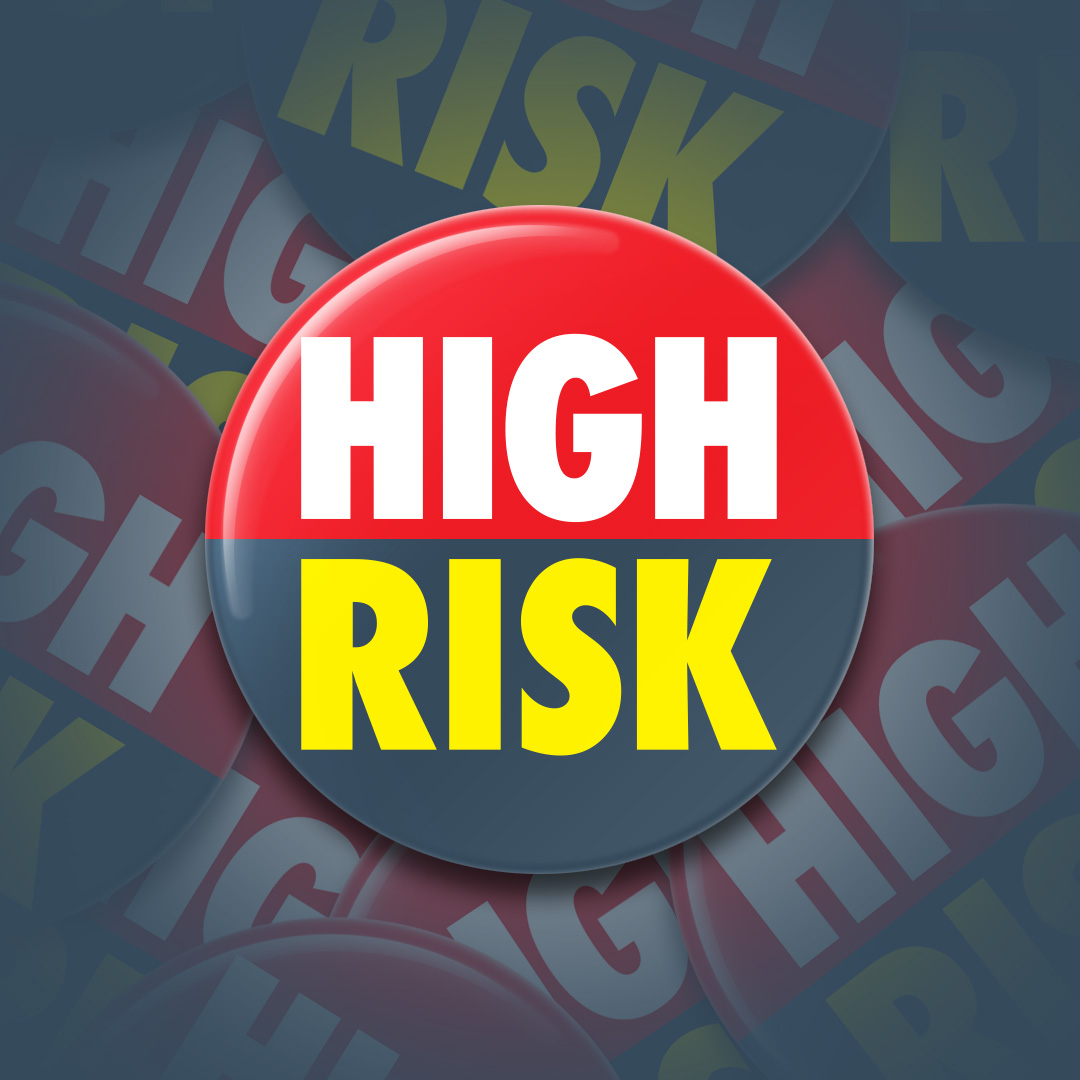 Call 800-710-2030