We recently had the opportunity to work with Fueled By Ramen Records to produce this campaign-style 2.5″ Round button for the band FUN. Their latest single "We Are Young" has been tearing up the charts for the last few weeks, currently NUMBER ONE on the Billboard Hot 100 Chart!
They are very happy with how this promotional button turned out. check out a gallery of people wearing this button here.
Watch the music video for "We Are Young" Below: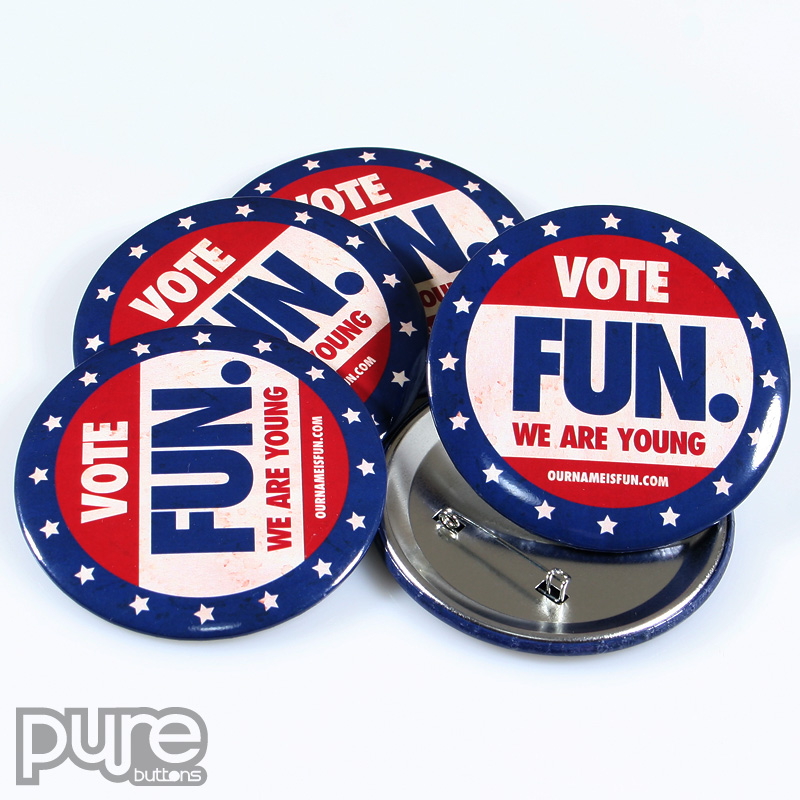 Last Modified: March 28th, 2012

Back in May, "a rare button sold for $15,100 on ebay. The button is from the 1920 United States presidential election. It features a picture of the Democratic nominee for President Governor James Cox of Ohio and the Vic Presidential candidate Franklin D Roosevelt.
The seller described the button as the "holy grail of political buttons". The auction had 18 bids. The seller had little knowledge of the actual value of the button until it was listed. The seller even threatened to cancel the auction if a higher bid wasn't reached." Quoted from: The Button Blogger
Last Modified: August 30th, 2009
This campaign is already the most historic campaign ever.  We will either have our first African American president in Barack Obama, or the first woman Vice President in Sarah Palin.  Being such a historic election, political memorabilia collectors are out in search of political memorabilia and novelty buttons that will have a high worth.  At the Democratic National Convention in Denver, Colorado, there was plenty of street vendors with political memorabilia.
Political memorabilia that collectors are most attracted to are state-specific buttons, or buttons from special interest groups.  Due to their limited quantity, these button are most desired.  At the Democratic National Convention (DNC), political campaign buttons featuring Obama alone, buttons featuring Denver the home of the DNC, and slogans from silly to serious were among the most popular for collectors.  With the Republican National Convention around the corner, campaign buttons featuring John McCain, Sarah Palin, or both of them have become very popular. The key to buttons that will have high value for political memorabilia is buttons that are in limited quantity.
If you are running your own campaign and would like to design campaign buttons, we have a gallery of free designs that you can customize to make your own. Edit text, colors and add photos or logos to these professionally designed layouts. In minutes you'll have a beautiful campaign button design and a free instant digital proof to approve before ordering!
Last Modified: September 2nd, 2008
From the Associated Press, huge button news:
"Oops! Wrong Larry shown on Idaho campaign buttons
Jul 27, 2008
LEWISTON, Idaho (AP) — Some Democratic campaign buttons made for distribution in Idaho show an unlikely pair: Democratic presidential candidate Barack Obama and Republican Sen. Larry Craig.
But don't expect the staunch Republican to throw his support behind Obama or for the presidential candidate to ask Craig to change his mind and run for Senate again. Apparently the button manufacturer picked a picture of the wrong Idaho Larry.
The 3-inch button by Tigereye Design was intended to show Obama beside Larry LaRocco, the Democratic candidate for U.S. Senate, the Lewiston Tribune reported.
Craig is not seeking re-election following his arrest in a Minnesota airport restroom sex sting.
The buttons weren't ordered by the LaRocco campaign, said Dean Ferguson, LaRocco's communications director. They appear to have been produced by a commercial firm that makes campaign memorabilia involving Democratic races around the country, he said.
"That sounds like it's going to be a collector's item," Ferguson said. "I'm sure Sen. Obama appreciates Sen. Craig's support."
Bill Hall, editor emeritus of the Tribune's editorial page, said he bought 10 from the company's Web site before they were withdrawn and fixed. The Obama-Craig buttons are no longer available for purchase.
"I realized it was a mistake, like finding a coin that's been damaged in the making, so I quickly ordered 10 of them," Hall said.
Neither officials with Tigereye Design nor Craig's office could immediately be reached for comment Sunday.
Information from: Lewiston Tribune, https://lmtribune.com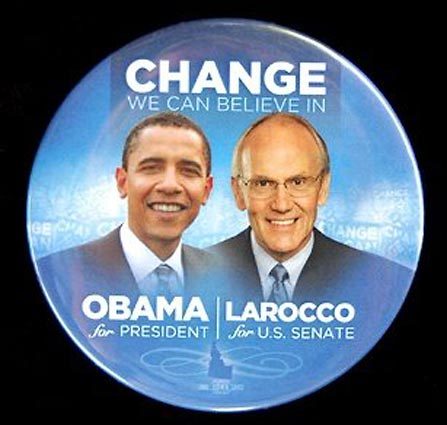 If you want to design campaign buttons, our website offers free campaign button designs that you can customize to fit your vision. Edit colors, text and even add photos or logos to make a professional looking campaign button on any device. You'll receive a free instant digital proof before checkout and all of our campaign buttons are made in USA!
Last Modified: August 8th, 2008