From the Associated Press, huge button news:
"Oops! Wrong Larry shown on Idaho campaign buttons
Jul 27, 2008
LEWISTON, Idaho (AP) — Some Democratic campaign buttons made for distribution in Idaho show an unlikely pair: Democratic presidential candidate Barack Obama and Republican Sen. Larry Craig.
But don't expect the staunch Republican to throw his support behind Obama or for the presidential candidate to ask Craig to change his mind and run for Senate again. Apparently the button manufacturer picked a picture of the wrong Idaho Larry.
The 3-inch button by Tigereye Design was intended to show Obama beside Larry LaRocco, the Democratic candidate for U.S. Senate, the Lewiston Tribune reported.
Craig is not seeking re-election following his arrest in a Minnesota airport restroom sex sting.
The buttons weren't ordered by the LaRocco campaign, said Dean Ferguson, LaRocco's communications director. They appear to have been produced by a commercial firm that makes campaign memorabilia involving Democratic races around the country, he said.
"That sounds like it's going to be a collector's item," Ferguson said. "I'm sure Sen. Obama appreciates Sen. Craig's support."
Bill Hall, editor emeritus of the Tribune's editorial page, said he bought 10 from the company's Web site before they were withdrawn and fixed. The Obama-Craig buttons are no longer available for purchase.
"I realized it was a mistake, like finding a coin that's been damaged in the making, so I quickly ordered 10 of them," Hall said.
Neither officials with Tigereye Design nor Craig's office could immediately be reached for comment Sunday.
Information from: Lewiston Tribune, https://lmtribune.com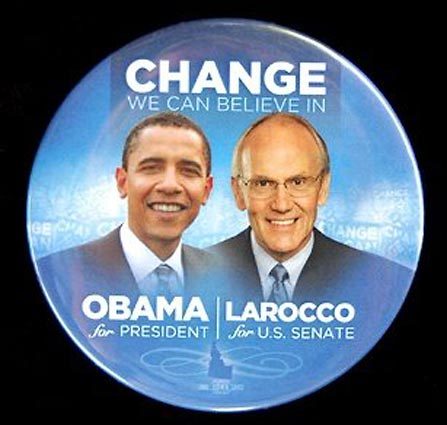 If you want to design campaign buttons, our website offers free campaign button designs that you can customize to fit your vision. Edit colors, text and even add photos or logos to make a professional looking campaign button on any device. You'll receive a free instant digital proof before checkout and all of our campaign buttons are made in USA!
Last Modified: August 8th, 2008