Personalized Ornaments
Welcome to our Personalized Ornaments category! Below you will find articles, posts, coupons or samples featuring Personalized Ornaments. To see our latest content, visit Home.
Personalized Ornaments Are a Great Gift Idea!
Winter is coming! Now is the time to consider our Personalized Ornaments! Our 3.5″ round ornaments are available to be designed online in our easy tool. Start from scratch, or use any of our free Christmas Photo Gifts templates to create a unique ornament design in minutes.
Our custom ornaments make a great affordable gift for friends, family or customers. They're equally at home showing off school pictures, family portraits, or even your company logo! We've had a wide variety of customers personalize ornaments using photos, artwork and logos. They seem to fly off the shelves for a lot of our customers who order and reorder them every fall!
Commemorate Baby's first Christmas or print your favorite family photos year after year and decorate your tree with your own creations. Our photo ornaments are built to last and will bring a smile to your face every time you get them out to decorate the Christmas tree.
Our personalized ornaments come with your choice of gold, silver, or no cord. You can also choose individual bagging or bulk bagging on your order.
You won't find personalized Christmas ornaments like this anywhere else! Our high quality custom ornaments were designed in-house and are patented. We have the unique parts fabricated from scratch, just for us!
Our custom ornaments are available with no order minimum, but you can enjoy huge price discounts on bulk orders! Take a look at pricing and design your own today!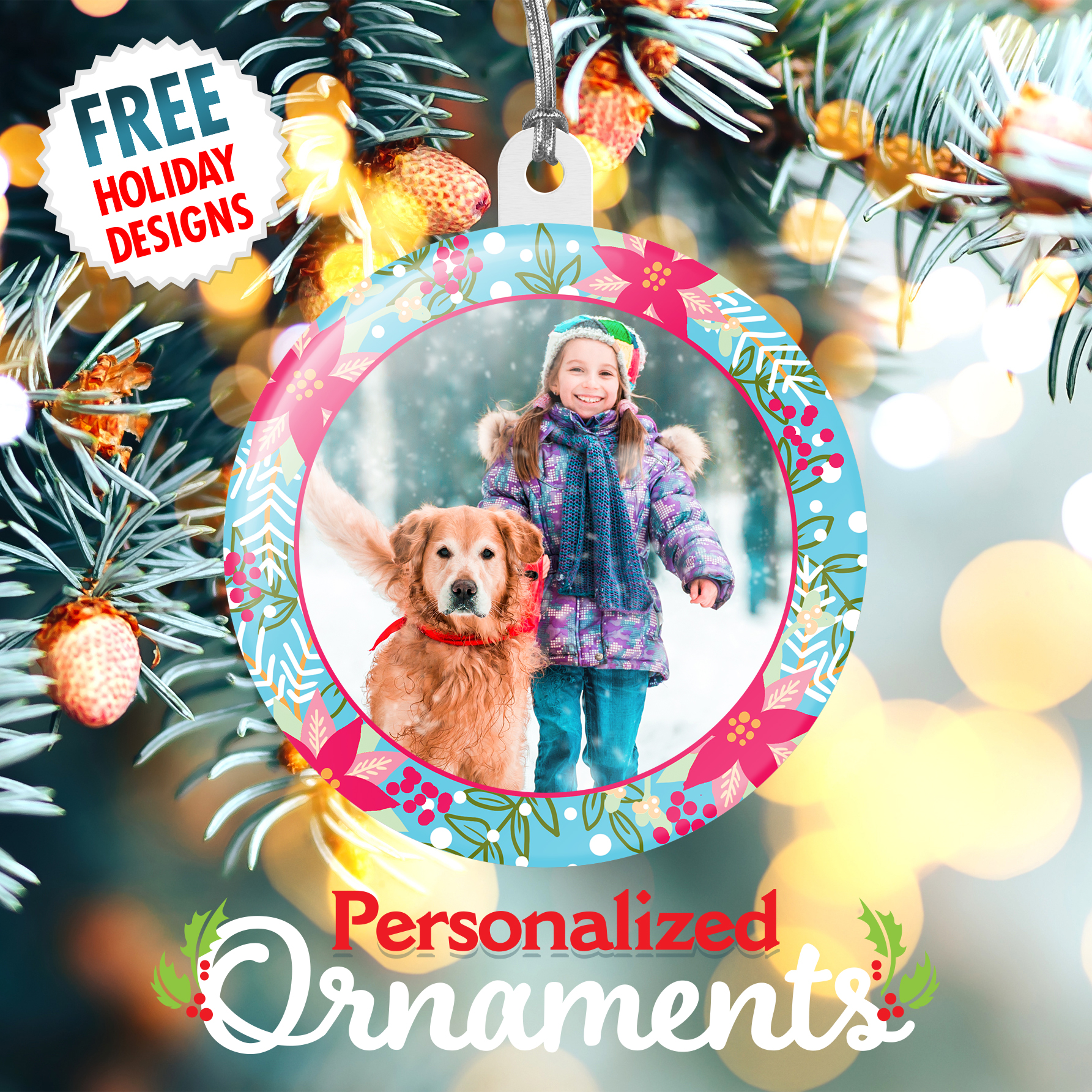 Our Personalized Ornaments Are Officially Patented!
Our personalized ornaments are a product unique to Pure Buttons. We designed them in-house and had the parts manufactured locally for a unique product you won't find anywhere else!
We're proud to announce that our personalized ornaments were officially granted a patent by the U.S. Patent and Trademark Office.
These custom ornaments aren't just meant to be used as custom christmas ornaments. They're great for any time of year and can be hung anywhere with their elastic cord in your choice of metallic color: silver or gold.
See what one of our excited customers said in their personalized ornament review:
"These rock!!! Absolutely awesome product! I sell them all day long for $5 each, they fly off the shelves. Will be ordering many many many more." – DAKOTA FROM FERNDALE CA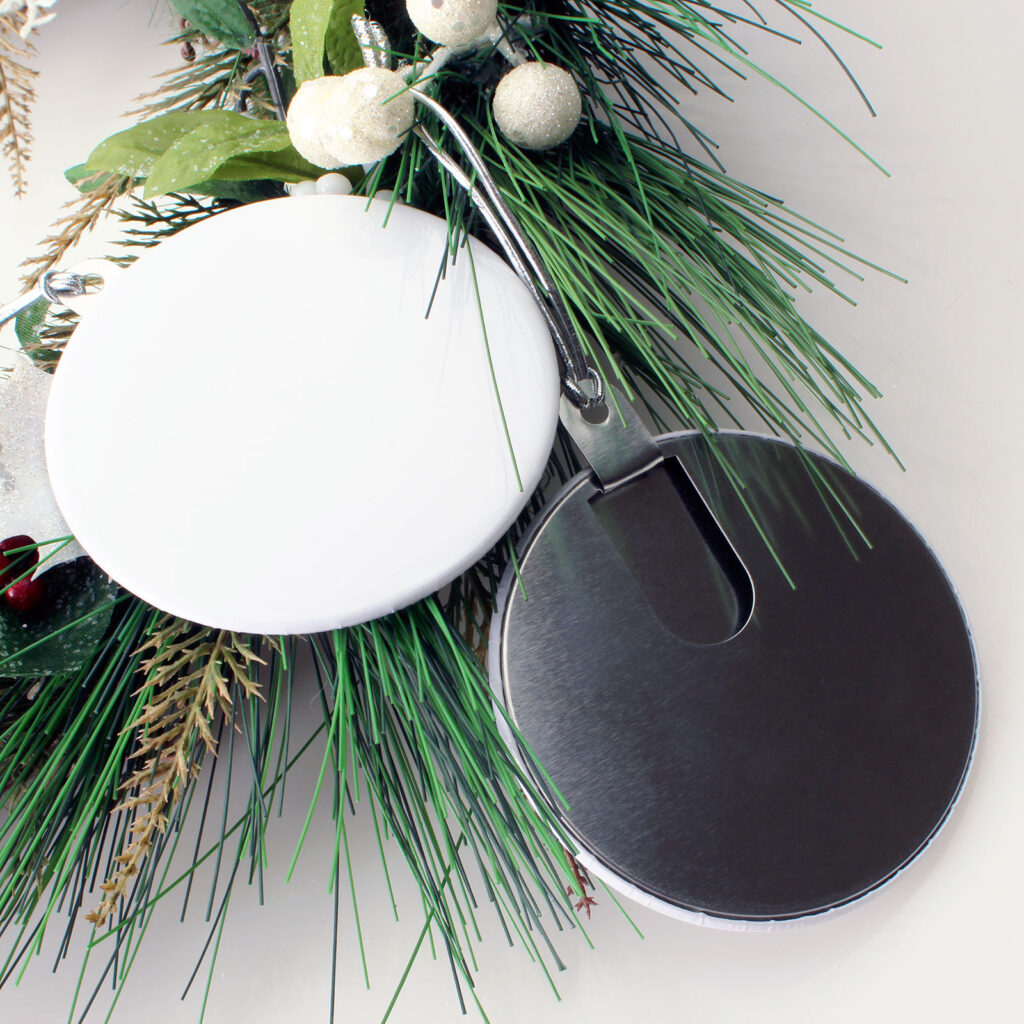 Baby's First Christmas Ornament
Your baby's first year is full of joyful firsts and baby's first Christmas is one of the most joyous moments. What better way to capture and remember this event than with personalized photo Christmas ornaments?
We have twenty eight different baby's first Christmas ornaments to choose from. Simply pick your favorite holiday design and enter our easy online tool. You then add your best baby photo and edit some personalized text.
An instant digital proof is generated before you add your design to your cart. If the proof looks good, you can be sure that your custom ornament will turn out perfectly.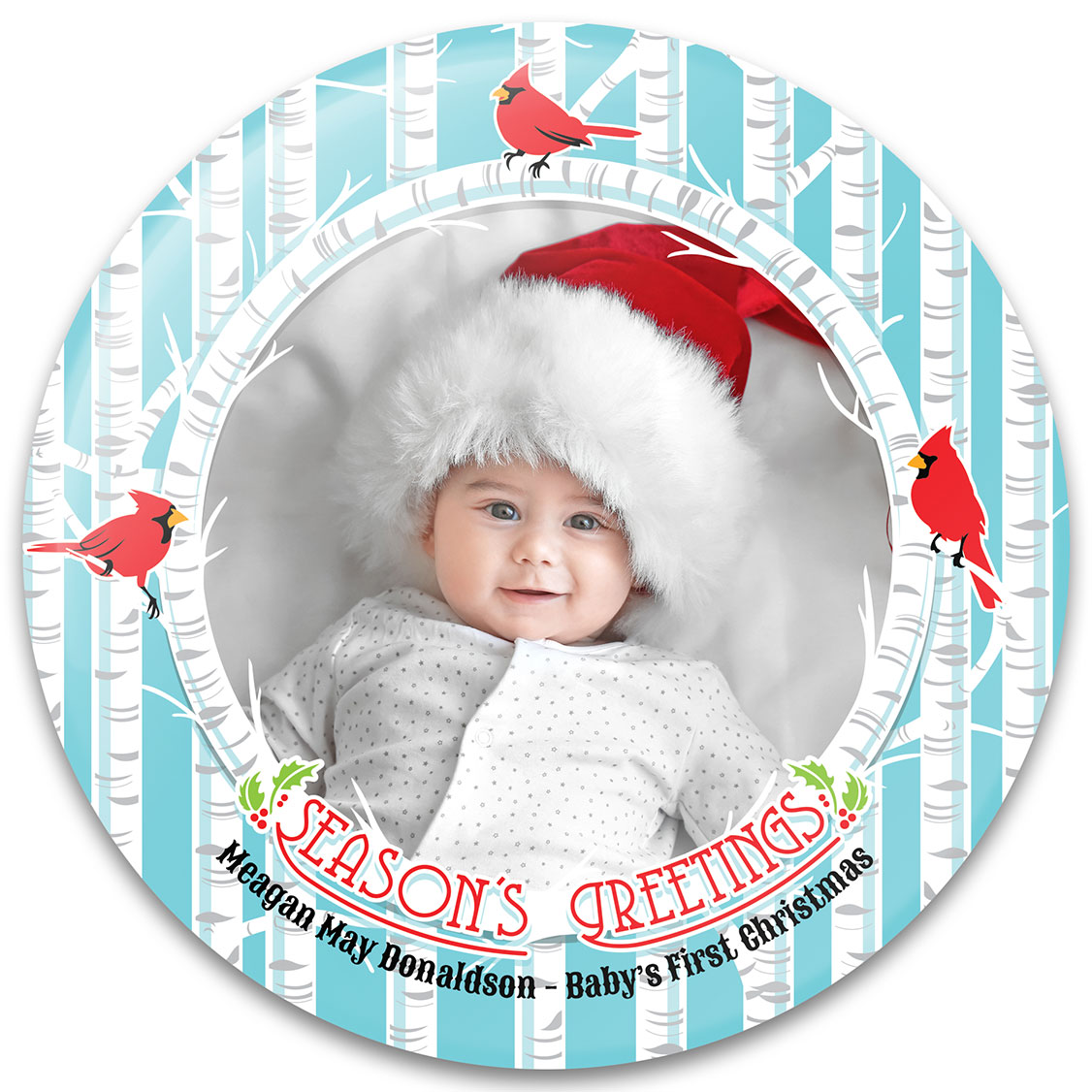 Our photo Christmas ornaments are manufactured on demand, just for you. We print your Christmas ornament design with world-class printers and coat it with your choice of gloss or soft-touch matte finish. The ornament design is then pressed onto a metal body for extreme durability. Each ornament comes with your choice of cord color (gold or silver) and can be individually wrapped for gifting.
Every year when you get out your Christmas ornaments, you can remember your baby's 1st Christmas with a personalized photo Christmas ornament. We make it easy to create a unique Christmas ornament design in minutes with our gallery of free holiday designs.
Photo Christmas ornaments are an excellent gift. They are thoughtful and affordable! Create as few as one ornament or order bulk ornaments at a significant discount per ornament.
This year, create something memorable that your friends and family will cherish for years to come. Create your Baby's first christmas ornament at Pure Buttons and make your Christmas tree a little more special.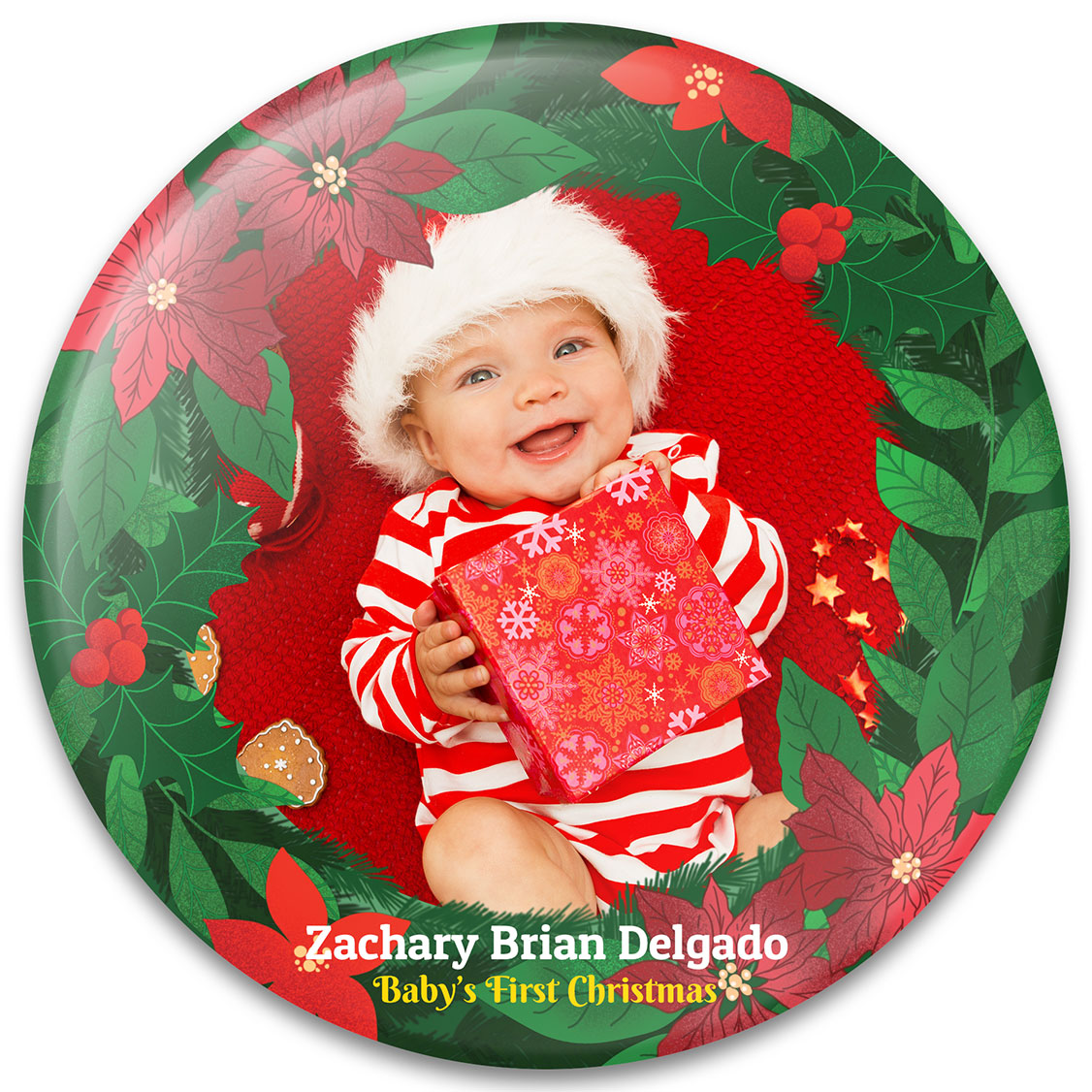 Merry and Bright Holiday Photo Gift Template
One of our newest holiday photo gift borders is bright and fresh, with colorful flowers surrounding a large photo area for you to fill with your favorite picture.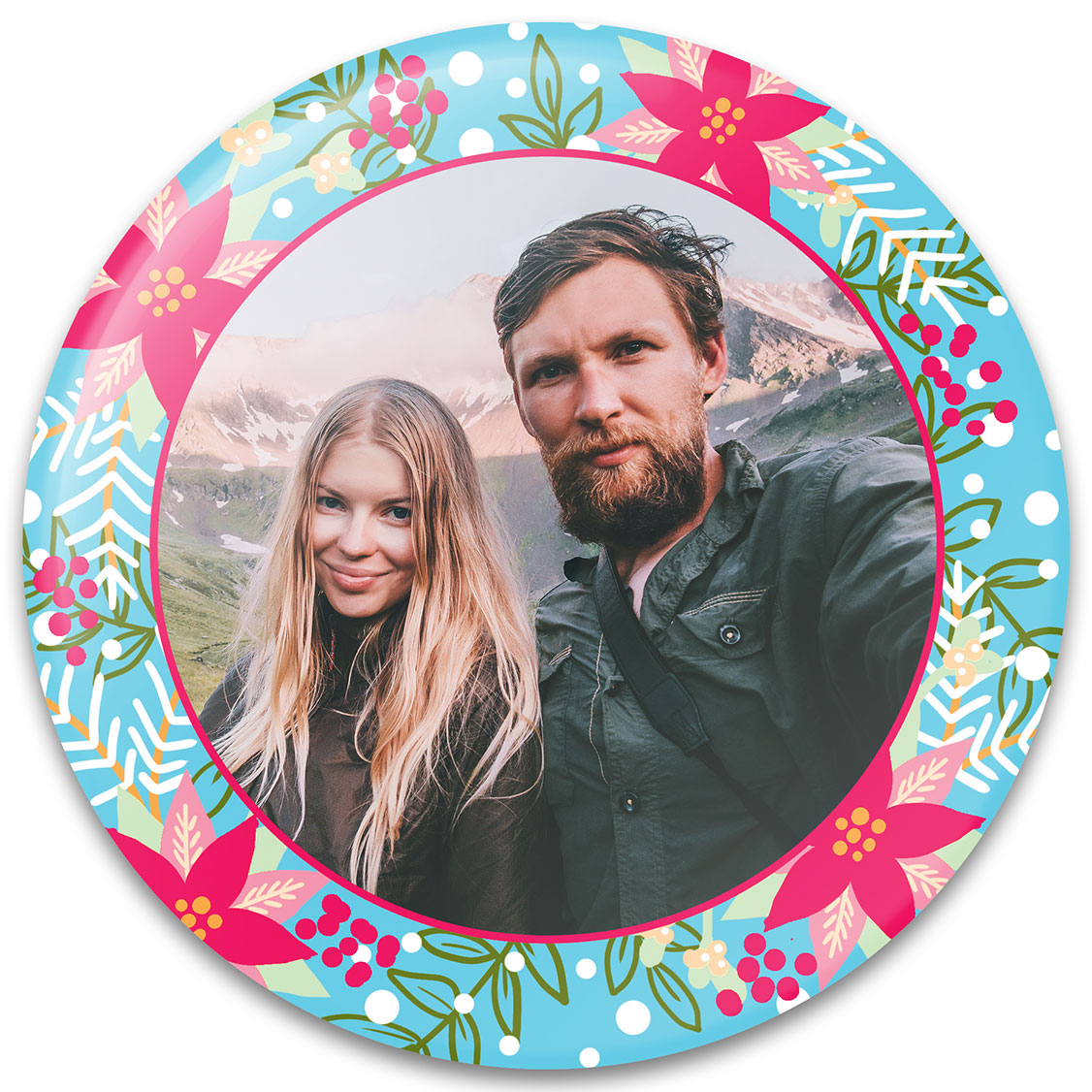 For those looking for an alternative to classic Christmas styles, we offer this modern take on a festive winter aesthetic.
To begin customizing this design on one of our many excellent products, simply choose the Merry and Bright photo gift design.
You can choose to print your design on our exclusive personalized ornaments or any of our other 3.5″ round products. Our custom drink coasters and custom fridge magnets make excellent holiday gifts as well.
All of our personalized photo gifts are printed on high quality products, all made in USA by Pure Buttons.
New Photo Gift Design: Foxy Holidays
This adorable Christmas fox is ready to decorate your favorite photo when you choose our new Foxy Holidays photo gift border.
Featuring a large photo area and two lines of personalized text, you can finish your custom design with your own holiday greeting and name.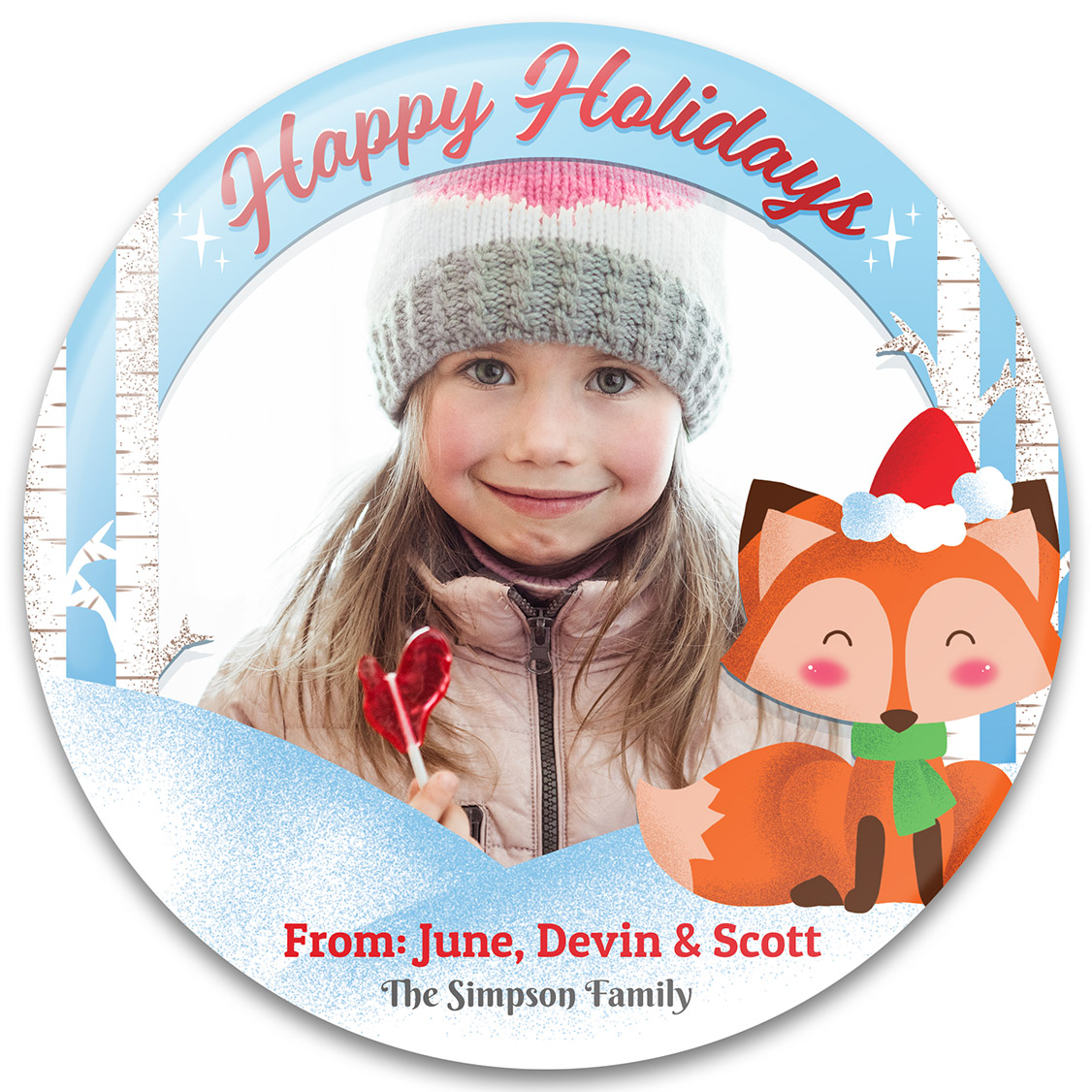 The best part is, this and all of our holiday photo gift designs are free to personalize in our easy online tool!
Create a memorable keepsake when you print your favorite photos surrounded by one of our unique Christmas photo gift borders. We now feature twenty eight unique holiday gift designs!
Whether you choose to print your design on our personalized ornaments or go big with our 6″ Magnetic Easel, you're sure to create an affordable and cherished Christmas gift.
Call 800-710-2030