Now through the end of the year we are spreading holiday cheer with our wild new custom ornament featuring artwork by the very talented Cosmik Havik (aka Cosmik Slug).
Our blue beastie mascot retired quietly years ago but he has returned to spread holiday cheer in his souped-up hot rod sleigh. Happy Holidays Ya Filthy Animal!
We're dropping one of these ornaments free into every order this holiday season as our way of saying "thanks for being a Pure Buttons customer."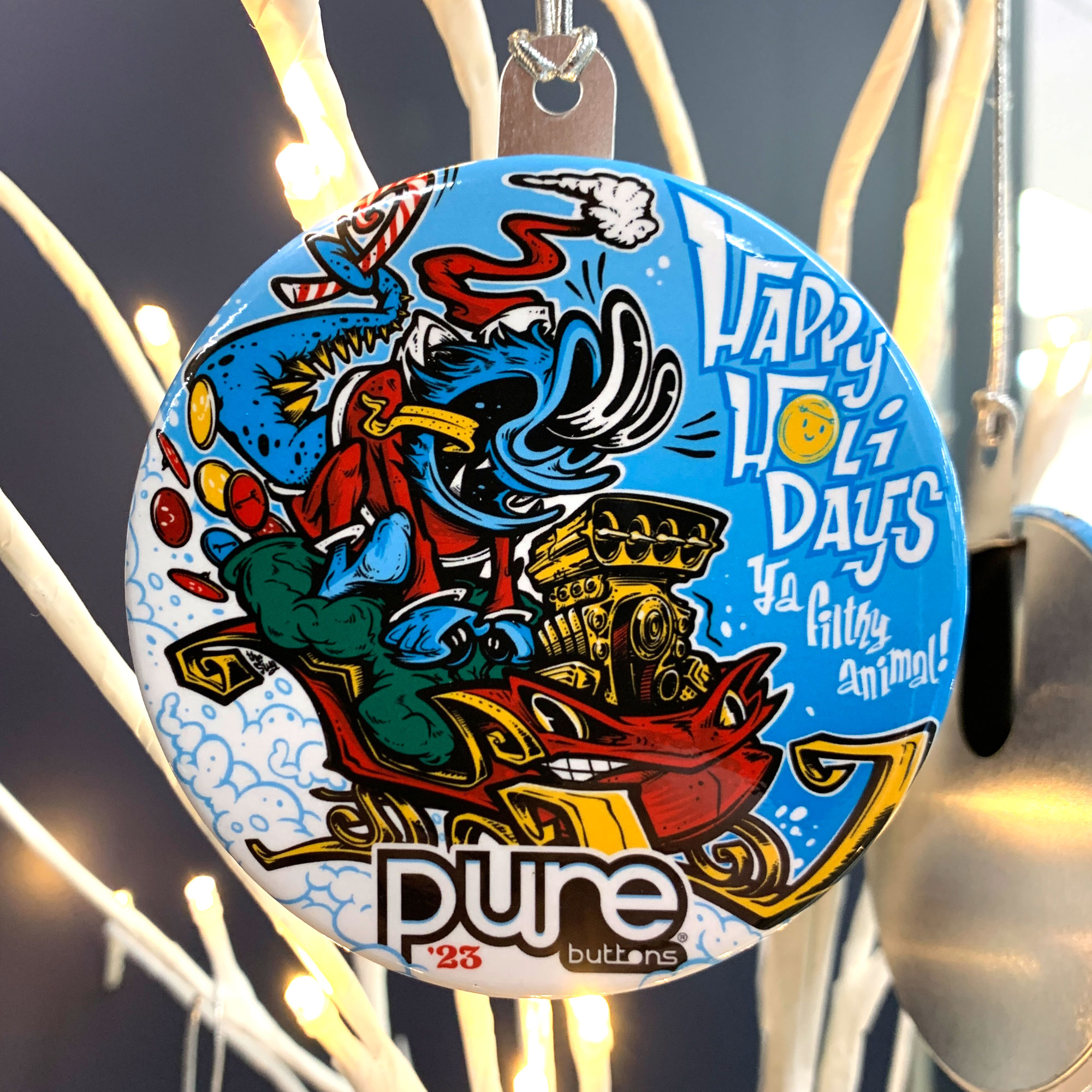 This personalized ornament features our original gloss finish, silver cord and flap-seal bag. You have the option to choose from gold, silver or no cord, two retail-friendly bag styles, and four finishes when you order personalized ornaments for yourself.
The coolest part about our custom christmas ornaments and most of our other custom merch, is that you don't have to order in bulk. We offer no minimums and low pricing for even one custom ornament at just $4.99. For bulk orders pricing goes as low as $1.12 each!
November is just getting started! There's a plenty of time to work our personalized ornaments into your holiday marketing and personal gifting plans. They look equally fabulous printed with logos and artwork as they do your favorite family photos. For those looking to make something for personal gifting, we offer 28 different holiday photo gift templates to easily customize in your browser!
We liked this artwork by Cosmik Havik so much we printed it as a large window sticker and put it up on the lunch room window. Take a look! This die cut sticker is printed on special air-release material to help with later removal. The large custom sticker measures approximately 47″x47″ and includes some floating text that was installed separately with masking similar to a cut vinyl decal. The large masking tape adheres to all of the floating pieces of the design, allowing you to install it on the window and peel off the masking with everything in the proper place.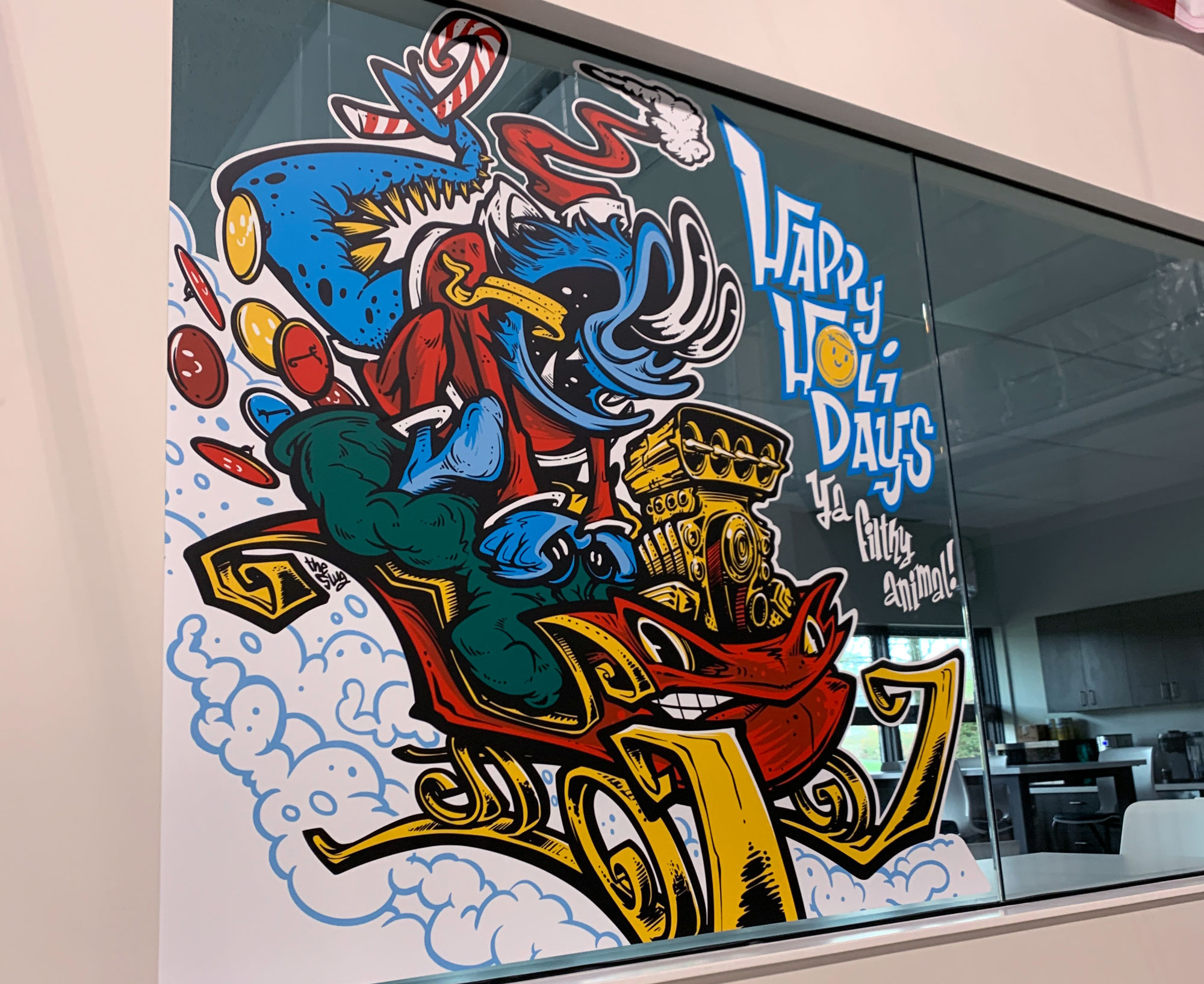 If you're looking for a large custom sticker like this or vinyl stickers of any size, hit up StandOut Stickers. It's us, the same people as Pure Buttons so you know the attention to detail, quality and value is the same!
Another thing to note is, a large custom sticker of this size would have a minimum of just one sticker.
See below as our digital cutting machines make short work of this custom shape. These are the same robotic cutting tools used to cut out all of the artwork we print and press at Pure Buttons!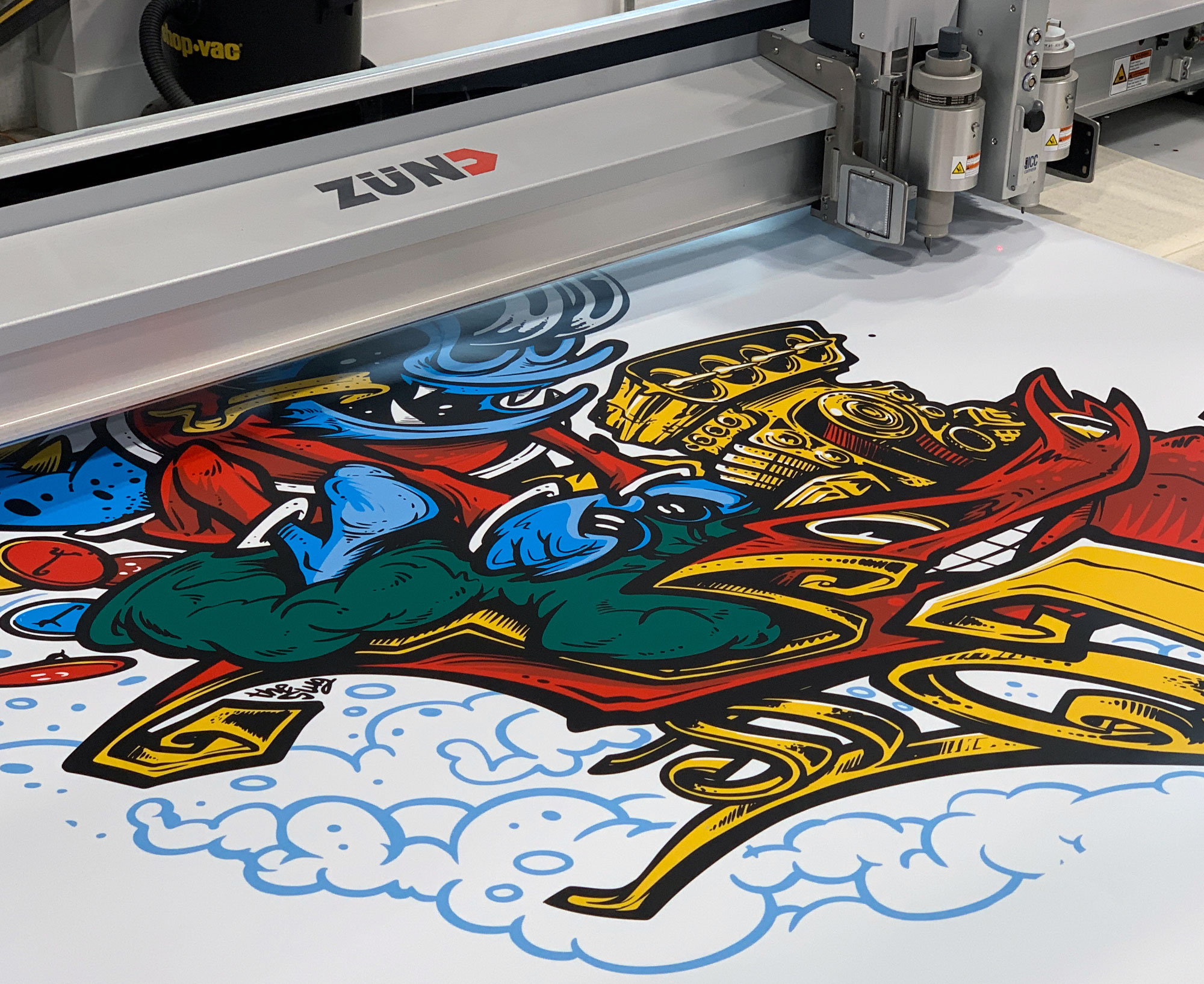 All of us at Pure Buttons would like to wish you happy holidays. Thank you for choosing Pure Buttons for your custom merch this year and we look forward to bringing you exciting developments in 2024. Cheers!
Last Modified: November 6th, 2023