Face Photo Buttons
Welcome to our Face Photo Buttons category! Below you will find articles, posts, coupons or samples featuring Face Photo Buttons. To see our latest content, visit Home.
School is back! Mask Up with a Face Photo Button!
School is back in session, and many schools are requiring full day mask wearing. What better way to make masking more personable and friendly than a custom face button!
Simply add your selfie to our easy online customizer tool and you'll get an instant digital proof to approve before you check out. Our minimum order is just one face photo button and we offer 19 shapes and sizes to choose from.
Encourage friendly social distancing with our face photo buttons. These social distancing buttons are easy to wear, and loved by many students, teachers, administration, and even hospital employees, or waitstaff at restaurants!
Create your own Face Photo Buttons today!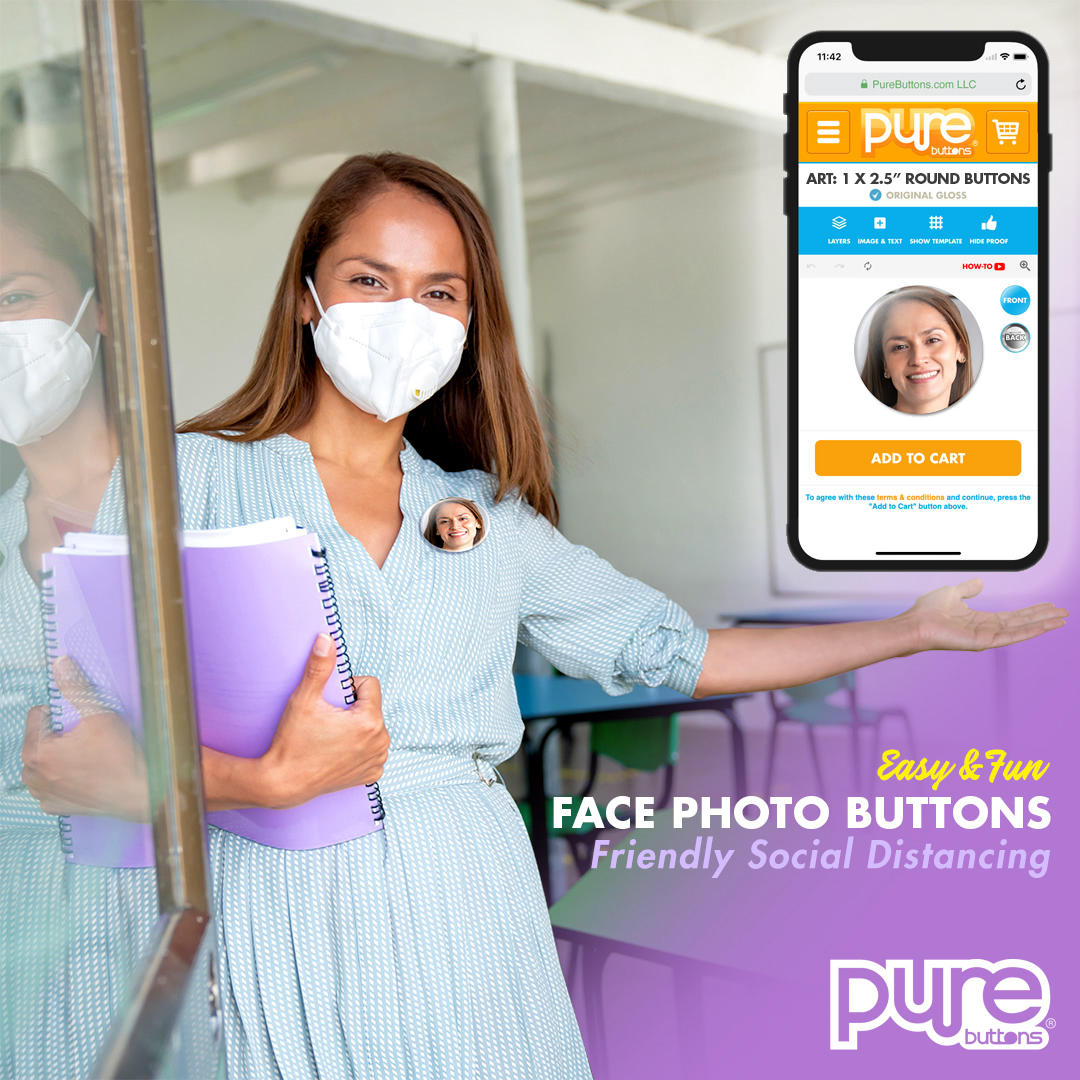 Photo Buttons are Increasing in Popularity!
Our high quality photo buttons have seen a widespread adoption since we introduced our face buttons sale.
One of our customers is an art teacher and took this selfie while wearing their custom photo button: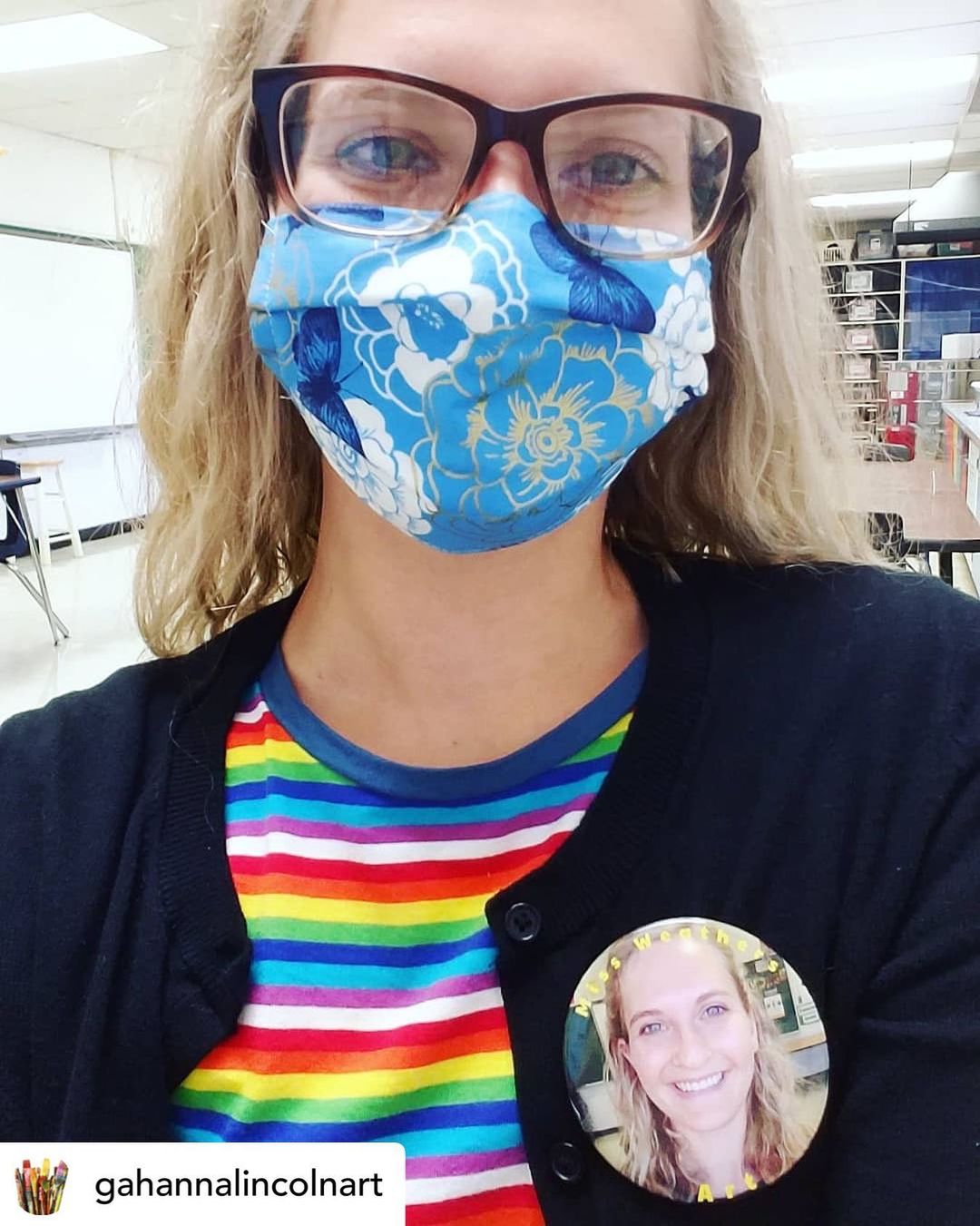 Face buttons for teachers have become a useful tool when interacting with young children in a mask-wearing environment.
You can personalize photo buttons on our website in minutes using our free and easy tool. Simply choose your best selfie and approve your free digital proof. We'll manufacture and ship your photo buttons fast!
Due to the popularity of our face buttons sale we have decided to extend the offer throughout the fall season!
You can take 25% off any photo buttons when you order a quantity of 5 or fewer per design. Order cheap photo buttons for all of your friends and family; they make an inexpensive happiness gift for any occasion!
Use Coupon Code: FACEBUTTONS
Our custom button pins are water resistant and can be sanitized easily. Our durable construction means your pin-back buttons will last for years of daily use.
A little bit about Pure Buttons:
Pure Buttons has been manufacturing custom button products for over 15 years! We offer the most size and shape options of any button maker. Our wide variety of nineteen button shapes and sizes means you'll be sure to find your "just right" size of custom pin.
We also offer two unique button finishes: original gloss and soft-touch matte. Both finish options are provided at no additional cost.
Your photo button pins will be printed and manufactured in 1-3 business days. We pride ourselves on some of the fastest turnaround times in the button making industry.
Join the thousands of happy photo button wearing, social distancing people who have ordered photo buttons from Pure Buttons!
Face Buttons for Teachers
We have extended our face buttons sale so that more people can save when ordering face buttons. Many elementary schools, middle schools and high schools have come to Pure Buttons to order face buttons for teachers, faculty and staff. Face buttons are a fantastic way to make mask wearing much friendlier! With our face buttons sale you can take 25% off any face buttons that are ordered in qty 5 or less per face (each design).
Use coupon code FACEBUTTONS for 25% off any custom buttons or promotional products with qty 5 or less per design.
Face Buttons for teachers are a fantastic idea that is taking off! Since mask wearing doesn't seem to be going anytime soon, you will certainly get a lot of use out of these high quality face buttons. Our custom buttons are also water resistant and are easily sanitized!
Our new coupon is allowing more schools and teachers to try this face buttons idea which makes social distancing a lot friendlier!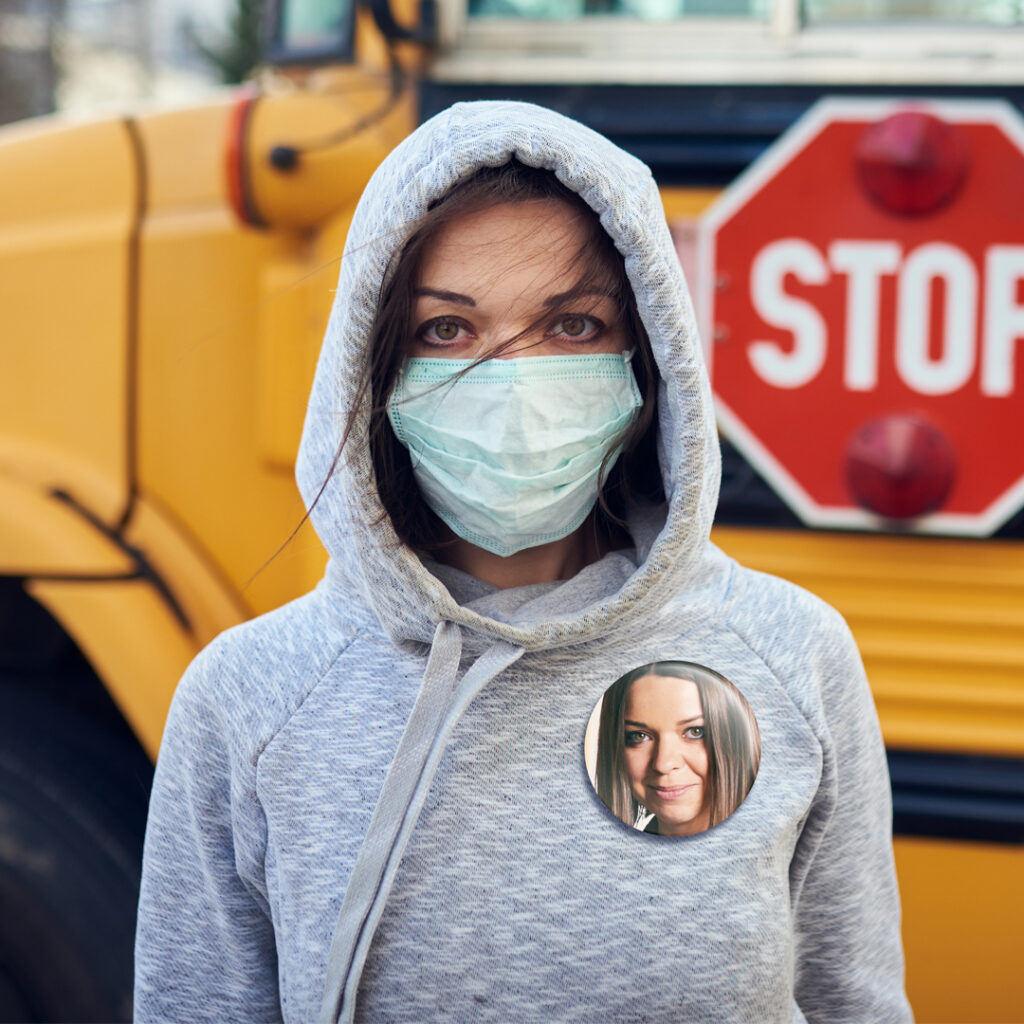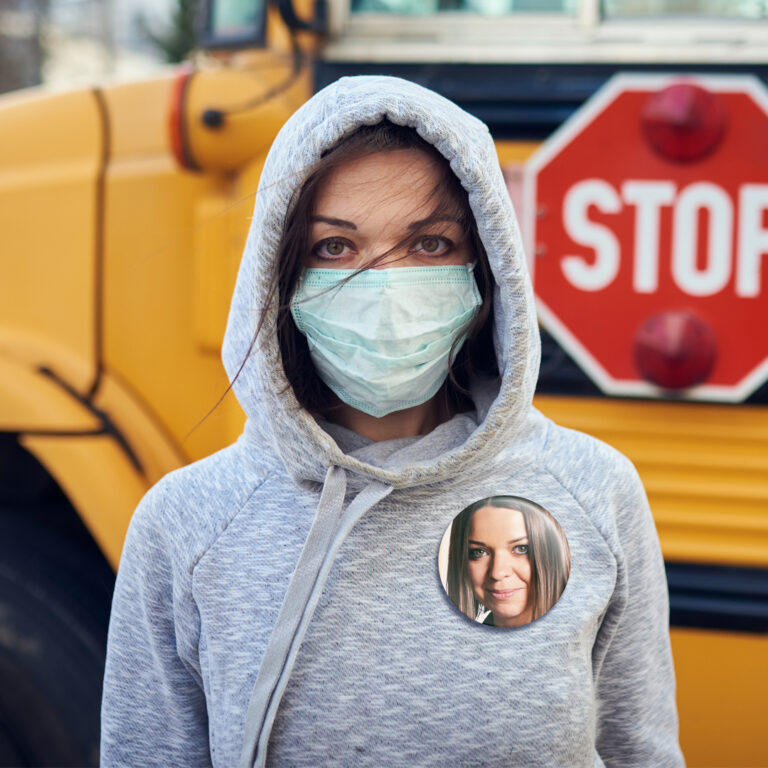 The Button Project brings a smiling face to mask-wearing medical professionals.
While mask-wearing is not new to hospital environments, the simple fact is that now more hospital employees than ever are wearing masks all day. Patients (especially young patients) feel more at ease when they know who is taking care of them, and to help bring a smiling face to the hospital environment and let young patients see "behind the mask", The Button Project at the Monroe Carell Jr. Children's Hospital at Vanderbilt University in Nashville, Tennessee has been printing face photo buttons for doctors, nurses and medical staff to keep a personable friendly atmosphere in a sometimes upsetting circumstance.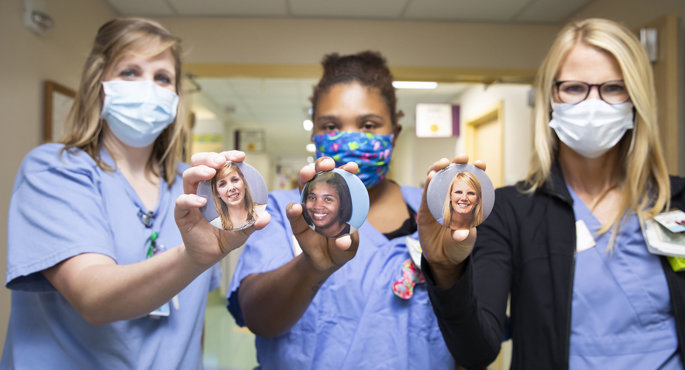 We have seen face photo buttons take off in recent months, receiving reviews from surgeons, general practitioners, and nurses… but not just medical related jobs! Face photo buttons have been ordered by schools and teachers unions, restaurants and cafes, cosmetologists and barbers, etc. Face photo buttons help customers, patients and clients see behind the mask and know who they're talking to.
It has never been easier to customize buttons with your beautiful smiling face. Simply browse our custom buttons – with 19 different shapes and sizes, pick a button size and add your photo in our easy online customizer tool. You'll get a free instant digital proof and checkout is a breeze.
We recommend a larger round button size, as it is easier to see from a distance (social distancing!) and more comfortable to wear for long periods with its round shape.
The masked world is presenting a real social challenge that face photo buttons are perfect solution for!
Face Photo Buttons Make Social Distancing More Personal
Social distancing is now a normal part of every day life. Many customers have found that wearing a photo of their smiling face helps make meeting new people while wearing a face mask less awkward. Our face photo buttons are fun to wear and easy to customize online in our free tool.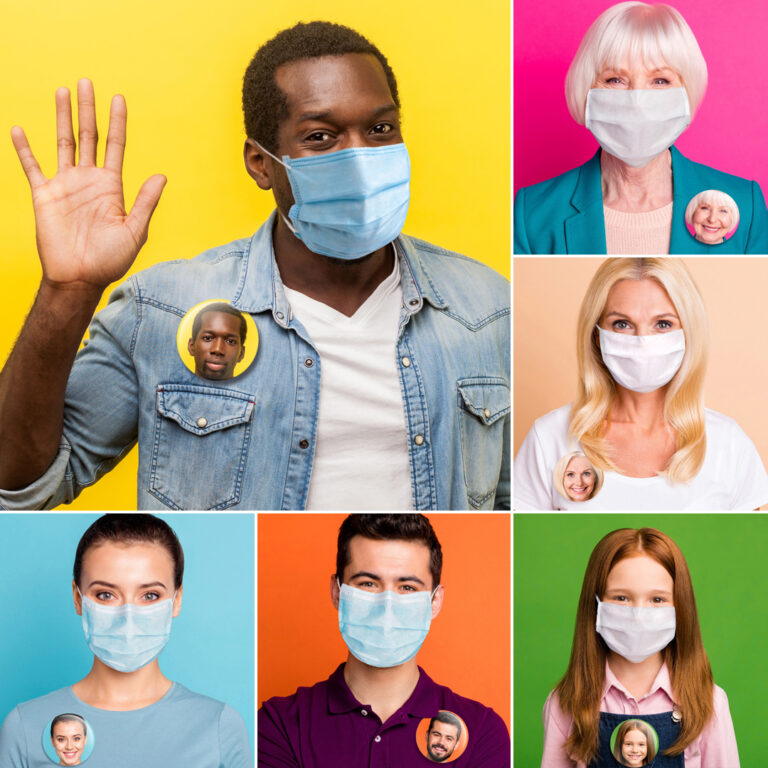 Doctors and nurses who wear PPE all day have been ordering face photo buttons to help patients feel at ease when they meet with them behind a bunch of protective gear. Face photo buttons from Pure Buttons are a great way to break the ice in a situation where patients are nervous to be treated by anonymous people.
With school resuming soon, teachers of school children have been ordering face photo buttons to help welcome new students and put a smiling face on a strange new learning environment. Printing photo buttons can help young students feel safer and more familiar with masked teachers.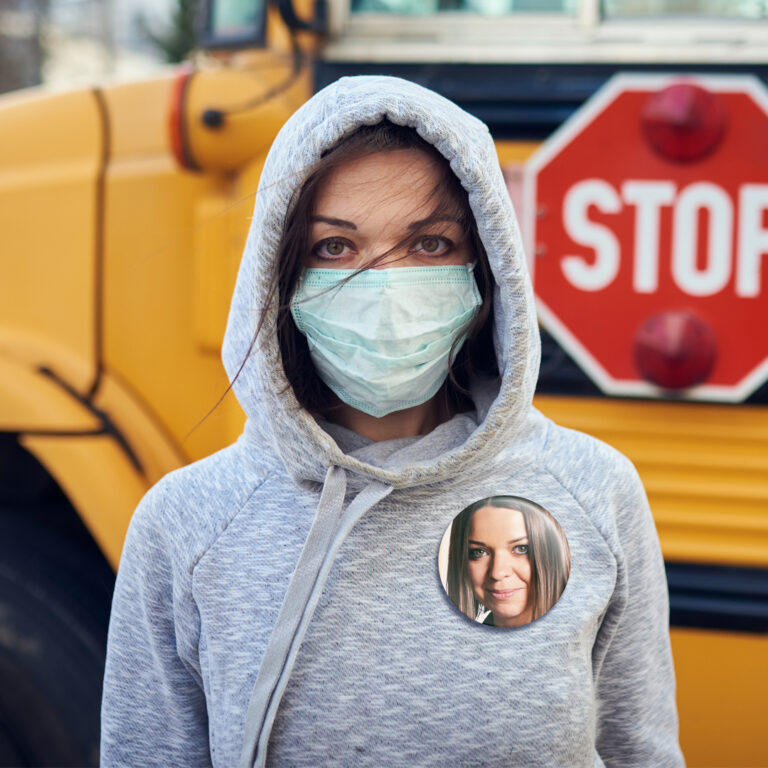 We have also had orders from restaurants, bars and coffee shops where waitstaff are wearing protective masks. Putting their smiling face on a large custom button is a great way to engage with patrons on a personal level while social distancing.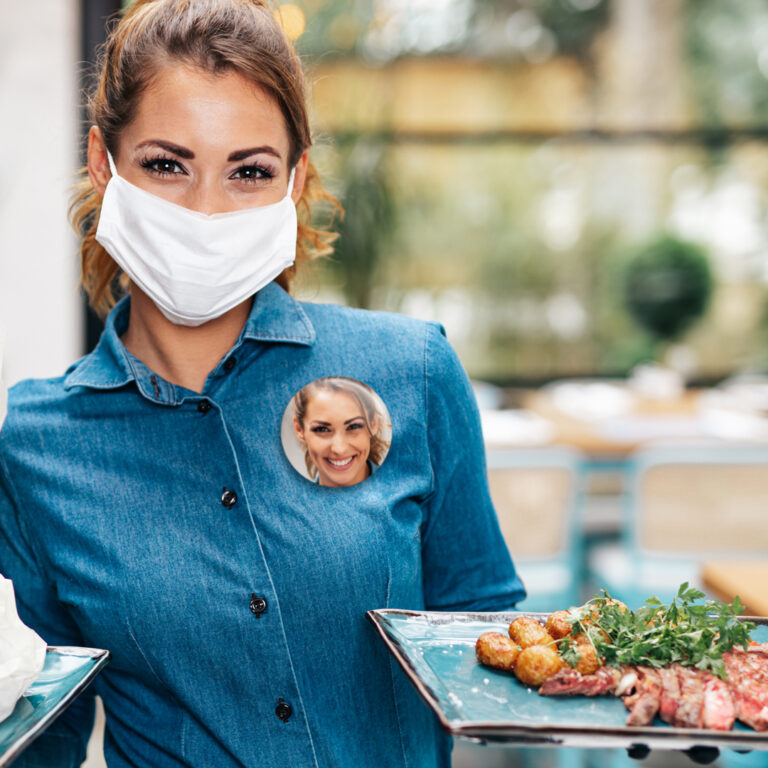 We offer 19 shapes and sizes of custom buttons on our website and you can customize face photo buttons right in your browser in our easy online tool. Simply choose your best portrait and add it to the customizer tool. Adjust the photo size and position and then approve your proof. It's that simple!
In addition to custom buttons, we offer clothing magnets which are available in all the same custom button sizes and shapes, but feature a strong neodymium magnet on the back instead of a pin like our pin-back buttons use to attach to clothing. These magnetic buttons do not require a pin to pierce clothing which is something to consider when ordering a face photo button.
Our minimum order of face photo buttons is just one button! So make one for yourself, your friends, family, co-workers and staff. You'll be glad you did!
Call 800-710-2030