While mask-wearing is not new to hospital environments, the simple fact is that now more hospital employees than ever are wearing masks all day. Patients (especially young patients) feel more at ease when they know who is taking care of them, and to help bring a smiling face to the hospital environment and let young patients see "behind the mask", The Button Project at the Monroe Carell Jr. Children's Hospital at Vanderbilt University in Nashville, Tennessee has been printing face photo buttons for doctors, nurses and medical staff to keep a personable friendly atmosphere in a sometimes upsetting circumstance.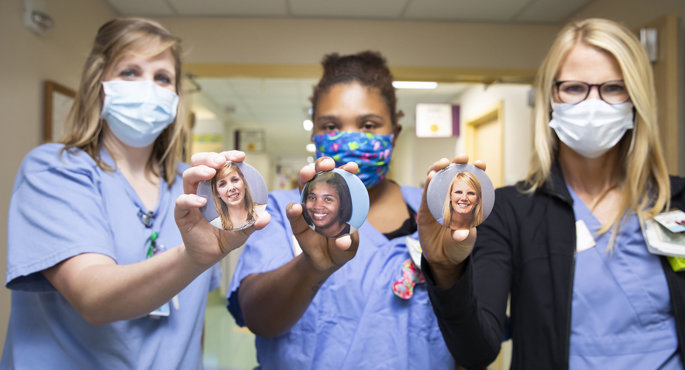 We have seen face photo buttons take off in recent months, receiving reviews from surgeons, general practitioners, and nurses… but not just medical related jobs! Face photo buttons have been ordered by schools and teachers unions, restaurants and cafes, cosmetologists and barbers, etc. Face photo buttons help customers, patients and clients see behind the mask and know who they're talking to.
It has never been easier to customize buttons with your beautiful smiling face. Simply browse our custom buttons – with 19 different shapes and sizes, pick a button size and add your photo in our easy online customizer tool. You'll get a free instant digital proof and checkout is a breeze.
We recommend a larger round button size, as it is easier to see from a distance (social distancing!) and more comfortable to wear for long periods with its round shape.
The masked world is presenting a real social challenge that face photo buttons are perfect solution for!
Last Modified: August 18th, 2020