We may be biased, but we like to think of ourselves as button experts! We can think of a lot of uses for our custom pin-back buttons and could probably speak for days on the subject. One of the great things about custom buttons is how versatile they are. Just about any life event can be commemorated or enhanced with buttons that are easy to wear and look great.
Custom buttons are a lasting keepsake that people will hold onto for years to come. They can be reused or displayed easily. They can be combined with ribbons to make awards or extra fancy badges. The sky is the limit and we're constantly seeing new uses for these pin-back wonders.
We offer 19 shapes and sizes of custom buttons at PureButtons.com (more than anywhere else) and we've created them for just about every purpose you can imagine. (…and a lot of uses you'd never think of in your wildest dreams!) We've decided to document some common use cases and elaborate further to hopefully give you some ideas for using buttons in your life in a variety of ways! Join thousands of happy customers around the world who have picked PureButtons.com for the highest quality custom buttons made in USA.
All of our custom button shapes and sizes can be personalized online in our easy customizer tool. Simply upload your artwork or photo and approve your design before you checkout. Our minimum order is just one piece with huge bulk discounts if you need to order a lot of pins.
Prepare yourself. This list of great ideas is pretty great, or…long……epic, even.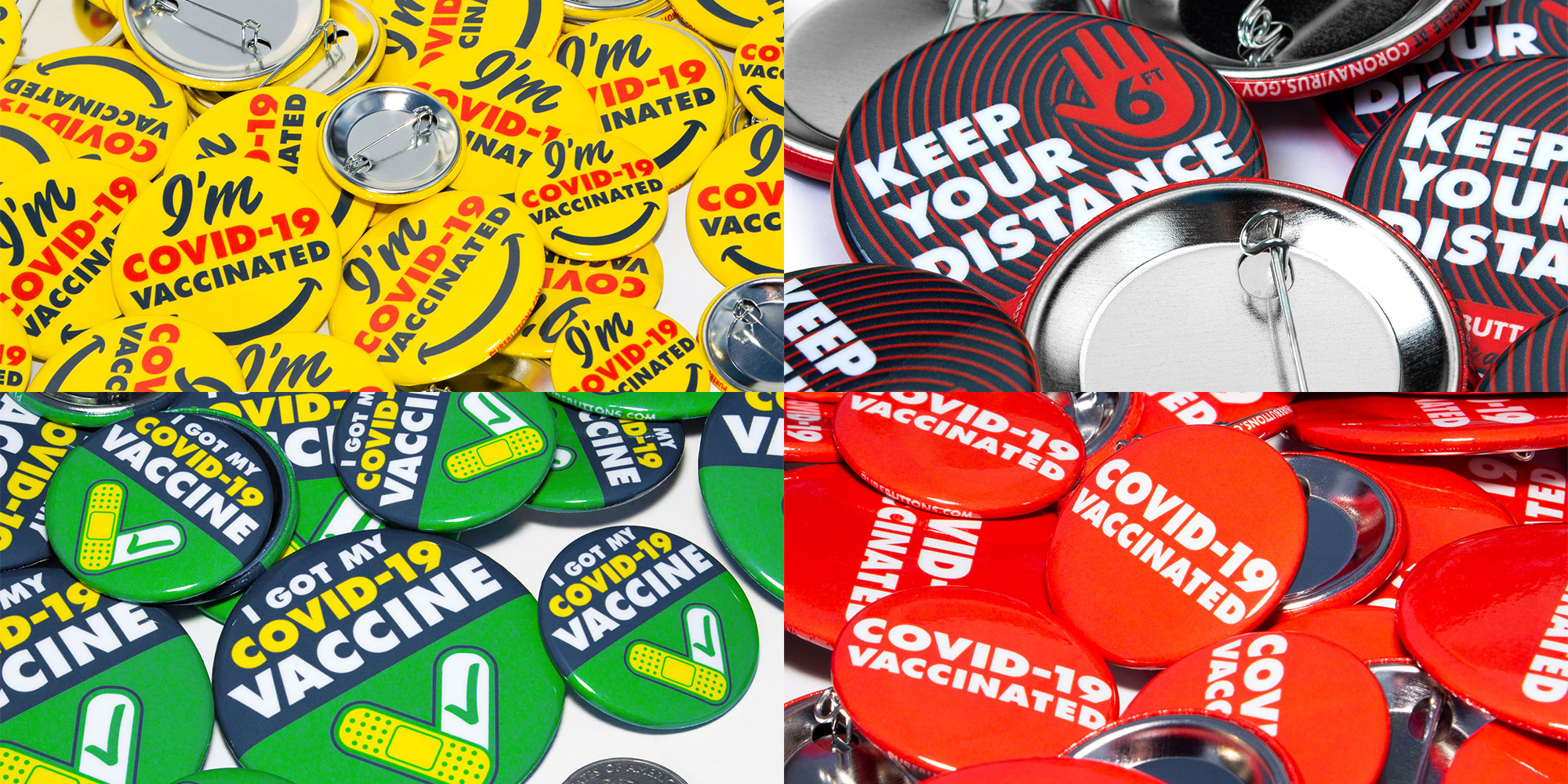 COVID-19 Buttons
The past two years (two years already?!) have seen an increase in COVID-19 related merchandise. Everything from "I'm Vaccinated Buttons" to "Keep Your Distance Buttons" and more. We've seen "Please Wear A Mask Buttons" and a wide variety of phrases encouraging social distancing and sanitary practices. We hope these social distancing tools have had a positive effect in the global struggle with coronavirus.
Face photo buttons have been another surprising trend since the start of the pandemic. People who need to wear a mask in public daily (teachers, waitstaff, doctors, etc) have started printing photos of their smiling faces on badges to wear so that others know what they look like behind the mask! It's a unique and inventive way to use our products in challenging times and we're all for it!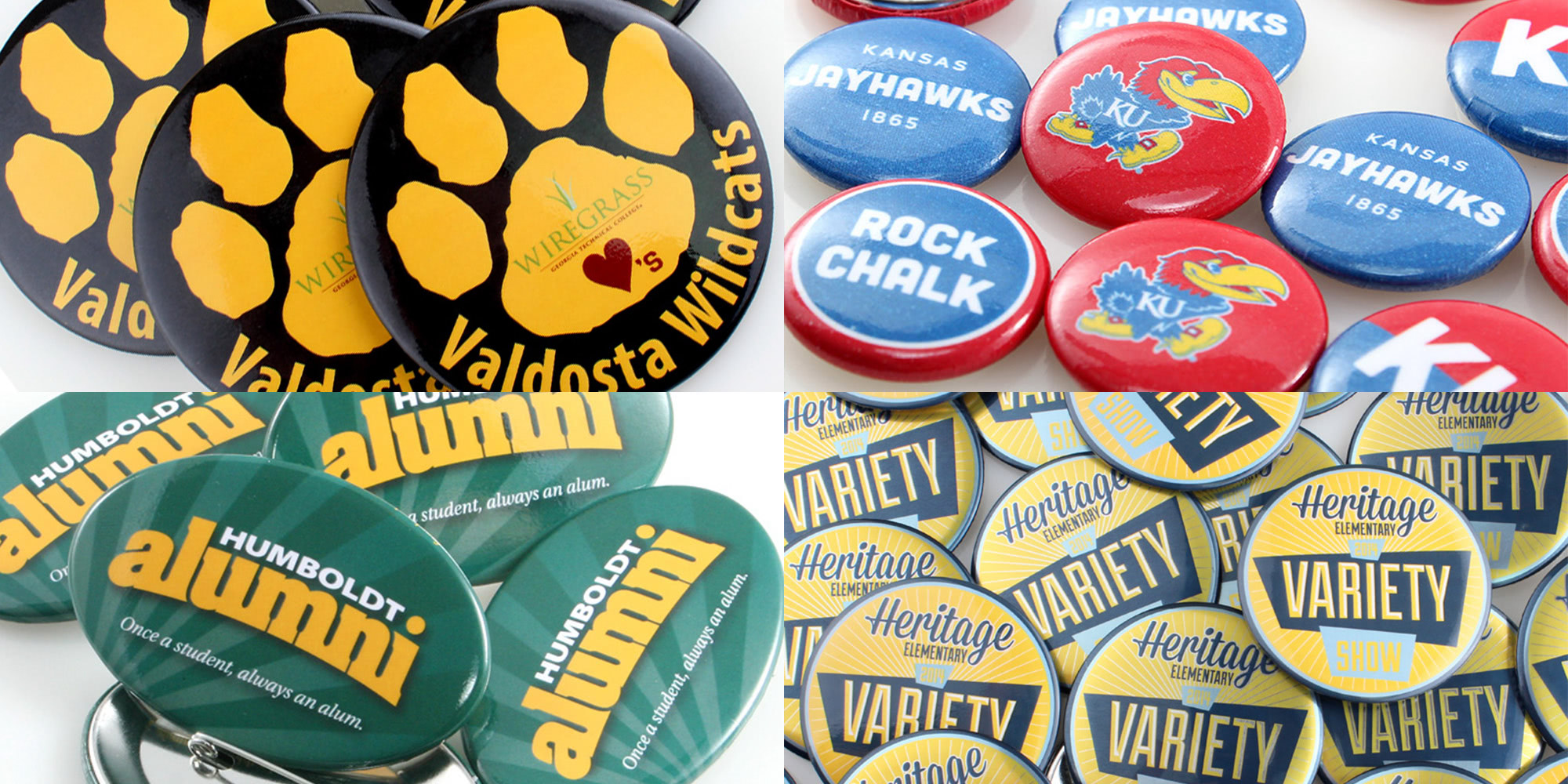 School / Academic Buttons
We have seen our entire line of custom promotional products be useful to schools, universities and associated groups when used as fundraising tools or for general merch, swag and promotional giveaways. Our high quality custom button pins are always the number one go-to merch item for any school looking to promote school spirit. Parents and students alike can engage in school activities and promote themselves with our affordable merch.
Alumni Buttons are great for homecoming events to identify school alumni. They can be used as thank-yous for alumni donations or simply attending alumni events.
Sports Fundraiser Buttons are affordable to produce and popular with fundraising efforts. Everyone will want a badge featuring your school's team mascot or logo and you can easily integrate them into your plans for sports fundraising. Our low minimums make this custom fundraiser merch item easy to get into and affordable to reorder when you need more! (you will!)
Team Membership Badges can identify teammates at social gatherings or events. They can serve as an ID tag or even as a small token of appreciation for a job well done.
PTA / PTO Fundraiser Buttons. Similar to the sports team fundraising, PTA fundraising can be made simple when you order custom merch with your schools logo or mascot. Students and parents alike will all want this affordable piece of memorabilia and it's much healthier than selling candy or sugary nuts.
Proud Parent of Button. If you're a proud parent of a student, show your pride! You can design your own pins featuring your students name and/or picture in our simple online tool. Our minimum order is just one piece but you can print more for friends and family and enjoy huge bulk discounts when you do.
School Election Buttons are a popular use for our larger sizes. Our 2.25-3.5″ round buttons are the sweet spot for campaign buttons and that includes school elections. We've had several School Board Election orders come through in the last year and many more Student Council Election designs. Our free campaign button templates can be altered with your school's colors add school spirit!
School-based teams and groups can enjoy rewarding members with affordable custom buttons. Student Mathletes, Anime Club, Robotics Club, A/V Club, Glee Club, Choir, Concert Band, Wind Symphony, every sports team from tennis to football and more can design pins for teammates and enjoy a unique badge that only members can have.
Graduation Buttons are one of our more popular spring-time designs. We recently released a gallery of graduation party favor templates that can be printed on any of our 3.5″ round products like coasters, magnets and more. Use custom button pins as a way to announce your graduation. Or provide them at the graduation party so attendees can wear them to the graduation events and support your grad!
Class of 2022 Buttons. Share a celebratory token with your classmates when you design buttons featuring the year of your graduation. This can be great for new graduates or even old classmates at class reunions. Just pick a size and enter our customizer tool and set your text. We offer a wide variety of fonts and you can add your own artwork if desired. You'll get an instant digital proof to approve before checking out!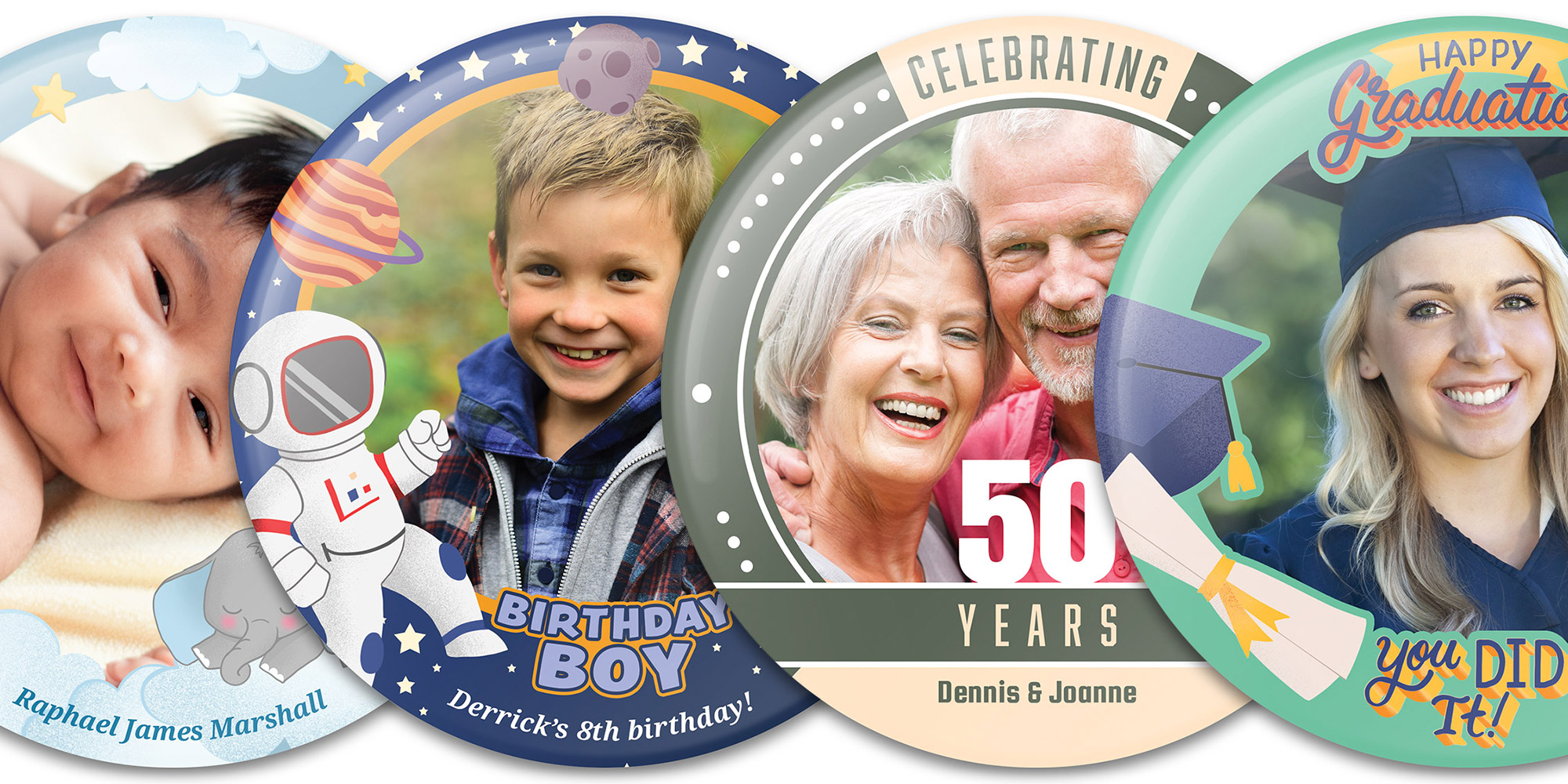 Custom Buttons for Life Events
There are a wide variety of life events that can be enhanced with a personalized button. We'll mention a couple ideas below, but while you read them think of events in your life that you could commemorate with a custom badge!
I Kicked Cancer's Ass Buttons. We've seen a lot of these celebratory designs come through. If you know anyone who recently battled cancer and kicked its butt, celebrate with a personalized keepsake that they can keep to remind themselves of overcoming such a serious illness. This style of celebratory button can be used for most illness.
Funeral / Memorial Buttons. We recently launched a gallery of free memorial button templates. These can be personalized with a photo and the name of your deceased loved one. They can be shared with funeral attendees as a keepsake to remember your dearly departed for years to come. You can also choose to print your memorial button designs as a wide variety of other personalized products like fridge magnets and coasters. It's a small gesture, but it means a lot to the people who are missing your loved one.
Pet Memorial Buttons. If you have a pet that meant a lot to you and others, consider ordering a pet memorial. It may seem silly to people without beloved pets, but a lot of people enjoy making memorial buttons to remember their furry friends. Any of our free memorial templates can be used for a pet memorial, or you can create one from scratch in our online tool with a photo of your pet. Add custom text and more to create a personalized memorial badge to honor your lost pet.
Personalized remembrance gifts in general are a thoughtful and affordable way to make an impact in someone's life during a dark time.
Announce a new baby with an It's A Girl! or It's A Boy! button. Use our online customizer to add your new baby's name and date of birth. It's a great cheap way to commemorate your favorite new addition to the family. Let everyone know you're a new dad / mom / grandma / grandpa / aunt or uncle when you wear your personalized button!
Bachelor / Bachelorette Party Buttons can be created with the name of the groom or bride to-be. Create pinback buttons with an inside joke, nickname or funny phrase. Something that your group of party goers can laugh at and enjoy as a keepsake from the night before the wedding! We can even ship directly to the hotel or venue your party will be at if your order is needed at the last minute.
Wedding Favor Buttons are a hit at weddings of all sizes, from modest gatherings to over the top weddings of the century. Decorate the wedding reception tables with custom pins as a collectible trinket that attendees can take home to remember the day. Personalize badges with the names of the bride and groom and the wedding date and venue. Your family and friends will be pleased to get a keepsake from the big day!
For weddings that have lasted many many years, anniversary buttons are a great choice. When everyone gets together to celebrate grandma and grandpa's 50th+ anniversary, it's a good idea to commemorate the occasion with affordable personalized party favors. Our pins are the perfect solution for these important events!
Birthday Buttons are becoming a more common sight in our production line. We recently unveiled a series of free-to-customize birthday designs featuring Birthday Boy/Girl Button templates, in addition to other high-quality and free birthday-centric photo frames.
Other great ideas for integrating buttons in a birthday celebration would be to give as a gift to someone celebrating a milestone birthday, for example a 18th Birthday, 21st Birthday or even a 100th Birthday Button.
You can easily create text-based button designs in our online tool, personalized for your favorite birthday boy or girl.
Party Favor Buttons can enhance any kind of party for most ages. The smallest children probably shouldn't have pinback badges for safety reasons… but any birthday party, retirement party or office party can be commemorated with buttons and give every attendee something to remember it by.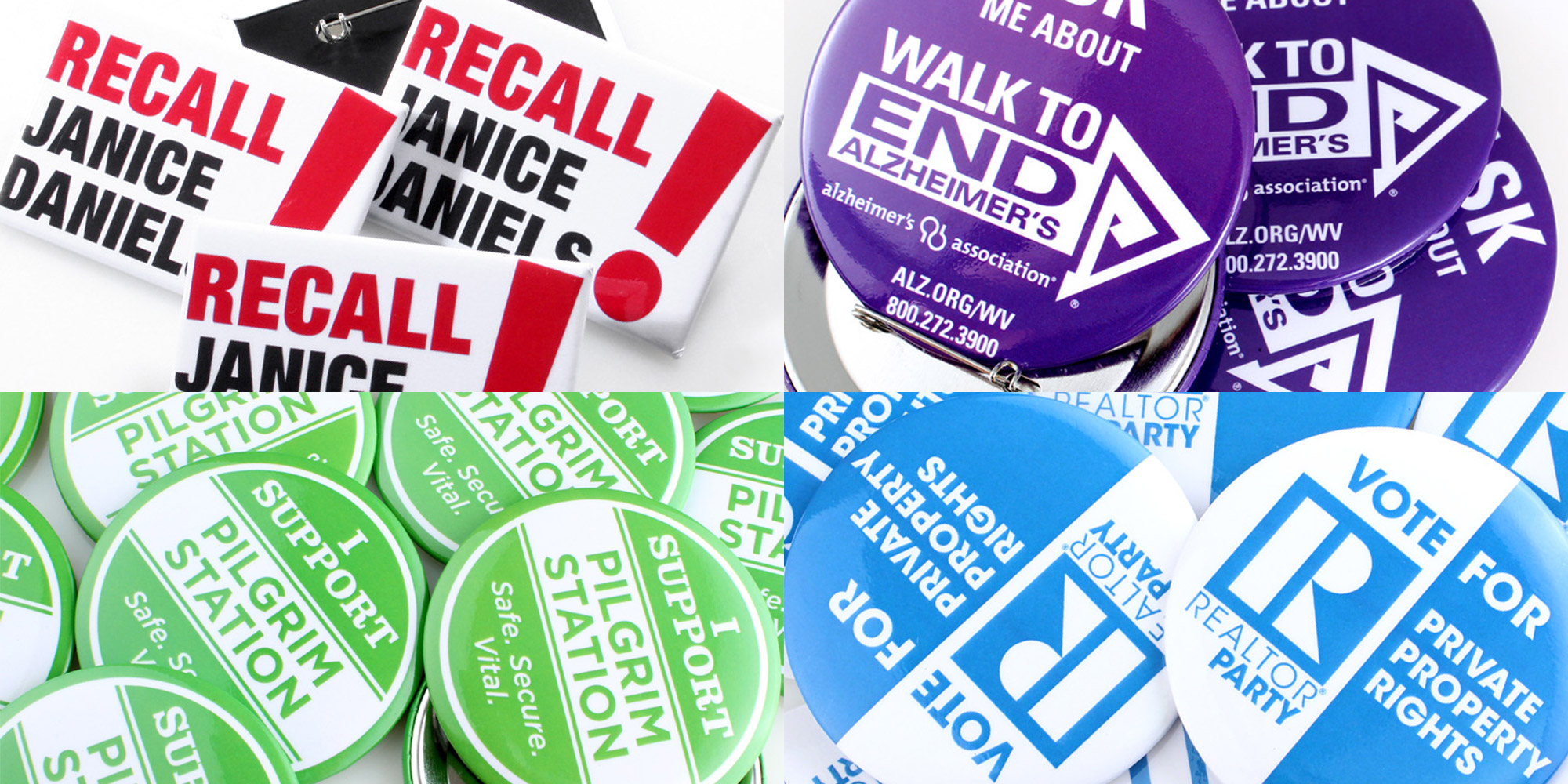 Custom Buttons for Activism & Awareness
More and more there are causes and political actions to get behind and our custom badges are an excellent way to show your support and inform others in a unobtrusive way. Every cause from civil rights to awareness of gender or sexual identity, genetic conditions and more can be advertised on our custom pins with ease.
Autism Awareness Buttons and/or Allergy Awareness Buttons are common sights in our production line. Concerned parents often use these personalized products to advise others how how to engage with special-needs children in the appropriate way.
Black Lives Matter Buttons. Many people who support Black Lives Matter order custom buttons that feature the phrase in bold white type on a black background. You can create your own original version of this design in our customizer tool.
"I Voted" Buttons are worn by voters to remind others to do the same. You can create one for yourself or create a bulk quantity of them to reward voters in your precinct. This would serve as a reusable version of the common "I voted" sticker that people post on social media to remind everyone to get out there and vote on election days.
Campaign Buttons are a very popular choice for our customers. We offer some of the most popular campaign button templates that are used by thousands of campaigns around the world. Our campaign templates might be popular because they are high quality and easy to personalize, but we also like the fact that all the colors can be adjusted easily so they can be used for more than just political campaigns. Change the colors and use them for any campaign, anywhere! Even student council elections can benefit from our free templates!
Shop Local Buttons. As a small business, shopping local is important to us. We regularly advertise that we produce our custom products in Ohio, USA. More specifically, Brunswick, Ohio, which is a small town a little bit southwest of Cleveland. We say these things to remind people that we're a small group of honest, hard working people just like you, and hope to earn your repeat business through our excellent products and customer service, rather than advertising.
We're not the flashiest custom printing company out there, but we hope you will trust us to deliver high quality custom merchandise at a great price with a quick turnaround time. It is with that being said that we mention Shop Local buttons that encourage people to remember their local businesses when making purchases.
It's becoming more and more common to outsource everything these days, when with a little consideration you can support a local business that does fantastic work. Even if it's just in the same or neighboring state. The closer your purchases are produced, the less impact it has on the environment for transporting your goods. You benefit from jobs and taxes being paid in areas near you. Financial and ecological ecosystems are affected by choosing to shop local. We are happy to provide shop local buttons to local stores in our area.
This concept means a lot to us! I guess you could say we are "shop local" activists!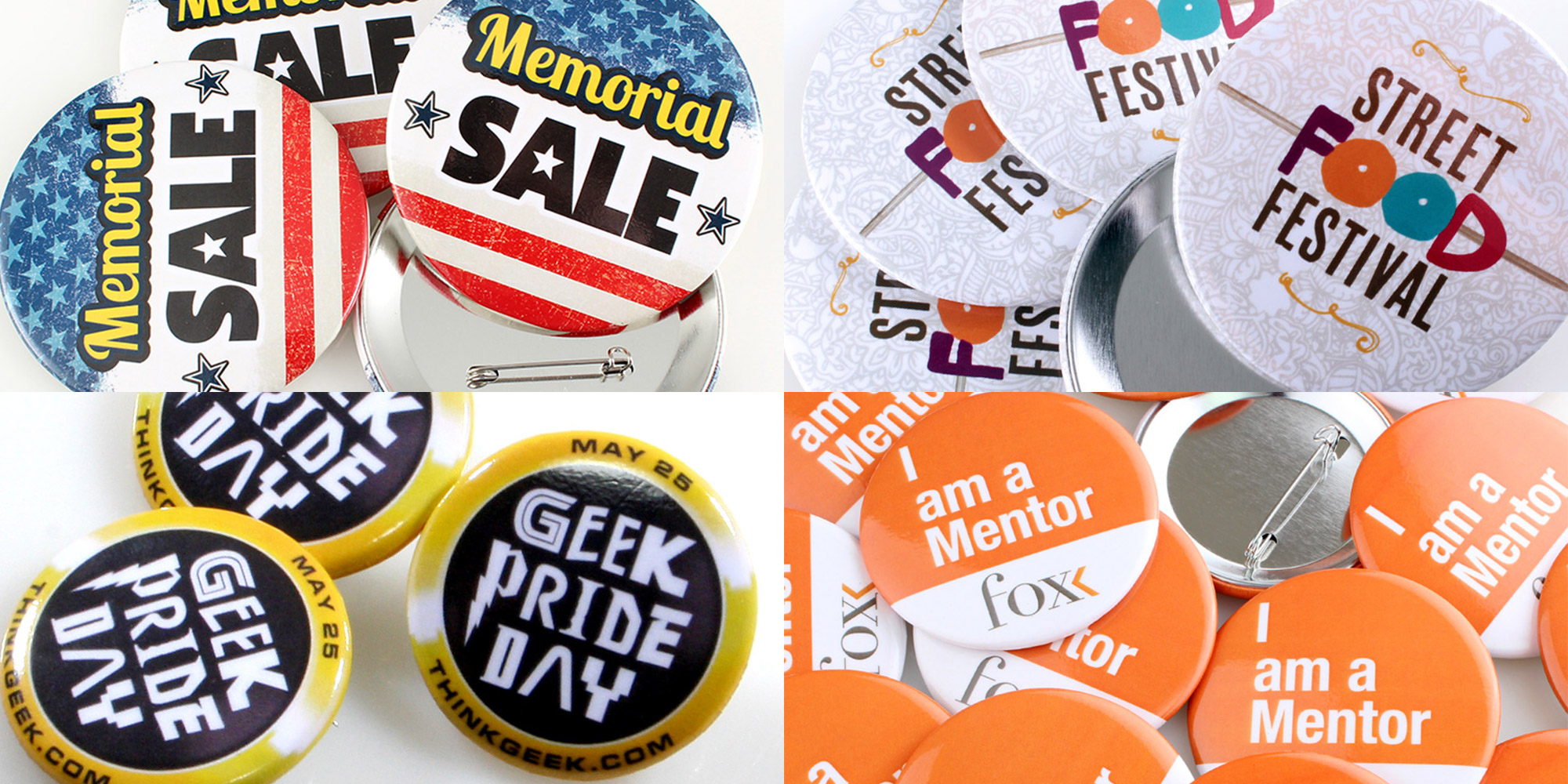 Custom Buttons for Events
The word "Events" is very generalized but really, the following ideas can be used for any kind of sporting event like a 5K race, concerts, fairs, festivals, conventions and more.
Trophy Buttons are an excellent way to reward participants in any event, whether it is a footrace, a youth soccer team, or an art class. Use our shiny metallic finish to simulate gold, silver and bronze medals for a fun affordable reward
Participant Buttons. Much like the trophy idea above, you could reward all participants in your event with a commemorative badge that they can keep for years to come. Hang the reward from a ribbon or lanyard and it looks like a custom medal. You could also create different tiers or styles to reward to high performing participants in your event. Our 1 piece minimum lets you experiment with different design options easily!
Volunteer Buttons are a great idea for showing people lending their time that you care. A keepsake to remember their time helping out with an event is just enough to say "thank you" while not breaking the bank. These badges can also be used to identify people in charge at an event. Make a brightly colored design that says 'volunteer' so that event attendees can see who they can approach for information or listen to for organization purposes.
Security Buttons can identify security staff at an event. Much like the classic security T-Shirt, a large bold badge design could serve a similar purpose identifying your security staff.
Staff Buttons can not only identify workers at an event, but you can also use them to promote specials or inform customers of products and services available. Flashy, eye-catching designs can be used to spread the word about what you're offering.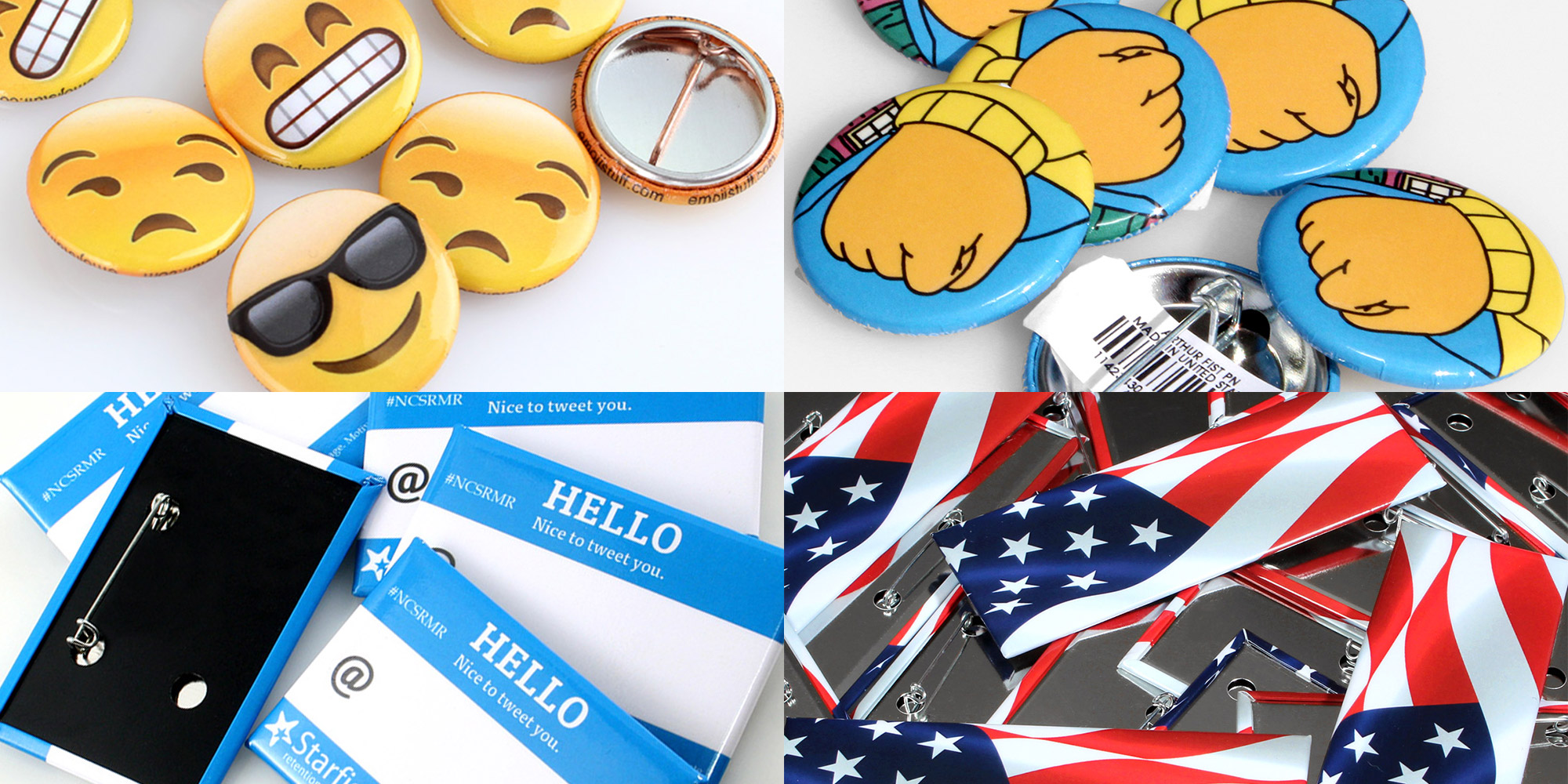 Other Custom Button Ideas
There are a million other uses to mention but here are a few popular ideas to wrap up our epic list.
QR Code Buttons can be produced using a QR Code Generator and our easy online tool. Simply add the URL or custom text of your choice into the generator and save your code image. Add it to the tool and approve your digital proof. QR codes can be scanned by any cellphone camera and take people to your website where they can learn more.
Peace Sign Button is a classic design. Upload your favorite version and adjust colors to your liking in our easy art tool.
Smiley Face Button is another classic choice. Everyone loves to see it and our high quality printers can create vivid yellow smiley faces on any of our custom products.
Emoji Buttons are a popular choice. Kids love them and they work great for classroom rewards or just fun gifts.
Meme Buttons are going viral. Print your favorite memes and wear them in public. Become a walking meme!
Photo Buttons are easy to create in our tool. Simply drop your best photo in and approve your digital proof. Our low minimum makes it easy to print all of your favorite photos as wearable pin-back badges.
Artwork Buttons are no-brainer for creative people looking to sell custom merchandise featuring their unique artwork. A lot of our customers are independent artists who sell their designs at conventions and on their websites. Our customizable products make it easy to get started selling your own custom merch!
Logo Buttons are one of our top sellers. Simply add your logo to our art tool and approve your digital proof. It takes just seconds to create completely custom merchandise at PureButtons.com
Band Buttons are some of the first merch most bands buy to sell or hand out at concerts. They're easy to create and an affordable way to get your name out there.
Hashtag Buttons can be a promotional tool. Simply type your favorite hashtag into our customizer tool and create a modern marketing tool for conventions and more.
Custom ID Badge Buttons. Some of our large rectangle sizes are perfect for use as ID Badges or backstage passes. They're water-resistant, long lasting and high quality. The fact that we offer a minimum of just one badge means that you can create unique ID's for your entire crew easily.
Hello My Name Is / Name Tag Buttons can be produced for any event, whether it is a convention, meet & greet, speed dating, or even a large family reunion or class reunion. Leave a spot for people to fill in their name with a Sharpie, or custom print names right on the name tag. It's up to you! These high quality name tag buttons will last for years to come, giving attendees a keepsake to remember your event.
Church Buttons are a popular way for various churches and youth groups to promote and reward participants. They can also serve as a fundraising tool at a church gift shop or bookstore.
Souvenir Buttons can be created by museums or shop keepers looking to add unique products to their gift shops at any tourist destination. OR you can create your own custom souvenirs to remember your travels when you return home. Simply print your favorite photo of where you went and add custom text to create unique souvenirs at a fraction of the cost of retail products. Share them with family or friends who went with you. You could print a photo of yourself at a historic landmark to create a memorable keepsake from your trip.
"Kiss Me, I'm Irish" Buttons. this is a classic design people order around St Patrick's Day, but really a lot of holiday seasons can be made more festive with custom flair. You could create Christmas pins or wear a heart on Valentine's Day. The options are endless with a little bit of creativity.
We've tried to keep this list as helpful as possible, but it's far from complete. Maybe in the future we'll come up with another list of useful button ideas. We've always got our eye out for new ideas and concepts using our wide variety of shapes and sizes.
Last Modified: December 9th, 2021