We're very proud of these beautiful custom die cut button packs we recently created for Jorge Garza, aka Qetza. Check out the beautiful detail in the backer card design and the strong iconic designs on the buttons. The custom buttons also have rim text which you can see peeking out underneath the buttons in the second image!
You can buy some great t-shirts from the Qetza store and see more artwork at Qetza.com!
Last Modified: January 5th, 2021
We have gone through our extensive Custom Buttons Samples Gallery and separated it into categories. Hopefully this will help you find examples of your type of project, in order to help you get ideas or see what others have done with our wide variety of custom button shapes and sizes. We hope to fill out these galleries even further and someday add new categories to the list!
The current categories are:
Advertising / Promotional
Music / Bands
Movies / TV / Video Games
Artist / Designer / Clothing
Club / Membership
Food & Drink
Political / Campaign
Religious
Sports
Charity / Non-Profit
Events
School
Round Buttons
Square Buttons
Oval buttons
Rectangle Buttons
All Buttons Samples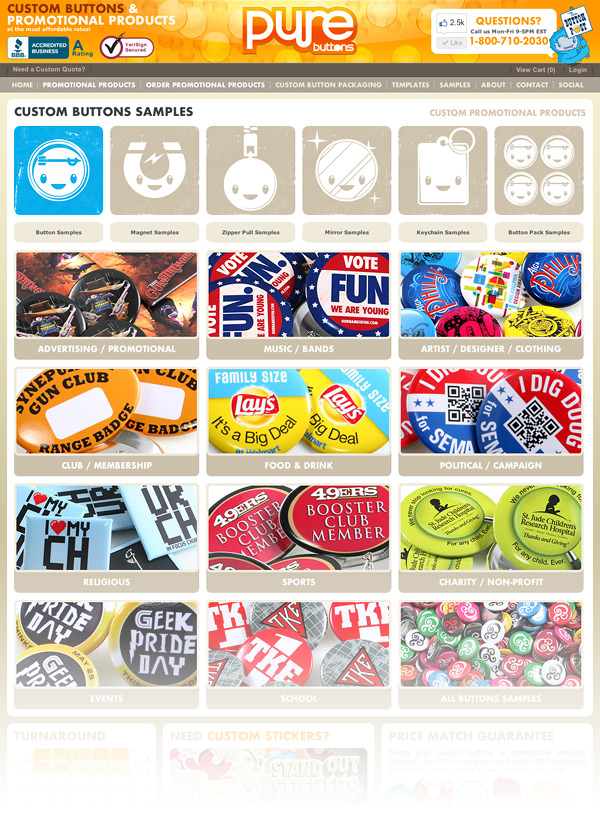 Last Modified: May 22nd, 2020