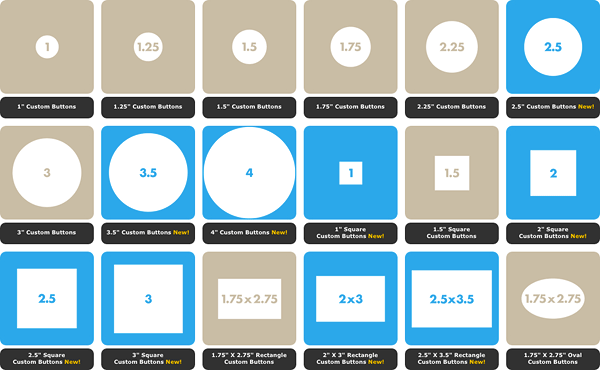 We just launched a bunch of new sizes! Check out our NEW:
2.5″ Round Buttons
3.5″ Round Buttons
4″ Round Buttons
1″ Square Buttons
2″ Square Buttons
2.5″ Square Buttons
3″ Square Buttons
2″ x 3″ Rectangle Buttons
2.5″ x 3.5″ Rectangle Buttons
These new sizes are gorgeous and bring our grand total of size / shape offerings to a whopping 18 button sizes!
New Custom Button Pack Sizes!
We just added a 1″ Square option to all of our packs so now you can get packs with up to 6 1″ Square Custom Buttons on them.
Shop Custom Button Packs
Last Modified: January 14th, 2015