Now that October has come and gone we are in the countdown to Christmas. What better way to get ready than with an even bigger discount on our exclusive custom Christmas ornaments.
These photo ornaments make excellent Christmas gifts for friends, family and customers.
You can add your best photo or logo to these custom ornaments for a great gift that everyone will want to hang on their Christmas tree!
Now through December 31 your can take 20% off any order of personalized ornaments with coupon code ORNAMENT20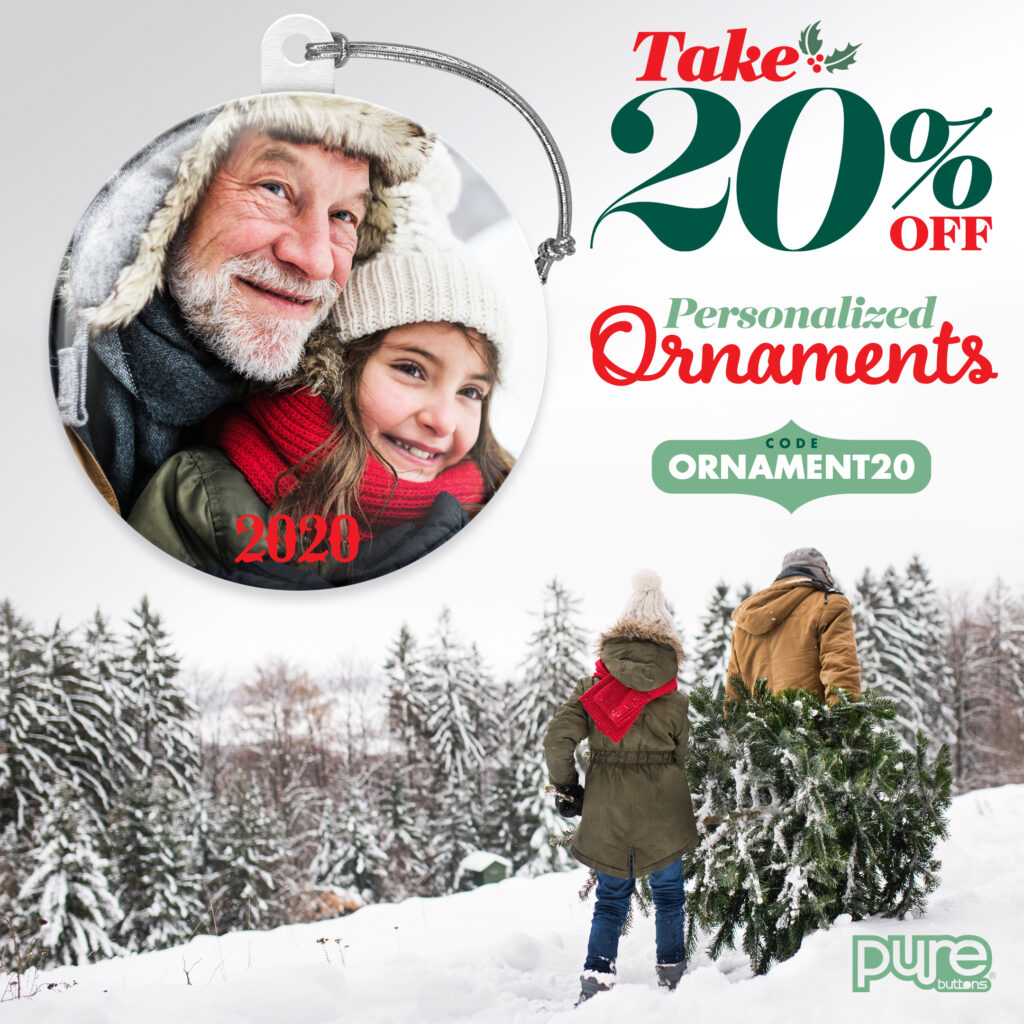 What do we mean by "exclusive" Custom Christmas Ornaments? We mean that nobody else carries personalized Christmas ornaments like ours. We conceived, designed and manufactured this unique photo gift ourselves.
You won't find personalized ornaments like this anywhere else!
We want you to see how easy it is to create a custom ornament at Pure Buttons! Just use our free online customizer tool. You can drop in your best photo from your phone, computer, or facebook. Add your custom text and approve your instant digital proof.
It's that simple to create a personalized photo gift.
If you'd like something more creative, we offer a free gallery of Christmas Photo Gifts. These are high quality design templates feature a place for you to drop your best photo.
Choose your favorite seasonal photo gift template and get started on the perfect gift this holiday season!
We first created our custom Christmas ornaments in 2018. In 2019 we made a design revision to the ornament's back panel to make the ornaments more durable and substantial feeling in your hands. Rest assured that this is a very high quality product that will impress friends, family and customers alike!
Many customers have reached out with their excitement about how well their ornaments are selling. Check out this review one of our happy customers left for our custom ornaments.
"These rock!!! Absolutely awesome product! I sell them all day long for $5 each, they fly off the shelves. Will be ordering many many many more." – DAKOTA FROM FERNDALE CA
Our custom ornaments are just one of our many custom promotional products, but they are a HOT selling seasonal item that you can't be caught without! Sell custom ornaments in your online shop or create personalized ornaments to reward your customers this holiday season.
Hurry, the holidays will be here before you know it! It's better to be early so your friends, family and customers can enjoy your ornaments all season.
Last Modified: November 2nd, 2020