More and more people are coming to Pure Buttons to print high quality Souvenir Magnets. With an increase in people deciding to travel after COVID restrictions are eased, tourism is growing at a rapid pace. Visitors are flooding national parks, museums, theme parks, and major cities in greater numbers than in recent history and they seem to be looking for an affordable, collectible token to remember their trips.
Our custom magnets are the perfect solution! They are incredibly high quality, custom printed magnets that have a low bulk price and high resale value.
We shrink-wrap magnets in stacks for shipping. All sample photos seen are taken behind-the-scenes on our production floor.
Over on our instagram profile, we've recently published several in-production shots of some excellent souvenir fridge magnets which we're including below.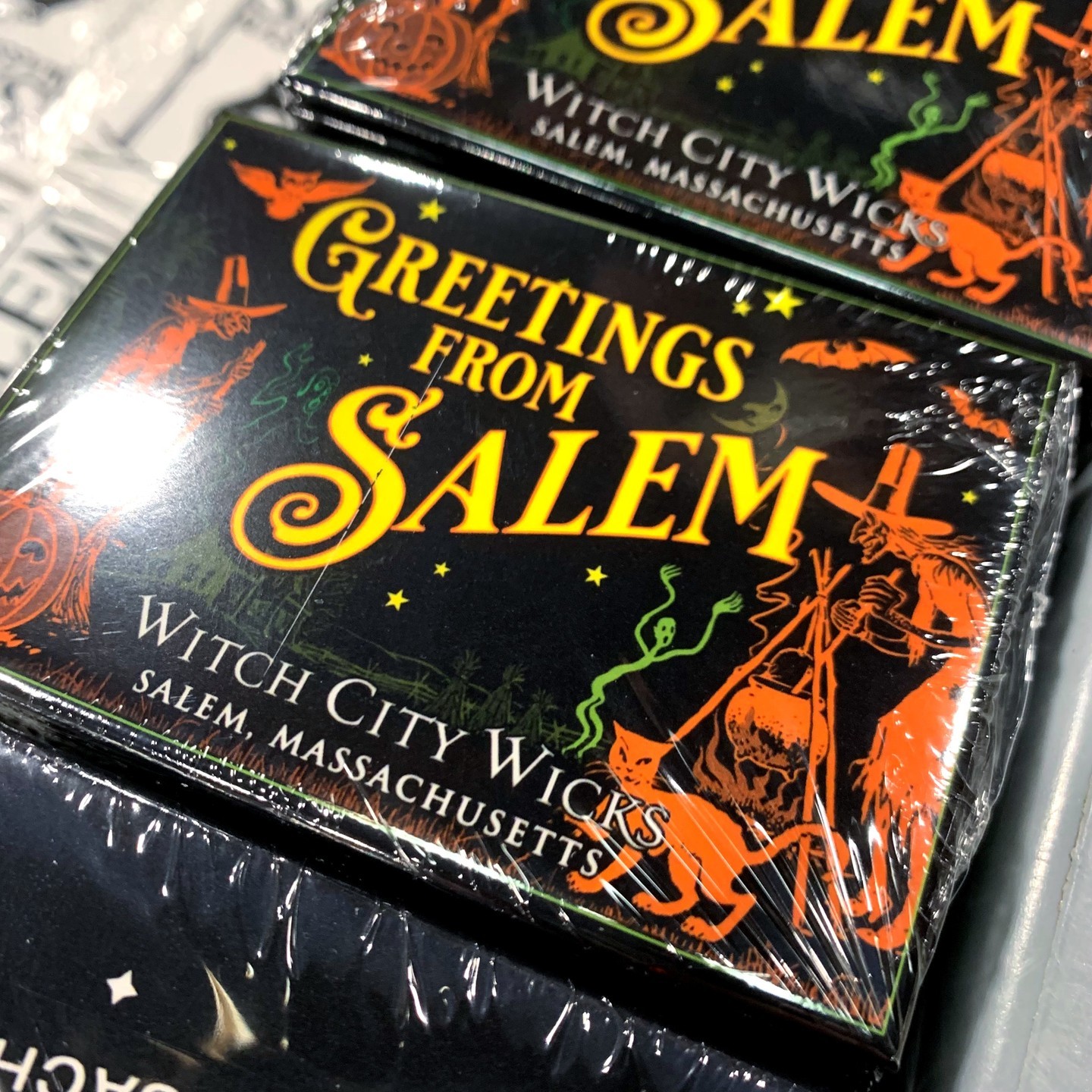 The shink-wrapped stack of Salem magnets above are one of many designs welcoming people to Salem, Massachusetts that we recently printed during the Halloween season. Tourism in this historically spooky town is highest in Spooktober for good reason. Witch City Wicks candle company produced a wide variety of Salem vacation magnet designs to sell in their shop during the height of tourism season.
Our favorite gift shop magnets feature a high quality illustration of the locale, sight, or historical landmark. But many magnet designs are simply designed as a photo magnet with a bit of text describing the location. Photo magnets can be created in a matter of seconds in our easy online tool. Just add your favorite photograph and use our text tool to give the image an attractive caption with our diverse selection of fonts.
Check out this example of a 2.5″x3.5″ rectangle souvenir magnet for Joshua Tree National Park, seen below. The customer has chosen a beautiful photograph to feature and added small text in the bottom left corner to identify the location. Note the vivid color reproduction in our photo magnet printing. This customer has also chosen our original gloss finish which helps colors pop!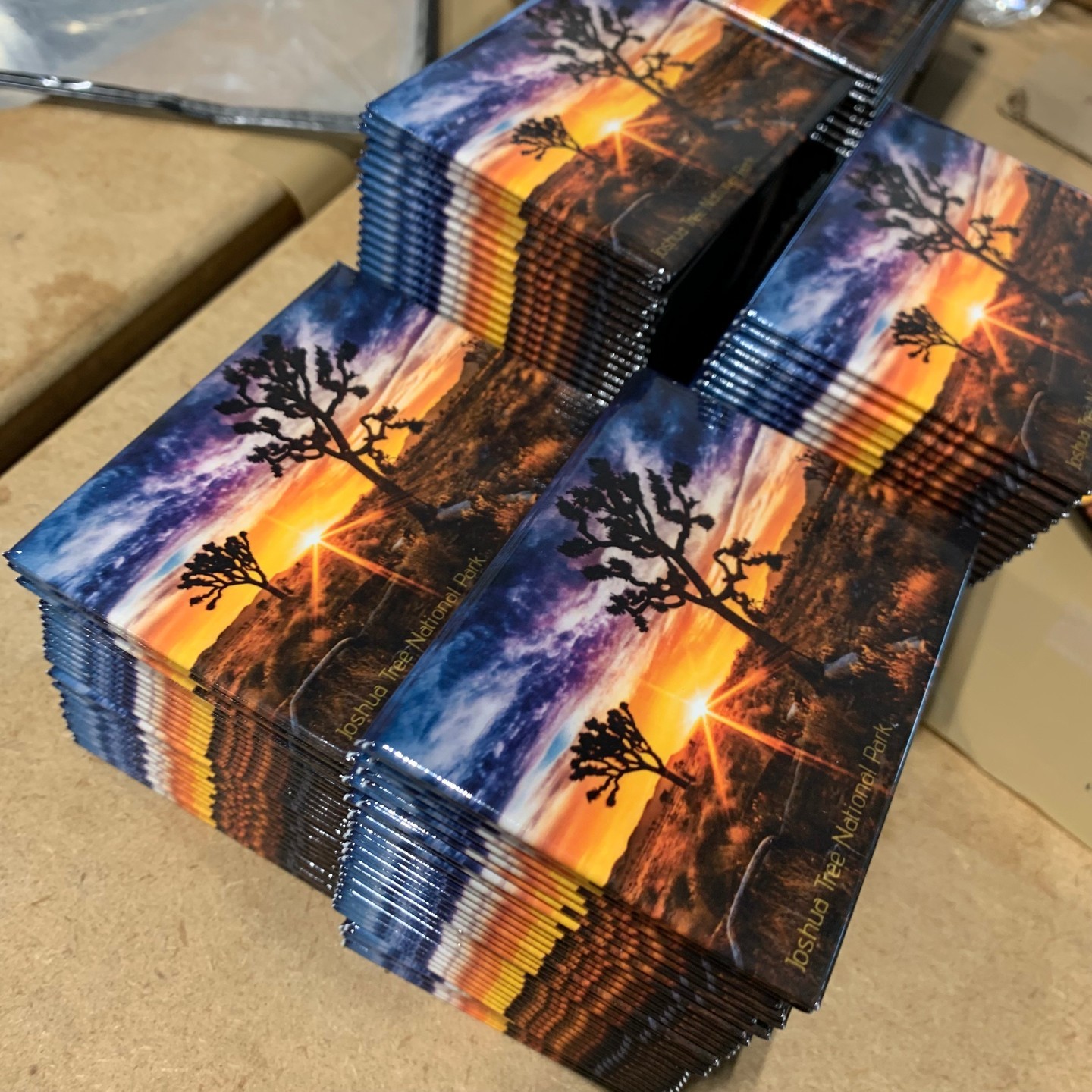 Our larger rectangle magnets seem to be most popular to customize as magnet souvenirs. Check out our 2.5″x3.5″ Rectangle Magnets or our 2″x3″ Rectangle Magnets. These rectangle sizes are most commonly found to be used with tourism-related collectible magnet designs, but don't let that limit your imagination when coming up with your graphics! Our custom magnets are available in 19 shapes and sizes to personalize online.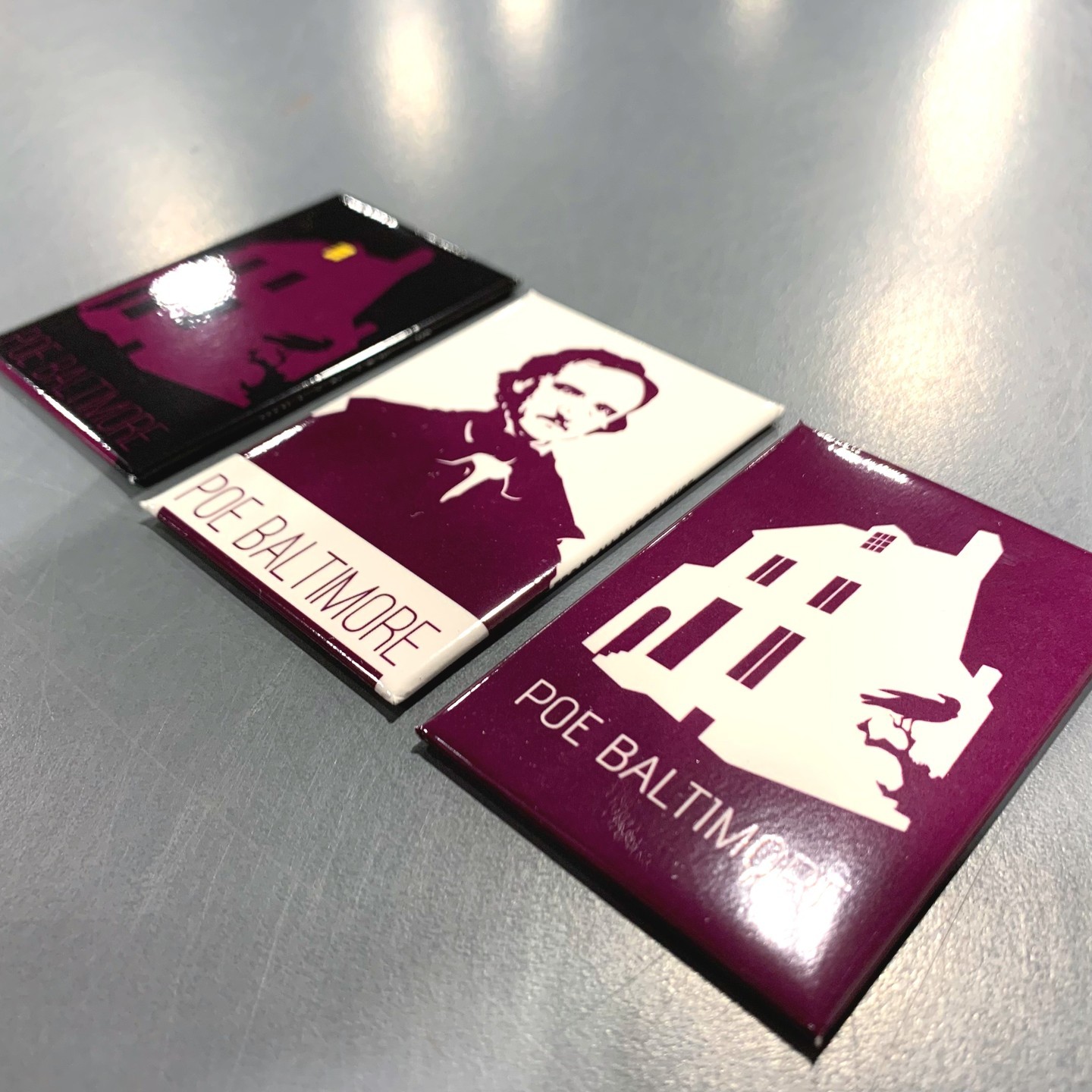 More tourism magnets for Poe Baltimore are in a similar spooky vein as the Salem magnets above. These purple, white and black magnets offer a bold graphical choice with strong brand identity. Many previous Poe Baltimore magnet designs have a similar aesthetic.
Customers have relied on Pure Buttons for incredible magnet printing with durable, long-lasting finishes like glossy or soft-touch matte. Our high-quality printers produce vivid colors and beautiful clarity on your custom printed magnets.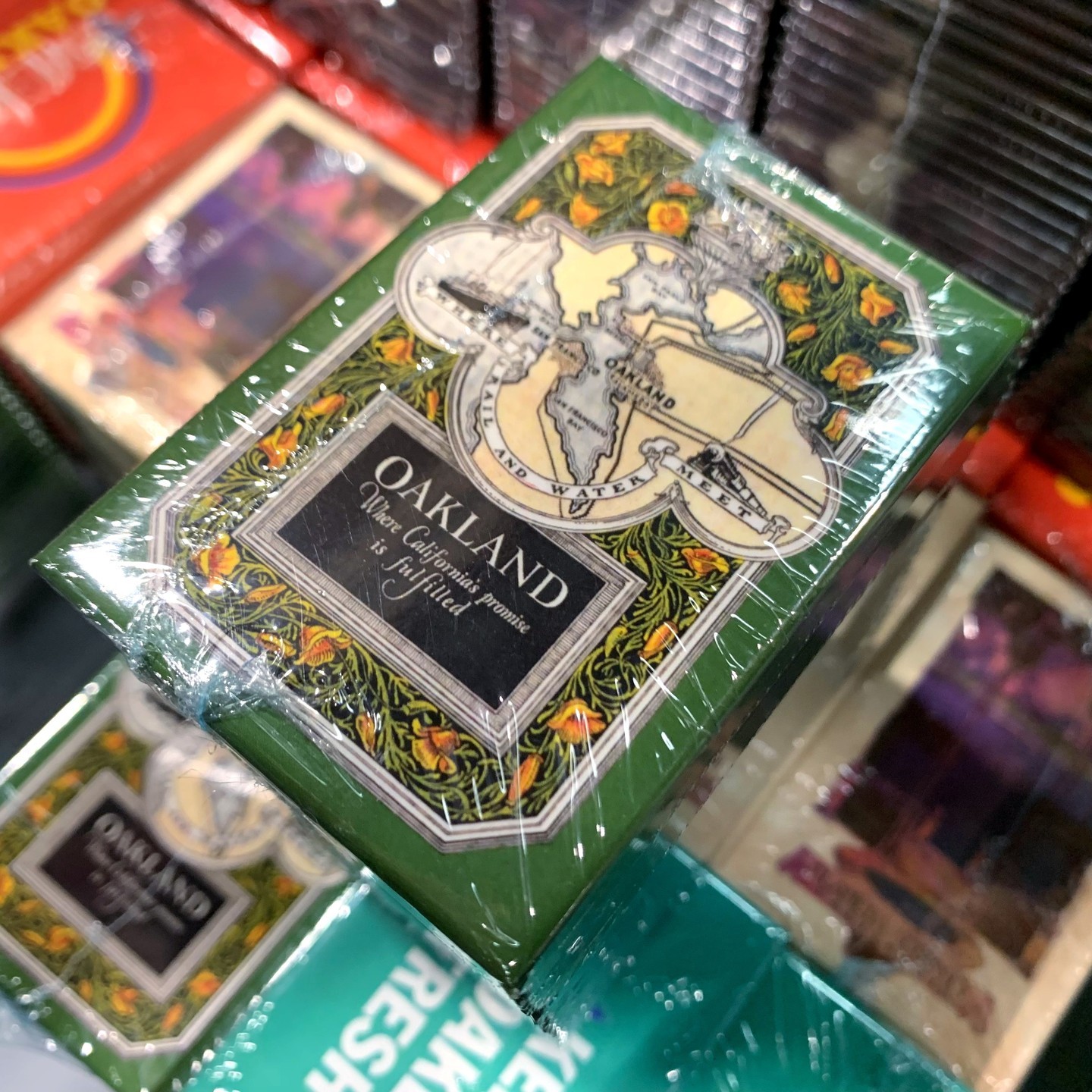 Pure Buttons souvenir fridge magnets are sold by the thousands in New York, Los Angeles, San Francisco, all major national parks and a wide variety of museums, restaurants, and gift shops in the USA and all over the world! Chances are, if you've seen magnets like this hanging on display somewhere, we printed them!
Check out the shink-wrapped stack of Oakland tourism magnets above. This is one of many diverse graphical styles recently ordered by a customer in Oakland, California. Below, take a look at one of many designs for Kauai, Hawaii. This magnet was printed at a 2.5″x3.5″ Rectangle, but this customer also ordered other shapes like our 3″ square in a diamond orientation to look like a traffic sign.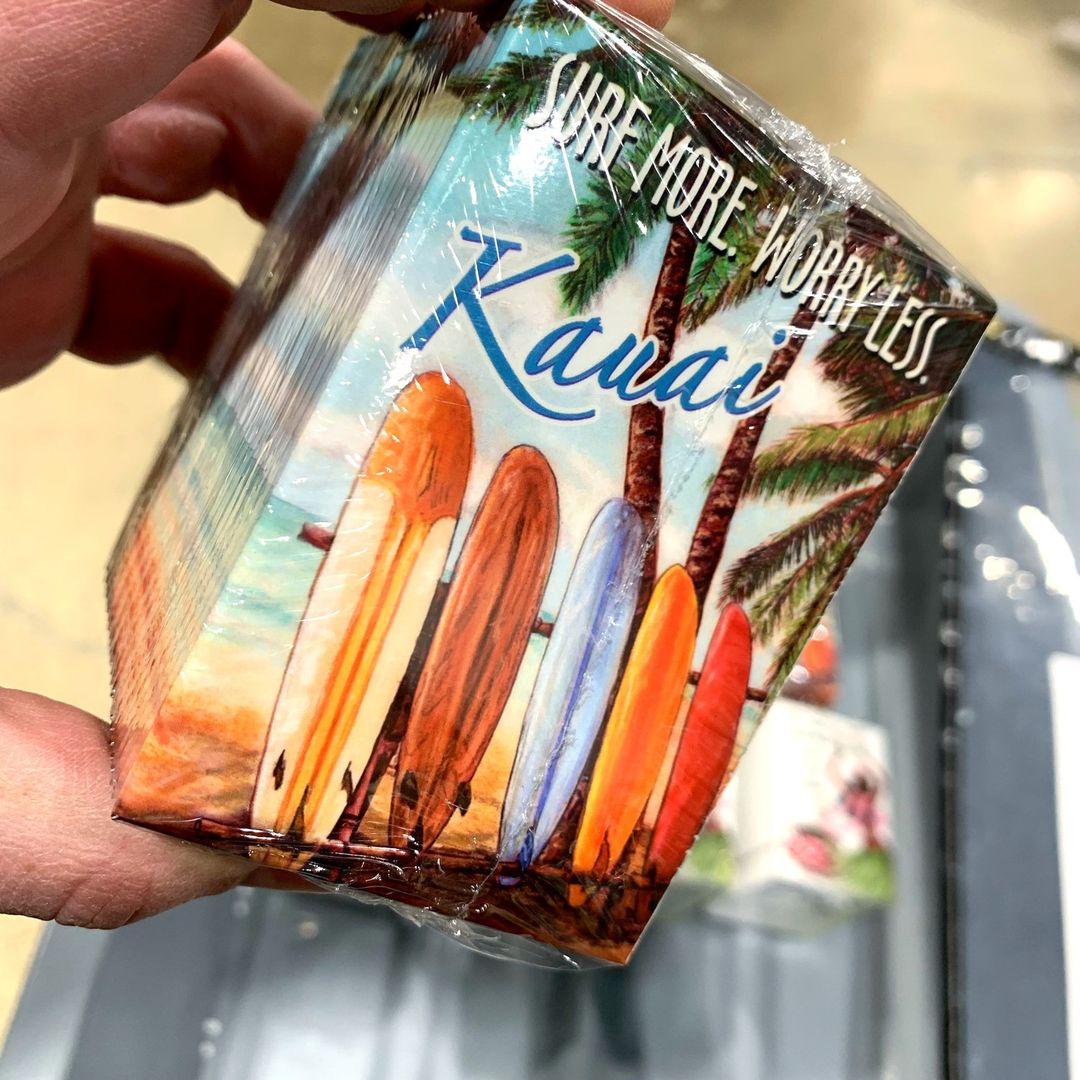 We have no minimum order so it's very easy to order one piece before investing in a bulk quantity of magnets. But we offer massive bulk discounts to give you incredible retail margins on all of our custom products, not just magnets.
This retro style souvenir state magnet for Idaho features a large vintage inspired graphic that is perfect for a keepsake fridge magnet. Many of our magnets feature, more broadly, a whole state rather than a specific location or attraction. These state magnets are great in gas stations or gift shops where people are casually passing through on their travels.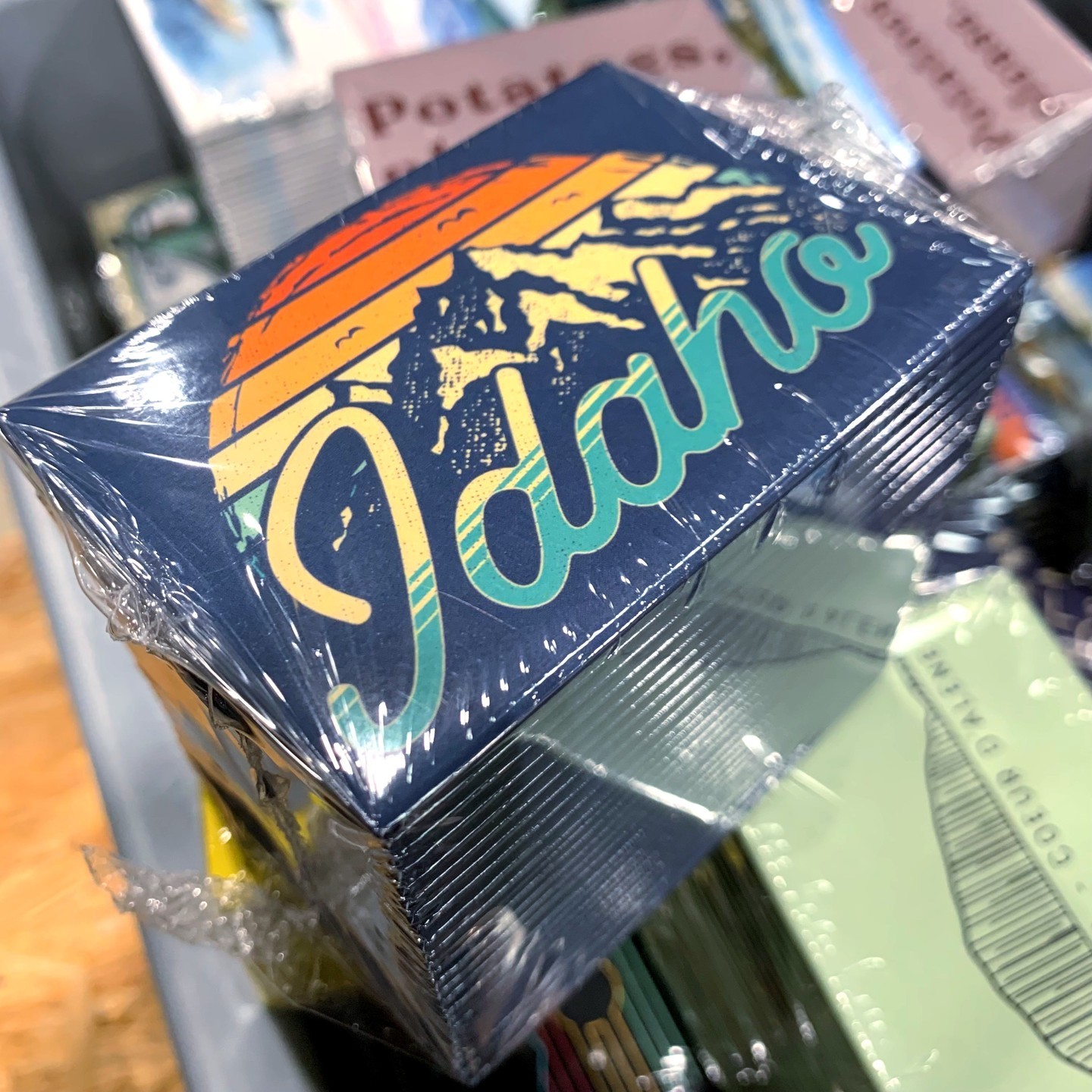 This gorgeous fridge magnet for Hawaii National Park features vintage silkscreen poster artwork that makes for perfect collectible magnets. This is one of many national park designs ordered by this customer and each one features a gorgeous piece of authentic, vintage poster artwork.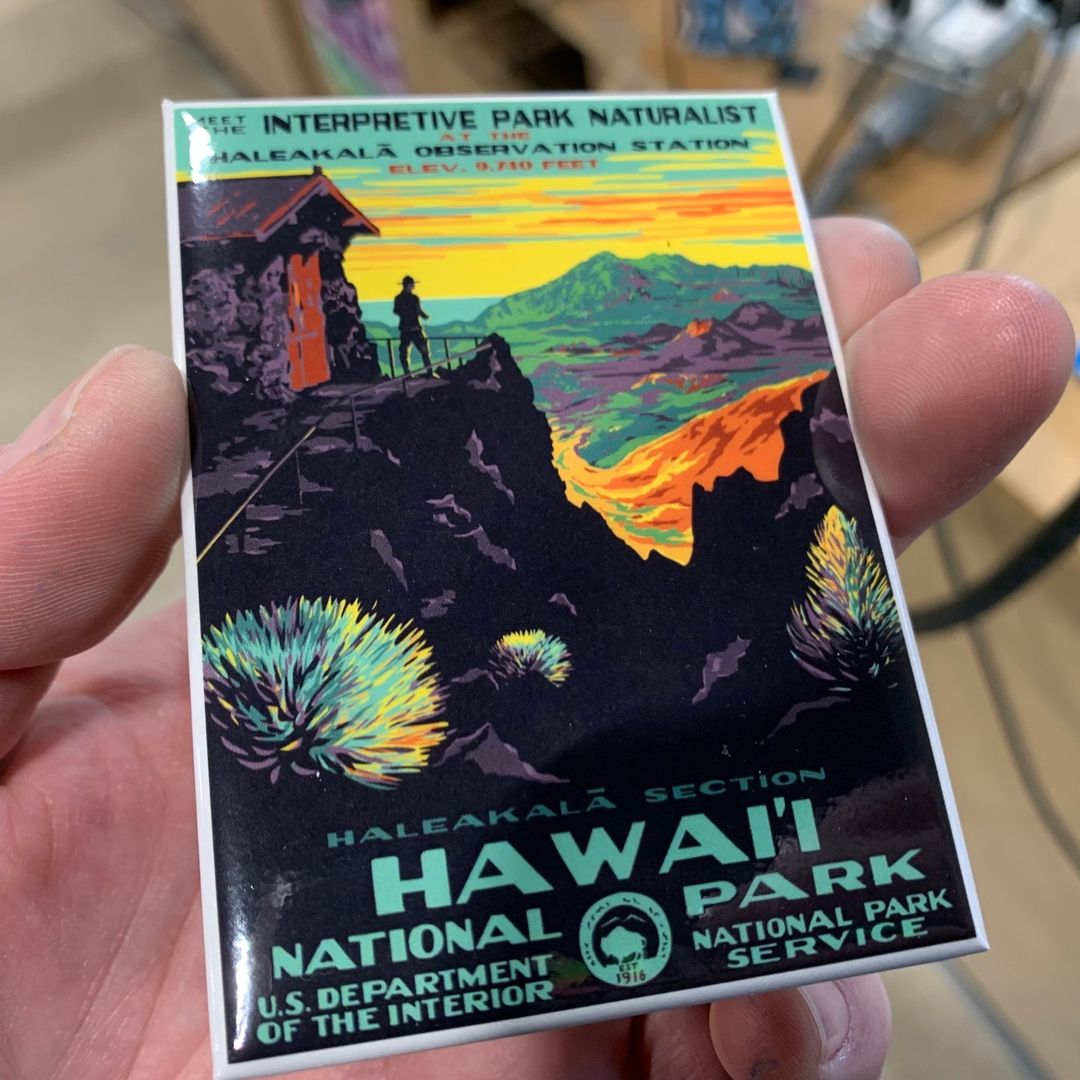 Believe it or not, Alcatraz Island welcomes over 1.5 million people per year. The historical prison island is now a famous tourist attraction that offers tours and unique sights. Such a memorable location deserves an affordable keepsake gift and our custom fridge magnets are the perfect fit. Pocket sized, affordable and long-lasting. We have printed many unique Alcatraz magnets in a wide variety of sizes and shapes. These tourism magnets, pictured below, feature a Sean Connery quote from the movie "The Rock" which takes place at Alcatraz.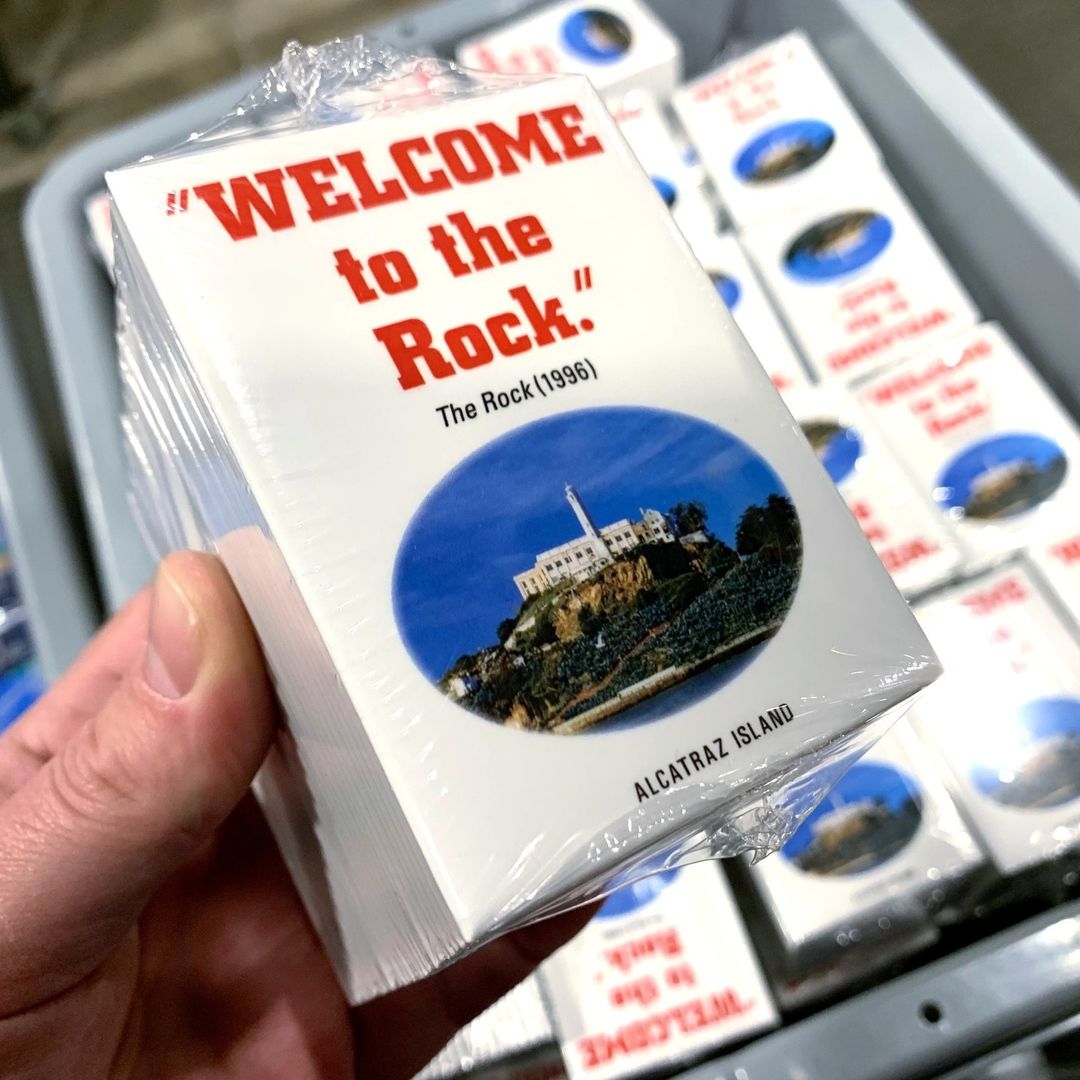 No matter what location, attraction or event you're looking to make souvenir magnets for, we've got you covered. 19 shapes and sizes, three finish options, quick turnaround and high quality make Pure Buttons a no-brainer for affordable magnet souvenirs.
Last Modified: December 28th, 2022
Custom souvenir magnets are a great way to bring in more business for your gift shop or fundraising efforts. They're a high quality product and available in 19 shapes and sizes from 1″ round magnets up to our massive 6″ magnetic easel.
They come custom printed with your photos, logos or graphics in stunning full color. Water resistant, they sanitize easily, and can be made with either glossy finish, soft-touch matte finish or a metallic acetate finish that gives them a unique metallic look!
But the best part about our custom magnets is the price!
We offer these souvenir magnets at affordable prices so they're great for you, looking to keep a low overhead cost, but also perfect for travelers who are looking for something affordable and small to carry around with them on their trips.
Popular Souvenir Magnet Sizes
Our most popular souvenir magnet size is our 2.5″x3.5″ Rectangle Magnets. This is our second largest rectangle refrigerator magnet and is about half the size of a postcard. It is perfect for beautiful photo magnets featuring the sites and memories that tourists want to take home with them.
Our larger magnets are good for souvenirs because they grab attention in a retail display while still remaining small enough to fit in a pocket or purse for easy carrying when on traveling on foot. Custom Fridge Magnets are a popular gift shop item because of their affordability too. We offer major bulk discounts on our custom magnets so it pays to order more.
Design Magnets Online
Create unique magnet designs that feature sights and memories that tourists will want to take home. Your magnets will be a great conversation starter that everyone loves!
Our online tool lets you design magnets from scratch in a very simple and easy to use interface. Try adding a photo and inserting some custom text that describes the photo. When you're done, we'll give you an instant digital proof of your retail-ready souvenir magnet.
Fundraiser Magnets
Our souvenir magnets are perfect for fundraising efforts of schools, non-profit museums or art gallery gift shops. Their low cost makes them an easy custom product to add to your collection of customized merchandise. They're made in USA, affordable, and compact yet highly visible, which makes them very attractive for shopkeepers or fundraisers looking for a great return on investment.
No matter what custom magnet size you choose, you can't go wrong when adding souvenir magnets to your catalog of customized products.
Below are a couple examples of souvenir magnet designs we've recently posted on instagram. Your magnets don't have to be illustrated in a similar way, they can be as simple as a photograph and a text title. Think postcard but in magnet form!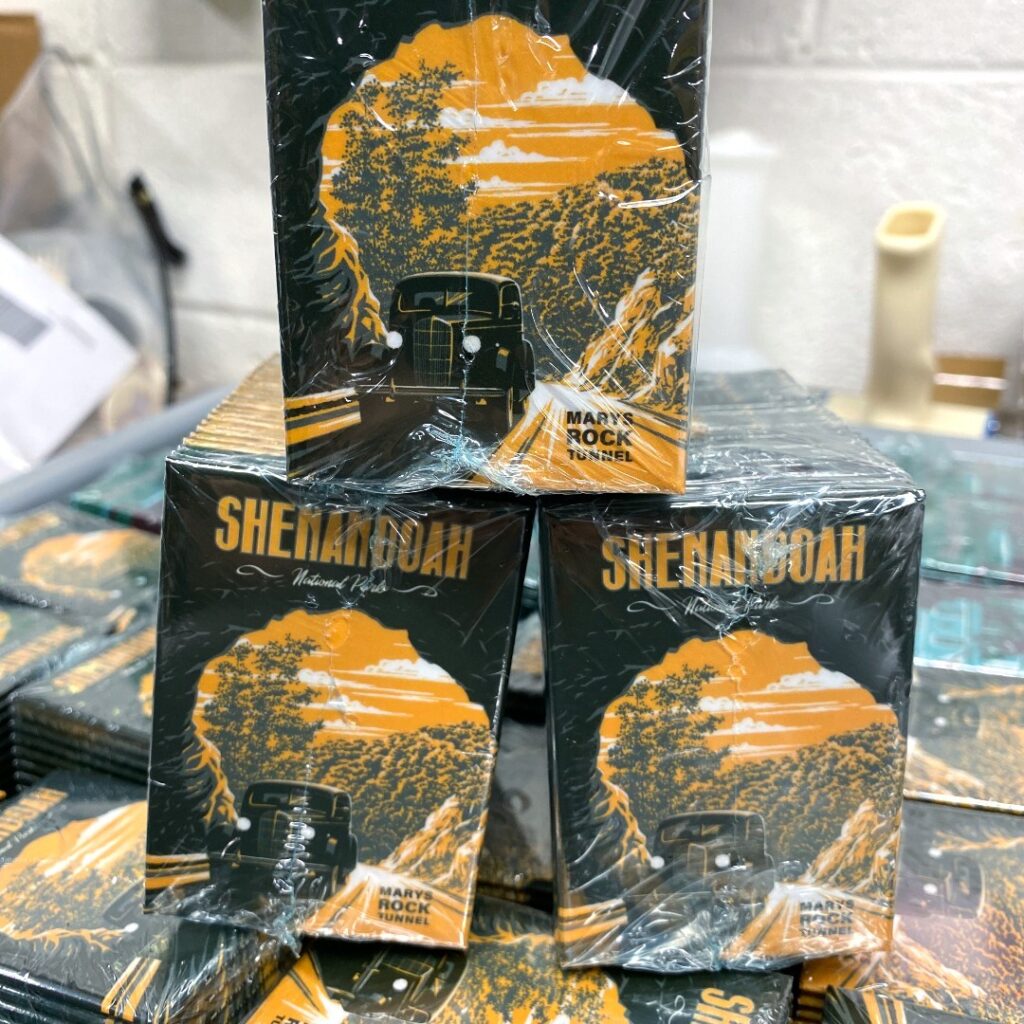 Pardon the glare from our protective shrinkwrap! These souvenir magnets were photographed during production. These rectangle fridge magnets feature a really nice illustration of an antique car passing through some sort of cave tunnel called Mary's Rock Tunnel. An attractive souvenir magnet for Shenandoah National Park.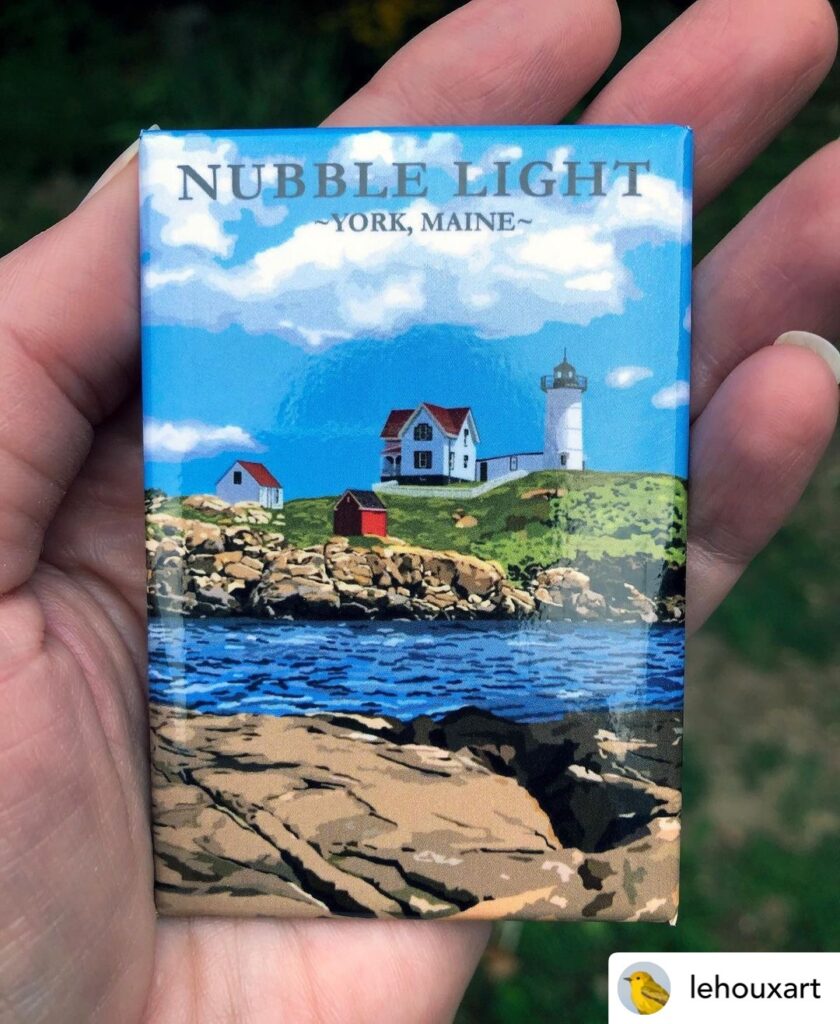 The customer photo above is a beautiful full color printed fridge magnet featuring a painting of Nubble Light in York, Maine.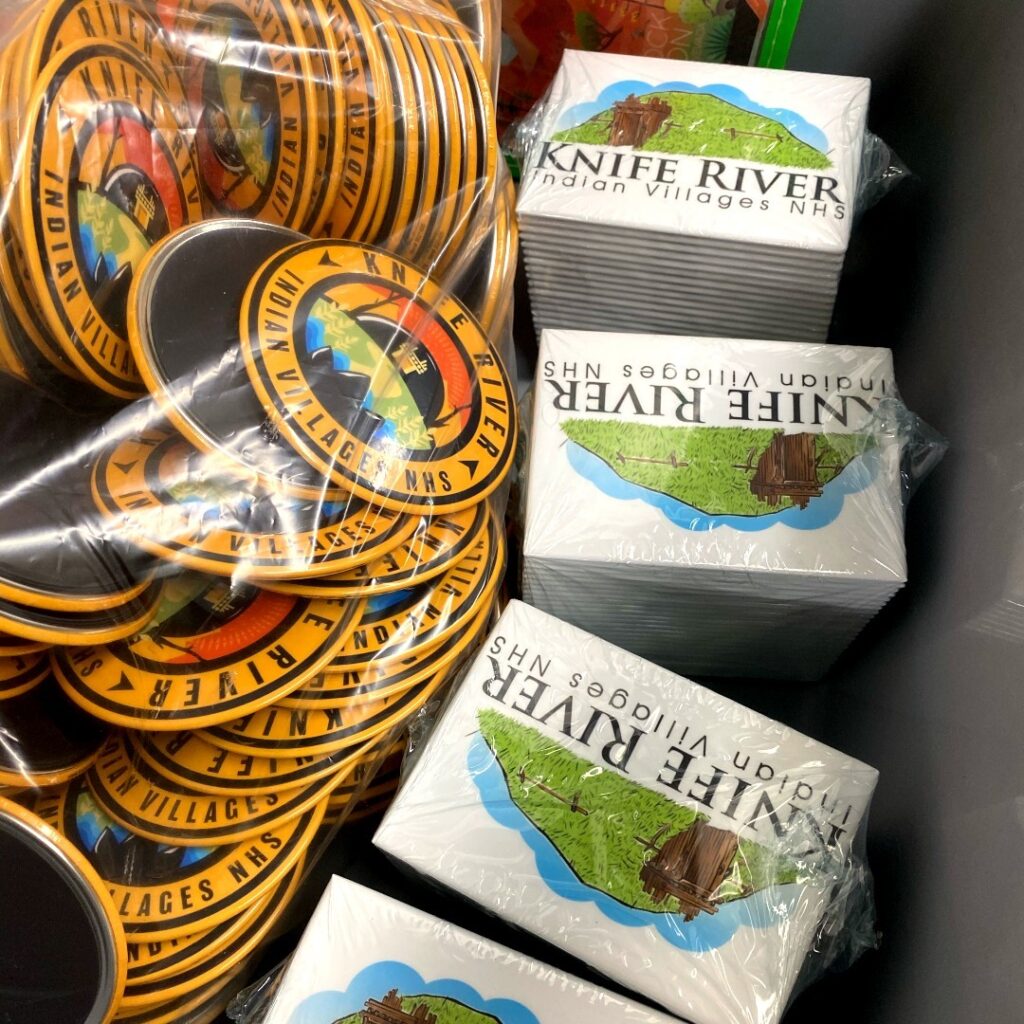 Another shot of souvenir magnets in production, this time a mix of rectangle magnets and our classic round magnets for Knife River Indian Villages (National Historic Site).
Offering a variety of souvenir magnet designs and shapes means there will be something for everyone's unique taste! You can easily feature different sights and attractions on unique magnet designs.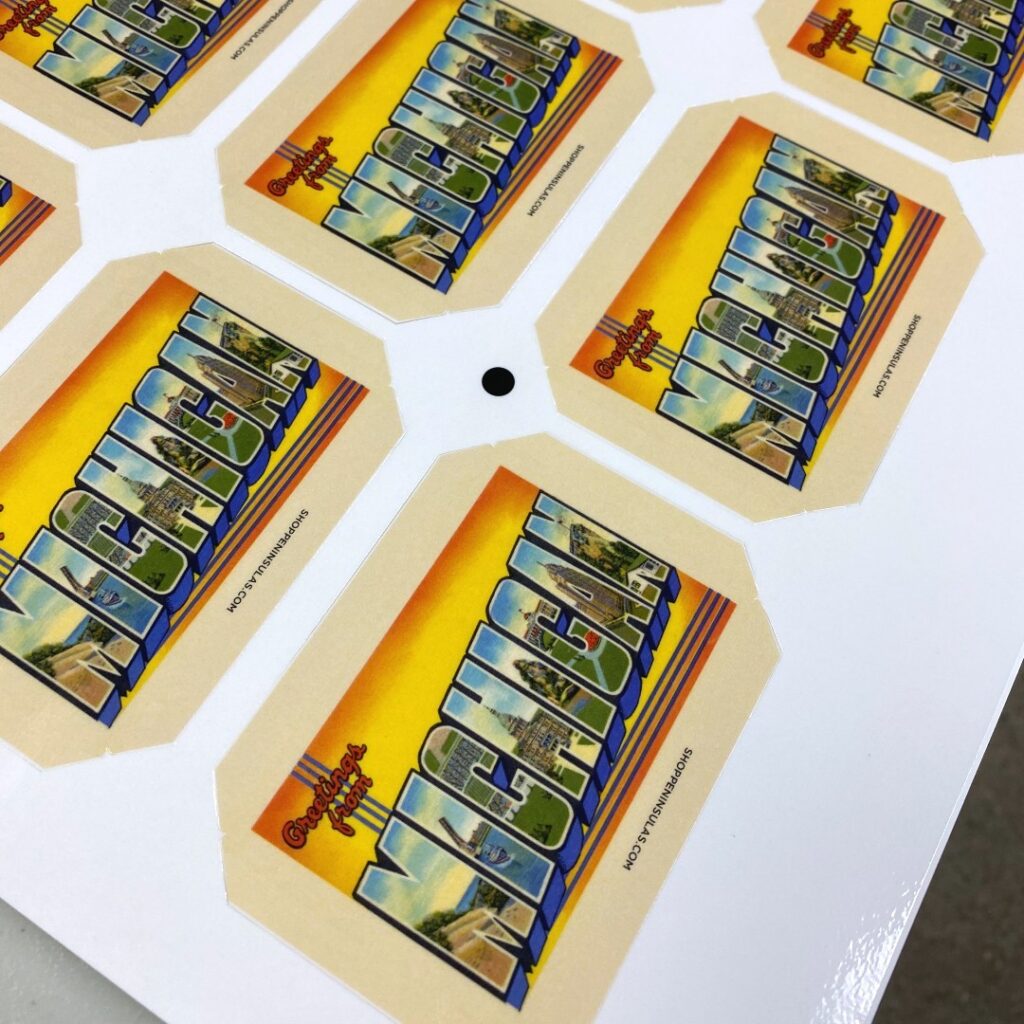 Mid-production shot of what would turn out to be Greetings From Michigan fridge magnets! This popular postcard style makes for a popular souvenir magnet style as well!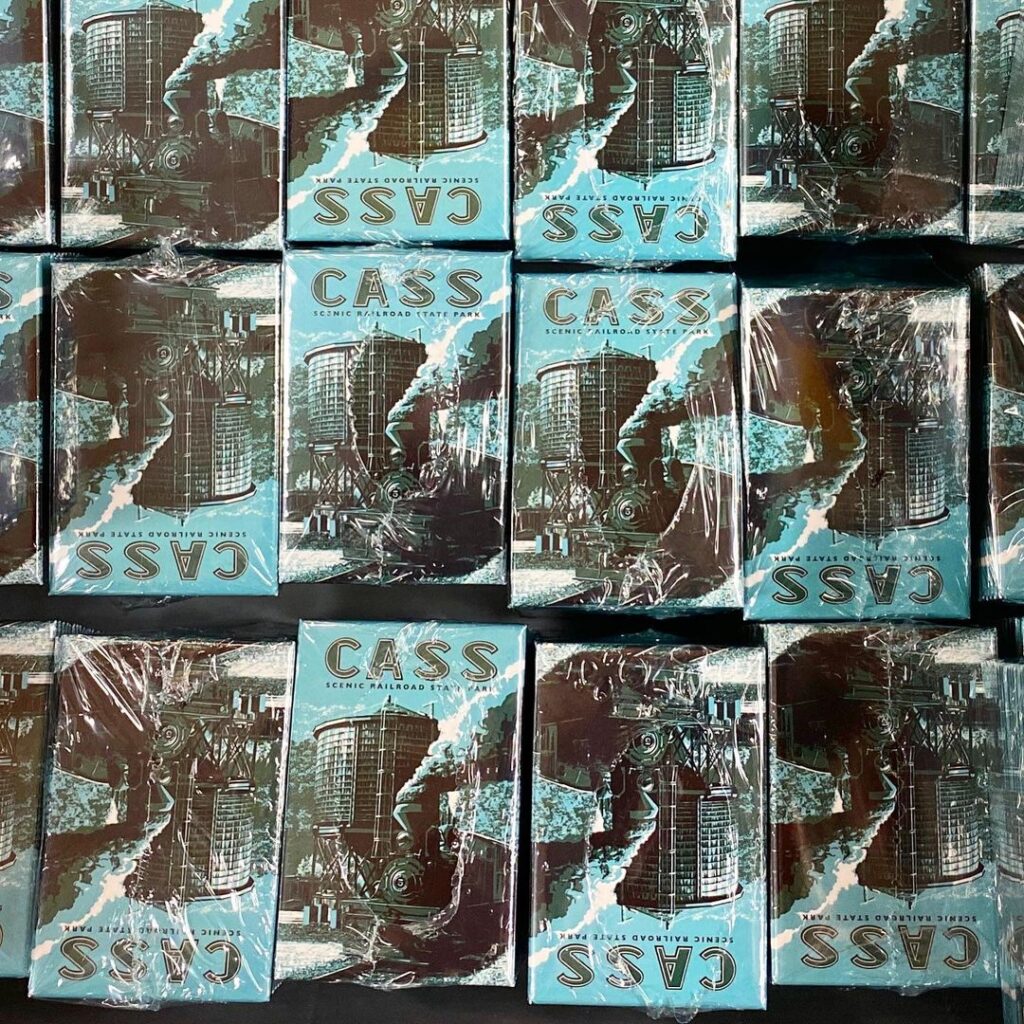 And finally another shot of handsomely illustrated magnets for Cass Scenic Railroad State Park featuring a steam locomotive passing a grain bin or water tower. Your magnets don't have to be illustrated like this, simply uploading a nice photograph will make for excellent photo magnets that people will want!
Our custom magnets are one of the best souvenir ideas because they make it easy and affordable for visitors to remember their trip and bring home a little piece of wherever they went.
Order Custom Magnets
Last Modified: April 30th, 2021