Welcome to our Custom Pocket Mirrors category! This is Page 1 of 3 of Custom Pocket Mirrors related content. Below you will find articles, posts, coupons or samples featuring Custom Pocket Mirrors. To see our latest posts, visit Blog Home.
It's time to take a good look at our custom pocket mirrors. We think you'll like what you see!
For a limited time you can take 20% OFF our round custom mirrors with coupon code MIRROR20

Our custom pocket mirrors come in three round pocket-friendly sizes and can all be personalized online in our easy tool!
These custom mirrors feature metal body construction and your custom printed artwork on the front. The back features a crystal clear real glass mirror.
Choose from our three unique finishes (original glossy, soft-touch matte, metallic acetate). Our durable finishes protect your custom artwork from scratches and fading.
No minimum order, free digital proofs when you design online, and huge bulk discounts!
Order Custom Pocket Mirrors
Last Modified: February 21st, 2022
This week only: Personalize your own custom pocket mirrors and take 20% OFF with code MIRROR20
Our custom mirrors are available in three round sizes:
2.25″ Round Pocket Mirrors
3″ Round Pocket Mirrors
3.5″ Round Pocket Mirrors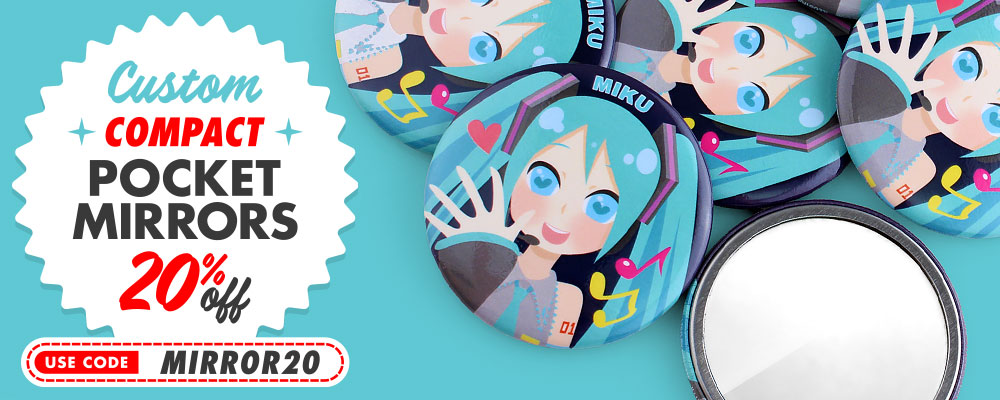 These pocket mirrors are an excellent collectable merchandise product that everyone loves to get their hands on! They're perfect as trade show giveaways or as custom merch for any company, artist or band.
Our minimum order is just one custom pocket mirror. Why do we call our custom mirrors "Pocket Mirrors"? Well its because they're small enough to carry in your pocket! Or, easily carry them in your purse or keep one in your car for a convenient compact mirror for checking your style or doing your makeup on the go.
Personalize custom mirrors in our easy online tool and get a free instant digital proof when you do! Pure Buttons makes it easy to get your own custom merch.
Last Modified: August 28th, 2020
Custom Pocket Mirrors 15% OFF! Or SHIP FREE!
We're featuring our Custom Pocket Mirrors and they're 15% OFF through April 17 with promo code LOOK15
Or ship any USA order over $30 for free with promo code FREESHIP
Thanks for choosing PureButtons!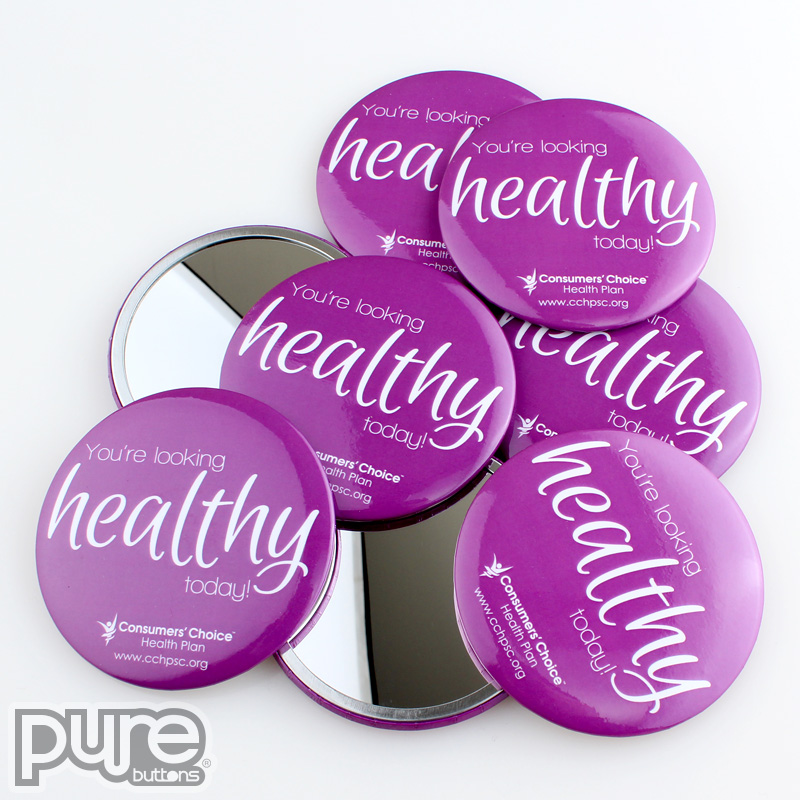 Last Modified: April 5th, 2016
We've got our pocket mirrors for sale now! Take a look at these great full color, high quality compact pocket mirrors. They are great for party favors and other promotional events! Use promo code LOOK15 for 15% off your custom pocket mirrors order til November 15.
Check out our Custom Pocket Mirrors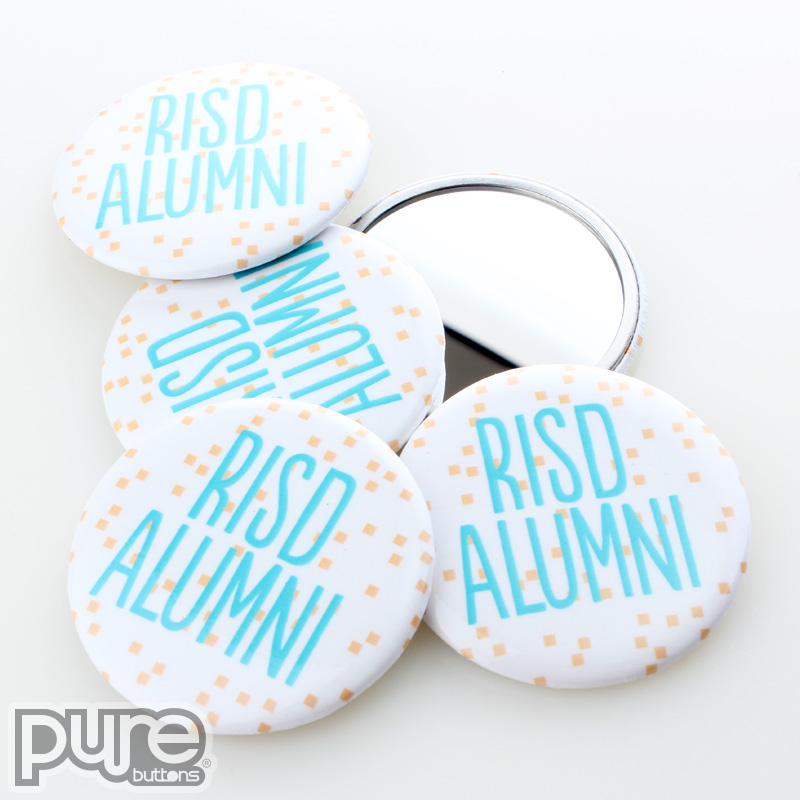 Last Modified: November 3rd, 2014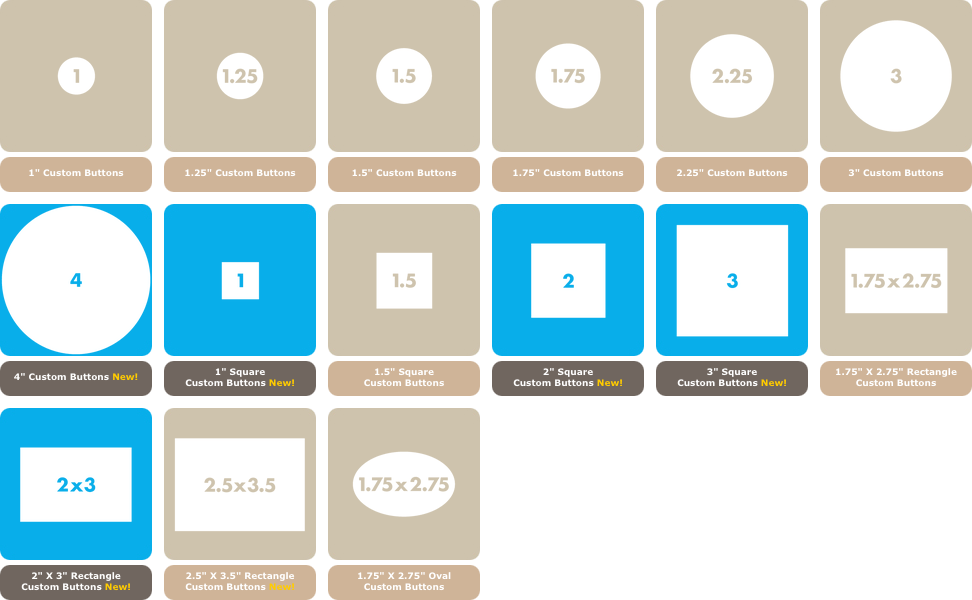 WOW! We just added 5 new sizes to our lineup! We now offer 15 unique shapes and sizes of custom buttons!
Introducing 1″ SQUARE, 2″ SQUARE, and 3″ SQUARE. We've also added a new 4″ Round Custom Button, and a 2″x3″ Rectangle.
Check out pricing on our order pages:
4″ Round
4″ Round Custom Buttons
1″ Square
1″ Square Custom Buttons
2″ Square
2″ Square Custom Buttons | 2″ Square Fridge Magnets | 2″ Square Clothing Magnets
3″ Square
3″ Square Custom Buttons | 3″ Square Fridge Magnets | 3″ Square Clothing Magnets
2″x3″ Rectangle
2″x3″ RectangleCustom Buttons | 2″x3″ Rectangle Fridge Magnets | 2″x3″ Rectangle Clothing Magnets
Last Modified: July 1st, 2020