We are celebrating one year in our new headquarters with some fresh aesthetic upgrades to our button printing lab.
When you visit the Pure Buttons office, behind the reception desk you can see our button printing room behind a wall of soundproof glass. If that wasn't cool enough, we have just added a gigantic custom neon sign to let you know where you are!
The process started by painting select walls a dark, almost black blue color to give us added contrast for these absolutely massive custom neon signs we ordered for the shop.
In all, we installed three similarly sized signs. Hanging the signs was a process in itself, but by the end we got pretty good at it! On the stickers side of the building StandOut Stickers got its own neon sign. And centrally we installed a Pure Merch sign over the production floor. Pure Merch is what we refer to when we're speaking about both companies. More updates on Pure Merch are to come.
This Pure Buttons neon sign is about six feet wide! And the warm glow blesses every piece of printed stock that comes off our industrial digital press, infusing your custom buttons, fridge magnets and more with cyberpunk essence!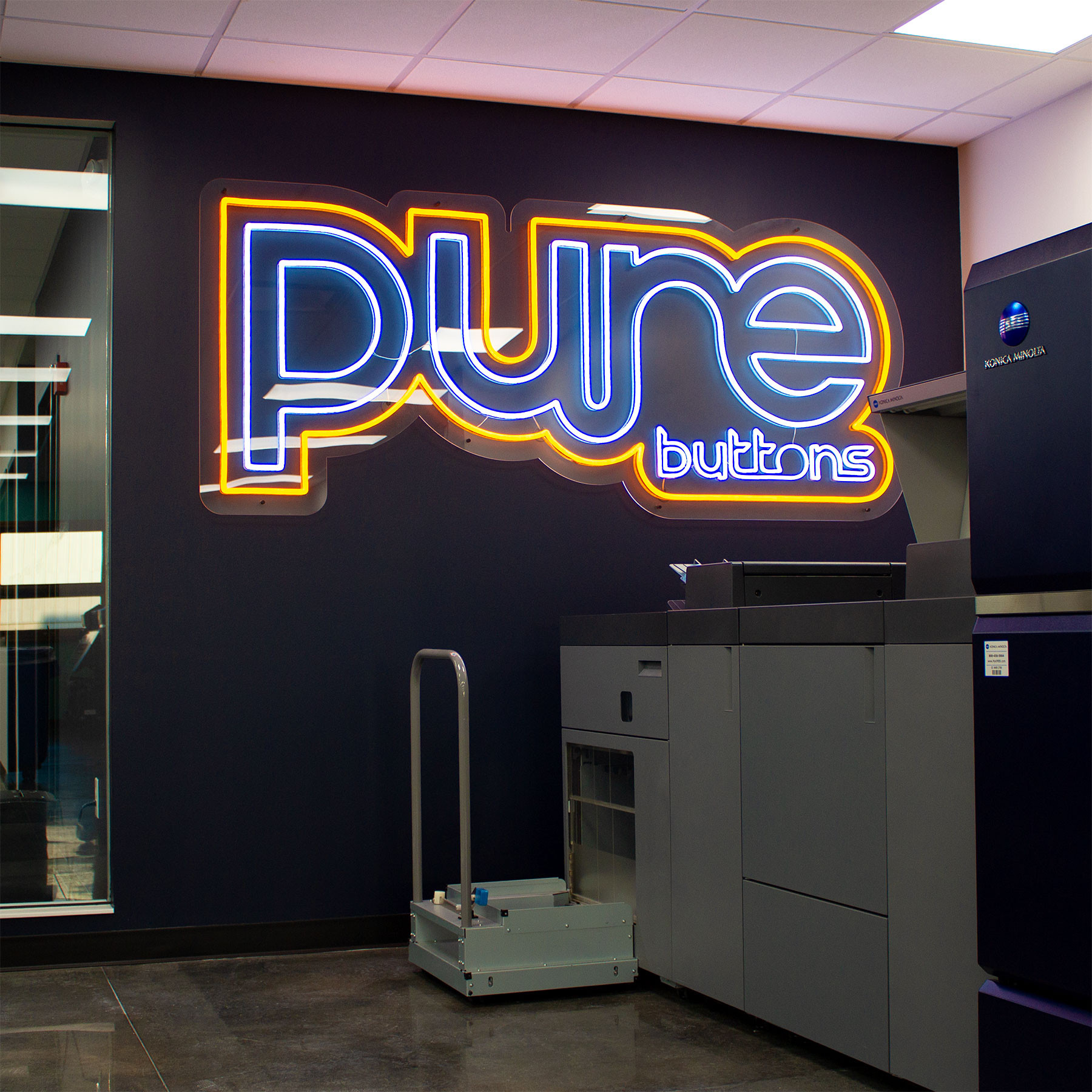 After we prep your artwork in the office, we print your buttons, magnets and more by sending the art files to this massive digital printer. All magnet printing, as well as printing custom buttons, keychains, coasters, bottle openers, Christmas ornaments, zipper pulls, and other products happens right here!
From there, we move the printed sheets into the production facility which has more steps to get your artwork from paper to finished product. We'll outline more production steps along the way as we work to enhance the beauty of our little merch factory!
Last Modified: September 12th, 2023