Miscellaneous
Welcome to our Miscellaneous category! Below you will find articles, posts, coupons or samples featuring Miscellaneous. To see our latest content, visit Home.
Sneak Peak at our Office – Hallways
At PureButtons our walls used to be naked!!! We've been hanging and framing artwork left and right. Here are a few sneak peak photos of one of our hallways. I'll have more shop photos coming next week.

Artwork you see pictured above is from Invisible Creature.
PureButtons Breakfast Fun
We recently completed an order of custom buttons for the comic Texas Toast Adventures and we figured we would have some fun with them today. We were having toast for breakfast and felt it would be suiting to snap a couple of photos of these buttons with our breakfast.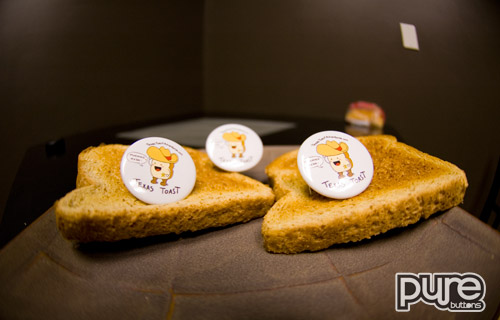 Who's hungry?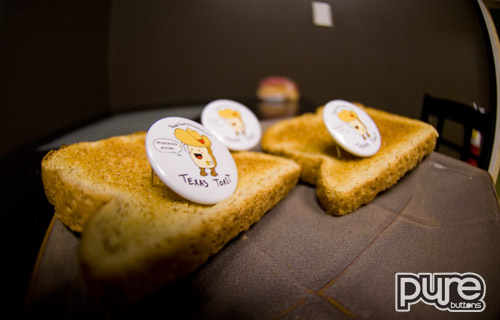 What are you having for breakfast?
Lunch Break Fun – Pizza Buttons!
We were enjoying some Pizza Hut for lunch today at work and decided to take some fun photos with a recent order of "pizza buttons".
Do you have any unique photos of your buttons? Post them on our Facebook page!
I'm Not Boring Buttons & Zipper Pulls!
Recent order we just completed. Customer ordered our 1″ Round Zipper Pulls & our 2.25″ Round Custom Buttons. Looking for ideas to leave an impact at your next promotional event? Check out our website ( PureButtons ).
Stereo Hype & PureButtons
LOVED the product, the fans love them, can't wait to get more custom made buttons and button packs from y'all!
Nic
StereoHype

Call 800-710-2030