Father's Day
Welcome to our Father's Day category! Below you will find articles, posts, coupons or samples featuring Father's Day. To see our latest content, visit Home.
New Father's Day Photo Gift Templates Available to Customize
Father's Day is on the way and we have just added four new customizable templates to our gallery of Father's Day Photo Gifts. These designs are free to personalize with your favorite portraits and custom text.
We offer Father's Day gift ideas for dad's who are hard to buy for. They'll be proud of your customized gift and since all of our custom products are high quality, dad can enjoy it for years to come.
We offer these Father's Day gift designs on all of our 3.5″ products including fridge magnets (a favorite), but also drink coasters, ornaments and more! We also offer them on our large 6″ magnetic easel display. This giant photo gift lets you hang it on the fridge with its strong magnetic back, or pop out it's easel feature and display it on any table top.
These exclusive border designs let you print your favorite photos with a themed design and it all costs about the same as a father's day card you'd buy at the store. Plus, these personalized gifts mean so much more than a standard greeting card.
Our new Father's Day photo gift designs: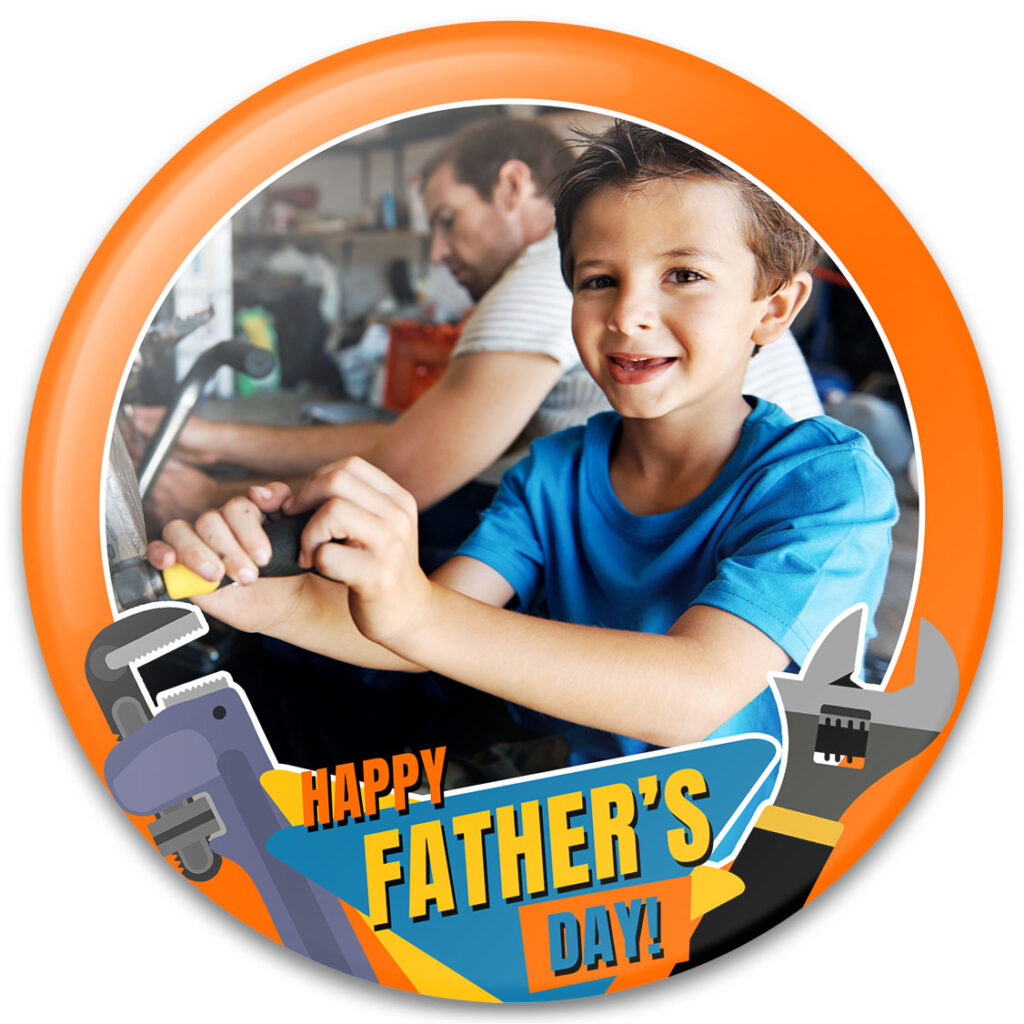 This custom photo gift is for the Handyman in your life. Just drop in a photo that dad or grandpa will love and approve your instant digital proof. It couldn't be easier to make a unique gift.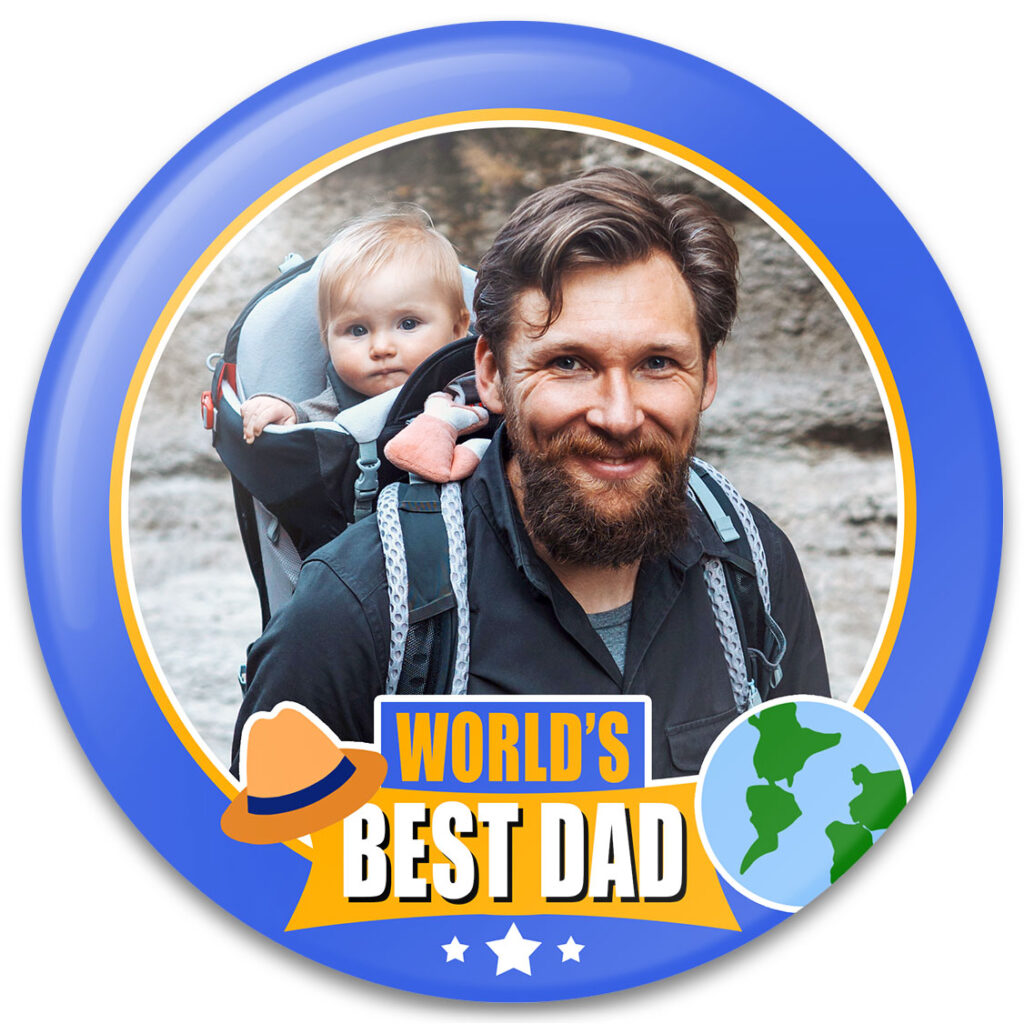 For the World's Best Dad we offer this easy to customize photo frame.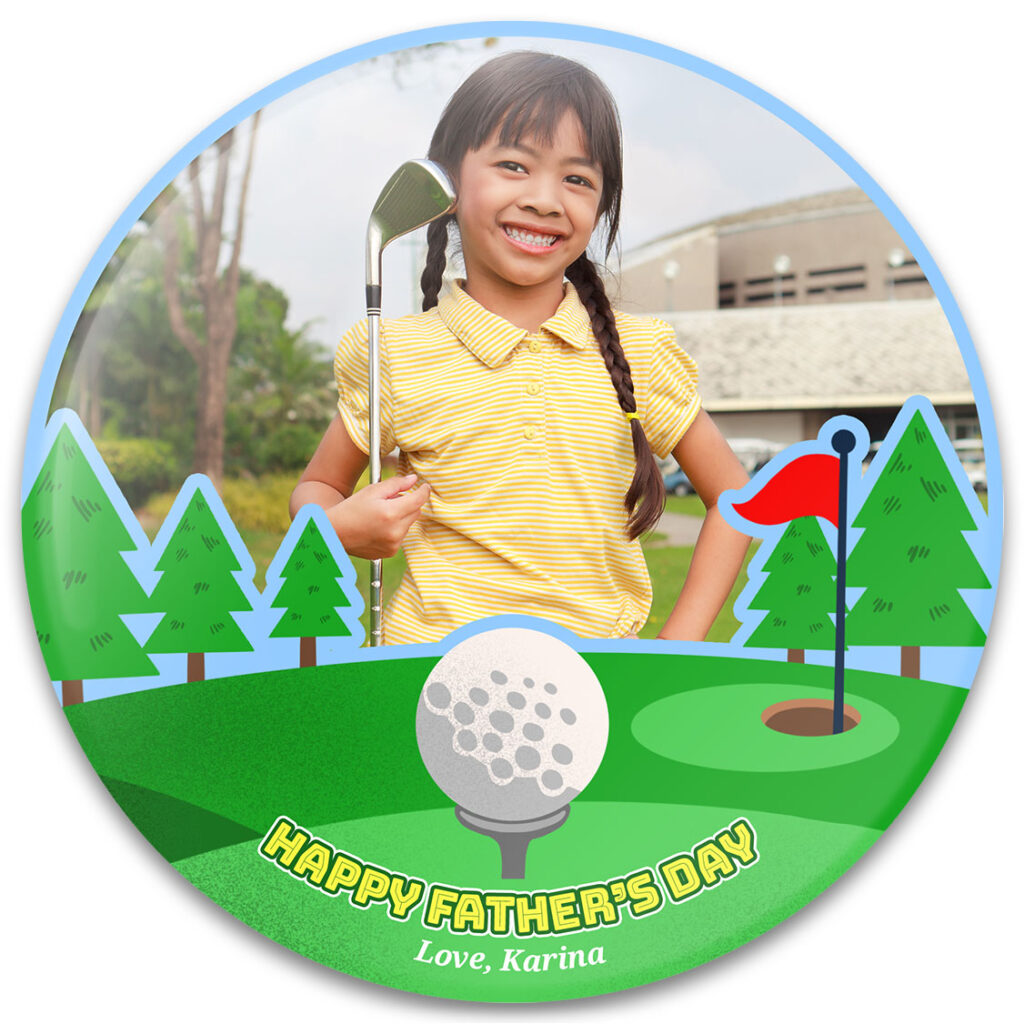 For the golf enthusiast, our Hole In One photo gift design features a large portrait area and one line of personalized text.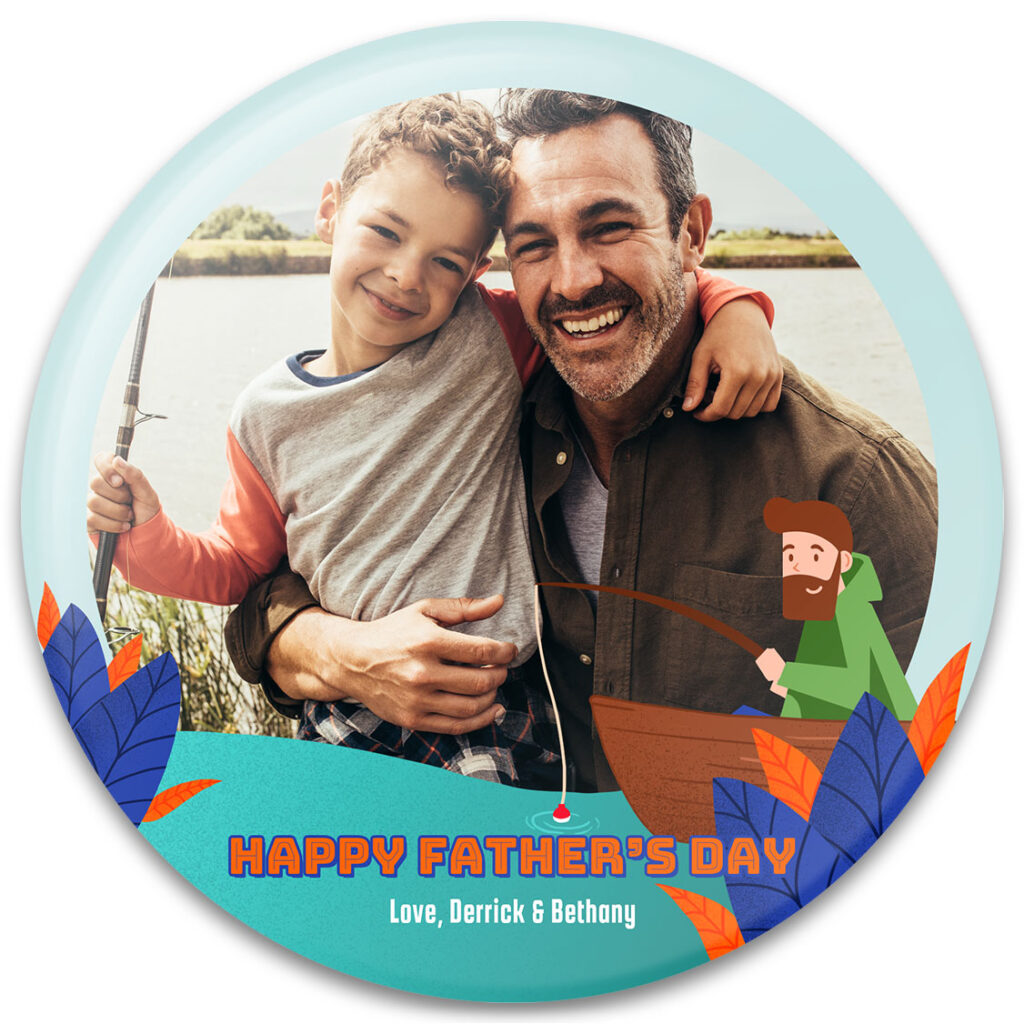 Finally, for the fishing father, this Reel Great Dad design features a large photo area and one line of customizable text.
We have twelve unique Father's Day photo gift templates to choose from, so check them out at our website!
Design Gifts for Dad Quick!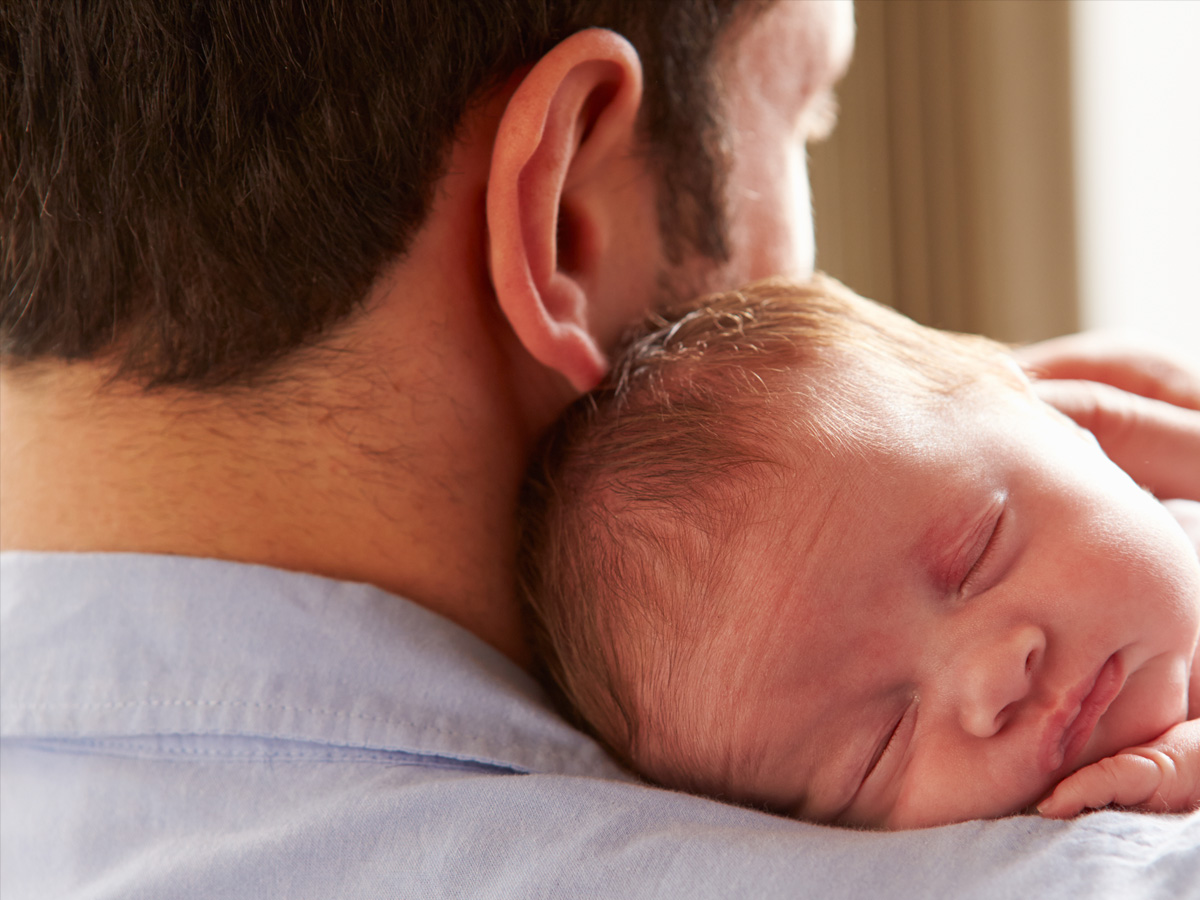 Father's Day is this Sunday!
Our free and easy customizer tool lets you create amazing personalized gifts in minutes. Get a free instant digital proof before checking out.
Put photos of his favorite people on Fridge Magnets, Bottle Openers, Coasters, Keychains and more. Made In USA by PureButtons.
Start from scratch or visit our gallery of fathers day photo gift borders which are also free to use. Simply drop in your favorite photo and customize the greeting for an affordable, one of a kind gift dad will love!
Father's Day Gift Ideas: Photo Gifts for Dad!
Father's Day is rapidly approaching! Send dad an affordable photo gift customized by you at PureButtons!
Our easy customizer tool lets you drop in your favorite photo from your desktop computer, mobile device, instagram or facebook!
We have provided a gallery of Father's Day photo gift designs that help you create a memorable design for dad at no additional cost! Choose any of these handsome designs, drop in your favorite photo, and checkout in minutes with our easy website! We even offer amazon pay for a one step checkout.
Celebrate with Father's Day Photo Gifts from PureButtons! You design it, and we will deliver right to dad!

Father's Day Photo Gifts
Father's Day is June 18 and we have a new gallery of designs just for Dad!
For a limited time, you can buy one 6″ Magnetic Easel, and get one free when you use code 2XEASEL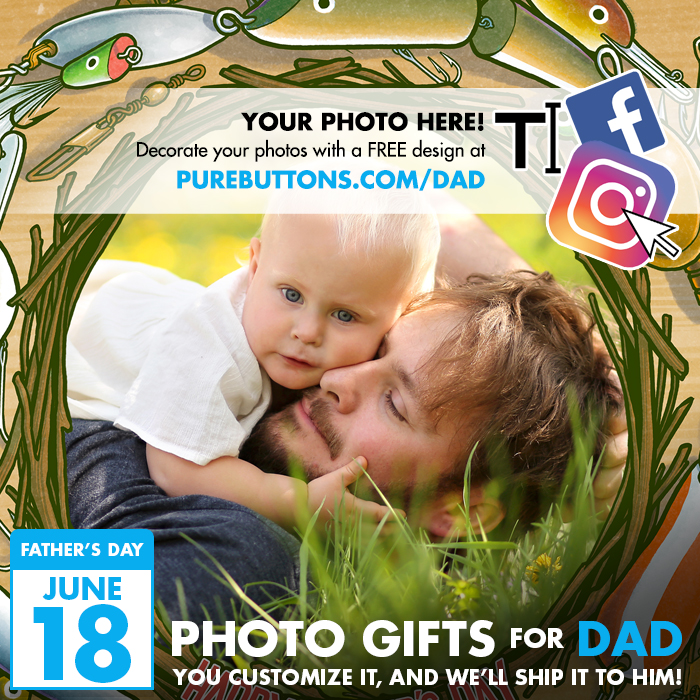 Call 800-710-2030