A lot of our customers are confused when it comes to figuring out the difference between Turnaround Time and Shipping Time, so we thought we'd try to clear it up with a visual representation.
Turnaround Time
This is the time that it takes for us to create your product from the moment you submit your order. Our standard turnaround is 5 business days. You have the option of speeding this process up by ordering a RUSH UPGRADE.
Rush Turnaround Pricing:
Standard (Ships in 5 business days) ($0.00)
RUSH (Ships within 2 business days) (+65%)
RUSH (Ships within 3 business days) (+50%)
RUSH (Ships within in 4 business days) (+30%)
For instance, if I ordered 50 1″ round buttons ($12.00), and added 3 Day Rush (50% of my product cost, $6.00), my buttons would cost 18.00 and it would go in the mail 3 days from when I ordered, like shown in the calendar below: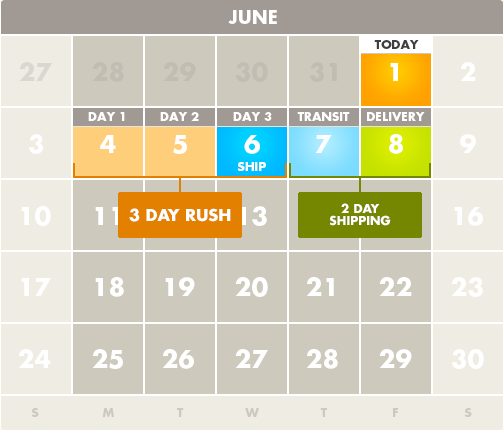 Shipping Time
This is the time that it takes for FedEx or USPS to take your custom products from US to YOU. This is the second way you can control the speed of receiving your order. Choose faster shipping to get your products even quicker.
WHAT IS THE FASTEST WAY TO GET YOUR PRODUCTS?
If you order 2 day RUSH turnaround, and overnight shipping, you'll have your order within 3 business days. As seen in the calendar below: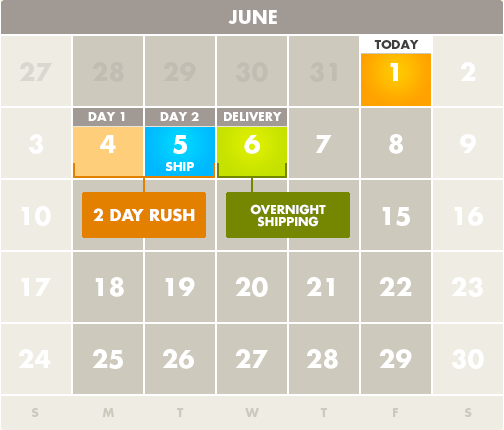 QUICK TIPS:
Remember, we are open Monday-Friday 8:30AM-4:30PM EST, and we're closed on the weekends, so weekend orders are processed on the following Monday.
If your order is placed before 11AM EST, the first production day is that day. Orders placed AFTER 11AM EST will be processed on the following business day.
If you need something even faster than advertised, call us and we'll gladly listen to your needs and try to work something out!
PureButtons does not guarantee ship times. Delays by the mail carrier due to poor weather, accident, mis-routing, holidays, or weekends are a possibility. PureButtons offers these examples as a general rule but is not responsible for delays in production due to slow customer response, incorrect artwork, or other issues that may result in a production delay.
Last Modified: June 1st, 2012