Pure Buttons specializes in custom promotional products that make perfect trade show giveaways. When planning for a trade show or promotional event on a budget, we are here to help!
One important factor when deciding on what trade show giveaways you'll purchase is your BUDGET. All of our custom products are affordable and get even more affordable when you buy them in bulk quantities. Depending on the quantity of trade show giveaways you need, bulk orders of our custom products can be purchased for $1 or less. For instance, our smallest 1″ custom buttons can be purchased as cheaply as 16.3 cents each. All of our promotional product informational pages have pricing tables to show the price tier breakdowns so you can plan your budget accordingly.
Our cheapest products (and what we're famous for) are our custom buttons which are offered in 19 sizes and shapes. You can design your custom buttons easily on our website and get an instant digital proof to approve before you checkout. As with most of our other promotional products, our custom buttons are easy to sanitize and feature weather resistant finishes. Our custom buttons are available in 3 unique finishes (metallic finish, soft touch matte finish, and original gloss finish).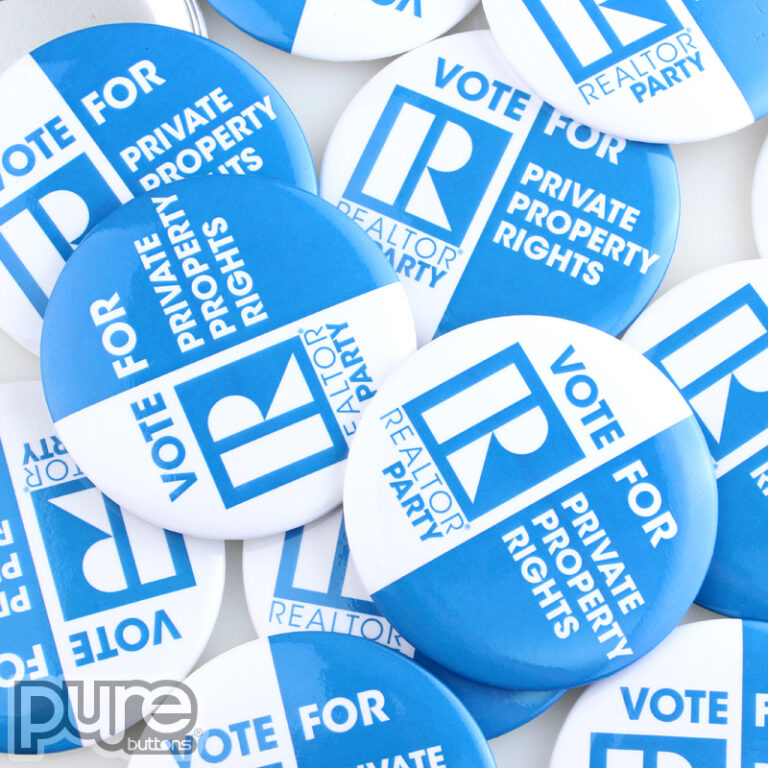 The buttons shown above are large custom buttons for Realtors. These trade show buttons were designed by Pure Buttons for our Realtor customer.
Another thing to consider when choosing a trade show giveaway product is COLLECTABILITY. Printing a variety of designs makes your trade show giveaway more fun as visitors to your trade show booth can pick their favorite design and feel more attached to the custom promotional products you're offering them. You can also place a number of giveaway products around the trade show floor and create a collectable custom swag game of sorts.
We like to collect a variety of fridge magnets and we've found that a lot of our customers who order custom fridge magnets for trade shows find them very popular! If you're looking to create a buzz about your trade show booth with a hot giveaway item, look no further than our custom refrigerator magnets.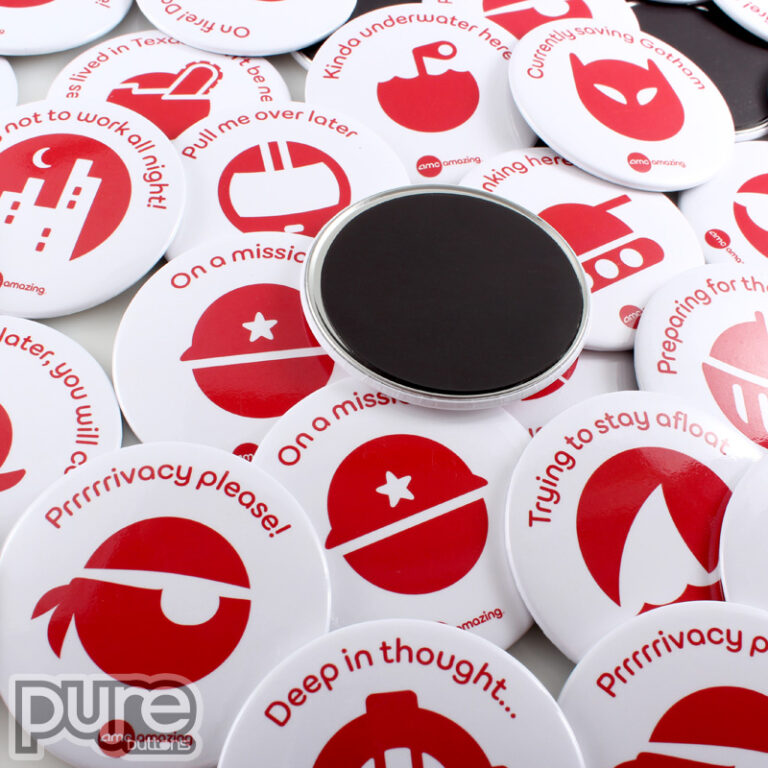 The custom fridge magnets above are for AMC Theaters and feature a variety of unique designs referencing movie characters or genres. Creating multiple variant designs of custom fridge magnets makes this promotional swag more collectable for AMC Theaters' customers.
A third factor to consider when choosing promotional products for trade shows is USABILITY. Will your potential customers use your promotional products in their daily life or will they quickly find the bottom of a trash can? If you choose the right promotional products, your customers and potential customers will keep your name in their life for years to come as they use and look at your trade show giveaway. For this reason, it sometimes makes more sense to spend a little more on a useful product like our Custom Keychains, Custom Bottle Openers, and Custom Coasters.
Our Custom Keychains are available in two sizes: Round Keychains and Rectangle Keychains. Both feature your own custom graphics printed on both sides (each side matching or unique, your choice), and a crystal clear acrylic keychain body with a standard chromed metal key ring. These keychains are excellent trade show giveaway items that are more likely to be used long term by your customers.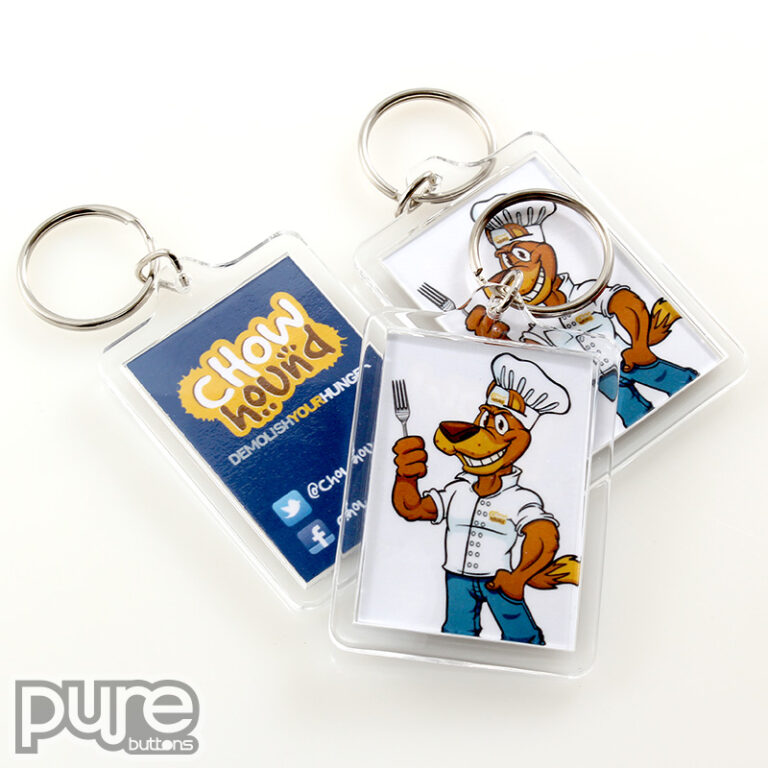 The custom acrylic keychains for Chow Hound shown above feature unique full color graphics on each side. This feature is available at no extra charge when you purchase custom keychains from Pure Buttons.
Our magnetic bottle openers and custom drink coasters go hand in hand as the fun-loving trade show giveaways of choice for brands looking for practical and novel tradeshow swag. Our custom bottle openers feature a strong neodymium magnet for catching loose caps and hanging on your refrigerator in between drinks, and our custom coasters have a natural cork backing and a full color top featuring your company's logo or artwork. As with all of our other promotional products, both our bottle openers and coasters are free to edit in our easy online tool.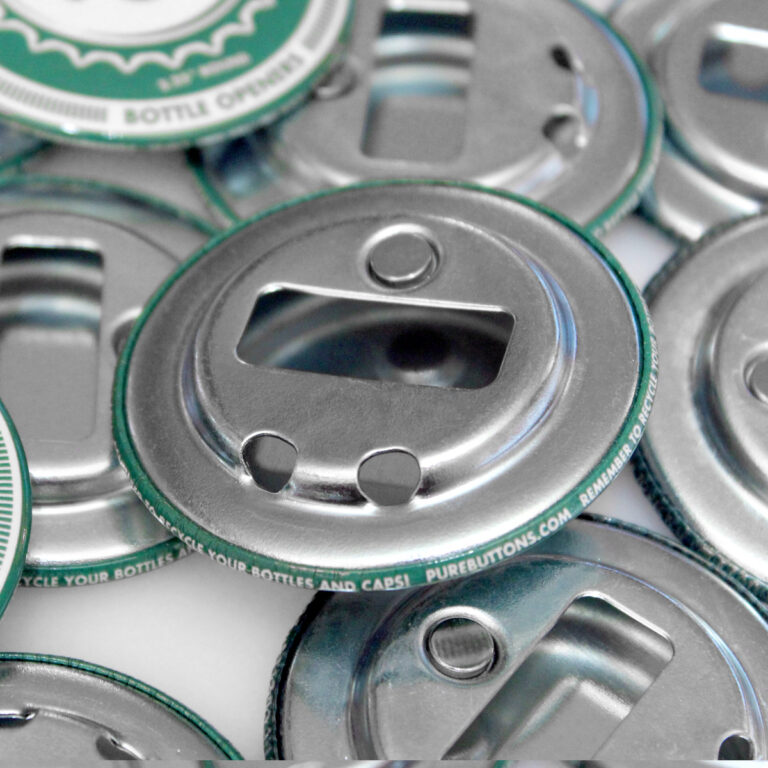 Our custom bottle openers feature a full metal construction as shown above. They can be customized with your company's logo easily in our free online tool.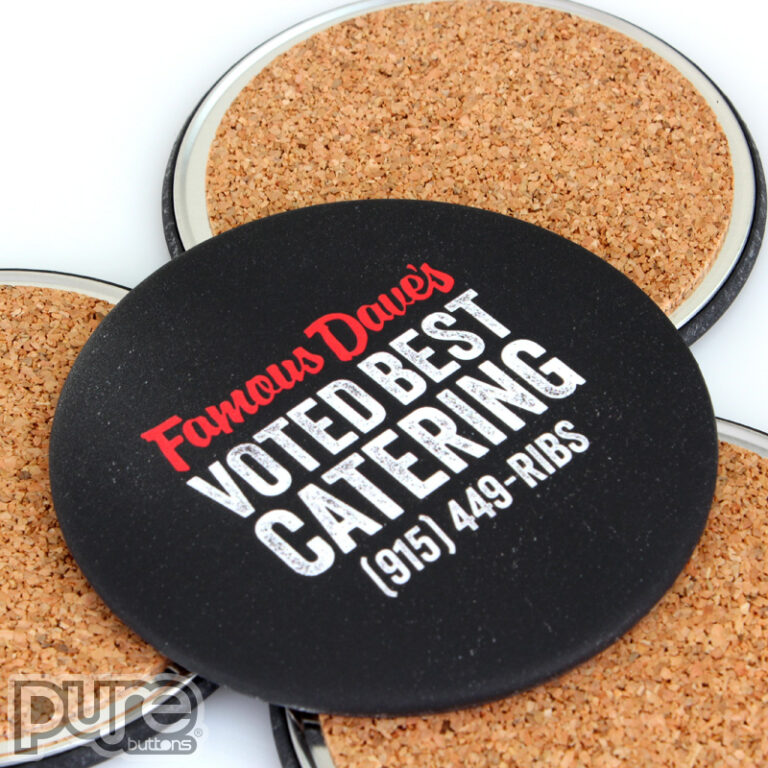 The custom drink coasters for Famous Dave's seen above feature our unique soft touch matte finish which helps to reduce the slickness of the coaster surface. We recommend choosing soft touch finish when your order our custom coasters.
Pure Buttons wishes to be your GO-TO source for all trade show giveaways. Our low pricing, quick turnaround and high quality will help make your trade show booth a success!
Last Modified: July 2nd, 2020